Purina Pro Plan vs Purina ONE: What's the Difference?

Owning a dog would be a whole lot easier if the food manufacturers would just be brutally honest on their packaging. Saying something like, "Our food isn't that great — try the one a few shelves down" would save you a ton of time and stress.
Unfortunately, it's not that simple, and figuring out whether one food is better than another can feel like a full-time job.
Luckily for you, comparing dog foods is our full-time job. Today, we're looking at two Purina brands: Pro Plan and Purina ONE. These are two incredibly popular foods, and at first glance, it may be hard to tell them apart.
After doing some digging, though, one emerged as the winner in this competition. Which one was it? You'll have to read on to find out.

A Sneak Peek at the Winner: Purina Pro Plan
Purina Pro Plan earned the "W" in this competition, as we feel they use higher-quality ingredients than their sister brand. These foods are very similar in terms of their nutritional content, and you won't go too far wrong with either one.
The winner of our comparison:
Some of our favorite Pro Plan recipes include:
This competition isn't as clear-cut as you may think, however, and Purina ONE certainly had the edge in a few key categories. So why didn't it earn higher marks? More on that below.
About Purina Pro Plan
Purina Pro Plan has a variety of special formulas, each designed to address a specific issue that your dog may have. Whether they have a sensitive disposition, or they need more cognitive support as they age, chances are there's a Pro Plan recipe that's ideal for them.
Pro Plan Has Foods for Every Life Stage
Whether you just brought home a puppy or you're trying to make your dog's senior years as joyous as possible, there's likely a dedicated Pro Plan recipe for her age bracket.
This is important, as dogs have different nutritional needs at different ages, and you don't want to be feeding your pup a food that isn't well-suited for their stage of life.
There are Over 80 Formulas in the Pro Plan Line
You won't have to complain about a lack of options with this brand, as there are over 80 recipes to choose from.
Each one is targeted to a specific need or issue that many dogs suffer from, so you can likely find one tailor-made to your specifications.
It Can Be Hard to Decide What to Focus On
Issues can arise when your pet has more than one issue to deal with. What do you do if you have an aging dog that also needs to lose a few pounds, for example? Do you go with their brain support recipe or their weight management option?
This can make choosing the right food stressful, even if you've decided that you want to feed your dog Pro Plan. You may have to make a few tough choices along the way, too.
Many Formulas Use Questionable Ingredients
Unless the recipe specifically claims otherwise, there's a good chance it contains cheap fillers or animal by-products, neither of which you're likely to want to feed your dog.
While this shouldn't automatically disqualify a food, especially if it helps ameliorate another of your dog's issues, it's not something we like to see.
Recipes tailor-made for specific issues
Wide variety of formulas to choose from
Suitable for dogs at every life stage
Choices can be overwhelming
Many formulas use questionable ingredients

About Purina ONE
Purina ONE also boasts a lengthy product list, but it's not quite as overwhelming as Pro Plan's. Their foods tend to be more generalized, which can save you some stress, but at the expense of potentially not fully addressing your dog's issues.
The First Ingredient is Real Meat
Each of their recipes is built on a solid foundation of protein, as real meat is the first ingredient in every formula.
Purina ONE Was the Brand's First Premium Food
This line started in 1986, and it was targeted at owners who were willing to pay a premium price for a high-end dog food.
It certainly established that there was a market for this kind of kibble, but it's since been passed by higher-end foods that charge more and use superior ingredients.
Purina ONE is Typically High in Protein
Most of their foods are towards the higher end of the protein spectrum, and you can find many in the 28-30% range. While there are certainly foods that offer more, most of them are quite a bit more expensive, too.
This Food Uses Just as Many Questionable Ingredients as Pro Plan
Most of their recipes use cheap fillers and animal by-products, same as Pro Plan. However, the latter tends to have more options that allow you to sidestep those questionable foods.
Lists real meat as first ingredient
Grandfather of premium pet foods
Usually high in protein
Not as many options as Pro Plan
Uses just as many dodgy ingredients

3 Most Popular Purina Pro Plan Dog Food Recipes
1.

Purina Pro Plan SAVOR Shredded Blend with Probiotics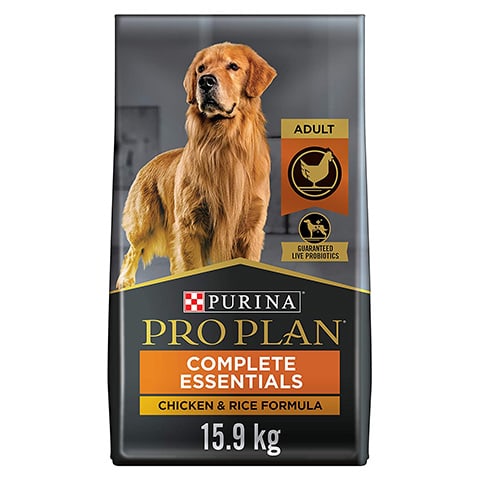 One of the big selling points of this food is all the probiotics that they added to the recipe. This gives your dog a lot of digestive support, making it a good choice for animals with sensitive stomachs.
You'll find tender meat pieces mixed in with the dry kibble, and that makes it attractive to most dogs. That's part of why this line is called SAVOR: it's designed to be delicious and nutritious.
It's full of omega fatty acids, too, thanks to ingredients like fish oil, beef tallow, and fish meal. That's good for everything from brain development to immune support.
Unfortunately, there's quite a bit of filler in here, mostly in the form of wheat and corn. It's fairly high in salt, too, so it may not be a good idea for overweight pups.
Lots of added probiotics
Tender meat pieces mixed in with kibble
Full of omega fatty acids
Relies heavily on cheap fillers
High in salt
---
2.

Purina Pro Plan FOCUS Sensitive Skin & Stomach
FOCUS is the line's skin-enhancement brand, and it's designed to keep your dog's coat and skin glowing well into her golden years.
As a result, it's full of fish, as fish has the DHA and EPA needed to keep your pup's exterior in fine working condition. That includes real salmon, salmon meal, and fish oil, all of which are sensational for just about every part of your dog's body.
The ground rice adds a starch that is gentle on the stomach, and most dogs can handle it very well. There's only an average amount of protein in here, but that's not a big deal given all the other nutrition it offers.
Our biggest issue with it is the inclusion of animal fat. It's always a bad sign when they don't specify what kind of animal they took the fat from, and it usually means it's a hodgepodge of low-grade tissue.
All in all, though, this is an excellent food for sensitive pups, or any dog that needs a big boost of omegas.
Filled with DHA and EPA
Rice is gentle on stomach
Uses a lot of healthy fish
Only has an average amount of protein
Uses low-grade animal fat
---
3.

Purina Pro Plan SPORT Formula
If you have an active dog, the SPORT formula may be a good choice to ensure she gets all the nutrition she needs to play as hard as she can. This is their high-performance line, and it has 30% protein and 20% fat to give your dog as much energy as possible.
It's strange, then, that Purina would include so many suspect ingredients. It uses lots of corn, and there are plenty of animal by-products in here as well. We suppose the idea is that active dogs can work off inferior nutrition.
Of course, the implied problem with this is that your dog will have a devil of a time burning off those calories if she's a couch potato. It's important to be honest about your dog's activity level before feeding her a high-calorie food like this.
It does have plenty of glucosamine, so at least it will support your pet's joints as she runs and jumps all over the place.
The SPORT line is a decent choice for rambunctious dogs, but it should be avoided by pooches that prefer to hang out on the couch all day.
Designed for active dogs
Lots of glucosamine
High levels of protein and fat
Uses lots of corn
Filled with animal by-products
Not suitable for sedentary dogs

3 Most Popular Purina ONE Dog Food Recipes
1.

Purina ONE SmartBlend Natural Adult
This food has chunks of tender, meaty morsels in it, so dogs will be more likely to want to scarf it down than some other foods out there. It also uses lamb as one of its primary ingredients, and lamb is high in glucosamine, so it may help your dog stay spry and limber into old age.
The beef fat is another nice touch, as it's full of omega fatty acids and other important nutrients. There's also a little bit of carrots and peas sprinkled in for extra nutrients.
However, there are quite a few ingredients here that we don't like. Corn, wheat, chicken by-product, artificial colors and flavors…it's like a Who's Who of disreputable foods. We don't know why a supposedly premium food would have all these things in it, but we're sorry to see that it does.
Beyond that, there's less fiber in here than we'd like, but that pales in comparison to the negative ingredients they used to make this formula.
High in glucosamine
Has tender, meaty morsels sprinkled in
Beef fat adds important nutrients
Uses just about every negative ingredient in the book
Not much fiber inside
---
2.

Purina ONE SmartBlend Natural Puppy
The puppy version of this food is very similar to the basic formula reviewed above, but they used fewer low-quality ingredients, and even swapped some out for better foods.
There's fish oil added in here, and that's about as close to a miracle food as you can find. It's good for the brain, eyes, immune system, skin and coat…you name it. Puppies need all the nutrients they can get, and fish oil is a great way to see that they get them.
It uses rice and oatmeal to beef up the kibble, and these are typically very easy for young tummies to digest. The kibble itself is also small enough that little mouths should have no trouble crunching it.
Unfortunately, it's still full of corn and animal by-products. It's not as calorie-dense as you'd expect from a puppy formula, either, so you'll need to feed your dog more of it, and some animals may not be up to eating all that food (and it may set them up for bad habits later on if they do manage to eat it all).
This puppy formula should start your new best friend off on a pretty good paw, but there are several easy fixes that Purina could make to change this food from "just ok" to "great."
Fish oil adds omega fatty acids
Rice and oatmeal are easy to digest
Kibble is small
Still has cheap fillers and animal by-products
Not as calorie dense as you'd expect
---
3.

Purina ONE SmartBlend True Instinct Natural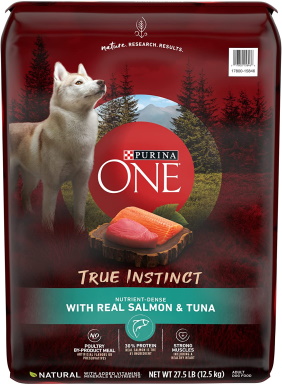 This brand calls itself "Natural" because it has no animal by-products, artificial flavors, or preservatives — but it does have artificial colors in it. So, it's only natural up to a point.
It's still packed with cheap grains like corn and wheat, and this has soy flour in it as well, which gives many dogs digestive problems. Perhaps this is a good time to mention that just because an ingredient is natural doesn't mean that it's natural for dogs to eat it.
It's not all bad, though. There's salmon, tuna, and fish oil inside, so there should be a ton of omega fatty acids. Also, they include chicken meal to provide a nice boost of glucosamine.
Of all the products in Purina ONE's line, this is the one we'd be most likely to recommend, but it still has quite a bit of work to do to earn anything more than a tepid endorsement.
No artificial flavors or animal by-products
Lots of fish inside
Chicken meal adds glucosamine
Still uses cheap grains
Soy gives many dogs digestive issues
---
Recall History of Purina Pro Plan vs Purina ONE
Of the two, Pro Plan is the only one with a recent recall incident, and that was relatively minor.
In March of 2016, Purina recalled Pro Plan wet foods (along with their Beneful line) due to concerns that the food didn't live up to the nutritional value on the label. The food wasn't dangerous, and no dogs were hurt.
As best we can tell, there haven't been any recalls of Purina ONE for at least the past ten years.
Purina Pro Plan vs. Purina ONE Comparison
While we've examined several of each brand's individual foods in some detail, it's time to take a broader view of both lines. Below, we compared each one in a variety of important metrics.
Taste
Both use common ingredients like chicken, fish, and beef, and so both are likely to be well-liked by most dogs.
Since Pro Plan has so many recipes, you'll inevitably find some weird pairings, while ONE tends to stick with the classics.
Also, ONE often adds meaty morsels to the kibble, making it even more attractive to dogs. As a result, we must give ONE the edge here.
Nutritional Value
This is a difficult category to rank, as they have very similar nutritional profiles, but they get there in different ways.
At first glance, this should be a win for ONE. It usually has more protein and similar amounts of fat and fiber.
However, ONE's recipes are much more likely to be packed with inferior ingredients, so while the numbers may be similar on the side of the package, Pro Plan is likely the healthier food and the winner in this category.
Price
This will vary depending on which recipes you're comparing, but generally speaking, ONE is the less-expensive brand.
However, a big reason why is because they use a lot cheaper fillers than Pro Plan does, so while we have to give the nod to ONE here, it comes with an asterisk.
Selection
Pro Plan has quite a few more recipes than ONE does, and each one is targeted to a specific issue your dog may be suffering from.
However, all that choice may be intimidating, and it could make it harder for you to decide which kibble to feed your pup. If you know exactly what you're looking for, though, Pro Plan should be the first place you look.
Overall
When comparing Purina Pro Plan vs Purina ONE, it may look like this should be a tie given that each food won two of the categories above, but we feel that Pro Plan is the clear winner here. The categories it lost were close (and you could argue it should have won the price category), but it was clearly superior in the categories it won.

Purina Pro Plan vs Purina ONE – Final Thoughts
Both Purina Pro Plan and Purina ONE are above-average foods, and most dogs should do well on them. However, when it comes to Purina Pro Plan vs Purina ONE If we had to pick just one to feed our dog it would be Pro Plan, as they have a better selection of recipes and generally use higher-quality ingredients.
However, Purina ONE is more budget-friendly, and that may appeal to some owners, especially since it's not a bad food overall.
If your ultimate priority is the health of your dog, though, we'd recommend Pro Plan. That's especially true if your pup suffers from a health condition, as they have a variety of foods designed to target those specifically.