Rachael Ray Nutrish Dog Food Review 2023: Recalls, Pros & Cons
Our Final Verdict
We give Rachael Ray Nutrish Dog food a rating of 4.5 out of 5 stars.
You might know her as a television personality and chef, but did you know Rachael Ray also caters to a canine clientele? We've seen her cooking shows and tried some of her "delish" recipes for humans, so we thought why not? If she can feed us, she can feed our dogs!
The Rachael Ray Nutrish product line includes wet and dry recipes, plus snacks for dogs and cats, but we're going to focus on dog food, obviously! We'll look closely at Nutrish ingredients, nutritional analysis, pricing, and any potential concerns or recalls. And we'll verify the promotional material that claims Nutrish contains only healthy, whole ingredients explicitly curated for a canine's omnivore diet.
It's pleasing to note that with the sale of every Nutrish product, a portion of the product proceeds goes straight to the Rachael Ray Foundation, which supports animals in need via shelter supplies, medical care, or other needs. Whether you're a first-time Nutrish customer or a seasoned fan like us, this review will help you make an informed feeding decision for your canine pal.

At a Glance: The Best Rachael Ray Nutrish Dog Food Recipes
Rating
Image
Product
Details

Our Favorite

Rachael Ray Nutrish Real Chicken and Veggies Dry Food

Real wholesome meats and vegetables are the primary ingredients
It is made in the USA
No recall history
Check Price

Rachael Ray Nutrish Super Premium Wet Food

Real meats and vegetables in every serving
No corn, soy, wheat, or gluten
Convenient easy to open packaging
Check Price

Rachael Ray Nutrish Burger Bites Beef Recipe with Bison

Made with real beef
Grain-free
Comes in a variety of package sizes
Check Price

Rachael Ray Nutrish Bright Puppy Chicken and Brown Rice Dry Food

Contains added vitamins, minerals and taurine
Features real chicken as the #1 ingredient
It is made in the USA
Check Price

Rachael Ray Nutrish Little Bites Real Chicken and Veggie Recipe

Features real chicken as the #1 ingredient
It is made in the USA
Crafted in a smaller kibble size
Check Price
Rachael Ray Nutrish Dog Food Reviewed
The Scoop On Production
Rachael Ray Nutrish dry products are manufactured in the US by Big Heart Pet Brands, a J.M. Smucker Company division out of Orrville, Ohio. Big Heart Pet Brands acquired Nutrish after purchasing it from Ainsworth Pet Nutrition in 2018, and they have been growing the brand ever since. It should be noted that Nutrish wet foods are produced in Thailand.
Which Type of Dog Is Rachael Ray Nutrish Dog Food Best Suited For?
Rachael Ray Nutrish will satisfy the nutrition demands of almost any cancie. The Nutrish extensive product line includes numerous dry and wet dog food products that are differentiated by life stage, kibble size, ingredient inclusions or exclusions (such as grain-free or wet foods with no corn, wheat, or soy), and several kinds of "delish" and Nutrish treats.
Which Type of Dog Might Do Better With a Different Brand?
Dogs with special dietary restrictions and needs that don't fall under the Rachael Ray Nutrish umbrella would do better with a different brand. If your pup has food allergies, gastrointestinal issues, weight control problems, oral health concerns, age, and/or kidney problems, you may find a more specialized alternative food line.
If you find yourself with a canine in this category, we tend to find that the Hill's Science Diet line of foods caters to pups that have more specialized dietary restrictions. One that we really like is Hill's Science Diet Perfect Digestion Salmon Dry Dog Food.

The Lowdown on Primary Ingredients
The central selling point of Rachael Ray Nutrish Dog Food is high-quality ingredients, including real meat, vegetables, and essential vitamins and minerals. The brand prides itself on providing dogs with wholesome, balanced meals. Let's take a closer look!
Meet Real Meat and Veggies
Rachael Ray Nutrish dog food typically features real meat as the primary ingredient (e.g., chicken, turkey, or beef). This provides dogs with an excellent source of protein, which is essential for their growth, muscle development, and overall health. Often, lesser quality foods will have meat meals as their primary ingredient. Meals, while still being a good source of protein, are made with more low-quality animal products.
We have talked about meat, but what about the veggies? We all know we should eat our veggies with meals, which is no different for our canine companions. The Nutrish dog food line ensures that vegetables are essential to many of their wet and dry dog food recipes. Many Nutrish formulations include vegetables such as carrots, peas, and potatoes, offering essential nutrients and fiber to keep your dog's digestive system healthy.
Varied Options
Variety is the spice of life, and Rachael Ray's Nutrish dog food keeps it interesting! You can choose between food and treats with grain-inclusive and grain-free recipes. For both wet and dry recipes, you'll find an assortment of primary meat ingredient selections, including chicken, beef, turkey, and salmon, thus allowing owners to consider their dog's preferences or digestive needs.
Nutrish dog treats come in a delectable assortment of tantalizing flavors for your good boy or girl. From savory chicken roasters and beef burger bites to Bark Jerky-Style Peanut Butter and Bacon with Real Beef treats, the Nutrish line has your rewards covered.
Any Downfalls for Your Dear Doggo?
Rachael Ray Nutrish Dog Food generally meets or even exceeds the nutrient guidelines for dogs set by the Association of American Feed Control Officials (AAFCO). So, are there any concerns pet owners know about?
Nutrish is a high-quality food on all accounts, but we will highlight a few considerations.
Many dog foods on the market have probiotics as marketed ingredients. Probiotics are added to many foods to aid your pup with digestion. This additive is not mentioned for Rachael Ray Nutrish dog foods and treats.
The highest quality pet foods ensure that the minerals in their formulations are chelated. Chelation of minerals makes them easier for your four-legged friend to absorb. It does not appear that Nutrish dog foods' minerals are processed this way.
Rachael Ray Nutrish dog foods contain a form of vitamin K called menadione. This formulation has been linked to allergies, liver problems, and abnormalities in how red blood cells break down.
Despite the above mentioned factors, Nutrish products are still an excellent option for your dogs.

A Quick Look at Rachael Ray Nutrish Dog Food
Great value for the price
Top quality ingredients
Solid assortment of wet and dry food options and treats
Readily available online and in stores
Some questionable ingredients
Does not have medically specialized formulas
Recall History
As with all of our reviews, we research any recalls for the products we're reviewing. According to our investigation, Rachael Ray Nutrish has never been recalled.

Reviews of the 3 Best Rachael Ray Nutrish Dog Food Recipes
We were wild about the quality and selection of Nutrish dog food and treat products that we had to choose from and wanted to take a moment to focus on our top three picks. 
1.

Rachael Ray Nutrish Real Chicken and Veggies Dry Dog Food
The Nutrish Chicken and Veggies dry dog food formula is a high-quality kibble at a price that keeps us coming back for more. It is made with the Nutrish Whole Health Blend, which contains omega-3s for a healthy mind, whole grains for balanced energy, and lean proteins for healthy muscles.
Real wholesome meats and vegetables are the primary ingredients
It is made in the USA
The price point is right
No recall history
Some of the ingredients are questionable
No known probiotics added to help digestion
Chicken can be an allergy in canines
---
2.

Rachael Ray Nutrish Super Premium Wet Food for Dogs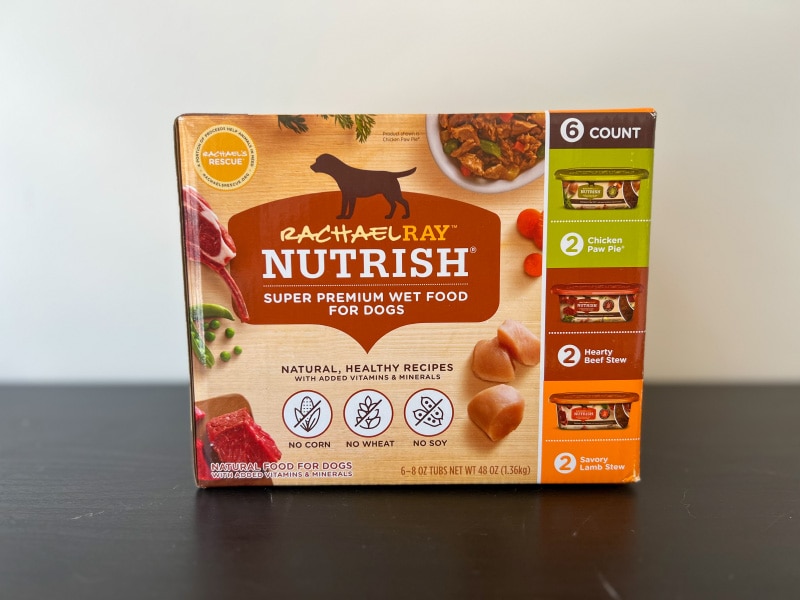 We love the variety pack! It comes with three flavors of wet food, including Chicken Paw Pie, Hearty Beef Stew, and Savory Lamb Stew. A second variety pack contains Chicken Paw Pie, Beef Stroganwood, and Chicken Muttballs. What we love about these products is that they look and smell tasty, even to humans. It is great to be able to tell what the ingredients are, as you can see the actual chunks of meat and vegetables. These wet foods have no artificial flavors and are full of essential nutrients for your canine.
Real meats and vegetables in every serving
Convenient easy to open packaging
No corn, soy, wheat, or gluten
Zero fillers or other byproducts
Expensive if this is your dog's primary food source
---
3.

Rachael Ray Nutrish Burger Bites Beef Recipe with Bison
Any dog owner knows that giving treats is an essential part of training and bonding. Everyone loves a good reward, and the Nutrish Burger Bites fit the bill. They are made in the USA from natural beef and bison, and are a treat you can enjoy giving your dog as much as they'll enjoy eating them.
Made with real beef
Grain-free
Comes in a variety of package sizes
Can cause stomach upset if too many are eaten at one time

Our Experience With Rachael Ray Nutrish Dog Food and Treats
As a proud and loving pet parent of four rescue dogs, I always want to give my fur babies the best life possible. An essential part of that is choosing the proper diet for their needs. When they were at the shelter, they often got the cheapest food available, which worked to keep them fed but wasn't always the most nutritious.
All four of my dogs are voracious eaters. However, despite loving their food and treats, they still discriminate about what they will woof down versus what they will pick at. I had heard and seen a lot of great reviews about the Rachael Ray Nutrish line of products, and being a fan of Ms. Ray as a chef and for her devotion to animals, I was excited to see if her foods and treats lived up to the hype.
All of my furry companions were right beside me at the door when our box arrived, and they wasted no time being curious. I opened things up and was quite pleased to see everything perfectly intact. Nothing was crushed or wrinkled, and the packaging was eye-catching and easy to read. My canine crew got to sniffing around and were soon howling for samples.
Who can say no to all those puppy eyes? Not me, so I cracked open the Beef Burger Bites since it wasn't quite dinner time yet. As the aroma of delicious burgers hit them, I have never seen a more well-behaved group of pups offering paws and tapping claws in excitement. They devoured their treats and immediately wanted more. I took advantage of their new-found food love and did a quick training session reinforced with some beefy goodness.
When it came time for dinner, Kala, our resident puppy, sampled the Bright Puppy Chicken and Brown Rice food. When I opened it, It smelled fresh and had a small kibble size perfect for a puppy. After a few sniffs and a lick, she dove in and was eating so fast, I had to pick up her bowl for a moment to slow her down. She licked the bowl clean and would have eaten more had I allowed it. She has been loving this food ever since.
My older pups were in for a treat with the Nutrish Chicken and Veggies dry dog food. Like their younger sister, my three older dogs were highly intrigued when they heard me cutting open the bag and surrounded me, tapping their feet and shoving their nose in the bag of food. As I scooped up the kibble, I loved that the pieces looked and smelled like actual meat and veggies. The food appearance was far more appetizing than many kibbles I have used over the years. My crew seemed pleased with this food as well and enthusiastically chowed down as soon as the bowls hit the floor.
As a bonus, I let the dogs sample some Rachael Ray Nutrish wet dog food. Since there were three flavors in my variety pack, I chose one for each of my furry friends. I loved the easy-to-open packaging because no one likes the cuts from cans or hard-to-open plastic containers. My delight was compounded when I saw the wet food that looked like a hearty stew that a human would eat. Typically wet foods are unidentifiable and look like something you wouldn't give your worst enemy. This food was a welcome addition to my doggies' diet, and they adored it.
I have yet to look back after the initial trial of the Nutrish dog food line. This food is high quality, has a solid price point, and has left my four-legged friends full of energy, with shiny coats and no digestive issues. I am officially a fan, and I think you will be too!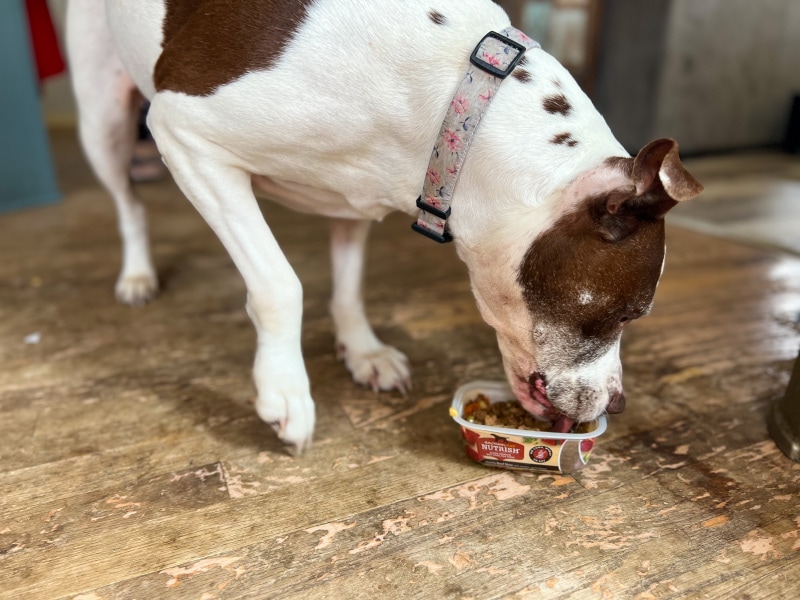 Conclusion
We are so glad you have stuck with us through this Rachael Ray Nutrish Dog Food review. We give it a glowing endorsement after deep diving into this product line. The ingredients are top quality. There is an excellent selection of products available. The price is affordable, and it is made in the USA. All in all, we love this food and are pretty PAWS-itive you will too.
You Might Also Be Interested In: 
---