Royal Canin vs Kirkland Dog Food: Our 2023 Comparison
Before you bring home a new dog, you'll want to make sure everything in the house is prepared for their arrival. That means picking out toys, a bed, a crate, and, most importantly, choosing the right dog food.
If you've already taken a look at the dizzying array of dog diets currently on the market, you might find the selections overwhelming. You want your dog to be healthy, but does it really matter if you pick the premium, holistic brand over the one you find on the shelves at your local grocery store?
To help you make sense of your options, we've compared two well-known brands: Royal Canin and Kirkland dog food. In this article, you'll find the results of our research, so keep reading for our in-depth analysis of these brands and some of their most popular recipes.
Click to skip ahead:

A Sneak Peek at the Winner: Kirkland
We think Kirkland is the best option for the average, healthy dog because it is affordable yet made with ingredients often reserved for more expensive foods. Most dogs don't need specialized diets, but if you are trying to avoid grains on the advice of your veterinarian, Kirkland has an option for you. However, Royal Canin is the clear winner for prescription food for dogs with special medical concerns.
Rating
Image
Product
Details

Kirkland Signature Chicken, Rice, And Vegetable Formula

Packed with protein and energy
Contains whole grains
Added glucosamine
Check Price

Kirkland Signature Nature's Domain Turkey And Sweet Potato

No chicken or wheat
Contains fatty acids, antioxidants, and prebiotics
Check Price

About Kirkland
Who Makes Kirkland Dog Food?
Kirkland is manufactured by Diamond Pet Foods, the same company that produces Taste Of The Wild and Diamond Naturals, among other brands. Diamond is a family-owned company with several manufacturing plants across the United States.
Where Is Kirkland Dog Food Sold?
Kirkland Dog Food is most commonly found at Costco Warehouse. It's also available from some other brick-and-mortar retailers, as well as online from Amazon. It is not sold at all pet stores or online pet food sellers such as Chewy.
What Recipes Does Kirkland Offer?
Kirkland offers both grain-free and grain-inclusive diets in canned and dry formulas. Foods for all life stages—puppy, adult, and senior are available. Kirkland does not offer limited ingredient foods or diets suitable for special medical needs.
What Are Some Common Ingredients In Kirkland Dog Food?
For proteins, Kirkland Dog Food uses whole meat or meat meal in every recipe. The grain-inclusive recipes generally utilize rice and cracked pearled barley. Grain-free recipes rely on sweet potatoes, potatoes, peas, and other legumes as carbohydrate sources. These ingredients are potentially linked to the development of heart disease in dogs, and the FDA is investigating.
All recipes also include other vegetables and fruits such as carrots, tomatoes, blueberries, and cranberries. Not all ingredients are sourced from the United States, and some come from China.
What Added Nutrients Are Found In Kirkland Dog Foods?
Many Kirkland recipes include added glucosamine and chondroitin for joint health. They also typically contain live probiotics, antioxidants, and fatty acids. All foods are formulated to meet the minimum standards set for pet food in the United States.
Affordable
Grain-free and grain-inclusive formulas
Foods for all life stages
Meat or meat meal as the protein source
Added nutrients include glucosamine and probiotics
Manufactured for Costco by a secondary company
Grain-free foods contain ingredients potentially linked to heart disease
Some ingredients sourced from China

About Royal Canin
Who Makes Royal Canin Dog Food?
Royal Canin is a French pet food company founded by a veterinarian in the 1960s. Mars Petcare purchased the brand in 2001, the same corporation that owns Iams, Eukanuba, Pedigree, and the veterinary health chains Banfield, VCA, and BluePearl.
Royal Canin's headquarters remain in France, but they have manufacturing plants all over the world, including Asia, Europe, and South America. In the United States, Royal Canin has production facilities in Missouri and South Dakota.
Where Is Royal Canin Dog Food Sold?
Royal Canin is available from veterinarians, specialty pet food stores, and various online retailers, including Chewy and Amazon. Royal Canin Veterinary Diets are prescription-only, but the regular recipes are available over-the-counter.
What Recipes Does Royal Canin Offer?
Royal Canin offers a vast selection of dog food recipes, both over-the-counter and prescription. They have puppy, adult, and senior recipes in canned and dry formulas. They also provide many breed-specific diets designed to cater to the unique needs of such breeds as the French Bulldog or German Shepherd.
For prescription diets, Royal Canin produces food designed to support the nutritional needs of various medical conditions. These include allergy support diets made with novel or hydrolyzed proteins. Other formulas help dissolve bladder stones or nourish dogs that can't process the fat content of the average dog food.
What Are Some Common Ingredients In Royal Canin Dog Food?
Royal Canin is focused on providing science-backed nutrition and is opposed to following the latest food trends and fads. Because of that, you won't find any grain-free options. In fact, most foods contain several grains, including brewer's rice, wheat, and corn.
For protein, most recipes rely on chicken by-products, meaning the parts of the bird leftover after it's processed for human consumption. The specialized allergy diets are made with salmon, rabbit, venison, or duck and generally paired with potatoes or hydrolyzed (pre-digested) soy proteins.
What Added Nutrients Are Found In Royal Canin Dog Food?
Royal Canin recipes contain many different additional nutrients, depending on their purpose. Some common additions include antioxidants, prebiotics, glucosamine, fatty acids, and specialized additives like tryptophan to calm anxious dogs.
The prescription diets feature distinct nutritional profiles, like added amino acids for heart support or an extra-low fat content for dogs with chronic digestive issues.
Specialized formulas for almost every nutritional need
Heavily researched and tested recipes
Available from online retailers
Often recommended by veterinarians
Precise blends of nutrients and additives in each formula
Some recipes require a prescription
Uses by-products and grains some owners prefer to avoid
Can be expensive, sometimes significantly

3 Most Popular Kirkland Dog Food Recipes
Here's a quick overview of three of the most popular Kirkland Dog Food Recipes.
Kirkland Signature Nature's Domain Turkey And Sweet Potato

Nature's Domain is made from turkey meal and sweet potatoes and contains no chicken or wheat. Dogs that are sensitive to those ingredients may find this a good option. With adequate protein and fat levels, Kirkland's Turkey And Sweet Potato is a nutritious choice. However, it does include peas in the top five ingredients. As we discussed, higher legume content in dog food is potentially linked to heart disease.
No chicken or wheat
Contains fatty acids, antioxidants, and prebiotics
---
Kirkland Signature Chicken, Rice, And Vegetable Formula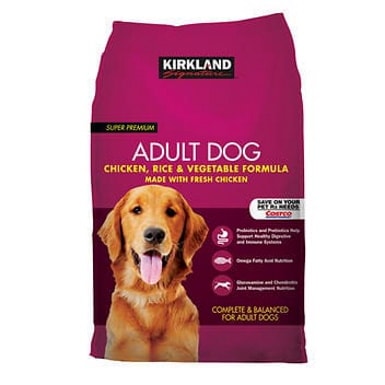 With chicken and chicken meal as the first two ingredients,this protein-filled food offers good value for your dog. Whole grains and eggs bring additional protein and energy to the mix. This recipe is fortified with glucosamine for joint health, fatty acids, and antioxidants. It is fairly high in calories for adult dog food.
Packed with protein and energy
Contains whole grains, fruits, and vegetables
Added glucosamine, fatty acids, and antioxidants
---
Kirkland Signature Puppy Chicken, Rice, And Vegetables
The Signature Puppy recipe is formulated to be easy on the little dog's stomach while providing fuel for growth. It comes in a small kibble and includes such additions as fish oil that promote proper brain and eye development. While high in protein, it doesn't contain as much of the nutrient as other puppy formulas.
Digestible
Small kibble for easy chewing
Includes DHA for brain and eye development
Not as high in protein as some puppy foods

3 Most Popular Royal Canin Dog Food Recipes
Now let's check out three of the most popular Royal Canin Dog Food recipes.
Royal Canin Small Adult Dry Food
Small Adult Dry Food is designed for dogs 9-22 pounds and features easy-to-chew kibble and a high-calorie content per cup, perfect for energetic small breed pups. To help keep all those calories from turning into fat, Royal Canin contains L-carnitine, an amino acid that helps metabolize fat. Royal Canin Small Adult contains chicken by-products, and those with food sensitivities need to look elsewhere.
Small kibble for easy chewing
High in calories for energy
Contains L-carnitine to burn off fat
Contains chicken by-products
---
Royal Canin Veterinary Diet Gastrointestinal Low Fat
This prescription diet is ideal for pups with sensitive stomachs or trouble digesting fat. Made with only 5.5% fat, roughly 1/3 of the fat found in most diets, this food is gentle on the stomach. With prebiotics and probiotics, Royal Canin GI Low Fat helps keep the gut balanced and ease digestion. Since it's only available with a prescription, this recipe is expensive and highly specialized.
Extra-low in fat
Digestible, contains pre-and probiotics
Ideal for sensitive stomachs
Requires a prescription
Expensive
---
Royal Canin Veterinary Hydrolyzed Protein Diet
For dogs with food allergies that need more than just a switch to salmon food, Royal Canin Hydrolyzed Protein is here to save the day. This food is made with soy protein that's broken down into particles small enough to escape the attention of the dog's immune system. If it can't "see" the proteins, there's no allergic reaction. As you might guess, this food is prescription-only and expensive.
Ideal for severe food allergies
Made with pre-broken down proteins
Contains nutrients for skin health as well
Requires a prescription
Expensive

Recall History of Kirkland and Royal Canin
In 2012-2013, Kirkland recalled multiple Diamond Pet products for Salmonella contamination. Both humans and pets fell ill during the outbreak, and Diamond Pet Foods settled a class-action lawsuit related to the matter. One Kirkland recipe was recalled in 2007 as part of the worldwide melamine-contamination issue that impacted dozens of brands.
Royal Canin also issued recalls in 2007 due to melamine contamination. In 2006, they recalled products due to elevated levels of Vitamin D.
Kirkland VS Royal Canin Comparison
Taste
Users of both brands report that their dogs seem to enjoy the taste. As with any food, picky eaters are likely to snub some recipes. Several Royal Canin diets are specifically designed to be tastier to appeal to fussy dogs. We'll call this metric a draw, especially since dogs display such unique individual tastes.
Nutritional Value
For nutritional value, each brand offers something different. Kirkland produces solid, nutritious diets well-suited for dogs with general health needs. On the other hand, Royal Canin focuses entirely on making food for intricate and diverse nutritional requirements. We'll give them the edge on nutritional value for the diversity and research involved in Royal Canin diets.
Price
For this metric, it's not really close: Kirkland is by far the most cost-effective of the two brands. Royal Canin is pricey—even the non-prescription diets. Kirkland can get a bit more expensive if purchased from a third-party retailer on Amazon than directly from Costco. But it's still not as expensive as Royal Canin. If your pup needs a Royal Canin Veterinary Diet, look for a pet insurance policy that covers prescription diets to ease the pain on your wallet.
Selection
Royal Canin has a much wider diet selection available than Kirkland. Kirkland has a reasonable array of general foods, including ones for each life stage and allergy-friendly foods. Royal Canin just has way more, including canned and dry versions of most recipes, even the prescription ones. No matter what's ailing your pup, Royal Canin has dog food that's just right.
Overall
For the average dog owner and healthy dog, Kirkland is more affordable and offers a good bang for the buck regarding food taste and quality. If you need specialized food or just like the idea of feeding your Boxer a Boxer diet, Royal Canin is the better choice, but you'll spend a lot more doing it.

Conclusion
Most dog owners will find Kirkland the better value and more appropriate choice. The brand offers nutritionally-sound diets that can feed your dog from puppyhood to old age. If you want to avoid grains, Kirkland is also the better pick.
However, dogs with medical needs or specialized breed concerns may require the advanced, scientific nutrition of Royal Canin meals. There's not necessarily a compelling reason to pay more for Royal Canin if you're feeding a healthy dog unless you're drawn to a company that cares more about the pet's nutrition than enticing the owner's cash.
See Also: