200+ Royal and Regal Cat Names: Ideas for Your Elegant and Demure Cat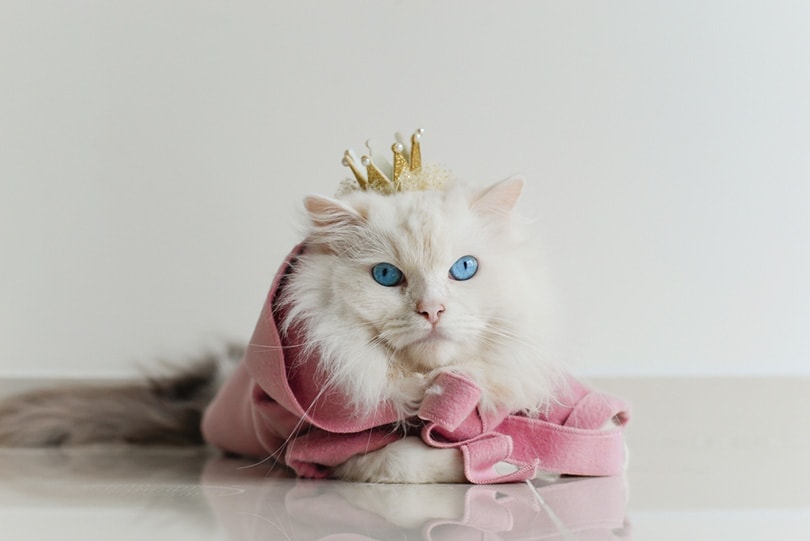 Of all the pets out there, cats are probably the ones to whom a "royal" name suits the best! But how to choose the perfect regal name for your divine feline? Easy-peasy with our extensive list of over 200 quirky and endearing choices! Just scroll through our categories and you will surely find the one that suits your pet best.
How to Name Your Cat
If you did a quick Google search before landing on this article, you already know the drill: a good cat name should match your kitty's personality, appearance, and breed. It should also be short, simple, and easy to remember.
But what really matters is that the name you choose reflects your originality and creativity. Because let's be honest: you will probably use a dozen monikers to call your cat rather than its own name! So let your imagination run wild and pick a name that tickles your mind—even if it's as long as Sir Leonardo DiCapricat IV!
Royal Cat Names for Males
Your chubby cat is already strutting around your living room as if he were the king of the world? Then you need a majestic name worthy of his nobility!
Altair
Alexander the Great
Apollon
Aragorn
Aristo
Arthur
Attila
Baron
Boss
Caporal
Carat
Casanova
Charles
Clovis
Dandy
Darwin
Dior
Falco
Ferrari
Garmin
Glam
Guapo
Gucci
Jafar
Joly
King
Louis
Luxy
Macho
Maestro
Milord
Napoleon
Norodom Sihanouk
Pacha
Philip
Prince
Proudy
Ramses
Richard Lionheart
Stanislas
Star
Sultan
Swag
Uno
Vizir
Winsor
William
Royal Cat Names for Females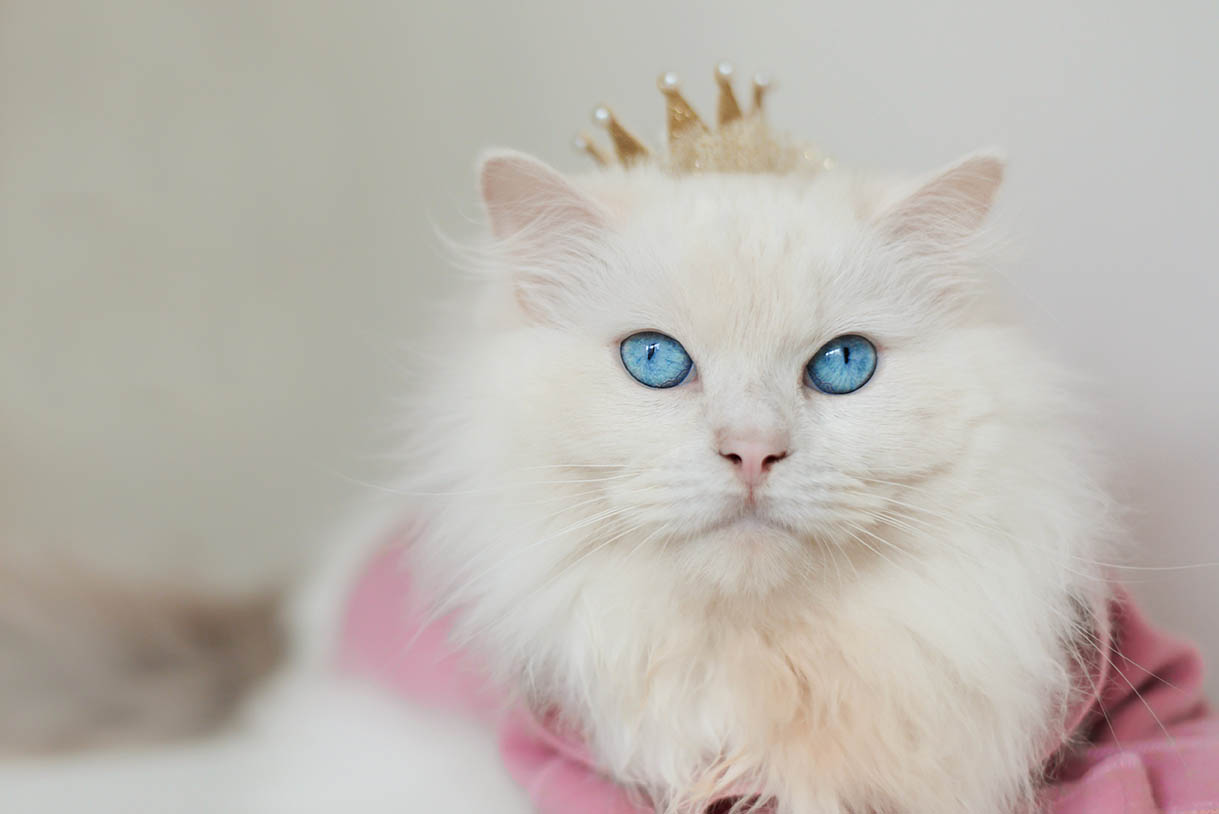 Your queen doesn't deign to touch her wet food if you haven't heated it in the microwave for a few seconds before? It's time you found her a name that lives up to her beauty, her elegance, and above all, her whims!
Altesse
Ariel
Bagheera
Barbie
Beauty
Bella
Belle
Bijou
Blanche
Caligula
Caprice
Chanel
Cleopatra
Dauphine
Deesse
Diamant
Diana
Dior
Diosa
Divine
Duchess
Elizabeth
Empress
Falbala
Glamour
Gossip
Grace
Grizabella
Guapa
Kate
Kheops
Lady
Lafayette
Lolita
Majesty
Marquise
Merveille
Milady
Miss
Nefertiti
Pin-up
Pompom
Poupee
Prada
Precious
Pridy
Princess
Queen
Queenie
Rani
Rama
Reine
Scarlett
Tiara
Tiu
Vanity
Victoria
Zara
Egyptian Royal Cat Names
What's better than the names of the great kings and queens of Egypt to evoke the greatness and power of those ancient times? And no, you don't need to have a Sphynx cat to choose an Egyptian name!
Bastet
Berenice
Cleopatra
Hathor
Isis
Ma'at
Mau
Merit
Miriam
Nefertiti
Papyrus
Ra
Sanura
Seshat
Tutankhamun
Tuya
Zahra
Zipporah
Japanese Emperors and Empresses Cat Names
Do Japanese culture and its grandiose emperors and empresses fascinate you? Here are some royal names for your elegant and graceful feline creature.
Annei
Ankō
Daigo
Fushimi
Itoku
Jimmu
Hanzei
Higashiyama
Keikō
Kōtoku
Mommu
Nintoku
Ojin
Richū
Saga
Seimu
Senka
Suizei
Sushun
Suzaku
Suiko
Takakura
Temmu
Uda
Funny Royal Cat Names
Not afraid of ridicule and looking for a regal yet fun name for your savvy kitty? Our list below will surely satisfy you!
King Fluffypants
Lady Whisker
Sir Scrumptious Muffins
Your Heiness the Kitty
Sir Eats-a-Lot
Empress Fluff
Mistress Purr
Queenie Catnip
Disney Princess Names for Female Cats
The beautiful and bewitching Disney Princesses have unforgettable names. It only makes sense to name your furry princess after them!
Aurora
Ariel
Belle
Cinderella
Charlotte
Elsa
Esmeralda
Faline
Jasmine
Kiara
Megara
Merida
Mirabel
Moana
Mulan
Nala
Pocahontas
Rapunzel
Raya
Snow White
Tiana
Tinker Bell
Disney Prince Names for Male Cats
It wouldn't make sense to end this list without also giving you some iconic names of Disney movie princes!
Aladdin
Beast
Eric
Florian
Hercules
Kovu
Milo
Mufasa
Philip
Prince Charming
Rei
Scar
Sir Robin Hood
Simba
Tarzan
Conclusion
That concludes our list of royal and regal names for your majestic cat! Do not hesitate to combine more than one choice to create an absolutely unique name that will honor your elegant and demure four-legged friend!
---
Featured Image Credit: xixicatphotos, Shutterstock