Savannah Cat Size: How Big Are They Full Grown + Size Chart
Savannah cats are known for their long and lean build, and they can grow to fairly large sizes. It can be particularly challenging to determine how big a Savannah cat will get because much of it has to do with the generation of the cat. F1 Savannah cats tend to be significantly bigger (up to 25 in) than generations with less African Serval in their ancestry, such as F5 Savannah cats (up to 18 in).
We'll go over the different sizes you can expect from Savannah cats and what you can expect during their growth and development.
Facts About Savannah Cats
Savannah cats are a fairly new cat breed that first appeared in the late 1980s. They received Championship status from The International Cat Association (TICA) in 2012, and breeding programs are continuing to develop more consistency with the breed standards.
Savannah cats are crossbred with an African Serval and a domesticated cat, and they're categorized by generations that begin with the letter "F" and are followed by a number that indicates their generation.
So, an F1 Savannah cat has an African Serval parent and a domestic cat parent. An F2 Savannah cat will be a little further removed and have an African Serval grandparent. The numbers increase as you move further down the generations, and most breeders don't record beyond F8 Savannah cats.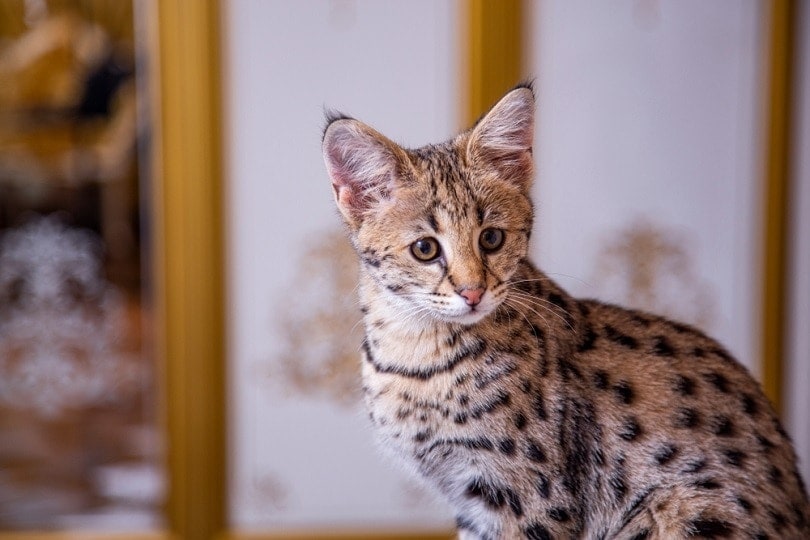 Savannah Cat Size and Growth Chart
The ranges of size and weight vary greatly due to the different generations of Savannah cats. Kittens can weigh anywhere between 3 to 10 pounds, and full-grown adults can be 12–25 pounds. Along with the generations playing a role, male Savannah cats tend to grow larger than females. Here are the weights and lengths you can expect each generation of Savannah cats to reach.
| | | |
| --- | --- | --- |
| Generation | Weight Range | Length Range |
| F1 | 19–30 lbs | 22–25 in |
| F2 | 16–30 lbs | 20–24 in |
| F3 | 14–24 lbs | 18–21 in |
| F4 | 14–20 lbs | 16–19 in |
| F5 | 14–20 lbs | 16–18 in |
| F6 | 12–15 lbs | 12–14 in |
| F7 | 10–15 lbs | 10–14 in |
When Does a Savannah Cat Stop Growing?
Savannah cats age a little slower than most other cat breeds. They typically stop growing when they're about 3 years old and reach full maturity at around this time. Savannah cats may still grow a couple more inches and gain a few more ounces, but the growth will have tapered by 3 years.
Knowing when a Savannah cat reaches maturity is important because it can help you determine its individual healthy weight and size. Tracking its weight regularly can help you see if it's gaining unnecessary weight and requires adjustments to its diet. Tracking weight loss can also help with detecting any underlying health issues that may be affecting the cat's ability to eat.
Factors Affecting the Size of Savannah Cats
The size of Savannah cats depends on a mix of genetics and environmental factors. Savannah cats with larger parents will typically grow larger. Since African Servals can reach about 2 feet in length, you can expect F1 Savannah cats with an African Serval parent to be the largest out of all the generations. However, this doesn't necessarily mean other generations can't reach large sizes, especially if they have parents that are bigger than average.
Kittens also need plenty of exercise opportunities and a substantial diet to aid healthy growth and development. Proper nutrition plays a key role in a kitten's brain and bone development. So, it's important to feed it a high-quality diet to help it reach its optimal height and weight as an adult.
Feeding a kitten the right kind of food can also prevent it from developing chronic conditions caused by nutrient deficiencies. Common health issues linked to poor nutrition include obesity, pancreatitis, urinary tract diseases, heart disease, and chronic cases of diarrhea.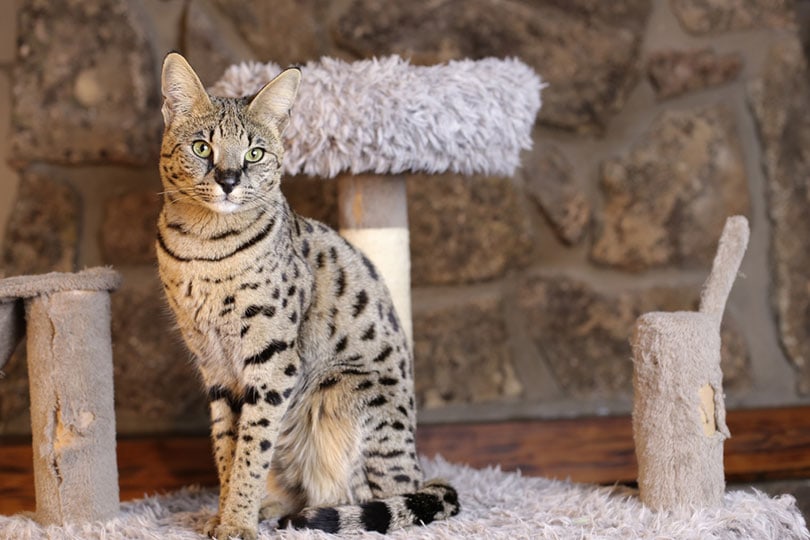 Ideal Diet for Maintaining a Healthy Weight
The ideal type of diet depends on a Savannah cat's life stage. Kittens typically require high-protein and high-calorie diets that will be able to support their growth and development. Adult Savannah cats often benefit from cat food that contains more protein because they tend to be more active than other cat breeds.
Once a Savannah cat reaches older adulthood, it often slows down and doesn't need to consume as much protein and calories. Many senior cat foods have lower levels of protein to ensure that a cat doesn't become overweight. Savannah cats can also start losing teeth as they age, so most Savannah cats will have to transition to eating wet cat food with a pate consistency.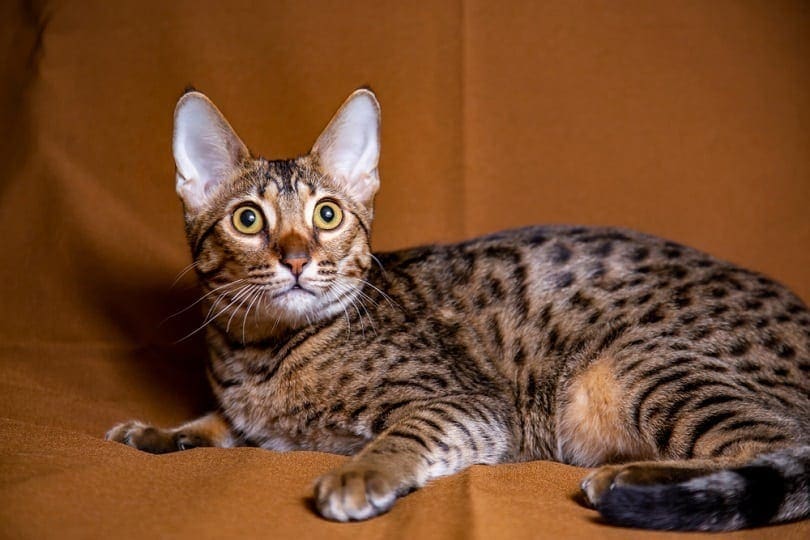 How to Measure Your Savannah Cat
Measuring a Savannah cat often requires two people because these cats are pretty active and aren't known to stay still for long periods of time. You may need one person to either hold the cat or keep its attention by holding out a treat while the other takes measurements.
It's best to use a flexible tape measure and start by measuring from the tip of the cat's nose to the base of its tail. Its height can be measured by starting from the front paw to the base of the neck.
The best way to measure a Savannah cat's weight is to use a pet scale. Savannah cats are intelligent and may be trained to sit still on a scale. Using treats and positive rewards can help your Savannah cat learn to sit while the scale reads its weight. You can measure your cat's size and weight once a week to keep track of its growth progress.
Conclusion
Knowing the generation of a Savannah cat can help you get more accurate predictions of its size and weight when it's fully grown. F1 and F2 Savannah cats tend to be the largest, while F5 Savannah cats and further generations are about the same size as a large domestic cat.
Keeping track of a Savannah cat's size and weight is helpful because changes in these factors can indicate some underlying health issues. Feeding it a nutritious, high-quality diet and giving it plenty of exercise opportunities will also promote growth and development and help kittens grow to become healthy and active adults.
---
Featured Image Credit: Kolomenskaya Kseniya, Shutterstock