Seresto Flea & Tick Cat Collar Review 2023 – FAQ, Pros, Cons, & Verdict
Our Final Verdict
We give Seresto Flea & Tick Cat Collar a rating of 4.3 out of 5 stars.
Fleas are a never-ending battle that pet owners are all too familiar with.  Keeping up with parasite prevention is the only way to keep these pesky insects from infesting your pets and your home.
There are plenty of different methods of flea and tick prevention and one of the most popular options is the flea and tick collar.
The most popular brand of flea and tick collars on the market today is Seresto. The company has had its products available for over 10 years now and offers collars for both dogs and cats. They pride themselves on being the top-selling, non-prescription flea and tick brand in the nation.
We're here to cover all bases regarding the Seresto Flea & Tick Cat Collar. We'll cover all the advantages and disadvantages, and answer all the most frequently asked questions below.
Seresto Flea & Tick Cat Collar – A Quick Look
Easy to use
Repels and kills fleas and ticks
Effective against adult fleas, ticks, and flea larvae
Offers 24-hour protection
Lasts up to 8 months
No prescription required
Affordable
No messy application
Efficacy shortened by exposure to water
May cause skin irritation or hair loss
Requires continuous wear
Can trigger an allergic reaction
Subject to safety concerns
No quick-release feature
Specifications
| | |
| --- | --- |
| Brand Name: | Seresto |
| Manufacturer: | Elanco Animal Health |
| Active Ingredients: | Flumethrin 4.5%, Imidacloprid 10% |
| Product Dimensions: | 4.75 x 4.75 x 1.5 inches |
| Minimum Age for Use: | 10 weeks |
| Length of Efficacy: | 8 months |
Repel and Kill Fleas and Ticks for up to 8 Months
Seresto collars are designed to offer 8 months of continuous protection against fleas and ticks. The active ingredients in the collar are released in low concentrations over 8 months across the cat's skin and coat. Fleas and ticks are killed on contact and the collars are even effective against flea larvae.
Two Active Ingredients
Imidacloprid – Imidacloprid is a systemic insecticide created to mimic nicotine which is toxic to insects and found naturally in many plant species, most notably the tobacco plant. Imidacloprid affects the central nervous system of insects and is most commonly used to target fleas and termites. It is listed as being moderately toxic to humans and other mammals, therefore it should only be used as directed.
Flumethrin – Flumethrin is a pyrethroid insecticide that is common in veterinary medicine for the treatment of parasites in both domesticated pets and livestock. Flumethrin is commonly used along with imidacloprid, as seen in Seresto collars. Low concentrations of this chemical can cause hyperactivity in insects and higher concentrations cause paralysis and death.
Works for Cats of All Weights and Sizes
Seresto Flea & Tick collars for cats can be used in cats and kittens that are 10 weeks of age or older. The collars are a one-size-fits-all approach, so they are suited for cats of all sizes and weights. While the company does state they can be used for both indoor and outdoor cats, it is important to note that they do not offer a quick release or breakaway feature if they were to become stuck, which can be risky for outdoor cats that are exposed to a variety of obstacles.
Affordable With No Prescription Required
One of the best features of Seresto Flea & Tick Cat Collars is that they are very affordable when compared with your conventional oral or topical flea and tick preventatives and they can be purchased without a prescription.
Most over-the-counter flea and tick medicine lacks the efficacy of its prescription competitors and to obtain these prescriptions, one must visit the veterinarian for access to these more effective preventatives.
Seresto eliminates the need for a prescription and offers protection over 8 months compared to the average topical or oral medication that must be administered monthly. You can easily purchase a Seresto collar online or at a local pet store.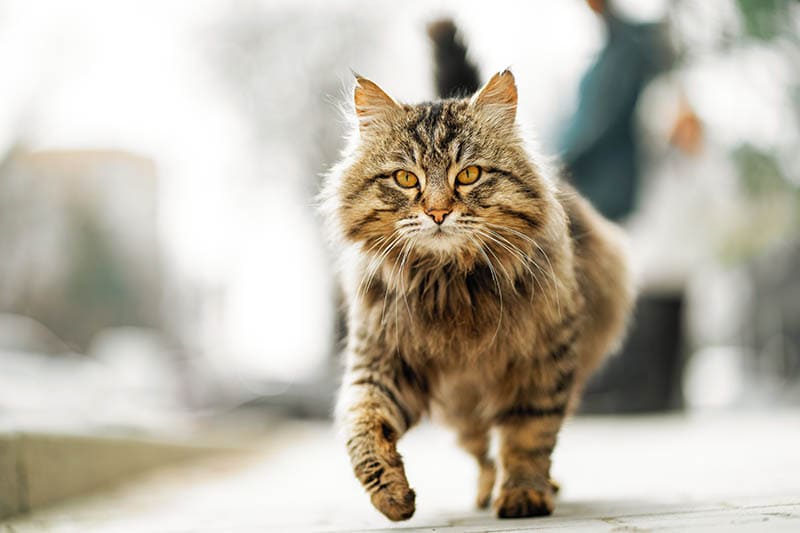 Controversy Surrounding Seresto Collars
Recently, it was discovered that the EPA received more than 75,000 incident reports related to Seresto flea collars for dogs and cats since they were first introduced in 2012. These reports included 1,700 pet deaths and about 1,000 incidents of harm to humans.
Pet owners and environmental groups blame these collars for a range of pet health issues and symptoms like vomiting, lack of appetite, rashes, seizures, weakness, dizziness, and even death. This resulted in various petitions and lawsuits being filed to have these products removed from the market.
Elanco Animal Health has defended the safety of these collars and noted that many of the claims are anecdotal. These reports have been refuted by veterinarians and veterinary toxicologists and advised there is no cause for alarm regarding the Seresto collars.
Any cat owner concerned over the ongoing controversy surrounding Seresto collars is advised to speak directly with their veterinarian to weigh the pros and cons of this product and any other flea and tick prevention.
FAQ
How Do Seresto Flea & Tick Cat Collars Work?
The active ingredients, imidacloprid and flumethrin, are stored within the collar and released in low concentrations over 8 months providing continuous protection against fleas and ticks during this time. Fleas and ticks typically don't have a chance to bite your cat, as these ingredients can kill on contact.
Are Seresto Flea & Tick Cat Collars Safe?
Seresto Flea and Tick Cat Collars are considered safe when used as directed. This product does contain pesticides and while they are deemed safe according to the EPA, there are still potential side effects that can occur. The most common adverse reactions to Seresto collars include redness, irritation, inflammation of the skin, and potential hair loss.
Seresto collars should only be used as directed per the manufacturer's instructions and any unusual symptoms or safety concerns should be brought up to your veterinarian. Seresto collars should be kept out of reach of children at all times.
Are There Any Age or Weight Restrictions?
Yes, these collars are not meant for use in kittens younger than 10 weeks of age. There are no weight or size restrictions, however, as these cat collars have a one size fits all approach.
What the Users Say
Overall, Seresto Flea & Tick Cat Collars get great reviews among consumers. Cat owners love that they can get a long-lasting flea and tick preventative that is affordable, effective, and available over the counter.
There are some complaints about the upfront cost of a single collar, which is steep when you are thinking in terms of an average collar. But if you consider the cost of a Seresto collar versus the cost of traditional monthly flea and tick prevention, it's actually good value for the money.
Some reported a lack of efficacy and reported continuous flea problems. Others felt the collar was effective but for a much shorter time period than advertised.
There are a number of users that had cats experiencing adverse reactions. This included severe skin irritation, hair loss,  open sores, and hair loss around the collar site. Many advised that the collar should be avoided in cats with sensitive skin and others condemned the use of the product altogether.
Conclusion
The Seresto Flea & Tick Cat Collar is an effective flea and tick prevention method that is not only affordable and long-lasting but can easily be purchased without a prescription. There is always a risk of adverse reactions and safety concerns regarding this product and other pesticides, so it's always best to check with your veterinarian about the safest options for you and your cat.