Seresto vs. Frontline: Which Flea & Tick Treatment Is Better?

Seresto and Frontline are two of the most popular and well-respected names in flea and tick prevention. Whether you live in the north woods or oceanside, there's a good chance that you and your pooch have encountered these nasty parasites before. If you don't invest in a proactive defense, you may just find yourself with a full-on infestation.
While Seresto and Frontline promise to kill and deter a variety of harmful insects and parasites, they are two different products. Seresto offers flea collars, which are ideal for dogs and their owners looking for hands-off protection for months at a time. Frontline delivers protection topically, in the form of a monthly ointment applied to your dog's skin.
When it comes to the nitty-gritty differences in ingredients, safety, efficacy, and price, how do these two flea and tick brands match up? Is one leagues ahead of the other? Or is it just a matter of choosing the right product and application type for your dog? Here's what we know about Seresto vs Frontline.

Seresto vs Frontline: What Are the Differences?
Seresto and Frontline both do the same thing: Kill and deter fleas, ticks, and other biting pests looking to hitch a ride on your dog. But when it comes to selecting the ideal flea protection for your own pup, there are a few factors you should keep in mind.
Application
At face value, the most obvious difference between Seresto and Frontline is the means of application. While one Seresto collar lasts for several months at a time, Frontline is a topical ointment that requires re-application each month. For many owners, the best application type simply comes down to personal preference.
Seresto's collar format is best for owners who want set-it-and-forget-it flea and tick prevention. As long as your dog continues to wear the collar, they're protected against fleas, ticks, mosquitoes, and more for up to eight months. You don't need to worry about remembering a new dose each month.
If you don't want to deal with an extra collar or want more control over your dog's month-to-month flea protection, then Frontline's topical formula might be the better choice.
Price
You can't put a price on reliable flea and tick prevention, but it sure doesn't need to break the bank! While prices vary slightly based on specific retailers, promotions, and different doses, we averaged out the cost of these two brands to make the most accurate comparison possible.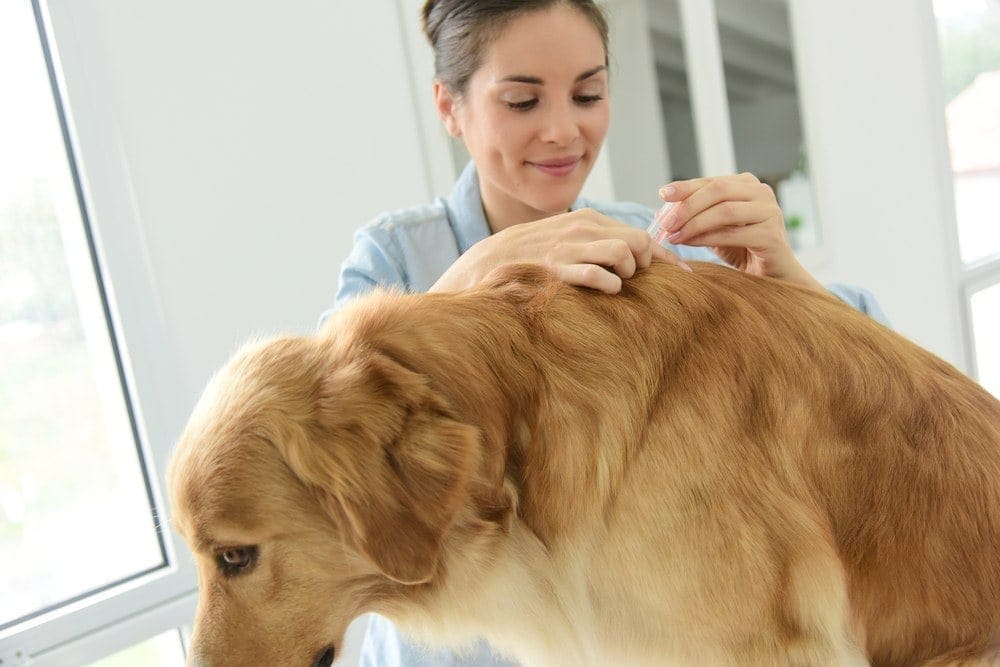 Overall, Seresto flea collars are more affordable than Frontline. However, this is only true if you get the full eight months out of each collar. If each collar only lasts five or six months on your dog, then there's little difference in price between these two treatments.
If you only require a few months of protection against fleas and ticks, Frontline does provide the option to purchase only as many doses as you need. Most dog owners will need continuous, long-term treatment, but this is a great way to save money in some scenarios.
Safety
To aid our discussion of Seresto, Frontline, and each brand's overall safety, let's look at the active ingredients in each formula. Seresto relies on two chemicals, imidacloprid and flumethrin, while Frontline uses different chemicals depending on the exact product, fipronil being the main one.
At this time, imidacloprid has been deemed safe for humans and most animals in small doses. Long-term exposure may cause unknown side effects, but it is not believed to be carcinogenic. Studies show that flumethrin is safe and effective, only causing minor problems around the collar's contact area.
Fipronil is deemed safe for cats, dogs, and humans who are occasionally exposed. Fipronil poisoning is attributed to significant overdosing or ingestion, not routine use.
Both Seresto and Frontline can be toxic to cats, small pets, and children. However, when it comes to the potential for direct exposure, Frontline has a clear advantage. Once the ointment is absorbed by your dog's skin (generally within 24 hours after application), the chance for exposure is gone, versus a flea collar, which is constantly releasing small amounts of insecticide.
Effectiveness
Based on our findings, Seresto and Frontline have similar efficacy rates. Of course, there's always a chance that one formula will work for one dog but not for another. Generally, though, their differences come down to how they work rather than how well they work.
Both products kill fleas, ticks, and lice living on your dog. Seresto prevents new ticks from climbing onto your dog's coat and skin, but Frontline does not. Meanwhile, Frontline repels mosquitoes, while Seresto does not.

Quick Rundown of Seresto
With its hassle-free collar delivery method and use of two active ingredients, it's easy to see why so many dog owners turn to Seresto for their flea and tick protection needs. Here's what you need to know about the brand and its canine products:
Sold over-the-counter
Kills and repels fleas and other parasites
Works for up to eight months continuously
Water-resistant formula
Effective against mature and larval fleas
Fits most dogs
Safe for dogs seven weeks and older
Causes skin irritation in some dogs
Does not specifically target flea eggs
Should be worn at all times
Some owners experience allergic reactions
Quick Rundown of Frontline
Frontline is one of the leaders in pet flea and tick treatments, with multiple different formulas to choose from. If you're okay using a monthly ointment to protect your dog from harmful parasites, here are the benefits and drawbacks of choosing Frontline:
Available without a prescription
Effective against fleas, lice, and ticks
Offers 30 days of protection
Quick and easy application
Doses available for dogs weighing 5 to 132 pounds
Targets all flea life stages
More expensive than alternative treatments
Requires monthly re-application
Some dogs experience irritation or hair loss
What the Users Say
No amount of research can replace information from real dog owners who have tried these products for themselves. After collecting reviews and comments from across the internet, here's what customers have to say about Seresto and Frontline:
On the positive side, both brands have received numerous customer reviews mentioning the efficacy of their products. Between the two companies, however, it's hard to pick one with a clear lead. You can find feedback for both brands claiming that the writer would not trust any other formula with their dog's safety and comfort.
Negative comments were also quite similar between these two companies. Many customers reported rashes, hair loss, or generalized skin irritation after using Seresto and Frontline products. We also found reviews complaining about the lifespan of Seresto's collars.

Conclusion
If you're just starting your dog on a regular flea and tick prevention regimen, then picking the right formula can be a head-scratcher. On the one hand, you don't want to spend a fortune on lackluster protection. But on the other, you don't want to cut corners and use a potentially harmful product on your four-legged companion.
Both Seresto and Frontline are well-trusted within the veterinary and consumer goods communities. While these products might be slightly less effective than prescription-only medications, few cases require the heavy-duty stuff. The over-the-counter ingredients found in Seresto and Frontline are strong enough to take out most biting parasites!
Ultimately, we suggest choosing a flea and tick treatment based on your own personal preference. Unless you've had poor results from Seresto or Frontline in the past, either brand should work against fleas, ticks, and other pests in your area. Instead, consider whether a collar or topical ointment would fit your lifestyle best.
Have you tried any Seresto or Frontline products in the past? What kind of results did you see?