Siamese Kittens For Sale in Georgia: Breeders List 2023

At Hepper, we advocate for adopting before shopping, but we understand there are many reasons for seeking a breeder, so we encourage it to be done the right way. We've put the top-recommended breeders here for you to get in touch with and ask all the right questions. We have not personally investigated each breeder ourselves. Learn more about our position and the questions you should ask before selecting a breeder here.
Siamese cats are beautiful, intelligent, social cats that form strong bonds with their owners. However, finding a Siamese kitten may not be so easy, depending on where you live. If you live in the state of Georgia, you'll have to dig deeper and travel to adopt your Siamese kitten—there is only one breeder in the state.
If you're set on using a breeder to find your feline companion, you may find one in a nearby state, or you can try shelters or rescues. You never know if a Siamese kitten will need a forever home from one of those organizations.
Siamese Kitten Breeders in Georgia
1.

Kittentanz
This cattery specializes in Applehead and Tonkinese Siamese kittens. They are registered with The Cat Fanciers' Association (CFA) and the Georgia Department of Agriculture as a licensed pet dealer. This breeder has over 30 years of experience raising and selling Siamese kittens. All kittens are vaccinated at 13 and 16 weeks for distemper, FeLV, and are de-wormed. All kittens come with a guaranteed bill of health and are spayed/neutered. Their breeding cats are tested negative for FeLV, FIV, and are vaccinated for rabies, distemper, and coronavirus. This cattery is "polite, prompt with responses, and delivered a perfect kitten." They also ship domestically and internationally.
---
Siamese Kitten Breeders in Neighboring States
1.

Gotier Siamese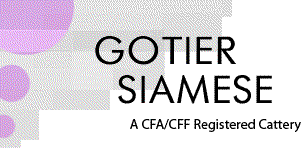 This CFA-registered cattery is located in South Florida, so it will be a distance to travel. They do, however, have seal and lynx point Siamese kittens, along with many other types. Kittens go home between 14 and 16 weeks, and they will have all vaccines and a health certificate. A 50% deposit is required once a kitten is found for you before taking it home and adding it to your family.
---
2.

Katsmith
This cattery is CFA-registered and specializes in chocolate and lynx point Siamese kittens. The kittens will have all vaccines, including rabies, and come with a certified health certificate and registration papers. Retired Siamese cats are occasionally available, as well. Kittens go home between 16 weeks and 4 months. You will need to travel to the cattery because they do not transport.
---
3.

Suyaki Siamese Kittens
While this CFA-registered cattery is located in Miami, they ship nationwide for an additional charge, so this could be an option. If you're interested in the breed, this cattery comes "strongly recommended." They breed purebred kittens and specialize in seal point, chocolate point, lilac point, and blue point. All kittens will have vaccinations and a health guarantee.
---
4.

Meow Time Cattery
This breeder has been breeding since the year 2000 and is CFA-registered. Kittens are available at 8 to 10 weeks and are guaranteed to be free of FeLV and FIV. They require a $200 non-refundable deposit, and they guarantee all kittens are free from internal and external parasites. Kittens are given two sets of vaccines, preventatives and are de-wormed. Customers "definitely recommend meow time cattery to everyone." They have blue point, seal point, and traditional Applehead Siamese cats and kittens. You will have to travel to this cattery to pick up your kitten.
---
5.

Carolina Blues Cattery
Located in Charlotte, North Carolina, this cattery specializes in seal point kittens and comes with a 1-year guarantee against congenital defects. The kittens are free from FeLV and FIV, are de-wormed, and raised in loving homes with no cages. This cattery was named 2013 Cattery of Supreme Excellence by the Traditional Cat All Breed, Inc. (TCA).
---
Georgia Cat Rescues
1.

Rescue Cats
Rescue Cats is a state-licensed, non-profit organization dedicated to finding cats in need of forever homes. All kittens and cats are spayed/neutered, vaccinated, tested for FeLV and FIV, de-wormed, and microchipped. You never know if a Siamese kitten will be available, so it's a good place to check.
---
2.

Georgia Siamese Rescue
This rescue is a great place to look for a purebred or mixed Siamese cat or kitten. If you see one you like, simply click on the link, and it will give you the location, age, gender, and health of the cat or kitten.
---
3.

Cat Rangers
This non-profit organization is a cage-free facility. All kittens live in foster homes before adoption for adaptability purposes. These cats and kittens have come from dire situations, and the rescue is dedicated to socializing them so they can find them forever homes. You can find mixed Siamese cats or kittens needing a forever home at this facility.
---
4.

Atlanta Persian and Siamese Rescue, INC.
You can find a Siamese cat or kitten through this non-profit organization. All cats and kittens are given lots of love, veterinary care and enjoy a comfortable environment while they await forever homes. They specialize in rescuing Siamese, Persians, and Himalayans. All cats and kittens receive vaccines through a veterinarian.
---
Featured Image Credit: Kristin Brown, Unsplash