Simply Nourish Cat Food Review 2022: Top Picks, Pros & Cons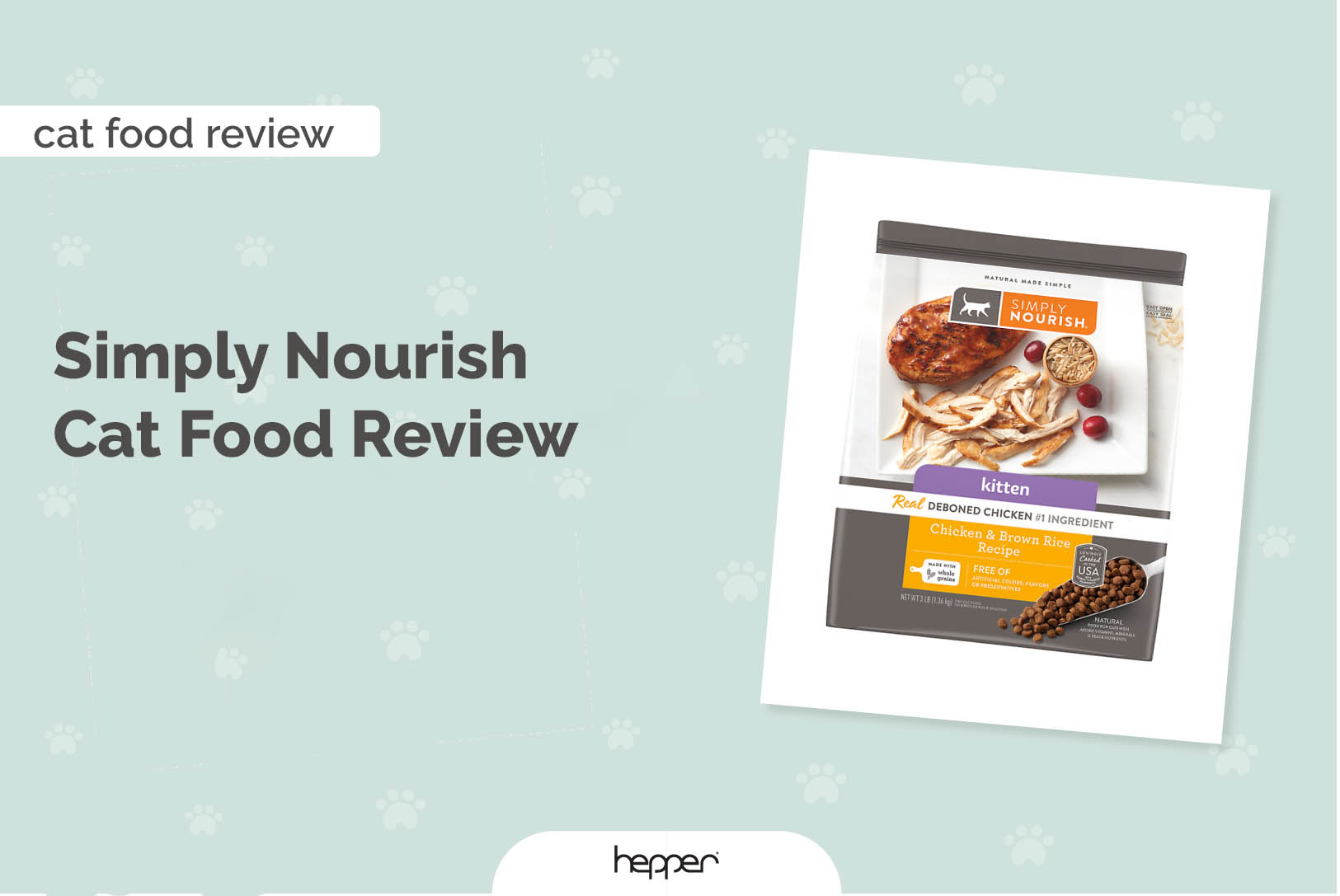 Review Summary
Our Final Verdict
We give Simply Nourish cat food a rating of 4.5 out of 5 stars.
Introduction
Simply Nourish is a pet food brand for dogs and cats founded by American Nutrition in 1972. It currently has a line of over 40 different recipes, meal toppers, and treats for cats. You can find it sold at various pet stores, both online and in stores. The goal of Simply Nourish is to make food and nutrition a "simple and understandable" experience for pet owners. The brand pays attention to using high-quality ingredients to create nutrient-dense formulas. It aims to be a trusted brand that produces healthy and affordable cat food so that more cat owners can provide nutritious meals for their beloved cats. In general, quality cat food should contain at least 25% protein and 20% healthy fats. Named protein, such as chicken and salmon, should be the first ingredient. It's also best to stick to grain-free recipes because cats are obligate carnivores and often have trouble digesting carbohydrates. With this in mind, Simply Nourish has many recipes that follow these guidelines. There are many options to choose from so that your cats can eat healthy meals that also suit their individual palettes.
At a Glance: The Best Simply Nourish Cat Food Recipes:
Rating
Image
Product
Details

Best Overall

Simply Nourish Shreds & Flaked Adult Wet Cat Food

Helps cats stay hydrated
Different flavors to choose from
Great alternative for cats that don't like pate texture

Simply Nourish Adult Dry Cat Food

It's popular with many picky cats
It's a good option for indoor cats
Packed with essential vitamins and minerals

Simply Nourish SOURCE Pate Adult Wet Cat Food

Good option for cats with food sensitivities
Contains nutrient-packed whole ingredients
Natural meat protein are the top five ingredients

Simply Nourish SOURCE Indoor Adult Dry

Formulated for indoor cats
Real deboned chicken is the first ingredient
Free of artificial flavors, colors and preservatives

Simply Nourish Kitten Dry Cat Food

No preservatives added
Formulated for young cats
Real deboned chicken is the first ingredient
Simply Nourish Food Reviewed
Who Makes Simply Nourish Cat Food and Where Is It Produced?
American Nutrition owns and manufactures Simply Nourish. It's a US-based brand, and it has facilities in the US and Thailand. Simply Nourish mostly manufactures dry foods in a facility in Utah and wet foods in Thailand. It manufactures wet foods in Thailand because the ingredients are local to regions in South East Asia.
Which Types of Cats is Simply Nourished Best Suited For?
Simply Nourish has many options for indoor and outdoor adult cats. They have a decent selection for kittens and a fairly limited selection for senior cats that are 10 years old and above. Overall, Simply Nourish produces a great cat food line that promotes and sustains general health for adult cats.
Giving your pet the highest quality nutrition is a top priority, so why not give them a food and water dish to match? The Hepper Nom Nom Bowl is our product, but it's too good not to share.
Made from food-safe stainless steel, you can ensure that your pet is consuming the best nutrition out of the finest bowls on the market. Click here to get yours.
Which Types of Cats Might Do Better with a Different Brand?
Simply Nourish has a minimal selection for cats with special needs and specific health concerns. For example, they have just one recipe each for weight control, skin and coat, and hairball control. Therefore, if your cat has specific needs, you might want to look into other brands that have science-based pet foods. Royal Canin, Hill's, and Purina Pro Plan are all science-based brands that address life stage and lifestyle needs and particular health conditions. Chewy's Science Shop lists many different kinds of science-based formulas.
Our Favorite Cat Deal Right Now

33% OFF at Smalls Fresh Raw Cat Food
Use Code Hepper2022 at Checkout
Discussion of the Primary Ingredients (Good and Bad)
Simply Nourish's recipes follow a similar ingredient format. This brand makes a point to use real meat as the first ingredient in all the recipes. The recipes also have a blend of superfoods and natural ingredients to keep your cats healthy.
Real Meat is the First Ingredient
Since cats are carnivores, they need a protein-heavy diet. Simply Nourish's recipes all have carefully sourced meat as their first ingredient. The formulas typically use chicken, salmon, and turkey. Dry foods often have a meat meal listed as the second ingredient, and wet foods often have a meat broth listed as the second ingredient. Meat meal and broth contain additional nutrients that are missing in deboned meat. Simply Nourish's Source line all contain 35% protein or higher. Recipes in this line are also all grain-free.
Healthy Fats
Cats also need a good amount of healthy fats. Fat is necessary for cats because it provides energy and supports their cell structure and function. Simply Nourish has a lot of recipes that contain chicken fat and sunflower oil.
Taurine
All of Simply Nourish's recipes contain taurine. Taurine is an essential amino acid, and a taurine deficiency can cause severe health concerns. Cats need taurine, but they can't synthesize much of it on their own. Therefore, they have to obtain it from the food they eat. Research links taurine deficiencies to reproductive failure, poor growth in kittens, and central retinal degeneration.
Fillers
Many poor-quality cat foods contain high volumes of carbohydrate fillers and other unnecessary and unhealthy components, such as artificial flavors and preservatives. Simply Nourish's cat food aims to use a lower volume of carbohydrates. It also offers many grain-free options and any recipes that do contain grain use whole grains like oatmeal. When Simply Nourish includes carbohydrates, it tries to use nutrient-packed carbohydrates, such as potatoes and peas. However, it's important to keep in mind that some cats may have difficulty digesting potatoes. Carbohydrates often find their way into cat food because of their binding properties. Even though potatoes may not be the best for cats, they're certainly a better alternative to corn gluten meal.
A Quick Look at Simply Nourish Cat Food
Recipes have real meat as the first ingredient
Recipes use natural ingredients
Recipes contain necessary nutrients, vitamins, and minerals
There are many options for wet and dry foods for adult cats
Source line has a very high percentage of protein
Limited options for specialized diets
Some kibble sizes in dry recipes are too small, and cats swallow them whole
Some dry foods may not have adequate moisture to keep cats hydrated
Recall History
To date, Simply Nourish's cat food line has been recall-free. However, the brand has issued two recalls for their dog food. In October 2014, Simply Nourish issued a recall for its Beef and Biscotti Dog Treats due to potential mold growth. They also issued another recall on August 13, 2021, for frozen dog food manufactured by Wet Noses Natural Dog Treat Company. The food contained elevated levels of vitamin D that were harmful to dogs.
Reviews of the 3 Best Simply Nourish Cat Food Recipes
Here's a review of three popular and widely available Simply Nourish cat food recipes.
1.

Simply Nourish Shreds & Flaked Adult Wet Cat Food
This recipe is a top-rated wet food option. It's grain-free, and you can choose from three flavors:
Chicken
Chicken and duck
Chicken and salmon
The recipe has many supplemental whole ingredients such as carrots, peas, and tomatoes. It also includes essential vitamins and minerals like Vitamins A, D, E, and zinc. The recipe doesn't contain any potatoes, so it can work well for cats that have trouble digesting potatoes.
Cats have different flavors to choose from
Wet food helps cats stay hydrated
Price is affordable compared to other competitive brands
Great alternative for cats that don't like pate texture
Pieces might be a little too big
---
2.

Simply Nourish Adult Dry Cat Food
This dry cat food is grain-free and made with natural ingredients. Deboned chicken is the first ingredient, and it also has chicken meal and chicken fat. It contains omega-3 and omega-6 fatty acids, essential vitamins, and taurine. The recipe balances an optimal number of calories from protein and fat. This balance makes this formula great for indoor cats by helping them maintain a healthy weight. You may have to be cautious if you have cats with sensitive digestive systems because the recipe does list dried potatoes as its third ingredient.
Packed with essential vitamins and minerals
Recipe is grain-free
It's popular with many picky cats
It's a good option for indoor cats
Recipe contains potatoes and some cats may have trouble digesting it
---
3.

Simply Nourish SOURCE Pate Adult Wet Cat Food
The SOURCE line of cat food contains a high percentage of protein and is grain-free. This particular recipe lists venison, chicken, turkey, venison broth, and chicken liver as its first five ingredients. Venison is easy on the stomach, so it's an option that many owners give to cats with food allergies and food sensitivities. The food texture is a pate, so it's great for cats that tend to swallow kibble or have trouble eating larger chunks of food. This recipe also has a high moisture content, so it can be a good option if your cat doesn't like to drink water.
Natural meat protein are the top five ingredients
Good option for cats with food sensitivities
Contains nutrient-packed whole ingredients
Price can be more expensive than other canned cat food brands
Recipe contains potatoes, potato protein, and sweet potatoes
What Other Users Are Saying
Simply Nourish generally has positive reviews from real cat owners. You can directly read Amazon reviews here. A lot of cat owners mentioned how their picky cats love the Simply Nourish recipes. The SOURCE food line also received positive reviews and has customers that appreciate all the natural ingredients. Several owners noticed a positive impact on their cats' health thanks to their switch to Simply Nourish.
Conclusion
The highlight of Simply Nourished is that it develops cat food with nutritious natural ingredients for a relatively affordable price. The recipes contain a lot of protein and healthy fats, and they don't use artificial coloring or preservatives. It's also a brand that's accessible to many cat owners, and it offers a wide selection of flavors and textures to match a cat's unique taste preferences. In short, we believe that Simply Nourished is one of the better options for cat owners who want to give their cats high-quality food without paying a fortune.