Spot vs Pumpkin Pet Insurance Comparison 2023: Which is Best?
In This Review: Spot Overview | Pumpkin Overview | Plans & Pricing | Deductibles & Claims | Verdict
When you have pets, you want only the best for them, including the best pet insurance company to cover them should they have an accident, become ill, or require a checkup.
If you choose not to have pet insurance and your pet is injured, you might be stuck with an expensive vet bill to pay out of pocket. In the worst situations, you cannot afford to have your pet treated, and it ends badly.
We'll examine two pet insurance companies: Spot and Pumpkin. This article will discuss what pets each company covers, their plans, reimbursements, deductibles, perks, and more.
If you've been looking for the best pet insurance for your dog or cat, we'll give you our pros and cons and the final verdict for each so that you can make an informed decision.
A Quick Comparison
| | | |
| --- | --- | --- |
| Company Name |  Spot |  Pumpkin |
| Pets Covered | Cats and dogs | Cats and dogs |
| Types of Plans | Accident and Illness, Accident Only | Medical, Wellness |
| Deductibles | $1,000, $750, $500, $250, $100 | $100, $200, $500 |
| Reimbursement | 70%, 80%, 90% | 90% |
| Additional Perks | 10% pet discount, no age or claim limit, can file a claim online | Multi-pet discount, no maximum age limit, enroll online, flexible coverage choice |
---
Brief Overview of Spot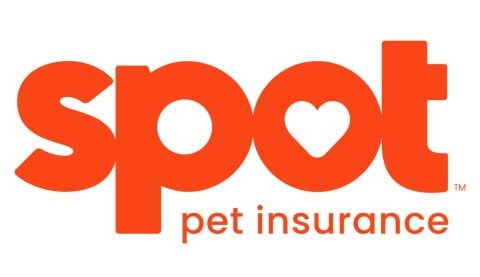 Customizable plans
Up to 90% reimbursement rates
Has an accident-only coverage plan
Different deductibles available
14-day waiting period
Their unlimited coverage is expensive
Spot pet insurance is new on the scene. However, since the company is affiliated with Cesar Milan, the host of the TV show the Dog Whisperer and chairman of the company itself, it's already in good standing. The company was started by pet parents who knew firsthand how expensive vet costs can be and how needed they are.
Spot offers comprehensive coverage for any pet emergencies your pet might have, as well as preventive care. The company also offers alternative therapies coverage, which covers procedures such as acupuncture and chiropractic services for your pets. This is something that very few pet insurance companies will cover.
---
Brief Overview of Pumpkin
Covers some preexisting conditions
Uses reimbursement format
Comprehensive coverage
Let's you use tailored plans
Great customer service
The Pumpkin pet insurance company was started in 2019 and is a licensed pet insurance agency. They offer pet insurance policies for cats and dogs in all 50 states in America and Canada. This company works on a reimbursement basis.
In other words, when you take your pet to the vet, you'll pay the costs upfront, then Pumpkin will reimburse you. While Pumpkin, like Spot, is a new player in the insurance game, they cover some preexisting conditions and offer plans that are tailored to your pet's particular needs.
While the company at one time only offered insurance for dogs, they have recently upgraded to include cats as well, which is good news for cat parents.
---
Other Top-Rated Pet Insurance Companies
---
Spot vs Pumpkin: Plans Available
Regarding the available plans, Spot offers Accident and Illness coverage or Accident-Only coverage options, plus you can add different tiers of prevention and wellness care for your pet.
Pumpkin offers a few different pet insurance plans, allowing you to choose the right one for your pet. These include Accident and Illness, Preventive Care, and a plan to cover hereditary conditions.
Spot
Spot's Accident and Illness coverage includes coverage for most accidents and illnesses, though what they cover will depend on your chosen policy. The most commonly covered procedures include diagnostic tests, fees for exams, chronic conditions treatment such as cancer, diabetes, and alternative therapies like acupuncture and rehabilitation.
The insurance will also cover wellness checkups if you add the Wellness plan option to your existing policy. Accident-Only coverage covers most of the things that are accident-related but not claims related to illnesses. Spot pet insurance also covers microchipping but does not reimburse you for annual fees or other related costs.
Pumpkin
Pumpkin has one main plan that covers accidents and illnesses. This plan covers almost any illness, including hip dysplasia and other health conditions often not covered by health insurance. This plan also covers emergencies, prescriptions, diagnostic tests, cancer treatments, and alternative therapies.
They also cover many preexisting conditions that other companies won't. The insurance will cover gum disease, hereditary conditions, microchipping, fees for exams, and behavioral issues. In some cases, prescription foods are also covered for specific health conditions.
The company features a special add-on plan for preventive measures. As with other programs through Pumpkin, this one provides coverage for some things other companies don't offer, such as vaccines, lab tests, and annual wellness checkups.
Find The Best Insurance Companies in 2023
---
Spot vs Pumpkin: Reimbursements and Deductibles
Regarding reimbursements and deductibles, Spot and Pumpkin vary a bit. We'll discuss the differences between the two and what they offer.
Spot
Spot offers deductibles of $100, $250, $500, $750, and $1,000, according to the plan you choose. Their reimbursement rate is 70%, 80%, and 90%, according to your chosen plan. Spot does not cover any preexisting conditions, however.
Annual Deductible Options
$100
$250
$500
$750
$1,000
Maximum Coverage Options
$2,500
$3,000
$4,000
$5,000
$7,000
$10,000
Unlimited
Pumpkin
Pumpkin covers some preexisting conditions and more procedures than most pet insurance companies cover. They offer deductibles of $100, $200, and $500, and their reimbursement rate is 90%, making them come out on top over Spot in this department.
Annual Deductible Options
---
Spot vs Pumpkin: Additional Perks
Most pet insurance companies offer additional perks with their pet insurance plans. Some companies offer discounts if you get insurance on multiple pets, while others provide Amazon gift cards when you sign up. Customer service is a must in these situations, and both Spot and Pumpkin have excellent customer service, according to reviews.
Spot
Spot has additional perks, such as letting you pay your payments online, having no age or claim limit, and offering a 10% multi-pet discount for other pets in the family that are added to the existing pet insurance plan.
Pumpkin
Pumpkin has no age limit on pets and provides a 10% multiple pet discount. Plus, Pumpkin has flexible plan choices, so you're not paying for medical services your dog will never use.
---
Company Verdict: Which One Has the Edge?
Customer Service 📞
Pumpkin has a slight edge on Spot regarding customer service. They are friendly, knowledgeable, and beyond willing to help. There have been reports of Spot's customer service not being as pleasant or helpful as it should be with customers.
---
Price of Plans 💲
When it comes to the price of the pet insurance plans, Spot edges out Pumpkin because the premiums for some of their plans are cheaper. However, with everything that Pumpkin offers, they could come out on top for what they offer. However, if you're looking to save money, then Spot is the way to go.
---
Areas of Coverage 🌐
Hands down, Pumpkin has the edge on coverage. They cover many preexisting conditions, pay for annual checkups, and even cover prescription foods for dogs with certain conditions.
---
Perks 📱
Once again, Pumpkin comes out on top in the perks department. They let you choose your plan based on your dog's needs so that you're not paying for services the dog will never use. Great customer service pushes them over the edge, in our opinion.
Find The Best Insurance Companies in 2023
---
Conclusion
| | Spot | Pumpkin |
| --- | --- | --- |
| Our Rating | Our Rating: | Our Rating: |
| Multi-Pet Discount | Multi-Pet Discount: | Multi-Pet Discount: |
| Dental Options | Dental Options: | Dental Options: |
| Hereditary Conditions | Hereditary Conditions: | Hereditary Conditions: |
| Alternative Therapies | Alternative Therapies: | Alternative Therapies: |
| | | |
This concludes our comparison between Spot and Pumpkin pet insurance companies. While Pumpkin is a bit more expensive regarding their plans and monthly premiums, it's worth it to ensure your pet is healthy, happy, and loved for many years to come. If you're looking for the best, then Pumpkin is the best pet insurance provider, in our opinion.
Hepper acknowledges that it is not licensed as an insurance agent, and therefore will not offer any advice regarding insurance, nor recommend a particular coverage, policy, or insurance company.
See Also: