Sundays vs Spot & Tango Dog Food: 2023 Comparison
Review Summary
Dog parents are becoming increasingly aware of the benefits of feeding fresh ingredients to their doggos. Nowadays, there are plenty of companies out there that make fresh dog food, and in this article, we'll focus on two companies: Sundays dog food and Spot and Tango dog food.
Both companies skip adding artificial flavors, colors, and additives, and both offer fresh wholesome ingredients. These companies appeal to those who want their dogs to eat fresh food instead of kibble without the hassle of making it themselves. Let's face it—people lead busy lives, and if you can have fresh dog food delivered right to your door, it would make life much simpler.
Come with us on a journey of comparing these two companies side by side so that you can make an informed decision on which to choose. We will compare price, nutrition facts, and the ease of using their services.

At a Glance
Let's look at the key points of each product.
Sundays Dog Food
Uses a gently-dried method of cooking slow at low temps
Contains fresh, human-grade ingredients
Food is made in a USDA-monitored kitchen
Free shipping
Offers 50% off first order
Offers 20% off when you subscribe
Vet-formulated
Spot and Tango
Fresh, human-grade ingredients
Offers fresh food and "unkibble"
Vet-formulated
Free shipping
Food made in USDA kitchens
20% off first order

Overview of Sundays Dog Food:
Sundays was invented by Dr. Tory Waxman, a veterinarian, and Michael Waxman, an engineer. The pair's dog got sick, which prompted them to seek out the healthiest dog food they could find. After an extended search, they couldn't find healthy dry kibble and didn't want the hassle of preparing home-cooked meals either. In the end, they decided to make their own dog food with fresh, healthy ingredients.
Food Appearance and Recipes
Sundays offers two recipes: chicken and beef. We should note that the food is going to look different from what you're used to. The food looks like treats or some type of jerky rather than a meal, but rest assured, the food contains no additives, preservatives, or colors.
Real USDA beef, beef hearts, and beef liver are the first ingredients in the beef recipe, and real chicken and chicken liver are the first ingredients in the chicken recipe. What follows are healthy, human-grade fruits, vegetables, and oils.
How the Food Is Made
Sundays uses an air-drying method that gently dehydrates the food at low temperatures and cooks it slowly. This method preserves all the nutrients that otherwise get lost in other dog food brands, especially kibble. All food is made in a USDA-monitored kitchen with only human-grade ingredients. This means that all ingredients are FDA-approved and meet the safety standards for human consumption.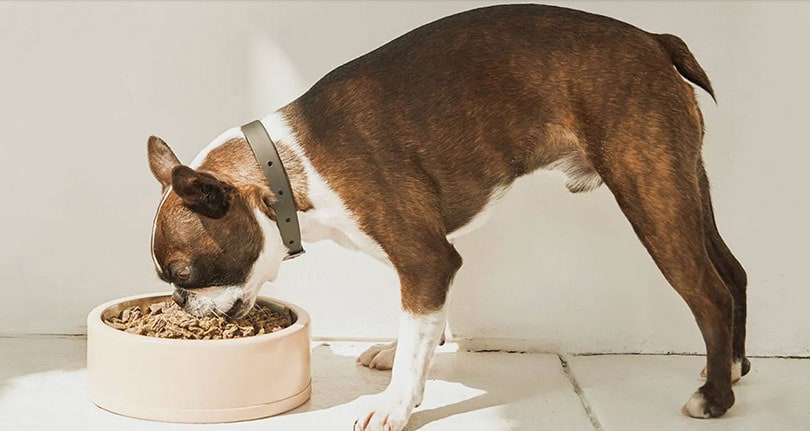 How to Store the Food
Since the food is air-dried, no refrigeration is necessary, and the food lasts in the box for 8 weeks after opening. The food comes in a sealed package, so you don't have to put it in an airtight container.
How to Feed
The company will send you feeding guidelines on how much to feed your dog based on activity level, breed, age, and weight. There are basic guidelines on the box. However, stick to the guidelines the company personally sends you, as this will be more accurate for your dog.
No freezer or refrigeration required
Food lasts up to 8 weeks after opening
Fresh, human-grade ingredients
Gently air-dried to retain nutrients
Food looks more like treats than a meal
Only two recipes to choose from
Expensive

Overview of Spot and Tango: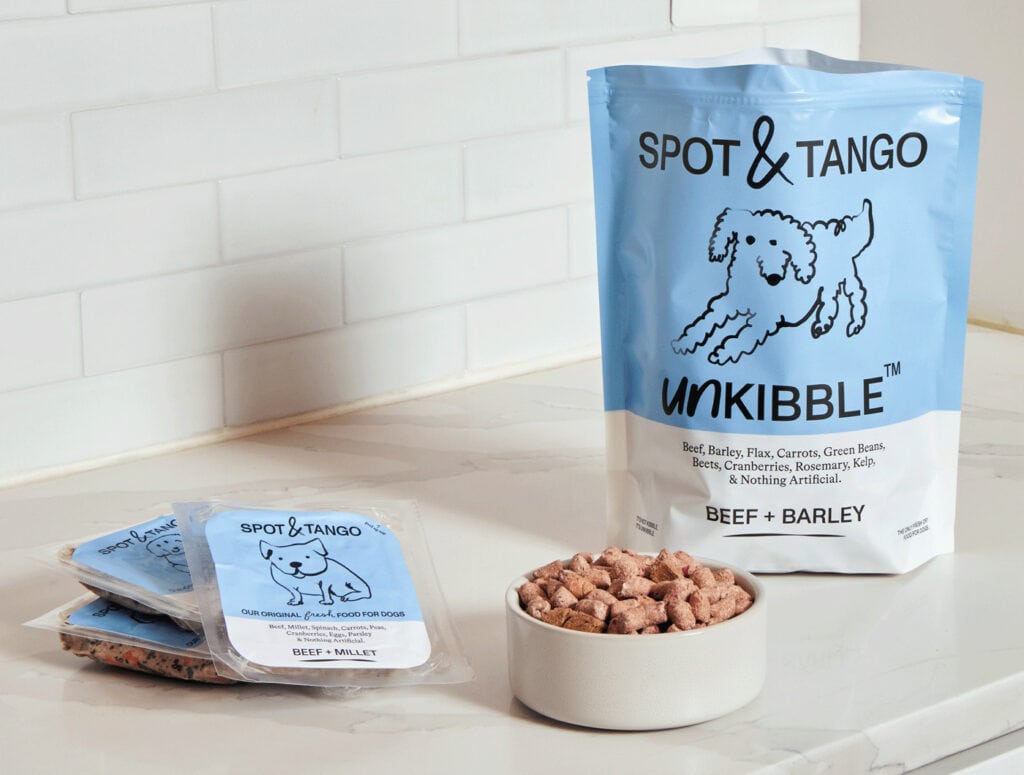 Spot and Tango was founded in 2017 by CEO Russell Breuer and his wife in New York. They, too, were on the hunt for healthy dog food to feed their Goldendoodle, Jack. In the end, they wanted to feed fresh ingredients.
Food Appearance and Recipes
Spot and Tango offer three fresh food recipes: turkey and red quinoa, beef and millet, and lamb and brown rice. All have real meat as the first ingredient, followed by human-grade ingredients, such as apples, egg, spinach, carrots, parsley, peas, and oils. They also offer "unkibble," which is dry kibble but made with only fresh, human-grade ingredients.
How the Food Is Made
The unkibble is 100% whole foods combined into dry kibble. All ingredients have USDA meat, fresh fruits, veggies, and starch that are combined into bite-size pieces. It's gently dehydrated at a low temp to retain all nutrients.
Their fresh recipes are gently cooked at low temperatures in small batches. All ingredients are cooked separately, mixed, and then flash-frozen.
How to Store the Food
Fresh meals must stay frozen upon arrival, and the food will last up to 6 months in the freezer. Each package is pre-portioned based on the information you enter on the website, such as breed, size, age, activity level, and weight. You can thaw overnight in the fridge or put the package in a bowl of water for fast thawing.
Unkibble does not require refrigeration, and you can store it in your pantry for up to 12 months unopened. Once opened, it will last up to 8 weeks. After opening, it's important to seal it or transfer it to an airtight container to retain its freshness.
How to Feed
Following the company's feeding guidelines is essential because it will be tailored to your dog by veterinary nutritionists. If you feel your dog is getting too much or too little, you can adjust the amount. This is especially true for growing puppies.
Pre-portioned meals
Fresh, human-grade ingredients
Offers fresh food and unkibble
Expensive
Requires subscription

What Are the Differences Between Them? How Do They Compare?
Price
Edge: Sundays
Trying to decipher prices is a bit of a challenge because the price will vary depending on your dog's size and recommended daily calorie intake. Nonetheless, we feel that Sundays has the edge. Since you do receive 50% off your first order and then $20 off after subscribing, they are a bit cheaper than Spot and Tango.
---
Ease of Ordering
Edge: Sundays
Sundays has the edge simply because you can order either of their two recipes without having to put all of your dog's information in. You can, however, enter your dog's information so that you can get an accurate feeding guideline, which we recommend doing.
---
Protein Content
Edge: Spot and Tango
Spot and Tango's meals average 41% of protein, and each meal consists of 50% USDA meat, 30% starch, and 20% fruits and veggies. Sundays has a lower protein content on both recipes of 30% for the beef and 38% for the chicken recipe.
---
Fiber Content
Edge: Sundays
Both Sundays' recipes offer 2% fiber content, while Spot and Tango vary between 1%–2.64%, depending on the recipe. Since Sundays' fiber content is consistent, we gave them the edge.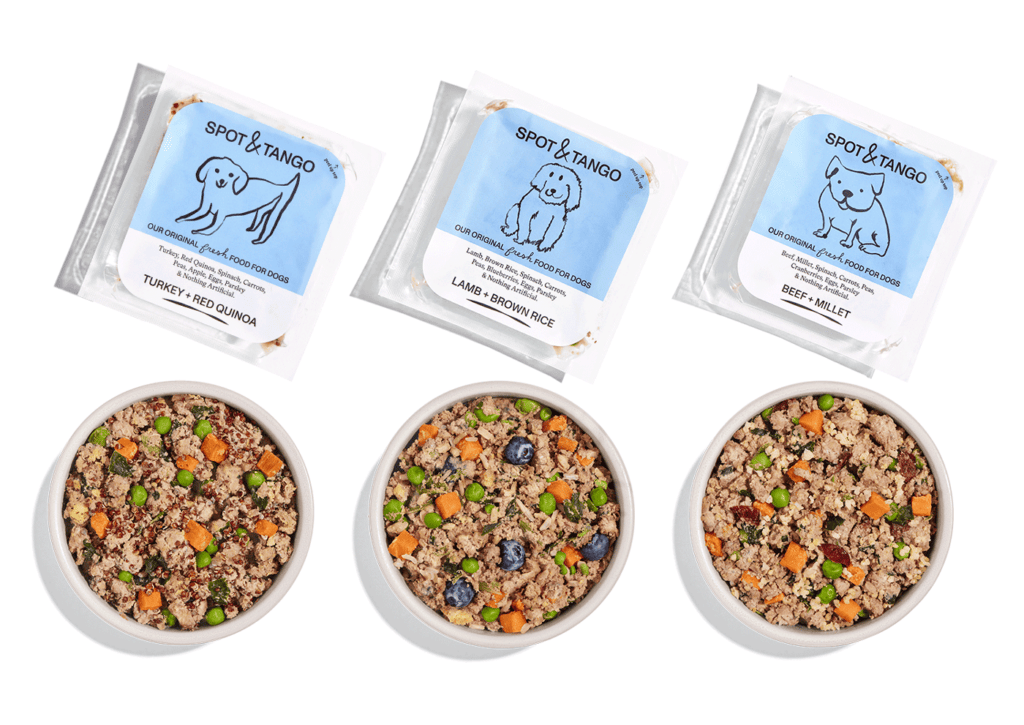 What the Users Say
Reading through reviews can be a hassle, and that's why we took the liberty of taking on this task for you. Researching what others say about a product is a good starting point in making a decision, and we'll weed through the good, the bad, and the ugly.
When it comes to customer service, Spot and Tango has glorious customer reviews. The team is always helpful and goes above and beyond to satisfy its customers or rectify a problem. Many customers have tried other fresh dog food delivery services but have had the most satisfaction with Spot and Tango. Some report that their dogs were able to gain needed weight, and their coats are healthier. You can read Spot and Tango's reviews here.
Sundays' customers report that their picky dogs love this food and can't wait for mealtime. Some customers like that you can break up the pieces of this food and use them as treats if you wish. Customers also report that they love the ease and convenience of feeding this food, and there is no messing measuring.
Another positive is that you can reseal the bag with Sundays, whereas Spot and Tango's fresh recipes are not resealable. However, Spot and Tango's food comes proportioned, so you really don't need to reseal. You can read Sundays' reviews here.
Our consensus is that Sundays may be the better option for those looking to feed healthy, human-grade ingredients at a cheaper price. Both companies are excellent, but when it comes to price, the ease of ordering, and the ease of feeding, Sundays has a slight upper hand.

Conclusion
As we've stated, both companies are excellent and offer fresh, human-grade ingredients, but with feeding fresh dog food comes an expensive price compared to kibble. If you're on a budget, Sundays would be the better option. It's quick, easy to feed, and they offer 50% off your first order. You will also enjoy 20% off each order upon subscribing. Their unique air-dried method allows the food to last a bit longer because you don't have to feed as much as you would with regular kibble.
In the end, you can't go wrong with either company. Spot and Tango is a terrific option if you're willing to spend a tad more and feed fresh food. Sundays will be your best bet if you need more of a budget-friendly option.