Purina Tidy Cats Litter Review 2023 – Pros, Cons, & Top Picks

Review Summary
Our Final Verdict
We give Tidy Cats Litter a rating of 3.7 out of 5 stars.
Variety: 3/5
Price: 5/5
Formula: 5/5
Clumping Ability: 3/5
Odor Control: 4/5
Options: 3/5
Why do so many cat owners choose Tidy Cat Litters? These litters are created from quality materials, are affordable, well-performed, and the brand offers a great selection so you can always find several packages that are suitable for your cats.
Read on for our reviews on the best Tidy Cats litter options. You can also refer to our FAQs section to answer any additional questions you may have about this brand or their products.
At a Glance: The Best Tidy Cats Litters of 2023
Rating
Image
Product
Details

Purina Tidy Cats LightWeight 24/7 Performance Clumping Cat Litter

Round-the-clock odor control
Dust-free and low-tracking
For multiple cats
Check Price

Purina Tidy Cats Instant Action Clumping Cat Litter

No dust and tracking
For multiple cats and litter boxes
Easy cleaning
Check Price

Purina Tidy Cats with Glade Tough Odor Solutions

Affordable and portable size
Good clumping ability
Large crystals to control odor better
Check Price
A Quick Review on Tidy Cats Brand
History of Tidy Cats
The Tidy Cats brand is derivative of the house brand Purina, but specializes only in cat litters.
The company has 70 years of experience in introducing innovative cat litter materials to help with cat duties. Even better, they promise to provide all-in-all products which are both lightweight, anti-tracking, and odor-absorbing.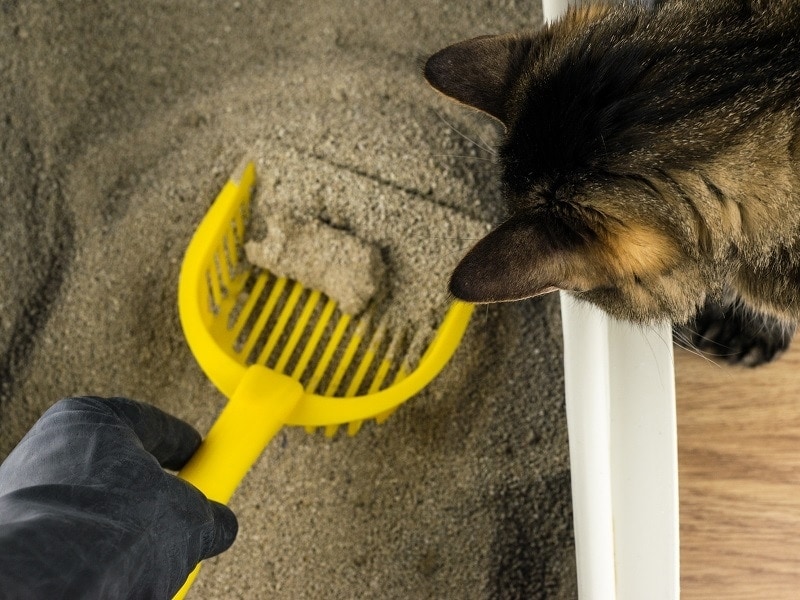 What is Tidy Cats Litter made of?
In the 1950's, Tidy Cats litters used to be made of oil-absorbing clay and soon got their reputation nationwide.
Now, besides the affordable base clay, the company has expanded its portfolio with a wide range of innovative materials such as anti-tracking pellets or natural litters made from activated charcoal.
Whatever your budget is or how old your cats turn out, you can find the relevant cat litters at the Tidy Cats.
What kinds of litters do Tidy Cats provide?
Instead of sorting their products by the primary materials (such as clumping clay or seed grass, or the like), Tidy Cats divides the portfolio into 5 categories, including Lightweight, Clumping, Non-clumping, Litter System, and Alternative. Each of them comes along with helpful technologies.
Lightweight litters: Instead of heavy litter packages, you now can get bottles at half the weight. Still, the performance remains excellent.
Clumping litters: They help turn waste into scoopable solids to relieve the cleaning task and say goodbye to the stink.
Non-clumping litters: For busy cats' owners, non-clumping litters by Tidy Cats can maintain for up to one week, without annoying odors.
Litter system: Buy one for two. The litter system comes with a combination of anti-tracking pellets and odor-absorbing pads.
Pure Natural litters: If you care for nature as much as you care for your cats. Then, go green with Tidy Cats Pure Natural litters.
---
Tidy Cats Clumping Cat Litter Reviews – Updated in 2023
1.

Purina Tidy Cats LightWeight 24/7 Performance Clumping Cat Litter
The Scoop 24/7 Performance Formula is advertised to keep your home clean and odor-free round the clock, no matter how many cats share the litter box. We put this claim to the test and the overall performance was quite good.
The first thing we noticed about this litter is the weight. The 17-lb box is much lighter than a comparative standard litter so you can easily pick it up, carry and store it away. We prepared our selves for the dust cloud that when clay litters are poured into the litter box. Surprisingly, this litter is dust-free, so you do not have to worry about the mess or breathing in the dust.
The Scoop 24/7 Performance Formula is highly absorbent thanks to their patented TidyLock technology. The litter consists of natural clay, deodorizing ingredients, and mineral products. These materials help trap the urine, ammonia, and feces odors quickly and helps form solid scoopable clumps.
However, the absorption might be deemed too effective. The particles begin clumping before fully soaked through, leaving small crumbled pieces that do not attach to the large clumps. To help avoid this situation, you could pour more litter into the box. Also, keep an eye on the box frequently to notice and remove any crumble. Otherwise, the dirt might stick to the cats' paws and fur.
One thing you and your cats might not like about this clumping litter is the scent. Although the smell is not overwhelming and also helpful to mask the odor, it is detergent-like.
Lightweight and economical box, pound for pound
Excellent absorbent ability
Round-the-clock odor control
Dust-free and low-tracking
For multiple cats
A bit expensive
Glade artificial fragrance (but not overwhelming)
Soak-through liquid
Crumble clumps that might stick to the cats and the box
Non-flushable and recycled
---
2.

Purina Tidy Cats Instant Action Clumping Cat Litter
Purina Tidy Cats Instant Action Clumping is much cheaper in terms of capacity: 40 lbs vs 17 lbs. In other words, you can spend less while using more, making it a great option for multiple cats. The weight is still cut in half to relieve transportation and storage. Its absorption and odor-control abilities are also quite good.
The Instant Action Clump includes natural clay with a deodorizer to capture the liquids and odors on contact. The litter actively neutralizes the urine, feces, and ammonia odors to minimize the smell and seal waste into solid clumps for easy cleanup. More importantly, the clusters remain tight and do not cause crumble.
The litter is 99% dust-free and low-tracking, so your family and cats are able to breathe comfortably. Also, it will not take much time to clean the litter box.
Good as the litter is, you should still remove the clumps daily to maintain a dry and comfortable place for your cat, as well as keep your house fresh and odor-free. Do not environmentally friendly, nor flushable. The final thing to note is the scent – it will mask the odors, but you or your cats might not enjoy it.
Big package at affordable price
Hard clumps for easy scooping
Excellent odor-control performance
No dust and tracking
For multiple cats and litter boxes
Easy cleaning
40 lb is a bit heavy
Remaining chemical scent
Non-flushable and recycled
---
3.

Purina Tidy Cats with Glade Tough Odor Solutions
Tidy Cats with Glade Tough Odor Solutions features are not much different from the two litters previously reviewed above. So you can be sure about the clumping action, odor control, and effective absorption.
The particles harden relatively quickly, so you will hardly detect any odors. These solid clumps will stay at the top rather than stick to the sides of the box or settle at the bottom making for a simple clean up.
The Tidy Cats with Glade Tough Odour Solution particles are larger than other Tidy Cats litters. To prevent unnecessary product waste, we recommend that you invest in a wide-hole scoop to get the most out of this litter. Many consumers have confirmed that the litter can last for one month at ordinal use for a small cat or kitten.
Odor control performance is among the best out of the Tidy Cats Lightweight category. However, the glade scent might tarnish the user experience. Although it is not very strong, sensitive people and cats might still be put off by the smell.
Many consumers have responded negatively about the smell of this litter. We agree that it is not an attractive feature but believe it still a great product because it excels in many other areas.
Affordable and portable size
Large crystals to control odor better
Good clumping ability
The need for a wide scoop
The sick smell of Glade addictive scent
If you're tired of all the smells and stains that come with pet parenting, you should check out the Hepper Advanced Bio-Enzyme Pet Stain & Odor Eliminator Spray. Okay, it's our product, so we may be biased – but we love it so much, we just have to share it! It permanently removes even the very worst smells and stains, and we offer a 100% satisfaction guarantee.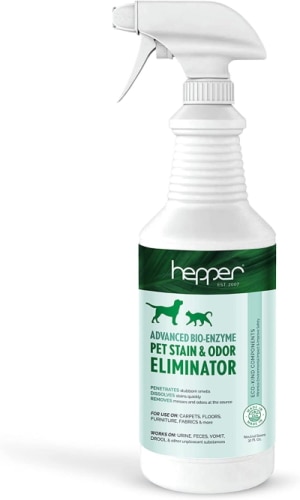 ---
Our Overall Results Explained
Variety of Product – 5/5
Tidy Cats litters are available in a variety of choices grouped into 5 innovative categories. This gives you the flexibility to choose litters based on your budget and your cats' characteristics. For example, you can go for non-clumping litters if you have sweet kittens. They are both affordable, odor-controlling, and economical to stretch cleanups for a while.
Moreover, Tidy Cats offers different sizes to suit the varying needs of cat owners.
Price – 5/5
The price of clumping clay cat litter is often very competitive and Tidy Cats litters are no exception. Its clumping clay products are very affordable – another benefit in addition to the variety of products that create a big fan club for the brand.
Even the activated charcoal litters and advanced anti-tracking pellets are surprisingly cheap when considering their performance.
Multiple Cat Formula – 5/5
Tidy Cats litters are crafted with the varying preferences of multiple cats in mind while ensuring you save on money, space, and cleaning efforts. Most Tidy Cats products have comfortable texture, so cats will love them. There is also less or even no artificial fragrance. Thus, these litters are safe for your sweet pets.
Clumping Ability – 3/5
The clumping ability depends on the type Tidy Cats litter you choose for your cats. If you pick up a non-clumping litter, then you can expect it to last for one week – not as effective as the best non-clumping litters in the market but far better than other choices in the price range. Some clumping litters by Tidy Cats tend to crumble and stick to the sides and bottom of the box, while others are great for maintaining large clumps and rare stick.
Long-Lasting Odor Control – 4/5
All Tidy Cats litters are well absorbent, especially in the Lightweight category. The company applies TidyLock technology to neutralize urine, ammonia, and feces. As a result, they are effective in controlling odors and keeping your home smell free.
Natural/Alternative Option – 3/5
Tidy Cats provides some eco-friendly litters made of natural/alternative materials such as wood shavings, a recycled newspaper which are great for the environment and often biodegradable. However, the clumping and odor-control are not as prominent in these alternatives.
Frequently Asked Question (FAQ)
1.

Is Lightweight cat litter better?
Yes, it is! But before drawing out the benefits, it is important to note Tidy Cats litters included ingredients that are not beneficial to the environment that help make it a successful litter. The most common one is clay. You can expect these litters to be super absorbent and odor-controlling as usual. The reasons why we recommend lightweight cat litter are:
Pound for pound, they last more than the standard litters
That they are lighter means, you can save time and effort in carrying them around and picking up the waste
On the downside, the lightweight litters are a bit dustier and tracking.
2.

Which Tidy Cats litter is best?
Of all Tidy Cats litters, the Purina Tidy Cats Instant Action Clumping Cat Litter seems to be the most popular. If you have read our review above, you might already know the reasons.
Affordable price
Excellent deodorizing system
Tidy Cats best cat litter in terms of clumping action
Comfortable for multi-cat households
Less dust and less tracking
3.

Is Tidy Cats litter flushable?
It depends on the ingredients. Most Tidy Cats litters are made with clay, so we can confirm that they are not flushable. However, the Alternative range might be flushable due to their natural ingredients. Nonetheless, we do not recommend flushing the cat litter, even when the label tells you can. Frequent flushing can quickly clog pipes and septic systems.
4.

Does Tidy Cats litter cause breathe problems in cats?
The lightweight Tidy Cats litters are known to be a bit dusty and result in tracking in compared to others because of its half weight. However, "a bit" is not considered enough to cause any real harm to your cats aside from the occasional sneeze.

Our Verdict
Is Purina Tidy Cats litter good?
Yes, we give Tidy Cats litters our strong recommendation when looking for multiple-cat litters that have reasonable prices and excellent performance. We recommend reading through our Tidy Cat litter reviews carefully to pick the best for the sake of your cats.