TLC Dog Food Review 2023: Recalls, Pros & Cons
Review Summary
Our Final Verdict
We give TLC Dog Food a rating of 4.5 out of 5 stars. 
TLC Dog Food is manufactured by a small Canadian company. TLC is available exclusively online with direct shipping to customers. The food is made for each order, rather than being mass-produced, allowing the company to maintain high standards of freshness. We found the overall quality of the food to be high, but they suffer from a lack of recipe options and specialized diets compared to larger brands. In addition, the company's marketing strategy has been questioned by some pet owners.
Click to skip ahead:

At a Glance: The Best TLC Dog Food Recipe
Rating
Image
Product
Details

Our Favorite

TLC Whole Life Dog Food

Made with a blend of proteins
Contains fatty acids, glucosamine, and probiotics
Highly digestible
Check Price
TLC Whole Life Dog Food Reviewed
Who Makes TLC Whole Life Dog Food and Where Is It Produced?
TLC Whole Life Dog Food is made by TLC Pet Food, which is based in Canada but also maintains a U.S. headquarters in New York. The food is produced at the Ontario, Canada plant. According to its website, the company sources fresh ingredients from North America, New Zealand, and Norway suppliers.
What's Up With the Marketing Situation?
Because it's not sold in stores and spends little on advertising, TLC Pet Food relies on a different marketing strategy to reach new customers. They recruit "Pet Pros" who recommend and suggest their foods. Many of these are breeders who feed TLC Puppy Food to new litters and then tell their future owners to do the same.
Pet Pros receive many incentives and discounts for recommending TLC Whole Life Dog Food. Because of this, some pet owners question whether they can trust the breeder's suggestion since they stand to benefit from future food purchases.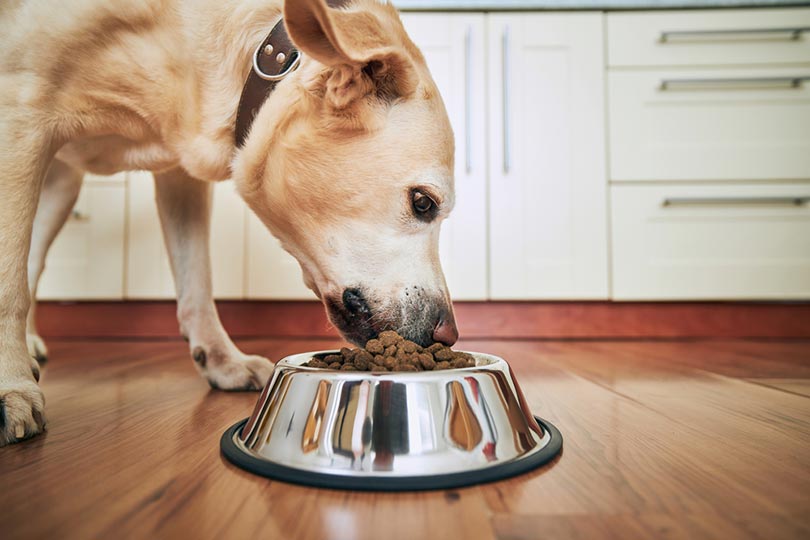 Which Type of Dog Is TLC Whole Life Dog Food Best Suited For?
TLC Whole Life Dog Food is best suited for healthy dogs with no food sensitivities or weight management concerns.
Which Type of Dog Might Do Better With a Different Brand?
Because TLC Whole Life is only available in one recipe, dogs with specialized health needs might do better with a different brand. For example, the food contains chicken, so dogs with food sensitivities might want to consider a limited ingredient diet, like Natural Balance Duck and Potato.
Discussion of the Primary Ingredients (Good and Bad)
Lamb, Chicken, and Salmon Meal
Meat and fish meals1 are made from the muscle tissue of the animals. The meat or fish is cooked down until all the water is removed, and it's ground into meal for use in pet food. Meals made from whole meat and fish are a healthy way to get protein into dog food inexpensively. Because they are so concentrated, meals contain more protein than fresh meat.
Fresh Chicken
 TLC Pet Food claims to use only fresh ingredients in its recipes. The fresh chicken is nutritious and full of protein.
Whole Grains: Oatmeal, Brown Rice, Barley, Millet, Quinoa
Whole grains provide many nutrients to dogs, including protein, carbohydrates for energy, and fiber. Unlike cats, dogs are not true carnivores, and their bodies are adapted to absorb nutrition from plant sources such as these.
Chicken Fat
In this recipe, chicken fat is a source of Vitamin E. Fats also help make food tastier and provide calories and energy.
Green Peas
Peas are an ingredient of concern in pet food. Legumes, including peas, are suspected to be linked to the development of a heart condition called dilated cardiomyopathy. The FDA is still investigating2 this suspicion, but some owners and vets prefer to steer clear of the ingredient.
Whole Eggs
Eggs contain protein, fat, and many valuable amino acids and vitamins. Most dog foods that include eggs do so as a dried product, but this recipe features real whole eggs.
Chicken Liver
Organ meat, such as chicken liver, is extremely nutritious. Technically, it is a chicken by-product, which is often frowned upon as a dog food component. However, it is a valuable source of nourishment for the dog.

A Quick Look at TLC Whole Life Dog Food
Manufactured by a small company
Features multiple protein sources
No ingredients sourced from China
Food manufactured on demand once ordered
Recipes developed by nutritionist
Ships free to your door
Not available in stores
Only one recipe is available
No senior diet, weight management, or allergy-friendly diets
Does not ship to Alaska or Hawaii
Recall History
TLC Pet Food has never issued a recall since its founding in 1994. Their manufacturing facilities are certified by the FDA and comparable Canadian authorities. The company states that they only work with suppliers who maintain strict quality standards and test all ingredients for safety and quality when they arrive at the plant. They also maintain third-party testing for nutrition, quality, and safety.

Review of the TLC Whole Life Dog Food Recipe
Let's take a quick look at the TLC Whole Life Dog Food Recipe.
TLC Whole Life Dog Food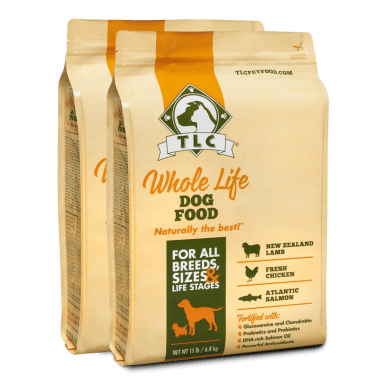 This recipe includes lamb, chicken, salmon, whole grains, vegetables, and fruit. Featuring 26% protein, it also contains 440 kcal/cup, making it relatively nutrient dense. Formulated with input from a nutritionist, Whole Life is packed with added supplements like antioxidants, fatty acids, and glucosamine. It's available in a single bag size and can only be purchased online. Although it generally ships for free, buyers in rural areas may pay an added fee.
Made with three protein sources
Highly digestible
Added fatty acids, antioxidants, glucosamine
Only available in one size
Rural buyers may not receive free shipping

What Other Users Are Saying
Pets.ca forum
"I have recommended [TLC Whole Life] to several dog owning friends…home delivery is second to none"
"I've been using TLC for 4 years now…and would highly recommend it"
"We've never had a problem feeding this food to many pets over the years"
Reddit
"I believe TLC is a good quality food at a reasonable price"
"The ingredients seem good"
"Don't like that breeders get kickbacks from the company"

Conclusion
TLC Whole Life Dog Food is a decent dry food option for healthy dogs. It is high in protein from multiple meat sources and comes reasonably priced. The brand generally steers clear of concerning ingredients and seems focused on maintaining quality control at its manufacturing plant. However, TLC Whole Life Dog Food is not available in stores, which is less convenient, especially for rural dog owners. Also, the brand lacks specialized recipes, and the company's marketing strategy leaves a bad taste in some pet owners' mouths.
---