5 Types of Dog Crates & Their Differences (with Pictures)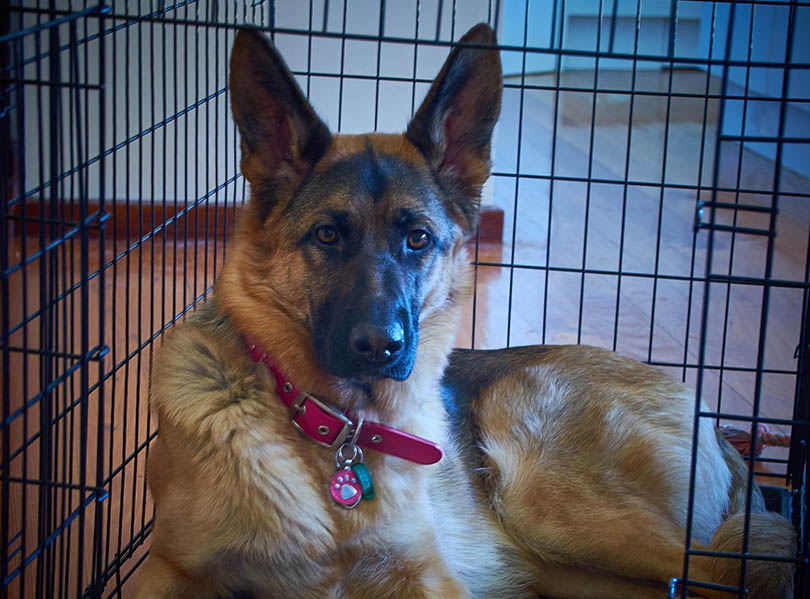 Crate training is a popular method for housebreaking dogs, as well as providing them a safe enclosure to sleep and rest in. Dogs are like people and have different requirements, which can make crate shopping a bit difficult. Not all crates are alike, with some requiring assembly or are hard to lift. Safety is top priority and will determine the type of crate your dog needs. Here are 5 types of crates and their differences to help find the best style for your dog.

The 5 Types of Dog Crates:
1.

Wire Folding Dog Crates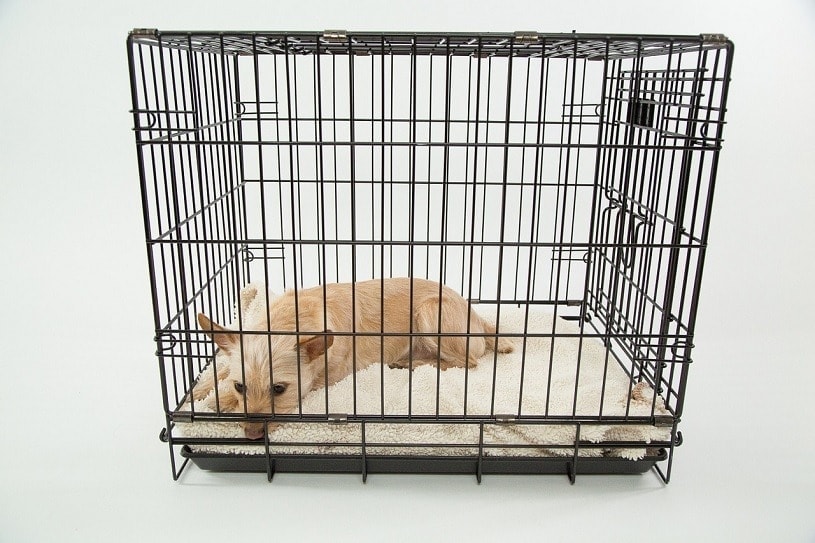 Wire folding crates are the most popular type available on the market. They're durable and can be folded for storage. Most wire crates have a removable metal or plastic bottom that is easy to clean. Wire crates on their own are not comfortable, so be ready to pay extra for a dog bed or crate pad. An additional blanket to put over the crate may also be needed for dogs that prefer darker spaces.
Price Range
Small to medium-sized wire crates cost an average of $35-45. Larger sized crates can cost more than $75-85.
Sizes & Options
Wire crates are available in many sizes, from small to XXL. Some crates also come with a divider to use for housebreaking.
­Available in most stores
Portable & travel friendly
Relatively easy to clean
Available in all sizes
Take up space when not folded
Slightly heavy and bulky
Dog bed or crate pad needed
Functional, but not fashionable
See: The top grooming tables for dogs
---
2.

Soft-Sided Dog Crates
Soft-sided crates, also called pop-up or canvas crates, are an alternative to the wire folding crates. Canvas crates are lightweight and easy to set up, making them a great option for traveling. Canvas crates are not as durable as other crate styles so dogs with boredom and anxiety may not be suited for them.
Price Range
Small to medium-sized soft-sided crates on average cost $35-45, depending on the features and materials. Larger sizes cost around $60-70 but may not be durable enough for bigger dogs.
Sizes & Options
Soft-sided crates are available in multiple sizes and colors. Materials range from mesh and polyester to tarp-like canvas. More expensive models may have additional features.
Lightweight & Portable
Available in different sizes
Soft & Comfortable
Great for travel
Not as durable as metal, plastic, and wire crates
Not suited for dogs with chewing and scratching habits
Bigger dogs can collapse them from the inside
---
3.

Plastic Dog Carrier Crates
Plastic carrier crates are meant for easy transportation of your pup, but they can also be used as a crate at home. Plastic crates usually consist of a hard-plastic shell and a locking door with metal bars. Like canvas crates, these carriers create a dark space that some dogs prefer.
Price Range
On average, most small and medium-sized plastic carriers cost around $25-45, though some can cost up to $65. Larger sized plastic carrier crates can get very costly, with prices averaging over $150 for a large-sized carrier.
Sizes & Options
These crates are best for small to medium sized dogs, but most dogs can fit in them properly. Bigger dogs may need a wire or canvas crate. Plastic carriers come in a large variety of colors, dimensions and features.
Easy to carry with handle
Portable
Made with durable plastic
Creates a darker space than wire crates
Harder to find XL sizes
Not as durable as metal or wire crates
---
4.

Heavy-Duty Dog Crates
Heavy-duty crates are usually a last resort, as they're heavy and not very aesthetically pleasing. Usually made with steel, they're strong enough to contain strong or destructive dogs. They're great for dogs who love to escape or have destructive tendencies, but they won't solve the problem causing these behaviors. Heavy-duty crates also will need assembly, which can be difficult.
Price Range
Starting at around $89-99, heavy-duty crates are on the expensive end of crate types. Some models have a price tag of over $299, while brands are even more expensive.
Sizes & Options
Heavy duty crates are mostly intended for bigger dogs, so it may be difficult to find smaller models.  Some models may have additional locking mechanisms or reinforcements for a more secure crate.
Extremely durable
Difficult to escape
Available in XL sizes
Not portable
Heavy and bulky
Not aesthetically pleasing
Assembly usually required
---
5.

Furniture Dog-Crates
Dog crates are great for your companion, but they take up space and can be an eyesore. Furniture crates have the benefits of traditional crates with the fashion and function of nightstands or end tables. Most furniture crates are made with wood or plastic blends, so these crates are best for housebroken dogs with no chewing or scratching habits. Furniture crates also require assembly, so be prepared for that when you're shopping.
Price Range
Furniture crates can vary from $99 to over $700. The price will vary with size, brand, and design. Like most crates, a dog bed or crate pad will be needed to line the bottom.
Sizes & Options
Furniture crates have a wide variety of sizes ranging from small to XL. Colors and styles can be matched to your home with ease.
Most fashionable style of crate
Can function as a table
Offers a cozy space for your dog
Not portable
Assembly may be required
Not durable and can be easily chewed
Not suitable for puppies

Conclusion
Crates come in many different sizes and styles, so it's important to know what your dog needs in a crate. Wire folding crates and plastic carriers are the most popular styles, but furniture and pop-up crates are starting to grow popular as well. If you're still unsure, a dog trainer or veterinarian can help you make the best decision for you and your companion.
---
Feature Image Credit: andyround62, Pixabay