5 Types of Spaniel Dog Breeds & Their Differences (with Pictures)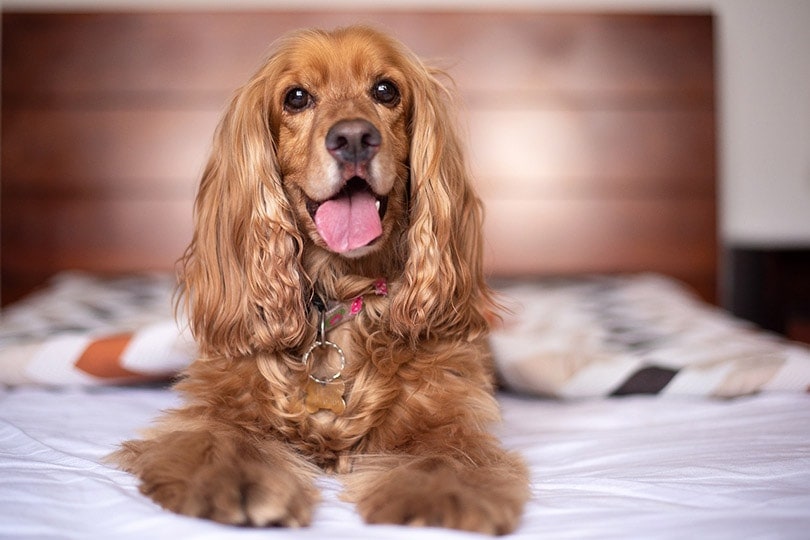 The Spaniel is a popular breed group with a wide variety of dogs, ranging from toy breeds to large-sized gundogs. While the first spaniels were bred for hunting, their beauty and great dispositions make them popular worldwide.  Here are 5 Spaniel types and their differences:

The 5 Types of Spaniel Dogs:
1.

Clumber Spaniel
Characteristics
Type: Sporting
Lifespan: 10-12 years
Height: 17-20 inches (43-51cm)
Weight: 55-85lbs (25-39kg)
Background
The Clumber Spaniel is the largest of the spaniels and is known to be a gentle, good-mannered family dog. Originally bred as a gun dog in the United Kingdom, this breed is known for being mellow and affectionate towards its family members.
Appearance
The Clumber Spaniel is a big-boned dog with floppy ears and large muzzle. It has a dense fur coat best suited for cold temperatures, avoiding hot climates. The Clumber is mainly white with yellow or orange markings. Because of its large size, this breed is prone to health issues that other large breeds also suffer from.
Temperament
A gentle and calm dog, this loyal breed can be a great family dog. While it needs some exercise and likes to play, the Clumber is just as happy snuggling up on the couch. It is a bit reserved with strangers but not usually prone to aggression.
---
2.

Papillon
Characteristics
Type: Toy
Lifespan: 12-15 years
Height: 8-11 inches (20-28cm)
Weight: 7-11lbs (3.3-5.4kg)
Background
One of the smallest and oldest of the spaniel breed group, the Papillon is a popular choice for its beauty and eagerness to learn. Named after its large, butterfly-like ears, the Papillon is highly intelligent and athletic. The droopy-eared version of the Papillon is called the Phalène.
Appearance
The Papillon's most notable trait is its upright wing-like ears, which can be any color except white. The body may be completely white or with patches of color. It has soft, silky fur that is easy to groom. It has a single-layer coat, making it sensitive to colder climates.
Temperament
The Papillon is more playful than most toy breeds and it thrives on daily exercise and mental stimulation. Early socialization is needed to prevent any aggressive tendencies. The Papillon is also an excellent watchdog and will gladly alert the household of anything suspicious.
---
3.

English Springer Spaniel
Characteristics
Type: Sporting
Lifespan: 11-14 years
Height: 18-22 inches (46-56cm)
Weight: 40-55lbs (18-25kg)
Background
A true sporting dog at heart, the English Springer Spaniel is the poster dog of hunting. This athletic dog is ready to work the hunting fields all day, expertly flushing and retrieving game.
Physical Appearance
Medium in size with a lean build, the English Springer Spaniel has long fur with feathering on the legs and tail. The coat is two-toned (white and black or brown) or tricolored. A field-bred Springer will be taller with shorter fur than its show-bred variety.
Temperament
The Springer Spaniel is a hunting dog by nature and requires a variety of exercises to prevent boredom and anxiety. It will be loyal to the household but may get attached to a specific family member. In the right environment, the Springer Spaniel can be an ideal family dog.
---
4.

American Cocker Spaniel
Characteristics
Type: Sporting
Lifespan: 12-14 years
Height: 17-22 inches (46-56cm)
Weight: 40-55lbs (18-25kg)
Background
Once an icon of the American family dog, the American Cocker Spaniel is incredibly high on the list of most popular breeds. The Cocker Spaniel can be easy to train and enjoys a quieter environment. It is an enthusiastic dog that will love to play and bond with its family.
Physical Appearance
A dome-shaped head, floppy ears, and a gorgeous long coat are traits the American Cocker Spaniel is famous for. Its luxurious fur will need daily brushing to prevent matting and tangling. The Cocker Spaniel comes in an array of colors and markings, including black, tan, and red.
Temperament
The Cocker Spaniel is a happy-go-lucky dog that usually prefers the company of people. This is a gentle breed around children but can be sensitive to loud noises. It's best to find a reputable breeder to avoid temperament problems over-breeding due to their popularity.
---
5.

Cavalier King Charles Spaniel
Characteristics
Type: Toy
Lifespan: 9-14 years
Height: 11-13 inches (29-33cm)
Weight: 12-18lbs (5.8-8.2kg)
Background
Originating in the United Kingdom, the Cavalier King Charles Spaniel was first bred for the wealthiest families. It is one of the most popular breeds out of all purebred dogs and is known for having an eager, but gentle disposition.
Physical Appearance
The Cavalier has a toy-sized body with a small muzzle and heartwarming eyes. Still considered a hunting dog, the Cavalier is more athletic than it may seem. It has soft fur that is either two-toned or tricolored. While relatively easy to groom, the fur is prone to matting.
Temperament
The Cavalier is a very affectionate lapdog that is dependent on human companionship. Walks and exercise will help prevent separation anxiety, but this breed will become stressed when left alone for too long. Other than potential attachment issues, the Cavalier is sociable and loving.

Conclusion
The Spaniel has the potential to be a loyal, happy dog that enjoys working or playing. Compared to other breed groups, most spaniels have great temperaments with few aggression issues.  With daily exercise and a loving environment, the spaniel can be a great indoor and outdoor companion.
---
Featured Image Credit: Alkhaine, Pixabay