10 Best Dog Harnesses in UK 2023 – Reviews & Top Picks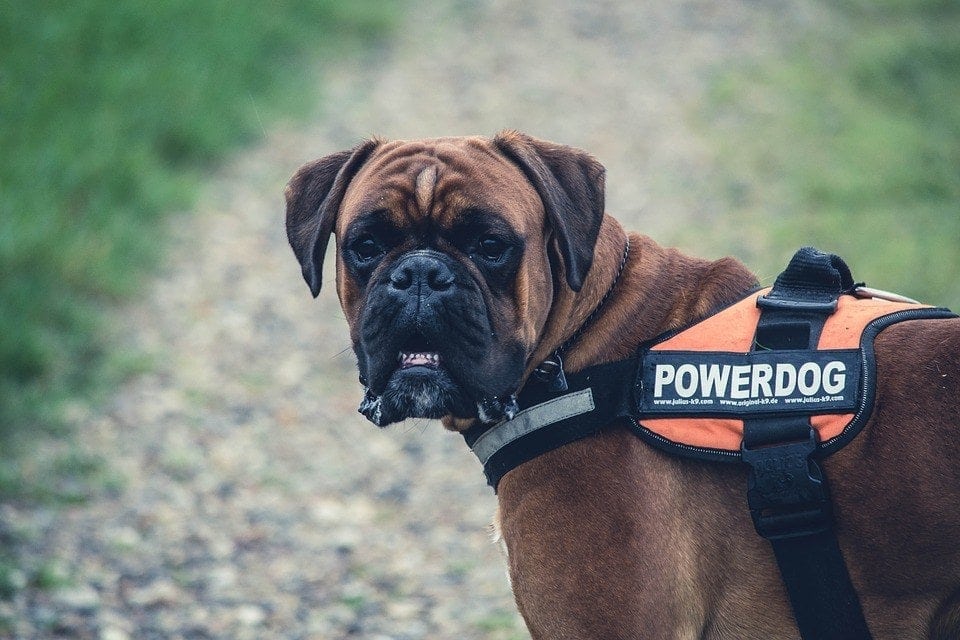 Dog harnesses are one of the easiest ways to get your dog ready for a walk and have more control over their behavior while you are out and about. They also limit the amount of pressure around their neck and can help reduce windpipe and spinal injuries.
Often, dog trainers recommend dog harnesses for those pups that prefer to pull on their leashes. They give you more control without as much effort.
Since their beginning, dog harnesses have been used on working dogs for greater control and more efficiency. They were used on sled dogs in the American Gold Rush during the 1800s and the first guide dogs. Even before this, when dogs were used in wartime, harnesses of some kind were used to guide them along.
If you need a sturdy harness for your excitable pup or want one to reduce the amount of strain on their neck, check out the reviews for the top 10 best harnesses for dogs in the U.K.:
---
A Quick Comparison of Our Favorites of 2023
Rating
Image
Product
Details

Best Overall

rabbitgoo Large No-Pull Dog Harness

Range of sizes
Customizable strap and buckle
Durable nylon Oxford material
Check Price

Best Value

FUNKEEN PET HOUSE Mesh Dog Harness

Clip system
Durable buckle
Mesh material
Check Price

Premium Choice

RUFFWEAR Multi-Use Dog Harness

Comfortable pads
Made for heavy-duty usage
Allows for a full range of motion
Check Price

Julius-K9 16ICD-P-0 IC Powerharness

Extra attachment options
Water repellent
Anti-allergenic material
Check Price

Eagloo No Pull Dog Harness

Durable Oxford and nylon material
Comes in a variety of sizes and colors
No-pull design
Check Price
The 10 Best Dog Harnesses in the UK
1.

rabbitgoo Large No-Pull Dog Harness — Best Overall
The harness produced by the company rabbitgoo is currently one of the best in the U.K.'s market. It gives you four sizing options, ranging from small to extra-large, which depend on the size of your dog's neck and chest. Before buying, take the time to use the supplied sizing chart and measure your dog in the appropriate areas so you can make sure the harness isn't too big or too small.
Luckily, even if your measurements are approximations, the harnesses are customizable once you receive them. They can be tightened or made looser with easy loop and lace straps on the top.
All the panels are fitted with a soft cushion that helps protect your pup's skin. The straps and panels are made with a durable nylon oxford fabric. You do pay a bit more for the durable material than you would with some other harnesses.
The shape of the harness is standard for many products currently on the market. A chest panel in the front absorbs most of the strain across the dog's larger muscles. There are holes for the front legs to slide through.
At the top, there is a back panel where all the straps meet and buckle up. In the middle of this, there is a metal leash ring. Behind this, there is a top handle to control your dog if necessary.
Overall, we think this is the best dog harness in the UK this year.
Range of sizes
Customizable strap and buckle
Durable nylon Oxford material
Slightly higher than the average product price
---
2.

FUNKEEN PET HOUSE Mesh Dog Harness — Best Value
This pet harness is made with high-quality mesh material to keep it breathable for your pup on a hot day. It also keeps the harness more lightweight and soft, making it less noticeable for a dog that might not prefer to be outfitted with a harness. It helps to know that this is also the best dog harness in U.K. for the money.
This harness from FUNKEEN PET HOUSE has an easily adjustable design but also comes in three sizing options. These include extra small, small, and medium. When you fit it on them, a strap goes around their front instead of a chest panel. This can focus more of the pressure on one point just under the neck, but it is still an effective attachment method.
There is a back panel where all the straps join each other in a buckle-and-clip system. Across the middle of this panel is a nylon handle to enable you to grab your dog if necessary. Immediately behind the handle is the stainless-steel D-ring where you can attach their leash. It is offered in two different colors.
Mesh material keeps your dog cool
Sizing options and easily adjustable straps
Durable buckle and clip system
Best value option in the U.K.
No chest panel for added comfort and pressure displacement
---
3.

RUFFWEAR Multi-Use Dog Harness — Premium Choice
The Multi-Use Dog Harness from RUFFWEAR is constructed as a durable choice for those dogs and their human counterparts that like to go out in rugged environments. It is built for long-lasting use in these rough environments and for safety while your dog explores.
The harness allows your pup to experience a full range of motion while they are outside, whether it is for a hike, trail running, climbing, or even search and rescue. It is made to safely lift your dog over obstacles that they might encounter while on their adventures.
This harness comes in six sizes: extra-extra-small, extra-small, small, medium, large, and extra-large. All the sizes are meant to keep it as well-fitted to your pup as possible. The straps are also somewhat customizable.
The build includes more than that of a typical harness. There is a hole for the head to go through and a small, triangular chest panel in front. From there, there are two holes for the legs and one more strap with a slim band of padding for under the stomach. This extension gives the dog's body more support if they are lifted, making it safer for them.
Beyond the shape, there are two attachment points for a lead, and both are made with an aluminum V-ring with a webbed loop to secure it to the harness. There is a grab handle at the top and high-visibility trim acting as a beacon at night.
Made for heavy-duty usage in rugged environments
Allows for a full range of motion with greater support
Comfortable pads are added to each of the straps
Grab handle and high-visibility trim for increased safety
More expensive than most similar products
---
4.

Julius-K9 16ICD-P-0 IC Powerharness
The Julius K9 harness follows a simpler construction than some of the other harnesses, yet it is fortified to make a good match for adventurous pup and person pairs. There are a wide variety of sizes and colors offered for this harness.
Use the sizing chart to find the best match for your dog's size and shape. There have been some owner reports that these harnesses are not well-suited to sausage dogs' shape.
The harness not only functions as a way to walk with and guide your dog securely but also acts as a visibility vest. There are grey lines across the major portions and panels of this dog harness. It has side bag and flashlight attachment options, although these are not included with the initial sale.
A chest strap extends lower than the dog's neck to limit any potential windpipe damage. A handle is strategically placed at the top to hold them if necessary, and a steel ring is fixed to the harness for leash attachment. The OEKO-TEX fabric is durable and anti-allergenic and water repellent.
Extra attachment options for adventures
High-quality material for each strap, buckle, and panel
Water repellent and anti-allergenic material
Shape of the harness not well-suited to sausage dogs
---
5.

Eagloo No Pull Dog Harness
The Eagloo dog harness is crafted to focus on safety, utilizing a no-pull design to protect their chest and neck from damaging amounts of pressure over time. A large, padded chest panel extends across the entire front chest area of the dog. Extending back from this are two holes for their legs.
The dog harness comes in four sizes, including small, medium, large, and extra-large. There are eight colors to choose from as well, making it a fashionable choice for your pup. The dog harness has two zinc-alloy rings, one on the chest panel and the other on the back panel. The back panel is also quite large and has strong buckles for the adjustable straps.
Eagloo recently upgraded its strap adjuster design with thicker straps that enable it to have a non-slip performance compared to its previous design. If you have a dog that loves to swim, one of the downsides of this harness is just how long it takes to dry. Along with the Oxford material that is the harness's outer layer, there is a layer of nylon webbing over the padding on the chest and back panels. There is also 3M reflective material for safer nighttime walks.
No-pull design to keep your dog safe, no matter the activity
Comes in a variety of sizes and colors
Durable Oxford and nylon material
Takes a long time to dry when soaked through
---
6.

Sporn Non-Pull Harness
Are you looking for a simple solution as a harness? Then the Sporn No-Pull harness gives you just that. Upon first look, it is a direct design of a chest panel, with pads under the dog's two front legs. Otherwise, the harness is the straps and a length of nylon that extends away from the dog's back and has a circular metal ring for the leash.
The Sporn harness does come in three different sizes, including small, medium, and large. However, it is easier to use with smaller dogs because it does not have as robust a design as some other products.
The straps are adjustable at the shoulders and function to make the entire thing tighter. Since it does not have many customizable options, it is especially important to get your dog's appropriate size. There is a sizing chart to use before making the purchase.
It is a lightweight harness option with enough padding to keep it comfortable for your pet on their daily walks. It is also straightforward to put on and can be an easy introduction for a puppy learning what a harness feels like before getting something more comprehensive.
Simple design for introductory harness
Well-suited to smaller dog breeds
Comfortable padding under the legs
Not a robust option for large dogs
---
7.

Curli Vest Air-Mesh Harness
If you want to maximize the amount of comfort that the dog's harness offers them, then the Curli Vest Air-Mesh Harness is an appropriate option for you. It is padded all the way around and protects your dog's skin and fur better than most other strappy harnesses.
Since Curli wants to provide the best match possible for your pup, there are many different sizes to choose from. The number of sizes it provides is also because this harness is not that customizable.
Your dog needs to step into the two leg holes, and then it comes up and closes around their head and neck. At the top, it attaches via a Velcro closure, which allows for some adjustability at the back. There are also reflective strips at intervals of the harness for safer nighttime walks.
To affix the leash firmly, use the two D-rings at the top of the harness for the pup's balanced control. The entire harness is constructed with air-mesh fabric to keep it breathable for your pup on a hot day.
Lightweight and breathable for hot days
Entire harness is padded
Reflective strips keep dog's safer at night
Velcro closure not as durable as a buckle closure
Not very adjustable once a size is chosen
---
8.

LIFEPUL No Pull Dog Vest Harness
LIFEPUL has done its part in creating a harness with no-pull capabilities. It is built with a vest-like design and comes in four sizes and two different colors. With padded chest straps and a solid back panel, it protects your dog and gives you greater control in any situation. Such thick padding on the back and chest panels keep it from being as breathable.
Although this dog harness might be more complicated than some of the other options on this list, it is easy to operate. The closure is done at the side and affixed with a solid buckle from the chest's side. It has a locking capacity to keep it secure even when your dog is excited. The entire harness is quite customizable as well, with a chest belt and a spongy front collar.
The harness is made with high-quality nylon and padding throughout most of it, except for the padding on the chest belt. At the top, there is a nylon handle fixed securely with nickel-plated D-rings to the outside. Another D-ring extends away from behind the handle to attach the leash.
Padded throughout most of the design
Durable nylon fabric and plated D-ring
Customizable sizing options
---
9.

  BARKBAY No Pull Dog Harness
BARKBAY makes its dog harness with a no-pull design and plenty of reflective material throughout the design to keep it safe for your pup. Four sizing options depending on the span of your dog's chest and multiple options for the harness color.
The harness construction incorporates a front panel that spans most of the chest and leads to the straps, each of which is adjustable to make it as tight or loose as needed. The straps hook into a top back panel and have reflective strips that extend upward.
These straps are not only adjustable but fitted with strong buckle closures for quick fitting. There is a strong, nylon handle on the top of the back panel. There are two D-rings behind this handle. Contrasting the strong metal D-rings of other harnesses, these are made from plastic.
Multiple sizes and color variations
Strong buckle closures at the top
Some less-than high-quality materials used in construction
---
10.

Musonic No Pull Dog Harness
This no-pull dog harness from Musonic is a standard harness design meant to keep your dog securely inside. It is not as comfortable as many of the other options listed above because the back panel is the only part that is padded.
There are also straps without padding extending across the pup's collarbone and one that runs under their stomach. Both of these are equipped with buckles and size adjusters to make it easier to adjust properly before putting it on your pup. The buckles have a locking button to keep it firmly fixed to them while they are out and about.
This harness comes in a variety of color options and five sizing options. Reflective threads are sewn into the black nylon straps of the harness. There is a top handle fixed to the harness via metal rings. The back of the harness has a loop with a D-ring at the end to attach the leash before heading out. There's also a leash with the harness to use it right away if you don't already have one.
Non-choking structure to reduce overall pressure
Locking capacity on the buckle
Not as comfortable without as much padding
Not as effective as a no-pull harness because there is less material on their chest
---
Buyer's Guide: Finding the Best Dog Harness in the UK
Before you buy a harness for your dog, it is best to evaluate what you hope to accomplish using a harness with them. Do you need them to stop pulling so hard? Do they always manage to squirm out of their collar or chew on the lead? Thinking through these aspects will help you find the most applicable harness for your needs.
However, there are other specifics that you can take into consideration when narrowing down your search. Just like every dog is different, so is each harness and how they will fit your pup.
Shape
Consider both the shape of your dog and the constructed shape of the harness. How do they compare to each other? For example, some harnesses don't lend themselves well to being used by uniquely shaped breeds, like sausage dogs. You don't want the buckles rubbing them the wrong way.
There are also a few differences in the shape and location of the holes for the legs and the space that the head is meant to fit into. If your dog has a large amount of thick fur or a unique shape, you should look through the reviews for someone who owns a similar breed.
Material
A product lasting long enough to make the investment worth it is important for almost any product type, but especially something like a harness. It is going to be used outdoors in a variety of weather and sometimes under extensive pressure. They are sometimes used multiple times a day.
Look at the kind of material that the harness is made with to ensure a higher level of durability. If the company doesn't want to report what material it uses, you can generally take that as a bad sign.
Handle and D-Ring Placement
Almost any dog harness that is currently on the market is equipped with a strong handle meant for gripping. You can use this to hold onto your dog when you need to keep them close and don't want the leash to slide through your hands. It is also useful to pick your dog up on adventures if the rest of the harness will support them properly.
The placement of the handle determines how much control you have over the main body mass of the dog. Where the company has decided to place the D-ring changes how the leash attaches and controls the dog. You don't want to increase the likelihood of entanglement and might need it far from their mouth if they want to chew on it.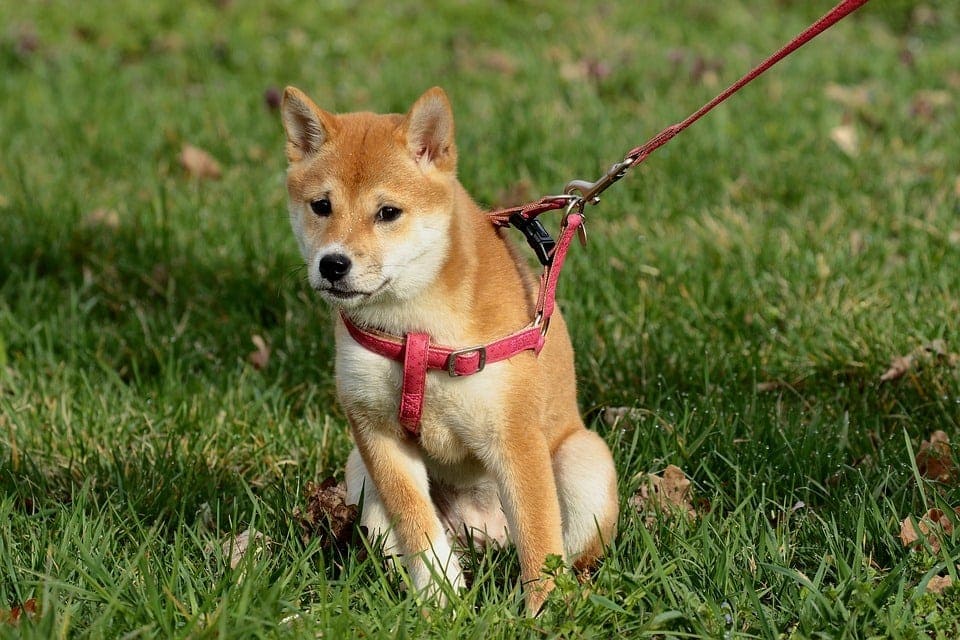 Comfort
If a dog has to use a harness every day, it should be comfortable. Don't get one that will steadily wear away on their fur and skin during each use. They will want to go out to exercise less and less if it is uncomfortable.
Look for harnesses that are padded in the primary areas where pressure will be applied if they begin to pull on the leash. There should not be buckles in these areas.
Sizing and Adjustability
Each dog, even within the same breed and litter, will be a different size. A harness should have plenty of sizing options to customize the purchase before it ever gets fitted to your dog.
The adjustability factor starts to be applicable when you want to fit it perfectly to your dog. There should be multiple places to adjust the fit around their legs, chest, back, and head. These fixtures are often added to the nylon straps and should be made so they do not slip if the dog pulls.
Getting It On
Finally, there is the fact that any collar or harness that you use needs to be put on to be effective. Almost any harness goes on a little differently than another will. Depending on how well-behaved your pup is, this might not matter as much for you.
However, if you struggle each time you want to get something on them, find a harness that you can put on them quickly and smoothly to reduce the daily struggle.
Conclusion
No matter how large your dog is and how much they like to pull on the leash, a harness helps to give you more control and can keep them safer. Using one that allows for an effective and secure hold across their chest can make daily walks, runs, or hikes much more enjoyable for both of you.
If you are looking for a harness that provides full coverage, reducing the pressure and risk of damage to their neck, then rabbitgoo's No-Pull Dog Harness is a great option for you. Perhaps you are still not sold on whether a harness will work well for your dog, and buying a valuable budget option could suit you better. Take a look at the Funkeen Pet House Mesh Dog Harness if this is the case.
From big to small dogs, there is a dog harness for them all. Finding one that suits your needs can take trial and error, but we hope that we have made your search easier.
---