10 Best Dog Toys in the UK of 2023 – Reviews & Top Picks

They give your dog something to chew on other than furniture, give you both a more convenient chew toy than your fingers, and they can help prevent furniture chewing and other boredom-related behavioural problems. Dog toys vary in cost, material, and the intended method of play, but they all aim to give your dog something to do.
Below, you will find reviews of ten of the best dog toys in the UK. We have included chew toys, rope toys, and hard rubber toys, as well as some that are suitable for puppies as well as those that are better suited to adult, fully developed teeth. At the end of the guide, you will also find a buyer's guide to help you choose the one that's best for your four-legged friend.

A Quick Comparison of the Winners (2023 Update)
Rating
Image
Product
Details

Best Overall

Chuckit Ultra Ball

More durable than a tennis ball
Easily visible in long grass and bushes
Rubber bounces higher than other balls
Check Price

Best Value

Petface Super Tennis Balls

Pack of 12
Very cheap
Fit in standard ball launchers
Check Price

Premium Choice

West Paw Design Zogoflex Tux

Dishwasher safe
Can be filled with treats
More durable than most toys
Check Price

Best Puppy Toys

Petface Puppy Dog Toy

Cheap
Soft and light
Textured material is more appealing
Check Price

Kong Classic Medium

Very durable
Keeps pets busy for hours
Can be filled with treats for interactivity
Check Price
The 10 Best Dog Toys in the UK
1.

Chuckit Ultra Ball Dog Toy – Best Overall
| | |
| --- | --- |
| Toy type: | Ball |
| Dog age: | All |
| Pack size: | 2 |
The Chuckit Ultra Ball is a 6cm rubber ball. It is compatible with the Chuckit Launcher, which is sold separately, and the rubber material not only makes it possible to throw the balls further, but it means that they bounce on hard surfaces and even float on top of the water.
The bounce encourages active dogs to leap higher and burn more energy while the buoyancy of the ball ensures that you don't lose your pup's favourite toy in the depths of your local pond. The ball comes in five sizes, suitable for different sizes of dog breeds, and all are coloured orange and blue so that they are more visible and more easily spotted, even in the undergrowth.
The latest iteration of these balls is durable enough for playing outdoors, but strong chewers will still get through the Chuckit Ultra Ball if left unattended. The relatively low cost and decent durability make this the all-round best dog toy in the UK. A ball may be a simple design, but it is popular with most active dogs and this one adds to the excitement of playtime while offering a little more durability than a standard tennis ball.
Rubber bounces higher than other balls
Easily visible in long grass and bushes
More durable than a tennis ball
Decent price
Won't withstand excessive chewing
---
2.

Petface Super Tennis Balls for Dogs – Best Value
| | |
| --- | --- |
| Toy type: | Ball |
| Dog age: | All |
| Pack size: | 12 |
Tennis balls are the classic dog toy. They're conveniently sized for throwing and retrieving, the standard sizes fit in standard ball launchers, and they're inexpensive. These Petface Super Tennis Balls come in a pack of 12: ideal for destructive dogs or if you want a ball for every occasion. They are really cheap and easy to use.
Unfortunately, the Petface Super Tennis Balls are no tougher than standard tennis balls, which means that all but the most passive chewer will get through them quickly, so they are better suited to fetch and flyball than to life as an all-day chew toy.
If you want something cheap, simple, and your dog likes to parade with a ball in its mouth, rather than chew it, they are the best dog toys in the UK for the money.
Very cheap
Fit in standard ball launchers
Pack of 12
---
3.

West Paw Design Zogoflex Tux Dog Toy – Premium Choice
| | |
| --- | --- |
| Toy type: | Treat toy |
| Dog age: | All |
| Pack size: | 1 |
The West Paw Design Zogoflex Tux is a chew toy that can be filled with dog treats and dog food to give your dog an interactive playtime. The material is flexible, making it possible to fill it with treats in the first place and to enable your dog to pull the treats out again. It is non-toxic and safe to chew, and the Tux can even be placed in the dishwasher to ensure that it is thoroughly cleaned.
No dog toy is completely indestructible, especially when in the jaws of Mastiffs and Pitbulls. The Zogoflex Tux will likely still succumb to more powerful jaws, but it is durable enough for most breeds and most chewers. It is quite an expensive toy, although it does last longer than most.
Unfortunately, not all dogs like the texture or the indestructibility of this type of toy; in which case, it will end up being an expensive dog treat holder.
Can be filled with treats
More durable than most toys
Dishwasher safe
Not appealing to all dogs
Expensive
---
4.

Petface Puppy Dog Toy – Best Puppy Toys
| | |
| --- | --- |
| Toy type: | Plush |
| Dog age: | Puppy |
| Pack size: | 1 |
It is advised to buy a toy that best suits the age and size of your dog. While young adult dogs are the most likely to chew and do damage to toys and other items, young puppies do not have fully developed teeth, are usually unable to chew through durable toys. Some breeds enjoy carrying a toy around in their mouth like prize game. For these reasons, plush toys are some of the best puppy toys available.
The Petface Puppy Dog Toy is a plush toy. This one is shaped like a dog, but other designs are also available. It is a modest price, which is good because even the gentlest of breeds can still accidentally damage a plush. The toy has a squeaker inside, which isn't overly obnoxious, and can keep your young biter's mouth busy.
Many dogs have a favourite stuffed toy, and the Petface Puppy Dog Toy's textured material and soft finish ensure that it could become your puppy's go-to toy.
Soft and light
The textured material is more appealing
Cheap
Stuffed toys are easily damaged
Will need regular cleaning
---
5.

Kong Classic Medium Dog Toy
| | |
| --- | --- |
| Toy type: | Treat toy |
| Dog age: | All |
| Pack size: | 2 |
Since its inception in 1976, the Kong has become one of the best-known dog toys. This Kong Classic is medium-sized but is also available in sizes ranging from extra small to extra-extra large. It can be filled with dog treats, keeping your four-legged friend busy while it tries to figure out how to get the treats from inside the snowman-shaped rubber toy.
The Kong is especially popular with owners of heavy chewers: dogs like Staffies and rottweilers. Although, if you do have a power chewer at home, you should consider the Kong Extreme, rather than the Kong Classic. Its rubber makes it more durable than most other toys and they are bouncy and flexible, so it is possible for your dog to get the goodies from inside while still proving a challenge.
Kongs are quite expensive, they are heavy, and when there are no treats inside, the smell, taste, and texture of the rubber will not be to all dog's tastes.
Very durable
Can be filled with treats for interactivity
Keeps pets busy for hours
Quite expensive
Boring and unappealing when empty
---
6.

Starmark Bob-A-Lot Interactive Dog Toy
| | |
| --- | --- |
| Toy type: | Treat toy |
| Dog age: | Adult |
| Pack size: | 1 |
The Starmark Bob-A-Lot Interactive is another interactive, treat-dispensing dog toy. Challenging treat toys not only provide a way to give your dog a treat and keep your dog's brain active, but they can also be useful to keep their mind active while left alone or during times of stress.
The Bob-A-Lot Interactive comes in medium and large. It opens at the top to allow you to dispense treats, and then drops them through slots near the bottom of the toy. The slots can be opened or closed to adjust the difficulty level and to allow for different sizes of treats.
The Starmark is an expensive dog toy but, in most cases, will last well while stimulating your dog's brain. But, if your dog gets bored trying to access the treats or when the treats have run out, there is a chance that it could turn to chewing the plastic top instead. As such, you won't be able to leave your dog unattended with the toy.
Interactive, treat-dispensing toy
Adjustable difficulty/dispenser size
Expensive
Easily chewed when treats run out
---
7.

Chuckit! Indoor Ball Dog Chew Toy
| | |
| --- | --- |
| Toy type: | Soft ball |
| Dog age: | All |
| Pack size: | 1 |
Most dog balls are designed to bounce and roll around. They're heavy enough that they won't float away while outdoors, and this means that they can easily cause damage and breakages if used in the home.
Soft balls, like the Chuckit! Indoor Ball Dog Chew Toy, combine the physical enjoyment of a toy ball with the safety of a soft toy. And, in the case of the Chuckit! specifically, it has elements of a plush stuffed toy, too. Also suitable for puppy use, the Indoor Ball Dog Chew Toy is made from a chenille fabric and is a mid-priced dog toy.
For heavy chewers and dogs that like to destroy, the fabric exterior is easily chewed and once a bald patch appears, your dog is likely to make quite short work of the polystyrene style interior. Small dogs and puppies that do not relentlessly chew at their toys or pull at threads should enjoy this indoor ball.
Safe for use indoors
Suitable for puppies
Threads are appealing
Middle is made of destructible polystyrene
---
8.

Planet Dog Orbee Tuff Squeak Ball Toy
| | |
| --- | --- |
| Toy type: | Ball |
| Dog age: | All |
| Pack size: | 1 |
Squeaky toys aren't to all owners' tastes. They can be incredibly annoying in the teeth of an avid chewer, and the squeak itself attracts inquisitive dogs to chew through the toy. However, there's also no denying that some dogs love squeaky toys even more than their owners dislike them.
The Planet Dog Orbee-Tuff Squeak Ball is a squeaky rubber ball made from TPE plastic, which is safe and non-toxic for your dog. It is bouncy, floats on water, and its orange colour ensures that it stands out among the grass and plants.
Planet Dog has infused the rubber with a mint scent, but this does wear off, leaving a rubber-scented and rubber-tasting ball. It does stand up well against light to moderate chewers, although power chewers may still get into and through this somewhat expensive ball.
Good for moderate chewers
Made from TPE plastic
Floats and is easily spotted
Mint smell wears off to leave a rubber smell
Not suitable for power chewers
The squeak can be annoying
---
9.

Happy Pets Nuts For Knots King Size Rope Dog Toy
| | |
| --- | --- |
| Toy type: | Rope |
| Dog age: | Adult |
| Pack size: | 1 |
Rope toys can be great fun. They can be picked up, thrown around, and chewed. They can also be used to initiate a game of tug of war between dog and owner. Proponents of the rope toy also claim that they are good for dental hygiene because they help get rid of tartar buildup and clean the teeth.
The Happy Pets Nuts For Knots King Size Rope is 2.5 feet long so it is suitable for giant and extra-large breeds.
As is the case with a lot of rope toys, the ends do fray easily and once this happens, you will find small pieces of cotton floating around. The strings can get between your dog's teeth and may cause more dental harm than good. Whether it's because they are left outside or because of constant chewing and gnawing, the rope does get soggy quite quickly, which means that you will be greeted by a squelching mess of rope.
Great for games involving dog and owner
Suitable for giant breeds
Rope frays easily
Cotton can get stuck between teeth
Becomes a soggy mess when wet
---
10.

Benebone Durable Wishbone Dog Chew Toy
| | |
| --- | --- |
| Toy type: | Chew toy |
| Dog age: | All |
| Pack size: | 1 |
The Benebone Durable Wishbone Dog Chew Toy is a nylon dog toy that has been flavoured with real peanut butter and is said to be suitable for power chewers. Although this is a medium-sized nylon bone, Benebone does have a range of sizes.
The wishbone design makes it easier for your dog to grab however it prefers, and it also enables you to be able to grab another end. The toy is pricey for a chew toy and despite the peanut butter flavour, it is a really hard toy that will not be appealing to all dogs.
The bone does start to show teeth mark quite quickly, and while this is considered safe and Benebone even claims that the bristle will help clean your dog's teeth, the Wishbone can be destroyed by power chewers so you will need to supervise time with this treat.
Peanut-butter flavour
Wishbone shape is convenient
Expensive for a chew toy
Nylon bone is unappealing
Power chewers will chew it apart

Buyer's Guide: How to Select the Best Dog Toys
Dog toys don't have to be expensive or flashy. Most dogs love to chase a ball, although there are also interactive toys, which are great for keeping your dog on its toes physically and mentally, while treat toys have added appeal. Here we discuss the benefits of dog toys and what to look for when buying something for your furry friend.
Top 5 Benefits of Dog Toys
1. Playing Tires Them Out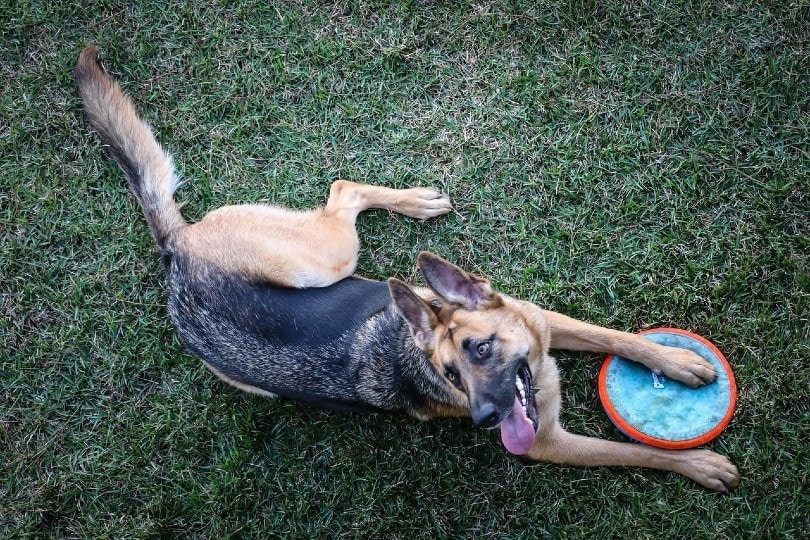 We all love our dogs but that doesn't mean we don't enjoy the hour's respite we get when they're fast asleep having worn themselves out chewing and thinking. Even the simplest dog toy provides mental stimulation, while some of the best dog toys also offer physical exercise, and this combination will wear your dog out and give you a little peace.
---
2. Toys Are Fun
Dogs love toys because they're fun and exciting. Fulfill your dog's need for excitement and it will be a happier and more content pet.
---
3. They Can Aid Learning
You can use toys as training aids. A simple tennis ball can help with retrieval, recall, and a host of other commands, while interactive toys can hone a dog's natural abilities like foraging and burying.
---
4. Toys Can Combat Unwanted Behaviour
Most dogs love to play, and all dogs need physical and mental stimulation. If they are not getting enough of these natural requirements, they can become bored and may show destructive and unwanted behaviour. A simple rubber toy or chew toy could be enough to stave off the boredom and protect your home. A selection of toys will offer even more excitement.
---
5. They Can Build Relationships
Toys, like pull toys and fetch toys, encourage play between you, or other family members, and your dog. They will enjoy the time they spend with you, further enhancing the relationship between the two of you.

Should I Take My Dog's Toys Away at Night?
Dogs can become very attached to their toys. In fact, some dogs can suffer a degree of separation anxiety if the toy is taken away. You may also find that a small and silent toy keeps your dog entertained if it wakes up during the night. On the other hand, you will likely want to remove any toys with squeakers or other noisemakers, and you should not leave your dog with any kind of toy that requires supervision. A young dog might benefit from having a soft toy to keep as a comfort toy, but this certainly isn't essential.
How Many Toys is Too Many for a Dog?
As long as your dog does not show any signs of aggression or possessiveness over their toys, they can have as many toys as you want them to and have the budget for. Consider giving a soft toy, a treat toy, and keeping a ball or other fetch toy for playing outside. Another solution is to buy a collection of toys, give your dog one or two at a time, and swap different toys in when your dog gets bored of the old ones. After a few weeks, you will be able to swap the old toy back into rotation and your dog won't be bored of it.
Choosing Dog Toys
There are hundreds of dog toys to choose from, including those designed for different age groups, from different materials, and with different purposes in mind., including:
Retrieval Toys – Arguably the simplest toy of all is the tennis ball. This is a retrieval or fetch toy, is most commonly used outside, and can be used for training purposes, as well as fun.
Chew Toys – Made from durable materials like nylon and rubber, chew toys fulfil your dog's desire to gnaw and chew. They may be flavoured or scented to make them more appealing, because not all dogs will like the smell of rubber or the rock-hard texture of some nylon toys.
Treat Toys – A basic form of interactive dog toy, the treat toy holds dry kibble or treats and dispenses them when your dog fulfils some basic criteria such as rolling the toy across the floor. Not only do these toys encourage your dog to think and reason, but they also enable you to give treats gradually and as a reward. Some owners fill treat toys with a mixture of peanut butter and dry treats.
Rope Toys – Rope toys are somewhat controversial. Dogs have used them for tug of war, without incident, for generations, but some dogs can get the cotton strings stuck in their teeth and if the frayed rope does get into their stomach, it can cause serious gastrointestinal upset.
Stuffed Toys – Stuffed toys are best reserved for gentle dogs that are not prone to chewing. Some retrievers are known to favour a particular toy and carry it around gently in their mouth. This likely mimics the retrieval of their prey when hunting. Stuffed toys are not suitable for dogs that chew everything.
Durability
Owners of mastiff-type dogs will attest to the fact that virtually nothing is indestructible, and we aren't just talking about dog toys. Furniture, floors, and even concrete walls literally crumble under the incredible pressure of an intense chewer's jaws. What chance does a humble tennis ball have?
With that said, it's impractical and very expensive to have to keep replacing toys every few days.
It's difficult to hit the sweet spot between durability and appeal. Rubber toys will usually outlast those made from other materials, but rubber can be unappealing and even off-putting to dogs, thanks to its strong smell and unappealing texture. Nylon is an alternative but is very hard. On the other hand, soft toys like tennis balls may only last an hour with some breeds. You need to be realistic about how strong a chewer your dog is and buy something made from an appropriate material, if you want it to last.
Safety
Toys are made from a variety of materials including plastic. Ensure that any material is safe for your dog to chew on, but especially ensure that plastic is BPA free or TPE plastic.
Other safety factors include whether the toy splinters when it is chewed and whether there are any small parts that could be chewed off and cause a choking hazard.
Fun
A dog toy needs to be fun, or have some other type of appeal, otherwise, your dog will turn its nose up at the gift. Fun tends to mean that the toy mimics some natural behaviour of the dog. Treat toys are similar to foraging while fetch toys encourage play that is similar to hunting. Find out what type of play your dog enjoys most and buy toys to suit.
Dog Age
Puppy teeth are as sharp as needles, but they have not fully developed, which means that they are easily damaged. Tough toys especially have the potential to cause considerable damage to your puppy's teeth.
Consider teething rings and teething toys, plush toys, and those that have been specially designed for young dogs to minimize the risk of damage to your best-friend's teeth. Senior dogs may have brittle teeth and many older dogs do have periodontal disease, which can make teeth more brittle and prone to breaking. Again, it is a good idea to offer a softer and safer toy to old dogs.
How Big Should a Ball Be for a Dog?
Dog balls should be big enough that they do not pose a choking hazard but small enough that they can be easily held in the mouth, between the front teeth.
What Do Treat Balls Do for Dogs?
Treat balls hold dry and sometimes wet treats and dispense them at certain times. The simplest design holds peanut butter and dry biscuits so that the dog can lick the food out, while others have a honeycomb design, into which treats are placed. They fall out when the ball is rolled. Offering treats in this type of toy can slow your dog's consumption of treats down. It can also keep your pup busy for hours on end, giving you a little peace and offering mental stimulation.
Is Peanut Butter Good for Dogs?
With some caveats, peanut butter is safe for dogs and has some health benefits. Ensure that the peanut butter you give does not contain xylitol or other artificial sweeteners, however, as these can be toxic to dogs.

Conclusion
The best dog toy will depend on your dog, their preference, size, and age. Some dogs love the basic tennis ball while others prefer the more interactive experience given by treat toys. Hopefully, our reviews of the best dog toys in the UK helped you find the ideal gift for your four-legged friend.
The Chuckit Ultra Ball is a good fetch toy that is durable for regular and moderate chewers and doesn't cost too much. The multipack of PetFace Super Tennis Balls, on the other hand, ensure that you have a constant supply for your walks, and they are really cheap.
You might also be interested in: