21 Incredible UK Pet Insurance Statistics & Facts: Updated in 2023

Note: This article's statistics come from third-party sources and do not represent the opinions of this website.
The UK is a nation of animal lovers with 25 million dogs and cats in 17 million households across the country and a host of other pets including rabbits, small mammals, and exotic pets like lizards and snakes. Although we all hope our pets stay fit and healthy throughout their lives, this is often not the case.
Unfortunately, animals get sick, and when they do, the potential cost of vet bills can add to an already difficult time. Pet insurance not only ensures that pets get the best available treatment regardless of its cost, but it also gives pet owners peace of mind.
Although costs vary according to pet type, age, and other factors, most owners pay between £10 and £30 per month for a policy, and fully comprehensive policies can cover almost every eventuality.
Below are 21 statistics related to the UK pet insurance industry including information on policy costs, coverage, and the industry overall.
Top 21 Pet Insurance in the UK Statistics

Pets and Vets Statistics
1.

There are 13 million dogs and 12 million cats in the UK.
(Statista 1)
The UK loves its pets and the population of nearly 70 million people shares the country with 13 million dogs and 12 million cats, as well as a large number of small mammals, exotic pets, birds, and fish.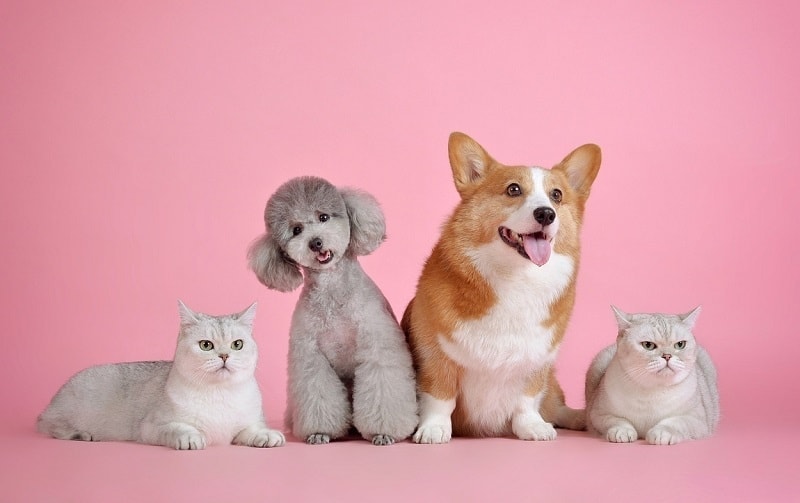 ---
2.

59% of pet owners visited a vet in 2019.
(Finder)
In 2019, 59% of pet owners called or visited a vet with their pets. In 2020, because of lockdowns and closures of buildings including veterinary surgeries, it is likely that this figure was lower, but looking at the last pre-pandemic full-year figures, a majority of owners had some reason to take their pets to the vets.
These figures likely include general check-ups, vaccinations, and other routine visits, which are not generally covered by pet insurance policies, however.
---
3.

Expenditure on vet and pet services totaled over £4 billion in 2021.
(Statista 2)
In 2021, despite lockdowns and closures, the UK spent more than £4 billion on vet and pet services. This category does include grooming, kennelling, and walking, but the majority is likely to be for veterinary visits, some of which could be covered by pet insurance.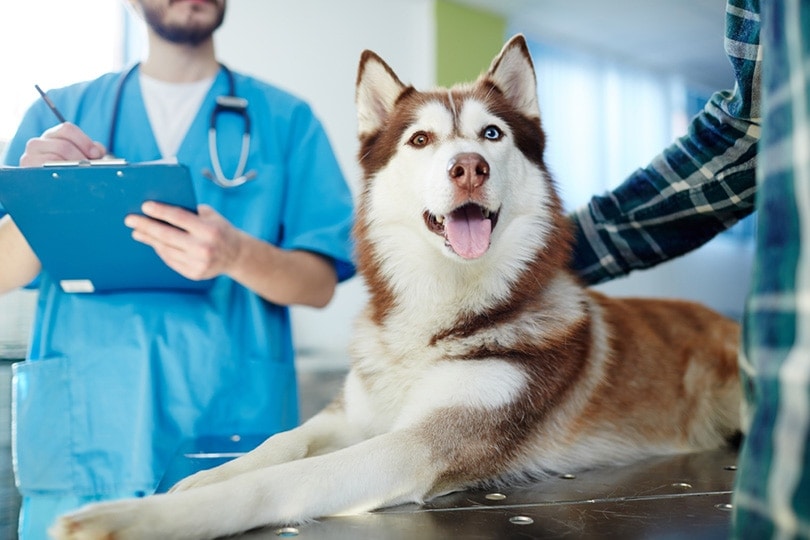 ---
4.

An emergency trip to the vet can cost £200 for the initial consultation alone.
(Confused)
Having a pet get ill or involved in an accident is heartbreaking. Our first concern is for the welfare of the animal, but many owners have the cost of treatment at the back of their mind.
While an appointment and consultation with a vet costs around £50 during standard hours, an emergency appointment at night or over the weekend can cost as much as £200, and that doesn't include the cost of any treatment or medication that might be required.
---
5.

The average cost of treating a lame pet is around £1,000.
(Confused)
Lameness is an inability to use one or more limbs. It can be accompanied by pain or discomfort and may be a sign of a bigger problem. It is common in dogs, and because it takes a lot of investigation and may require corrective surgery as well as any additional treatment, the average cost of treating lameness in a pet amounts to £1,000.
---
6.

Owners have to pay an average of £1,700 to treat Brachycephalic Obstructive Airway Syndrome (BOAS).
(Confused)
Brachycephalic Obstructive Airway Syndrome (BOAS) is a respiratory condition that affects brachycephalic dogs or those with short noses. It is common in breeds like Pugs and French Bulldogs, and because it is effectively caused by the natural shape of the dog's face, it is very difficult to treat.
Extensive and difficult surgery may be required, putting the cost of this kind of treatment at £1,700, on average. In most cases, as long as a dog has not shown any symptoms of BOAS before signing up for insurance, the condition will be covered by the policy. But owners that have a brachycephalic breed are advised to check any policy before they sign up.
Pet Insurance Figures
7.

Pet owners paid £1.39 billion in pet insurance premiums in 2021.
(Mintel)
Because of the size of the pet population in the UK, the pet insurance industry is also sizable. In 2021, owners paid nearly £1.4 billion in premiums. Most insurance companies allow policyholders to pay monthly or annually, with some offering discounts for annual payments.
---
8.

Nearly £900 million of pet insurance claims were submitted in 2021.
(ABI)
One of the reasons that some owners do not have insurance is that they do not think the cost is worth it, and instead put money aside to pay vet bills when required. Despite paying £1.4 billion in premiums in 2021, pet owners only made claims for £900 million against their pet insurance.
---
(Mintel)
There are a large number of companies that offer pet insurance, including some specialist providers as well as those that offer a host of insurance products. Allianz is the market leader in terms of market share, with 39% or nearly 4 in 10 of all pet insurance policies in the UK.
---
10.

2021 saw a 9% increase in people with dog insurance policies.
(Mintel)
The year 2021 was extraordinary in many ways. While a lot of industries suffered the negative impact of Covid, the pet industry benefited as more people bought new pets, including both cats and dogs.
As a result, there was a 9% increase in the number of people that held dog insurance policies. Dogs proved especially popular during Covid because of the companionship and exercise opportunities they provided.
---
11.

The average size of pet insurance claims increased by 4% in 2021, to £850 per claim.
(ABI)
The size of insurance claims also increased during 2021. The average claim rose 4% to £850 per claim. Generally, insurance policies cover treatment and aftercare for an illness or injury. Some do not include the cost of the initial examination and may not include requirements like prescription food.
---
12.

3.7 million people bought pet insurance in 2021.
(ABI)
In total, 3.7 million people bought pet insurance during the 12 months. This represents a 4% increase from 2020 and is the largest number of people buying insurance in a year since 2017.
---
13.

4.3 million people now have pet insurance.
(ABI)
The increase in the number of people buying pet insurance in the year also saw the total number of people with pet insurance increase. Roughly 4.3 million people across the UK now have pet insurance and some of these policies may be multi-pet policies that cover two or more pets.
---
14.

61% of dogs but only 39% of cats are insured.
(PDSA)
Pet insurance is most commonly available for dogs and cats. Horse insurance is also available, and a limited number of insurers will insure rabbits. Although very difficult to obtain, owners of exotic pets can also get insurance policies.
Dog owners are the most likely to have insurance, which is likely because of the perceived higher vet costs associated with dogs. While 61% of dogs are covered by pet insurance policies, only 39% of cats are insured.
Policies and Opinions
15.

42% of pet owners have fully comprehensive pet insurance coverage.
(Finder)
There are different levels of insurance policy coverage available, ranging from accident-only policies that do not cover any illness to fully comprehensive policies that cover a long list of potential illnesses and complaints.
In some cases, it is possible to add extra coverage, even including wellness or preventive coverage. While 40% of pet owners have no insurance at all, 42% have fully comprehensive policies, making these the most popular insurance option.
---
16.

The average cost of a pet insurance policy is £360 per year.
(Scratch and Patch)
Cost is considered a major obstacle to buying pet insurance, especially when a pet is healthy and doesn't require treatment. However, the cost of insurance is lower than many owners think.
Cat insurance costs an average of £10 per month. While dog insurance is more expensive, it costs £30 per month on average, and the actual amount paid depends on many factors, including the breed and age of the dog as well as the insurance policy coverage level and coverage limits.
---
17.

42% of uninsured pet owners say that pet insurance is too expensive.
(Life Insurance International)
When asked about their reasons for not having pet insurance, 42% of uninsured owners said that the cost of insurance policies is too high. Owners that are looking to save money on an insurance policy may be able to lower their premiums by increasing their excess and co-payment figures.
Discounts may also be available for owners with multiple pets and even for those that get their pet insurance from the same company they get their home or other insurance policy.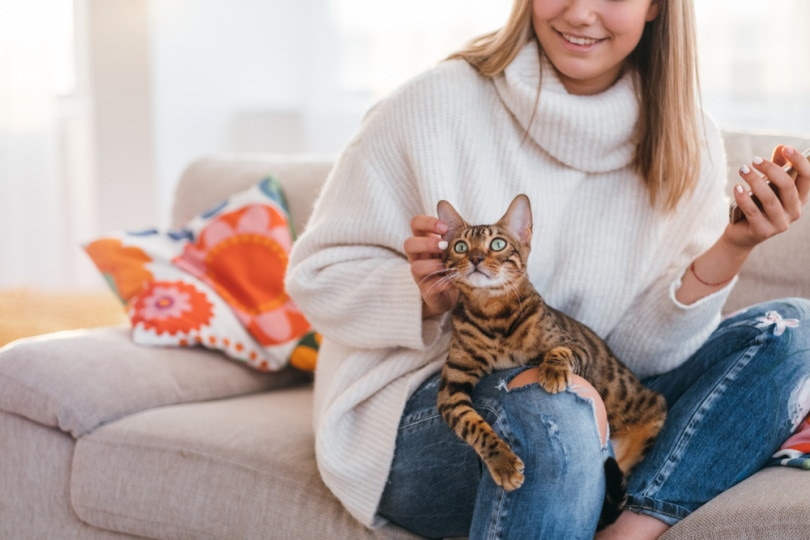 ---
18.

Pet insurance for senior dogs can cost as much as £80 per month.
(Finder)
With dog insurance, one of the biggest factors that determine the cost of premiums is the age of the dog. Young dogs tend to be healthy and if they do suffer injury or illness, their vet costs are lower. However, older dogs are more likely to get ill and attract higher costs.
Up to the age of 4 years, dogs cost an average of less than £25 per month to insure. This goes up to £25 per month for 4-year-olds, £30 per month for 6-year-olds, and £40 per month for 8-year-olds.
From that age, the price jumps even more markedly, costing £60 per month for 9-year-olds, £65 for 10-year-olds, and £75 and £80 for 11 and 12-year-old dogs, respectively.
---
19.

Approximately a quarter of cat owners without insurance said it doesn't offer value for money.
(PDSA)
Cat owners have similar reasons for not taking out pet insurance, and a quarter of survey respondents said that they do not believe cat insurance offers value for money. They believe that the cost of insurance is higher than the cost of any vet treatment that might be required.
---
20.

A third of pet owners think having pet insurance should be a legal requirement.
(Finder)
On the other hand, 33% of pet owners said that they believe pet insurance should be legally required for all pets. Currently, there are no legal requirements for insurance, although dogs must be microchipped by the time they reach 8 weeks of age, and the government is considering passing similar legislation covering cats and their owners.
---
21.

More than half of those with insurance feel they are trapped with their current provider.
(Scratch and Patch)
Pet insurance holders are generally free to change providers at any point, but there are some obstacles to doing so. For owners of senior cats and dogs, changing providers means finding a new policy for an older animal and this means that the cost is likely to rise.
And some owners are concerned that they will not receive a refund for any unused insurance. More than half of owners with insurance have said that they feel trapped with a current provider.
Frequently Asked Questions About Pet Insurance
Do owners legally have to have pet insurance?
There are currently no legal requirements to have pets insured in the UK. Even horse owners that ride their horses on the road do not need to have insurance. It is, however, a legal requirement to have pet dogs microchipped by the time they are 8 weeks of age, and similar laws may come into force for cats and their owners.
Is pet insurance worth it?
Pet insurance can seem expensive, especially as owners pay out more in premiums each year than they make in claims. However, pet insurance covers expensive eventualities, and it means that if your dog is diagnosed with a condition that requires £1,500 of treatment, the majority of this will be paid for by insurance rather than you having to find the money yourself.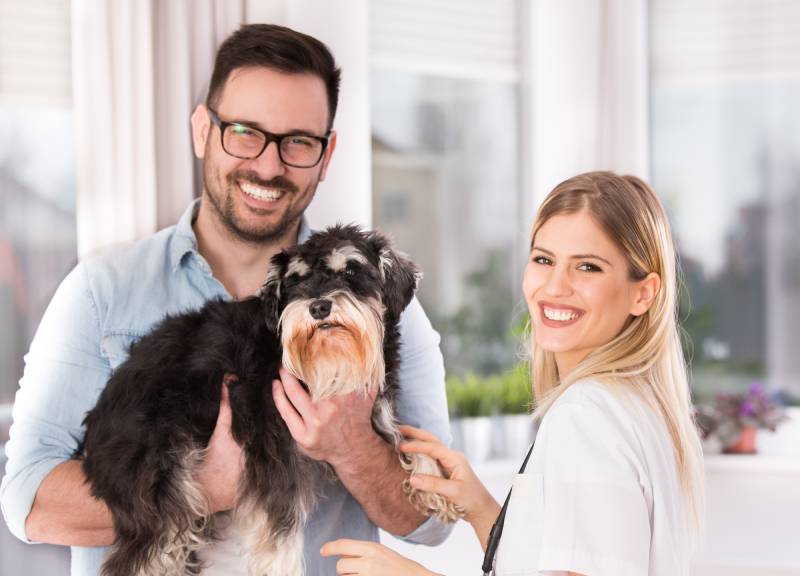 Does pet insurance cover flea and worm treatment?
Typically, pet insurance does not cover wellness or preventive treatment, which includes everything from spaying to flea treatment. However, some comprehensive policies do offer money off these treatments.
Some may include a wellness allowance that can be used as required each year, and some insurers allow policyholders to add these wellness packages. Generally, however, owners should not expect to have flea and worm treatment included as part of a standard insurance policy.
Are you covered with pet insurance straight away?
In most cases, there is a waiting period from the day a pet insurance policy is signed to when the policyholder can make a claim. The period differs from one provider to another and policy to policy.
It is also different for illnesses and accidents, but you should expect to wait anywhere from 2 days to 2 weeks. There are exceptions. Some providers will waive the waiting time for policyholders that are changing from another provider.
Is pet insurance void if not vaccinated?
Most, if not all, pet insurance policies may be void if the pet has not been vaccinated as required. Insurers assume that a pet is vaccinated, and vaccination helps prevent certain illnesses and conditions that help keep costs down.
Conclusion
Although it is not a legal requirement, pet insurance is usually recommended to pet owners because it covers the potentially big bills that come with certain illnesses or following an accident. Dog owners are the most likely to have pet insurance, but cat insurance costs around a third of dog insurance, on average, and there are ways that owners can save on their monthly or annual premiums.
---