Verus Dog Food Review 2023: Recalls, Pros & Cons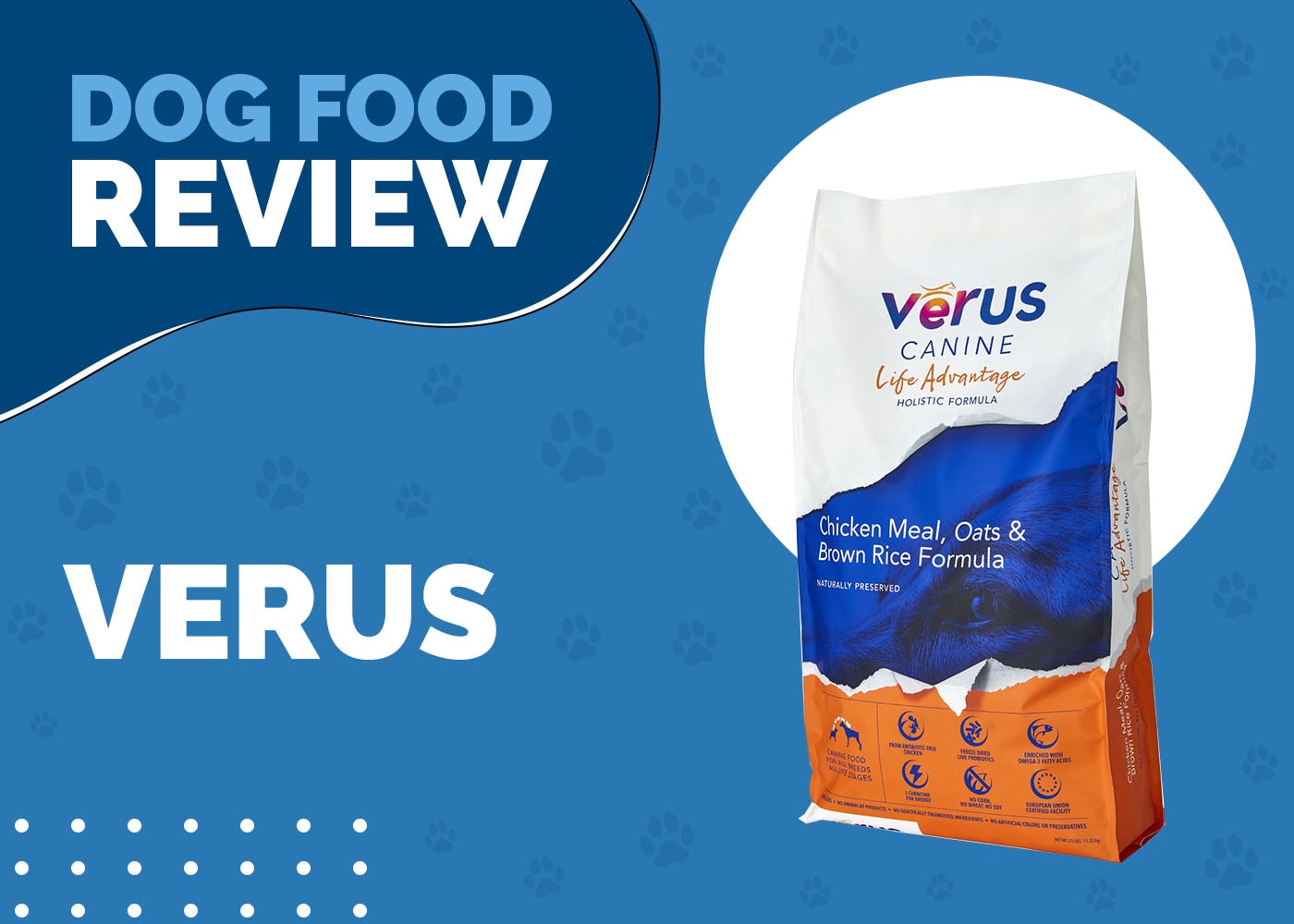 Review Summary
Our Final Verdict
We give Verus Dog Food a rating of 4.7 out of 5 stars.
The wide world of dog food is an overwhelming and frustrating one. Youcan spend a lot of time researching different options only to feel like you've come up empty-handed. With so many brands out there that claim to be the healthiest choice for your dog, how are you to know which ones can put their money where their mouth is?
We're here to help you sift through brands and understand a company's claims versus their quality. Today we'll look at Verus dog foods. This is a company that isn't super well-known and aims at providing quality ingredients and state-of-the-art manufacturing processes to offer a healthy, holistic approach to pet food. Read on to learn all about Verus and how they stand out among the competition.

At a Glance: The Best Verus Dog Food Recipes
Rating
Image
Product
Details

Our Favorite

Verus Life Advantage Dry Food

No artificial colors or flavors
No meat by-products or fillers
Supports healthy digestion and immunity
Check Price

Verus Cold Water Fish Dry Dog Food

Great for allergy sufferers
Rich in protein and Omega fatty acids
Wild caught salmon is the first ingredient
Check Price

Verus Turkey and Veggie Pate Canned Food

BPA-free cans
Rich in moisture
Appetizing and easy to eat
Check Price

Verus Adult Maintenance Dry Dog Food

Grass-fed lamb
Hypoallergenic formula
Reduces itchy, watery eyes and tear stains
Check Price

Verus Advanced Opticoat Dry Dog Food

Fresh, wild-caught fish
Innovative freeze-dried live probiotics
L- Carnitine for maximum performance
Check Price
Verus Dog Food Reviewed
Who Makes Verus Dog Food and Where Is It Produced?
Verus Pet Foods was founded by Russell Armstrong in 1993. It is a family (and veteran) owned business that manufactures its dry food in upstate New York. The blue-label canned foods are manufactured in South Dakota and the green label and cat-faced labels are manufactured in New Zealand. All foods are manufactured in EU-certified facilities
Which Type of Dog Is Verus Best Suited For?
Regardless of your dog's age, size, or specific dietary requirements, Verus likely has suitable food for them. They offer grain-inclusive, grain-free, dry kibble, and canned food options from a wide variety of top-quality animal protein sources. Their canned foods can be served as a meal topper or fed exclusively.
The company makes it super easy for owners to narrow down what recipe would work best with their "Dietary Needs" table that is presented on their website under the Nutrition tab. This table breaks down different health conditions and special dietary considerations to let you know which food would fit your dog's needs.
Which Type of Dog Might Do Better with a Different Brand?
Unless your dog is on a prescription diet under the supervision of your veterinarian or your dog does best on an exclusively fresh food diet, Verus offers such a wide variety of recipes that you are sure to find a food that works.
Discussion of the Primary Ingredients (Good and Bad)
We've looked up and down the lists of ingredients in each recipe that Verus offers. We've offered a quick breakdown of each of the primary ingredients in their dog food recipes. One thing that we love about Verus is that they offer a full list of every ingredient the company uses and a brief explanation of each on their website.
Chicken/Chicken Meal
Chicken is rich in protein and essential amino acids. It's a common animal protein used in most commercial dog foods. Chicken meal is the dried concentrate of chicken, which has at least four times the amount of protein. It can include meat, skin, and bones but Verus foods are free from heads, feet, feathers, and entrails.
Chicken is a common protein allergen among allergy sufferers so while it makes for a  great protein option for most dogs if your dog suffers from a chicken allergy, you will need to find an alternative protein source and avoid both chicken and chicken meal.
Lamb/Lamb Meal
Lamb is a lean animal protein that is also full of essential amino acids. It contains less fat than most other protein sources, so it is commonly a primary ingredient in foods that are geared toward weight management. Lamb meal is rendered lamb meat and tissues. It is much higher in protein than regular meat.
Menhaden Fish Meal
Menhaden fish meal is the rendered product of ground tissue of whole menhaden fish or menhaden cuttings. These fish are freshly caught, naturally preserved, and immediately frozen. Menhaden fish is an excellent source of protein, amino acids, and omega fatty acids.
Salmon
Salmon is a high-quality protein source that is rich in omega-3 fatty acids. It's great for healthy immunity, skin and coat health, and even helps decrease inflammation. It is a common choice for allergy sufferers that struggle with protein sources like chicken or beef.
Oat Groats
Oat groats are the hulled kernels of oats. They are complex carbohydrates that provide an energy source in your dog's diet. They are rich in fiber, B vitamins, iron, and protein.
Brown Rice
Brown rice is a complex carbohydrate that makes a great source of dietary fiber and protein. As a source of carbohydrate source, it does act as an energy source. This is a fairly common additive in most commercial dry foods.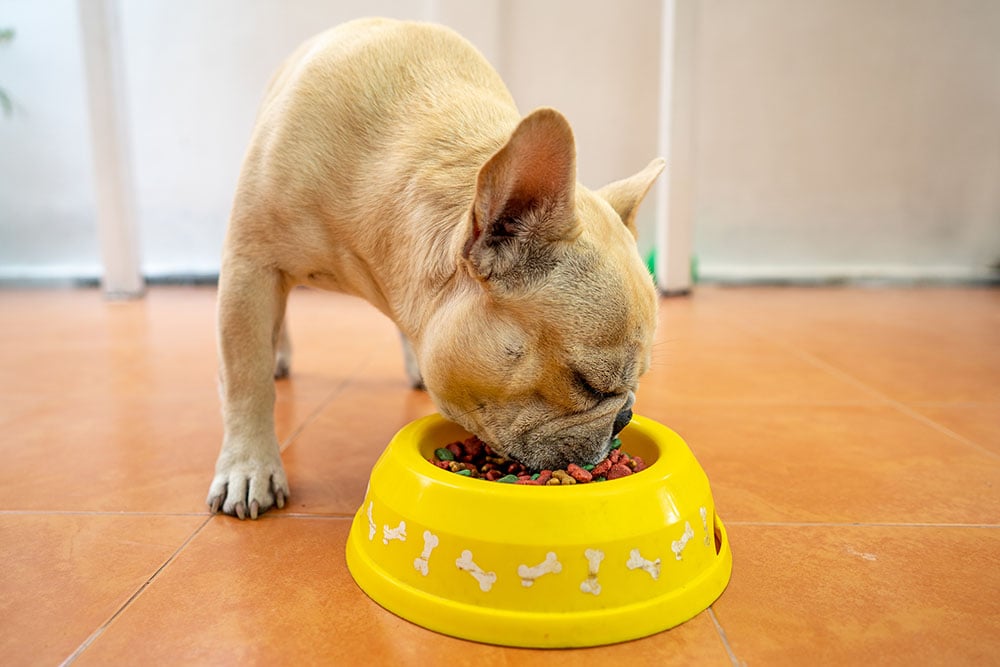 Barley
Barley is another starchy carbohydrate that supplies fiber and other nutrients. It is a cereal grain that does provide energy content but is also of only modest nutritional value for dogs
Rice Bran
Rice Bran is the by-product of white rice production and is produced when the outer layers of brown rice are processed to remove their outer layers. Rice bran contains micronutrients and is a source of dietary fiber.
Potato
White potatoes are high in carbohydrates and have a fiber-to-protein ratio that helps your dog feel full. They complement animal proteins and are a good source of potassium, vitamins C and B6.
Sweet Potatoes
Sweet potatoes make for an excellent source of complex carbohydrates. They are rich in various vitamins, minerals, and beta carotene. They are great for energy, promote healthy vision, and enhance flavor with their sweet taste.
Lentils
Lentils are complex carbohydrates that are rich in B vitamins and dietary fiber. This ingredient helps manage blood sugar levels, especially in diabetic animals.
Peas
Peas are complex carbohydrates that are rich in fiber, vitamins C and E, and zinc and are a common ingredient used in grain-free food varieties.
Chicken Fat
Animal-based fat provides a significant nutritional value when added to dog food. Chicken is a balanced, healthy form of fat.
Verus Slow Cook Process
This company puts their food through a slow-cooking process at lower temperatures. The nutritional value of dog foods can be depleted severely when cooked at high temperatures. Verus's process helps to retain nutrients, enhance flavor, and promote a higher starch conversion for better digestibility.
European Union Certification
European Union certification was developed by the USDA's Animal and Plant Health Inspection Service in response to the Bovine Spongiform Encephalopathy crisis. This was a strategy implemented internationally with the intent to eradicate food-borne epidemics.
An EU certification requires that all animal products in pet foods are declared fit for human consumption and no meat will be derived from 4D meats.
How Long Is Verus Dog Foods Shelf Stable?
Every dry food formula will come stamped with a "best by date" that is 18 months from the date of manufacture. Every canned food product from Verus is shelf stable for 3 years from the production date.
Where to Buy Verus Dog Food
You can purchase Verus dog foods in person at a variety of locations across the country and even some worldwide. They are not a heavily distributed brand and only sell in a select few states within the United States, most heavily in the northeast.  You can visit their website and click on the "Where to Buy" tab to find an in-person retailer near you.
For those that have no access to any nearby stores or companies that sell Verus, it can easily be purchased online at Amazon.com and other online dealers like Hearty Pet, Pet Flow, Pet Nirvana, Nurture Pet, and White Dog Bone.
Why Isn't Verus More Well Known?
Verus isn't exactly a household name or a brand that most people have heard of, especially in areas that do not carry the food in local shops. Per the company's website, they advise that they prioritize their budget to maintain high-quality ingredients, and healthy manufacturing practices rather than spending on excessive advertising.

A Quick Look at Verus Dog Food
Ingredients sourced by EU-Certified suppliers
Manufactured in EU-Certified facilities
Slow cooked at low temperatures to maintain nutrients
Each recipe is nutritionally balanced
Offers grain-inclusive and grain-free formulas
Variety of animal protein options
Antibiotic-free meat sources with no added hormones
Chelated minerals for optimal absorption
All formulas are carrageenan-free and gluten-free
BPA-free cans
No meat by-products or fillers
No artificial colors or flavors
No synthetic chemical preservatives
Expensive
More difficult to find in stores
Recall History
Verus Pet Foods has no history of recalls associated with any of its products.

The 3 Best Verus Dog Food Recipes
1.

Verus Life Advantage Dry Dog Food
The Verus Life Advantage formula features chicken meal, ground oat groats, ground brown rice, rice bran, and chicken fat as the top ingredients. This wholesome recipe is formulated to meet AAFCO dog food nutrient profiles for all life stages.
The chicken used in this recipe is raised without any growth hormones or antibiotics. It features a guaranteed analysis of 24% minimum crude protein and 15% minimum crude fat. There are no meat by-products, artificial colors, flavors, or fillers. You also won't find any sugar, corn, wheat, or soy in this recipe.
Verus Life Advantage has chelated minerals for the best absorption and contains freeze-dried live probiotics and chicory root extract as a prebiotic to support digestion and healthy immunity. This recipe also contains a healthy source of Omega fatty acids and L-carnitine.
This is a complete and balanced grain-inclusive recipe that makes a great choice for dogs of all ages. It is on the expensive side, but that comes with premium quality. Dogs with a chicken allergy should avoid this recipe, however.
No meat by-products or fillers
No artificial colors or flavors
Supports healthy digestion and immunity
Chelated minerals for optimal absorption
Meets AAFCO guidelines for all life stages
Expensive
Not meant for dogs with chicken allergy
---
2.

Verus Cold Water Fish Fresh Dry Dog Food
The Verus Cold Water Fish Fresh formula is a popular grain-free dry kibble that is great for allergy sufferers. Wild-caught salmon, menhaden fish meal, lentils, chickpeas, and peas are the top ingredients in this recipe, making it rich in protein and omega fatty acids.
Like all other Verus recipes, there are no meat by-products or fillers, and it contains no artificial colors or flavors. The chelated minerals are in place for proper absorption, and you have the freeze-dried live probiotics, prebiotics, Omega-3 fish oil, and L-carnitine in place for well-rounded, whole-body support.
There is also no corn, wheat, soy, or sugars included in this recipe. It is designed to meet the AAFCO dog food nutrient profiles for all life stages so it can see your dog from puppyhood through adulthood.
The food is top-notch in terms of quality, which comes with a higher price tag. This recipe works well for those with certain protein allergies or those on a grain-free diet but isn't ideal for those that benefit from grain-inclusive diets.
Great for allergy sufferers
Wild caught salmon is the first ingredient
No meat by-products or fillers
No artificial colors or flavors
Rich in protein and Omega fatty acids
Expensive
Not meant for those on a grain-inclusive diet
---
3.

Verus Turkey and Veggie Pate Canned Food
The Verus Turkey and Veggie Pate is one of the many canned food options that come in the form of a pate. It features turkey, turkey broth, turkey liver, brown rice, and oats as the first five ingredients.
This recipe is also formulated to meet the AAFCO Dog Food Nutrient Profiles for all life stages and can either be used as a topper or as a full meal. Canned food is highly palatable, rich in moisture for added hydrations, and great for even the pickiest of eaters. It's also a great option for dogs that have any dental issues or struggle to chew.
Turkey is a high-quality and healthy protein that is rich in essential amino acids. The cans are BPA-free and recyclable. For those that prefer different protein sources, Verus offers plenty of canned food derived from various animal proteins.
It can get expensive to feed exclusively, especially for larger breeds, so it's recommended to add it to dry kibble to get the benefits of both.
Turkey is the first ingredient
Can be used as a topper or full meal
BPA-free cans
Rich in moisture
Appetizing and easy to eat

What Other Users Are Saying
It's always a good idea to get an idea of what other dog owners have to say about a particular food. That's why it's important to scour the different retailers and see what the reviews have to say.
Amazon – Since we are pet owners ourselves, we always like to check out the Amazon review for a well-rounded and unbiased view of the foods in question. You can read Verus dog food reviews by clicking right here.
Verus – There are plenty of raving reviews listed directly on the Verus webpage. You can take a look and glance at what the customers have to say by visiting their testimonials page here.

Conclusion
Verus pet food is a company that lives up to its claims of offering top-quality and healthy foods. Not only do they have a wide variety of dry kibble, but they also have a generous amount of canned food options.
Regardless of your dog's age, size, breed, health condition, or specific dietary needs, there's a good chance you can find food that will work for you.  Verus may have a higher price tag than some competitors and a lesser-known reputation, but you can rest assured that your pooch is getting a wholesome and well-balanced diet.
See Also: