Vibrant Life Dog Shampoo Review 2023 – Pros, Cons & Final Verdict
Review Summary
Our Final Verdict
We give Vibrant Life Dog Shampoo a rating of 4.5 out of 5 stars.


Ingredient Quality: 4.2/5
There are options aplenty when searching for dog shampoos. It can be tough to determine which one is the best for your pup, but have no fear because we're here to help! We've reviewed the Vibrant Life range, and if you're looking for a shampoo that will really make your dog's coat shine, Vibrant Life Dog Shampoo is a great option. Considering its affordability, it gets the job done, is gentle enough for everyday use, and won't irritate your dog's skin.
Vibrant Life is a nice balance between naturally derived, gentle ingredients and affordability. Many cheaper products contain nasty ingredients that are harsh on sensitive skin. The shampoos from Vibrant Life are by no means perfect, but they omit sulfates, SLS, and parabens. The shampoos have some artificial fragrances and dyes that may cause reactions in extra-sensitive dogs.
If you don't want to buy cheap, chemically heavy shampoos or expensive all-natural formulas, the Vibrant Life range is a great middle ground. It will likely appeal to dog owners who want a cruelty-free and effective option for their pet's shampoo.
It may not be the best choice for those with sensitive skin or those who struggle to rinse suds from their dog's coat. The shampoo smells great, which is a significant selling point. However, the lathering properties could be improved.

Vibrant Life Dog Shampoo – A Quick Look
Free from parabens, SLS, and sulfates
pH balanced for dogs' skin
Cruelty-free
Great scents
Good range
Artificial fragrances
Difficult to rinse out
Specifications
Brand
Vibrant Life
Available Size
Shampoos: 24 oz

Dry Shampoos: 7 oz

Product range
Lathering shampoo, dry shampoo, fragrances, mists
Scents
Vanilla & coconut, oatmeal & aloe, cucumber & melon
Functions
Cleaning, deodorizing, soothing, moisturizing
First available
2018
Great Range
Vibrant Life has an impressive range of shampoo types. They have formulas for all types of dogs, from those with sensitive skin to those who need extra moisturizing. Some of the key functions in the range include the following:
Deodorizing
Soothing
Moisturizing
The product range itself also features three key types:
Lathering shampoos
Dry shampoos
Fragrance mists
Stand-Out Scent
One prevailing theme that stood out to us in the reviews was how much owners loved the smell of Vibrant Life shampoos. Many commented that the shampoo leaves their dog's fur smelling great for days afterward.
The shampoos come in three scents relative to their main function:
Cucumber and melon
Oatmeal and aloe
Vanilla and coconut
While shampoos feature great naturally derived ingredients, the fragrance is not one. The scents are all artificial, but don't be put off; there is nothing harmful about synthetic fragrances for a dog with healthy, well-balanced skin.
The hype around fragrance-free primarily pertains to pets with sensitive skin since artificial fragrances can cause irritation. For many dog owners, using chemical fragrances is a small price to pay to keep the doggy scent at bay in their homes.
Easy To Find
Vibrant Life is historically a Walmart exclusive. It's now available in-store and online at Walmart and through Amazon. These two superstores are accessible to virtually everyone, making the products easy to source.
You won't have to worry about supply issues or tracking down rare products in specialty stores. If these shampoos work for your dog, you can easily pick them up during regular shopping at Walmart.
FAQs
Is This Product Vegan?
All of Vibrant Life's products are vegan-friendly and cruelty-free. You can feel good knowing that no animals were harmed in making your pet's shampoo.
Can I Dilute the Shampoo With Water?
You can, but it's not necessary. If your dog's skin is dry after using the shampoo, dilute it with water to create a more moisturizing lather.
How often should I bathe my dog?
It depends on your dog's lifestyle and breed. Some people bathe their dogs once a month, while others bathe them every week. Consult your veterinarian if you're unsure how often your dog needs a bath.
Can I Use This Shampoo on My Cat?
Vibrant Life Dog Shampoo is not meant for cats and may be harmful if used on them. Always consult your veterinarian before using any new product on your pet, whether it's a shampoo, medication, or supplement.
What the Users Say
The Good
The deciding factor for many on the fence is hearing the experiences of other dog owners and how the shampoo worked for their dogs. As always, it's a mixed bag. We've condensed the reviews, pulling the most useful from the bunch to help you assess whether you want to give Vibrant Life a go.
First, as we've mentioned, owners loved the smell of Vibrant Life shampoos. Many say not only did their dog smell great afterward, but it kept them smelling great for days. This is one of the key selling points for this product.
Others liked how it is an affordable and effective shampoo. Owners of multiple dogs didn't need to buy each of their pups shampoo, as Vibrant Life products worked for them despite having very different coats.
The consensus of reviewers is that the products work well to clean a dog's coat and leave it shiny, clean, and fresh.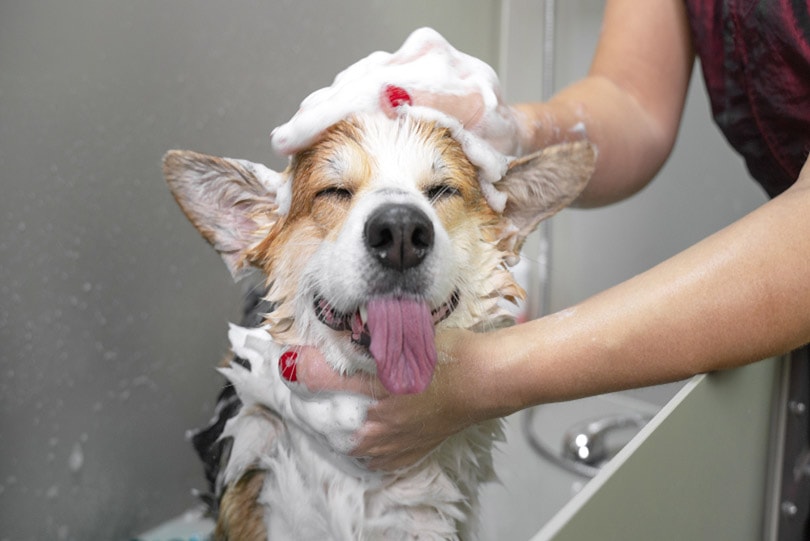 The Bad
Some Customers had problems with the quality of the shampoo's container. The nozzle on the dry shampoos was fragile; if broken, the rest of the product was unusable. For the lathering shampoo, the dispenser is advertised as easy to use, but squeezing out the product in a wet, soapy bath proves to be difficult.

Conclusion
The shampoo itself is a good value for the price. However, it has no stand-out features that would make it a must-have for dog owners. The lathering and moisturizing properties are excellent, but other brands are cheaper and produce similar results. However, Vibrant Life is a good choice for budget-minded pet parents looking for a basic dog shampoo to clean their pup without harsh chemicals.
---