Victor Dog Food Review 2023: Recalls, Pros & Cons

Our Final Verdict
We give Victor dog food a rating of 4.5 out of 5 stars.
Introduction
This American-owned company prides itself on providing high-quality dog food that uses ingredients that reflect its standards. It wants to provide the best nutrition for dogs, no matter their stage of life, and every ingredient has to have a specific purpose.
It has three lines of dry dog food and one line of wet/canned food. It offers a variety of recipes, and each one uses a different source of protein so you can choose one ideal for your dog.

At a Glance: The Best Victor Dog Food Recipes
Rating
Image
Product
Details

Our Favorite

Victor Classic - Hi-Pro Plus

High level of meat protein
Fortified
Great for the immune system
Check Price

Victor Classic - Professional

Ideal for high-energy dogs
Can feed to puppies
High-protein
Check Price

VICTOR Select - Grain Free Yukon River Canine

Grain free
Support immune system
Well-balanced
Check Price

Victor Dog Food Grain-Free Active

77% meat protein
Grain-free
Fortified with vitamins
Check Price

Victor Senior Healthy Weight

78% meat protein
Nutrient-dense recipe
Supports long-term joint health
Check Price
Victor Dog Food Reviewed
Overall View
Since the quality of its ingredients is essential to its values, it only works with trusted suppliers, with the majority being locally sourced. It uses amino acid complex minerals and either grain-free for gluten-free grains. Its recipes contain plenty of meat protein but not that many vegetables, and you won't see any fruit at all.
Who makes Victor and where is it produced?
All Victor dog food is owned and manufactured by Mid America Pet Food in its Mt. Pleasant, Texas, facility. It has an internal nutrition team that works with third-party nutritionists to formulate the recipes, product registrations, and compliance regulations. It uses proven ingredients that are rooted in science to produce a formula that can be trusted.
Which types of dogs is Victor best suited for?
Victor offers 17 different formulas of dry dog food, as well as five canned varieties. It provides an age range from puppies to seniors, as well as large to small breeds. Its high-protein formulas are ideal for large breeds, and it has food to support particular needs such as joint health and weight management, as well as a low carbohydrate diet.
Which types of dogs might do better with a different brand?
Dogs with allergies, who are pregnant, and ones who need a more specific diet would benefit from a different brand by having something more specialized.
Allergies: Dogs with allergies benefit from simple ingredients, and the less that is in the food, the better off they will be. A good one would be Wellness Simple Limited Ingredient Dry Dog Food Turkey and Potato.
Pregnant: Limited ingredients with plenty of protein and carbohydrates will benefit a pregnant dog. Natural Balance Limited Ingredient Diets Dry Dog Food is a great choice.
Specific diets: This refers to dogs with kidney disease, heart disease, gastrointestinal, or neurological issues. Hill's pet offers many foods that focus on specific health problems. For heart disease, the Hill's Prescription Diet H/D, and for kidney disease, the Hill's K/D Renal Health Dog Food are both options to look into further.

Primary Ingredients in Victor Dog Food
These four ingredients are in every bag of Victor Dog food: selenium yeast, mineral complexes, prebiotics, and probiotics. You will see a variety of meats depending on which formula you choose. Let's look closer at the core ingredients.
Selenium yeast: This easily absorbed nutrient offers immune response support and cellular regeneration. On the downside, some dogs with allergies may react to selenium yeast. So, it's best to know if your dog has an allergy to yeast before feeding them this brand.
Mineral complexes: It includes zinc, manganese, and iron to help promote metabolic function. Mineral complexes also support a healthy immune system and joint health.
Prebiotics: These are a yeast culture that promotes healthy digestion and overall well-being.
Probiotics: These are also beneficial for healthy digestion because they feed the good digestive bacteria within your dog's GI tract.
A Quick Look at Victor Dog Food
Family owned
Locally sourced ingredients
Primary ingredients support overall health
Variety of recipes
Dry food and wet food
Grain-free or gluten-free grains
High in protein
Vegetables not used frequently
No fruits incorporated
No specialized food
---
Overview of Ingredients
Calorie Breakdown:
Protein
For the majority of Victor's recipes, the first five ingredients contain at least three meat-based products. Beef, chicken, and pork are the main sources of protein, and you will find fish included with some recipes too. It does not use fresh meat, but rather a meat concentrate, which is said to contain more protein than the fresh counterpart.
Fats
You will find a variety of fats included in each formula, such as chicken fat, flaxseed, or canola oil. Fats are essential for energy and keeping your dog's skin and coat healthy.
Carbohydrates
There are two whole-grain carb sources included with each recipe that provide fiber and vitamins. You will see whole grain millet, feeding oatmeal, grain sorghum, or whole grain brown rice — you won't find any wheat or corn in Victor dog food. If you opt for the grain-free version, you will find sweet potatoes and peas for the carbohydrates.
Controversial Ingredients:
Liver: This is a debatable ingredient when the company doesn't specify what type of animal the liver was sourced from.
Tomato Pomace: Some believe that this is used as a filler for lower-quality foods. You will find this in many dog food recipes, and higher-quality brands use tomato pomace as a source of fiber.
Blood meal: Many of its recipes contain blood meal. This can be a safe and nutritious ingredient when sourced from a trusted supplier.
Recalls of Victor's Dog Food
There were no recalls found regarding Victor dog food, which is a good sign. You can tell it stands by its mission of offering quality dog food.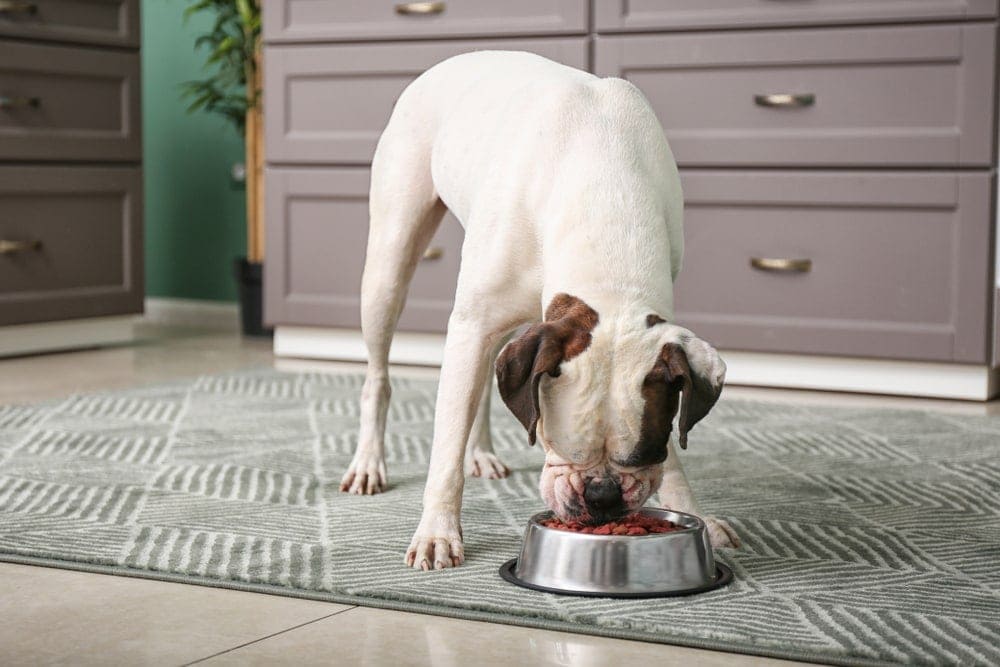 Reviews of the 3 Best Victor Dog Food Recipes
Let's look closer at three of the many available Victor dog food formulas:
1.

Victor Classic — Hi-Pro Plus
This dry dog food is made with beef, chicken, pork, and fish meal to provide high levels of protein ideal for active dogs and puppies. The formula is fortified with vitamins, minerals, essential fatty acids, and amino acids that help promote a healthy immune and digestive system. It is one of the top-selling formulas because it meets the nutritional levels established by the AAFCO Dog Food Nutrient Profiles for all stages of life (excluding large breed dogs heavier than 70 pounds as an adult).
It has whole-grain millet as the primary carbohydrate source and chicken fat for a fat source. Dogs who are fed this formula exhibit a healthy coat and have plenty of energy throughout the day. On the downside, it contains brewer's yeast, which can be an allergen to some dogs, and it is not the most ideal for a dog with a sensitive stomach.
High level of meat protein
Fortified
Meets nutritional levels
Great for the immune system
Promotes a healthy digestive system
Not ideal for sensitive stomachs
Contains brewer's yeast (allergen to some)
---
2.

Victor Classic — Professional
This formula contains plenty of protein from beef, chicken, and pork meals and is ideal for dogs of any age, including puppies. It contains the four core ingredients to promote healthy immune and digestive systems, but the biggest difference is that it is ideal for high-energy dogs who are active, such as sporting dogs.
You can feed this to pregnant dogs, but you will need to increase the amount of food to meet their needs. On the downside, this is not a formula to feed overweight dogs or those who are low energy.
Ideal for high-energy dogs
Great for sporting dogs
Can feed to puppies
High-protein
Not ideal for overweight dogs
Not ideal for low-energy dogs
---
3.

Victor Select — Grain-free Yukon River Canine
The Yukon River is perfect for dogs with allergies or sensitivity to grains because it is grain free. The primary protein is fish meal with chicken fat and sweet potato. It is fortified with vitamins, minerals, essential fatty acids, and amino acids to help support your dog's immune system and promote healthy digestion.
This formula has a strong odor from the fish, so some dogs (and owners) may not like this. However, it provides a well-balanced food that suits a variety of breeds from small to large.
Grain free
Fortified
Support immune system
Promote digestion
Well-balanced

What Other Users Are Saying About Victor Dog Food
Here's what other reviewers are saying about Victor dog food:
Dog Food Guide rates the Victor Performance a four out of five stars, stating, "The Performance recipe is fantastic for those really active dogs who struggle to keep on the right amount of weight while balancing their nutritional needs."
This site rates the Victor dog food five out of five stars and states, "If you're looking for a food that provides the best nutrition it can at the price, Victor dog food might be for you."
Amazon:
We check the reviews on Amazon from buyers before recommending a product to you. You can read those reviews by clicking here.

Conclusion
If premium, locally-sourced products are important to you, then Victor dog food is an amazing option. This American company prides itself on offering the best ingredients that are scientifically proven to provide optimal nutrition throughout the many stages of a dog's life.
With 17 different formulas in Victor Dog Food's dry food line, you are sure to find one that provides the right nutrition for your dog, whether they have wheat allergies or need an option to maintain a healthy weight. We would recommend Victor as a top runner in your search for the best food.
---
Featured Image Credit: UlrikesFotografie, Pixabay