Victor vs Blue Buffalo Dog Food: 2023 Comparison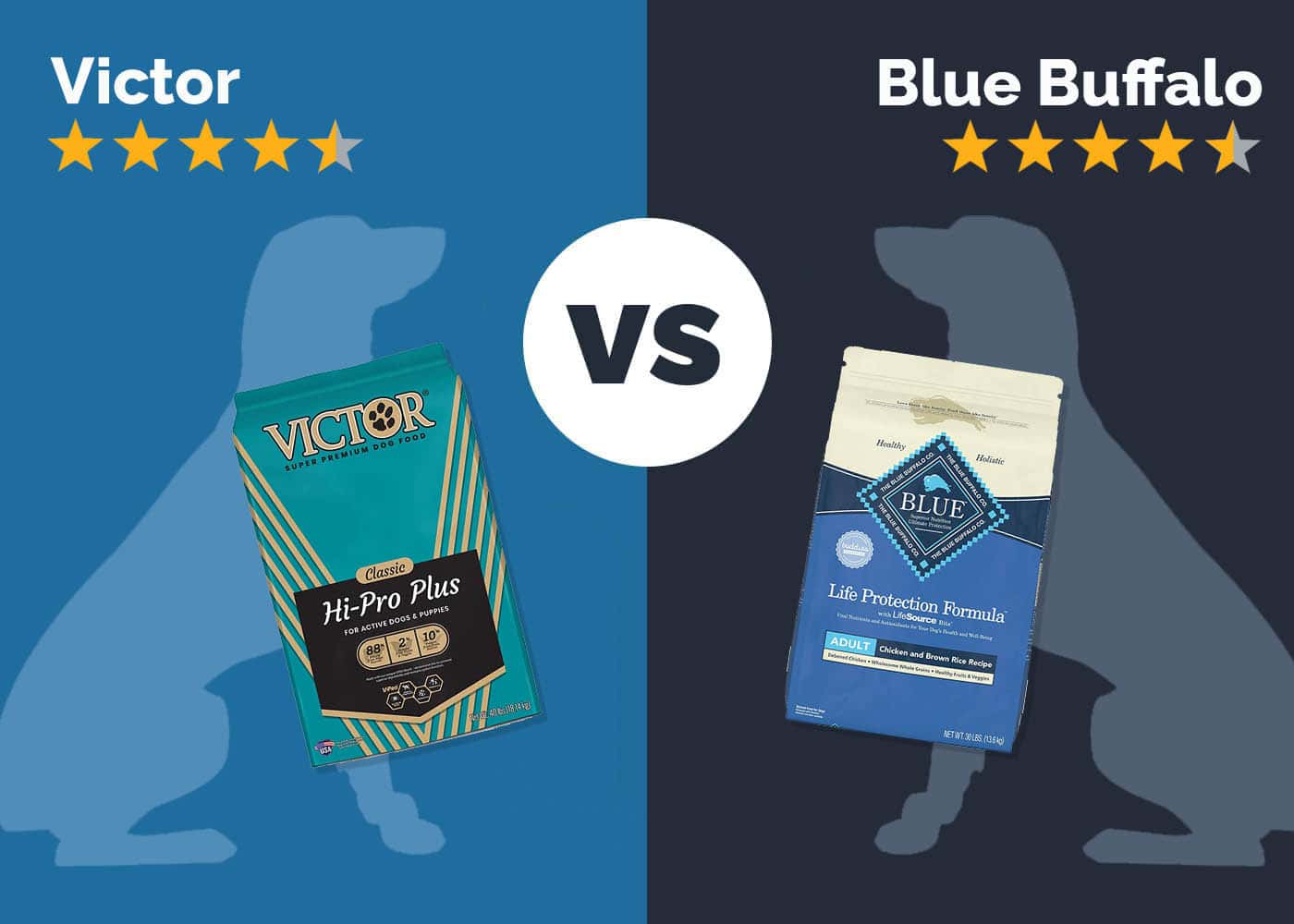 It seems like dog food keeps getting more and more expensive, but you love your pup too much to feed him a cheap food that's, well, cheap.
However, it can be hard to figure out which of the premium foods is worth paying premium prices for, as each one makes different claims about their practices and ingredients.
To help you make an informed decision (and avoid wasting your money), we've compared several of the top foods on the market today to show you which ones are great and which ones are better left on the shelf.
Today, we're looking at Victor Dog Food and Blue Buffalo. Which food won? You'll have to keep reading to find out.

A Sneak Peek at the Winner: Victor Dog Food
Rating
Image
Product
Details

Best Overall

Victor Dog Food Classic Professional

Variety of animal meals
Lots of omega fatty acids
Plenty of taurine for heart health
Check Price

Runner Up

Blue Buffalo Life Protection Formula Adult

Includes LifeSource Bits
Has chicken fat and flaxseed
Real chicken is first ingredient
Check Price
We crowned Victor the victor due to their commitment to using high-quality ingredients, as well as their stellar safety reputation. Blue Buffalo is a good food, but it simply couldn't keep up.
The winner of our comparison:
While researching the two brands, we hit on these three foods as our favorites:
There were a few things that surprised us about both foods, which we'll get into in more detail below.
About Victor Dog Food
Victor Dog Food is one of petcare's best-kept secrets, as they make high-quality, affordable foods, but they're not very well-known.
Victor is a Small, Family-Owned Brand
The family behind Victor Dog Food has been making it since the 1940s, but their distribution range was largely confined to a few-hundred-mile-radius around their headquarters.
They were acquired by a larger distributor in 2007, but so far, they haven't enjoyed the widespread recognition they deserve. Despite being bought up by a larger fish, they haven't changed their methods or lowered their standards.
Their Online Distribution is Limited to Chewy and Amazon
You won't find this food in many stores, and you won't find it in many places online, either.
However, you can buy it from two of the biggest pet food merchants on the internet in Amazon and Chewy. Both carry a wide variety of their foods — you just have to know where to look.
They Don't Use Cheap Fillers or Animal By-Products
Victor's foods have been carefully crafted to avoid common allergens like soy, wheat, and corn, ensuring that most dogs can eat their kibble without issue.
They also don't use animal by-products, so you can be confident your dog isn't eating meat that should've been thrown away instead of thrown in the kibble.
They Use Meat Meals Instead of Lean Cuts
Most of their foods list some sort of animal meal as the primary ingredient rather than a lean cut of meat. This isn't necessarily a bad thing, as meals are filled with important nutrients and amino acids that can't be found anywhere else.
However, there's no reason why they can't use meals and lean cuts, except that it would increase their costs. That would drive up the price of the food, but their kibble would still be a steal at a few bucks more.
No cheap fillers or animal by-products
Family-run organization
Great value for the price
Hard to find
Uses animal meals instead of lean cuts of meat

About Blue Buffalo
Unlike Victor, Blue Buffalo is one of the most well-known brands in the dog food industry and can be found in virtually any place pet products are sold.
Blue Buffalo Doesn't Use Artificial Flavors or Cheap Fillers
Given that this is a higher-end brand, you wouldn't expect to see cheap ingredients in their kibble, and the company doesn't disappoint.
Instead of corn, wheat, or soy, you'll find more complex carbohydrates, and all their flavors and colors come from natural sources.
They Don't Use Animal By-Products Either — Or Do They?
After being sued by Purina for false advertising in 2014, the company was forced to admit that they had used animal by-products in many of their foods despite claiming otherwise.
We can't say when — or if — they stopped, but regardless, the damage to their reputation as a holistic, natural food was done.
The Company Has Five Different Lines
In addition to their basic kibble, they also manufacture four specialty foods, including high-protein and grain-free foods.
They may not have as many options as some other brands, but you should be able to find just about anything your dog needs from Blue Buffalo.
There are Serious Questions About the Safety of Their Food
The company has a long list of recalls in its past (more on that later), but what's really concerning is the fact that the FDA has linked them, along with over a dozen other foods, with an increased risk of canine heart disease.
There's no definitive proof yet, but it's certainly something to keep an eye on.
Widely available
Good amount of foods to choose from
No artificial ingredients or cheap fillers
Has lied about its ingredients in the past
May have serious safety issues

3 Most Popular Victor Dog Food Recipes
1.

Victor Dog Food Classic Professional
This is their basic kibble, and its nutrient levels are standard: 26% protein, 18% fat, nearly 4% fiber. There's nothing there that blows you away, but there's also nothing to be ashamed of.
It uses a variety of animal meals, including beef meal, blood meal, chicken meal, and pork meal, each of which provides unique and essential nutrients. There's also quite a bit of chicken fat for omega fatty acids, and lots of taurine for heart health.
Our biggest problem with the food is the amount of salt inside, which is very high. Beyond that, there really aren't any questionable ingredients to speak of.
This is a particularly good food at a good price, but it's lacking the firepower to be a fantastic kibble. Still, there's nothing wrong with it, and your dog will probably thrive on it.
Uses a variety of animal meals
Lots of omega fatty acids
Plenty of taurine for heart health
Very high in salt
Average amount of fiber
---
2.

Victor Dog Food Grain-Free Active Dog and Puppy
This food recognizes something that many other kibbles don't: puppies and active dogs have similar nutritional needs.
To that end, it's packed with protein — 33%, to be exact. It also has a ton of omega-rich foods like chicken fat, fish meal, and seaweed meal, as omega fatty acids are essential for brain and eye development.
The kibble might be a little big for smaller puppies, but most adult dogs should be able to handle it with no problems. However, it uses lots of peas and garbanzo beans, and many pooches don't seem to care for those foods.
This is a good food to start feeding your dog when he's a puppy, as you'll never have to transition him off it (unless he needs a senior formula later in life). Also, it should give him all the energy he needs to stay active, so you shouldn't have to worry about weight problems.
Very high in protein
Omega fatty acids for brain and eye development
No need to transition off it when dog grows up
Kibble may be too big for small puppies
Dogs may not like taste of peas
---
3.

Victor Dog Food Purpose Performance
This food says it's intended for extremely active pups, so that they have all the energy they need to stay on the go. However, it's hard to tell what distinguishes this formula from their basic kibble.
It has a decent amount of protein and fat (26% and 18%, respectively), although the fiber content is a little low. It uses just as many animal meals as the basic kibble, and it has just as much salt.
In fact, the more we compare the two foods, the biggest difference we can tell is that this formula costs several dollars more than the basic kibble.
None of this is to say this is a bad food, of course — it's basically the same as their regular food, and we're big fans of that recipe. It just feels like a marketing trick.
Oh wait, never mind — now we see what's different. The basic kibble has 400 calories per cup, while this has a mere 399. They're completely different after all.
Good amount of protein and fat
Wide array of animal meals
Indistinguishable from regular kibble despite being more expensive
Low in fiber

3 Most Popular Blue Buffalo Dog Food Recipes
1.

Blue Buffalo Life Protection Formula Natural Adult
This is their flagship kibble, and it's best-known for using LifeSource Bits, which are proprietary chunks of vitamins and antioxidants the company mixes in with the food. It's an easy way to convince your mutt to get more nutrition in his diet.
However, it's hard to tell why the food became so popular if this is their basic kibble. It's just that — basic. The protein, fat, and fiber levels are all average, and there's nothing in the ingredients list that will knock your socks off.
That said, there's nothing bad on there, either. Real chicken is the first ingredient, and you'll also find chicken meal, chicken fat, and flaxseed, all of which are extremely healthy.
There's quite a bit of plant protein in here, which we'd prefer not to see because it lacks important amino acids. Also, it has potatoes, which can cause digestive issues in some dogs.
This is a middle-of-the-road food that sells at a slightly-higher-than-middle-of-the-road price. We can't knock it too hard, but we can't recommend it too heartily, either.
Real chicken is first ingredient
Has chicken fat and flaxseed for omega fatty acids
Includes LifeSource Bits
Average amount of protein, fat, and fiber
Potatoes can cause digestive issues
Relies heavily on plant protein
---
2.

Blue Buffalo Basics Limited Ingredient Diet Natural Adult
This food is intended for mutts that have food allergies. The thinking is that the fewer ingredients you use, the fewer opportunities you give your dog to get triggered by something.
That's all well and good, but it seems like in their haste to prevent allergic reactions they forgot to put any nutrients in. The protein level is borderline shameful at 20%, and that's despite the fact that they padded their totals with pea protein.
The omega fatty acids are the biggest selling point here, and they come from the salmon, salmon meal, and fish oil. While omegas are incredibly fantastic, they're hardly enough to make a complete food.
Also, one of the few ingredients it uses is potatoes, which many dogs have issues with. We don't know why they threw those in there, but then again, we don't know why they didn't use more meat, either.
This food may be a decent option for dogs with sensitive dispositions, but all others should be given something that will satisfy their appetites.
Uses few ingredients to limit potential allergens
Lots of omega fatty acids inside
Very little protein
Uses potentially problematic potatoes
Includes plant protein
---
3.

Blue Buffalo Wilderness High Protein Grain-Free Natural Adult
While the previous food hardly used any protein at all, this one is stuffed to the brim with it, to the tune of 34%.
Granted, pea protein does make up a lot of that number, but at least it's a high number. There's also chicken, chicken meal, fish meal, and eggs in here, too (although the eggs can cause digestive issues in some pups).
This food isn't all meat, either. You'll also find cranberries, blueberries, kelp, and a lot of probiotics in here, too.
This is our favorite Blue Buffalo food we found, but that doesn't mean it's perfect. The sodium levels are high, and there are quite a few foods that can set off sensitive stomachs in here.
If your dog doesn't have any known digestive issues, though, he'll probably love this kibble.
Very high in protein
Includes superfoods like cranberries and blueberries
Has a variety of probiotics
High in sodium
Boasts a variety of potential allergens
---
Recall History of Victor Dog Food and Blue Buffalo
These two companies could not be more different when it comes to their recall histories.
Victor has never had one, as far as we could tell. It makes sense, as the company is fanatical about the sourcing and manufacturing of their ingredients, and they buy local whenever possible.
Blue Buffalo, on the other hand…
The first one we found happened in 2007 (and it's worth pointing out that the company was only founded in 2003). They were involved in the Great Melamine Recall that happened that year.
Melamine is a lethal chemical found in plastics, and due to an error at a Chinese processing plant, it made its way into over 100 pet foods. Thousands of pets were killed as a result of eating tainted food. We don't know if Blue Buffalo caused any deaths, but they clearly could have.
In 2010 they issued a recall over elevated vitamin D levels in their foods. In 2015, they had to call back some chew bones due to salmonella.
They had several problems with canned foods in 2016 and 2017. They had to recall them due to mold, the presence of metal, and elevated beef thyroid hormone levels.
All of this is in addition to the FDA's concerns over their connection to heart disease that we discussed above.
Victor Dog Food vs. Blue Buffalo Comparison
To get a better idea of how these foods compare, we thought we'd place them side-by-side in several important categories:
Taste
Both foods use meat as their first ingredient, and both have a variety of healthy fruits and veggies in their kibble as well.
We're tempted to give Blue Buffalo the nod here, simply because they use lean meat whereas Victor relies on animal meals. However, Victor includes so many different meals that we suspect dogs will prefer them to the competition.
Nutritional Value
You'll find ups and downs with both companies if you compare enough of their foods. Some of their lines are remarkably high in protein, for example, while others have much less.
Both foods have the same ceiling, but Victor has a much higher floor.
Price
Victor tends to be cheaper than Blue Buffalo pretty much across the board. There's no real reason for that, either, as both seem to use similar ingredients.
Selection
Blue Buffalo has a much wider array of products to choose from, so if you have a picky dog, they might be more likely to have exactly what you're looking for.
It's also much easier to find Blue Buffalo products, as they're available pretty much anywhere pet food is sold. Victor is limited to a select few stores, plus Amazon and Chewy.
Overall
While it may not enjoy the same kind of brand recognition that Blue Buffalo does, we feel that Victor is the superior food. It offers slightly better nutrition at a slightly better price, and their manufacturing practices seem to put Blue Buffalo's to shame.

Conclusion
While Blue Buffalo and Victor couldn't be further apart in terms of fame, they're very similar foods. Both rely heavily on natural ingredients, and each avoids cheap and problematic ingredients as much as possible.
If you can find it, though, we'd recommend choosing Victor. It's a slightly better food in terms of nutrition, and it tends to be a bit cheaper to boot. Also, it has a vastly superior safety history.
Blue Buffalo is still a good food, and it's certainly easier to find. We just can't justify recommending it over a healthier, cheaper, and potentially safer alternative.