Wag vs Taste of the Wild Dog Food: Our 2023 In-Depth Comparison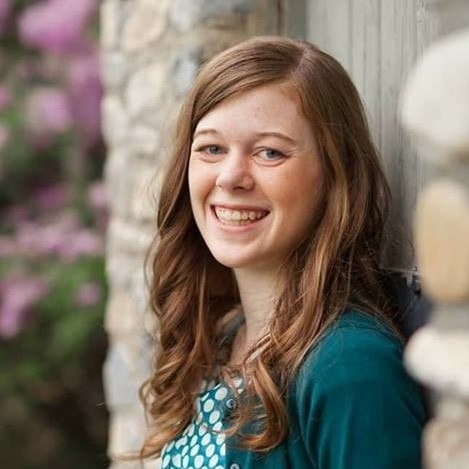 If you're looking for a new brand of dog food to try out, you'll find an overwhelming number of choices available. And with so many brands on the market, it's hard to know who is trustworthy. Today, we'd love to put two popular clean-eating dog food brands head to head, Wag and Taste of the Wild. We hope this article will help you decide which dog food brand is right for your needs.

A Sneak Peek at the Winner: Taste of the Wild
We love both brands, but Taste of the Wild has our top recommendation. It sets itself apart with great ingredients and healthier grain-inclusive recipes, and we wholeheartedly recommend it to most owners. This brand has a proven track record of making healthy, quality dog food that owners swear by, and although it isn't the cheapest food out there, it isn't the most expensive. We believe that buying Taste of the Wild is money well spent. Here are a couple of our favorite foods from this brand:
Rating
Image
Product
Details

Taste of the Wild High Prairie

32% protein
Lots of fruits and veggies
Lots of healthy meat sources
Check Price

Taste of the Wild Ancient Stream with Ancient Grains

30% protein
Chicken-free
Healthy whole grains
Check Price

About Wag Dog Food
Brand History
Wag Dog Food is new to the food game—it's only been around since 2018. This brand is definitely a rising star, with growing sales every year. Wag is owned and operated by Amazon as a new competitor in the food market. That means if you're a regular shopper on Amazon, you may have seen ads for this dog food pop up. Their foods do have limited availability because of their link to the shopping platform, but that hasn't stopped them from gaining a strong following.
Wag's Food Lineup
Wag has a growing lineup of food options available in 2022, including dry food, wet food, and treats. Although they originally focused on selling grain-free recipes, they've recently expanded to several recipes that include grains. All of their recipes stay away from corn, wheat, and soy—three grains that are controversial to some buyers. Their recent grain inclusiveness is a great sign since recent research suggests that grain-free diets aren't the healthiest for most dogs. Wag dog foods also all have a few other healthy things in common. They always avoid meat by-products and use real meat as their first ingredient. They are also rich in omega-3 and omega-6 fatty acids, nutrients that many high-quality dog foods have. Finally, they include probiotic bacteria, which can help your dog keep a healthy digestive tract.
Low price for quality
Meat-first
Free of by-products
Contains fatty acids and probiotics
Limited to Amazon platform
No proven track record
Most recipes are grain-free
Limited selection

About Taste of the Wild
Brand History
Taste of the Wild has a longer history than Wag—it was founded in 2007 to help dog owners find novel, high-quality diets for their dogs. Taste of the Wild focuses on natural, healthy products with diverse tastes and ingredients. They are manufactured by Diamond Dog Food group and have stayed popular over the past fifteen years. They strike a balance between premium dog foods and budget foods, providing a high-quality product at a relatively low cost.
Taste of the Wild Food Lineup
Taste of the Wild has a wide variety of food options available. Like Wag, most of their recipes are grain-free. They also have several limited ingredient recipes available and a line of "ancient grains" variants on their most popular recipes. They avoid corn, wheat, and soy. All of their ingredients are meat-first, and they avoid using meat products. They also use probiotics, omega fatty acids, and other healthy ingredients. Taste of the Wild products are usually full of fruit and vegetable products that add antioxidants and healthy vitamins and minerals to their foods.
Meat-first
Wide variety and novel ingredients
Long track record
Limited-ingredient diets available
No by-products
Contains fatty acids and probiotics
Lots of fruit and vegetable ingredients
Mostly grain-free
No grain-inclusive wet foods
Slightly higher cost

The 3 Most Popular Brand Wag Dog Food Recipes
1.

Wag Chicken and Sweet Potato
Wag's most popular recipe is their Chicken and Sweet Potato dry food. It's a grain-free kibble that has chicken, chicken meal, sweet potatoes, and peas as its first four ingredients. The food is about 32% protein and 15% fat—great for active dogs of all ages. We love seeing chicken and chicken meal at the top of the list, as they are quality, high-protein ingredients. Some dogs do suffer from chicken allergies, however, and would do better on a different food. The peas are another minor cause to concern. Many grain-free foods have been linked to higher rates of heart disease recently, and the inclusion of peas as a major ingredient is believed to be one reason why. This recipe also does include some plant proteins, which are lower quality protein sources.
High in real meat
32% protein
Easy to digest
Contains peas
Grain-free
Some plant protein
---
2.

Wag Wholesome Grains Salmon Food
Another popular recipe is Wag Wholesome Grains and Salmon Food. This recipe has a much lower protein and fat content, with 22.5% protein and 14% fat. This is adequate for adult dogs, but it isn't ideal for many dogs. The main protein source is salmon, but it also contains chicken meal, which isn't allergy-friendly. It has grains including brown rice, millet, barley and sorghum—all wholesome grains that are healthy for your dog. However, it's definitely carb-heavier than other dog foods on this list.
Salmon as first ingredient
Healthy whole grains
A little low in protein
Higher in carbs
Contains chicken allergens
---
3.

Wag Lamb and Lentil Dog Food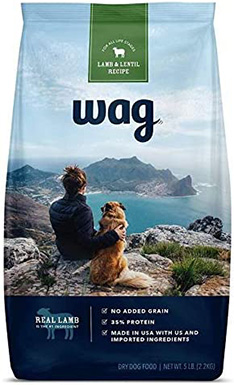 Wag Lamb & Lentil Dog Food has some good ingredients, but it also has some serious problems. On the good side, it's high in protein, at around 35% protein content, and it's also high in fiber at 5.5%. Lamb is a great protein source that is easily digestible, and lamb and lamb meal are the first two ingredients. It doesn't contain any chicken or chicken meal, so it's allergy-friendly. However, the third, fourth, and fifth ingredients on the list are lentils, peas, and pea protein. These ingredients are all sources of plant protein, a lower-quality protein source that can inflate the protein content without adding much nutrition. Dogs aren't built to gain protein from plants, so this protein can be harder for dogs to digest. They also are among the ingredients that may be linked to heart issues.
Novel protein source
Chicken-free
35% protein
Plant protein sources
Contains peas and lentils

The 3 Most Popular Taste of the Wild Dog Food Recipes
1.

Taste of the Wild High Prairie
Taste of the Wild High Prairie recipe is a grain-free, high-protein food that's Taste of the Wild's most popular recipe. It is high in protein at 32% and contains 18% fat. Its first ingredients are Water Buffalo, Lamb Meal, Chicken Meal, Sweet Potatoes, and Peas. Having three separate sources of protein as the first ingredients shows that it's high in meat protein, and we love seeing the unusual protein sources like water buffalo. The inclusion of chicken meal does mean that it's not allergy-friendly. This recipe also has a long list of other ingredients, including several other meat sources, and fruits and vegetables. As mentioned above, we don't love sweet potatoes and peas being used in place of healthy grains, but this is a great option if you do need to put your dog on a grain-free diet.
Lots of healthy meat sources
32% protein
Lots of fruits and veggies
Grain-free
Not ideal for overweight dogs
Not chicken allergy-friendly
---
2.

Taste of the Wild Ancient Stream with Ancient Grains
Taste of the Wild's most popular grain-inclusive recipe is Ancient Stream with Ancient Grains, a salmon-flavored recipe with 30% protein and 15% fat. Although this is slightly lower than their grain-free options, there isn't a significant difference in the protein and fat levels, and it's ideal for most dogs of all ages. The main ingredients are Salmon, Salmon Meal, Ocean Fish Meal, Grain Sorghum, Millet, and Cracked Pearled Barley. Salmon and salmon meal are great ingredients that are high-quality and easy to digest. Ocean fish meal is a little fishier—the lack of a specific species is frustrating. Its three main grains are healthy whole grains that are perfect for dogs. It is free of chicken products, which is great for dogs with allergies. One ingredient, Canola oil, is controversial as a source of plant fat.
30% protein
Healthy whole grains
Chicken-free
Unspecified "ocean fish"
Plant fat ingredient
---
3.

Taste of the Wild Ancient Prairie with Ancient Grains
Taste of the Wild's High Prairie is their most popular recipe overall, and there is a grain-inclusive variant that we can compare it to. It has the same high protein and fat content—32% and 18% respectively—but there are some big differences in the ingredient list. The first ingredients are Water Buffalo, Pork, Chicken Meal, Grain Sorghum, Millet, and Chicken Fat. Overall, the ingredients look great, with mostly meat sources in the first ingredients. The two grains, sorghum and millet, are ideal for dogs. The high protein and fat content isn't ideal for overweight or inactive dogs, and the chicken meal might be an allergen, but it's overall a great food.
32% protein
Novel meat sources
Healthy whole grains
Not ideal for overweight dogs
Not chicken-allergy friendly

Recall History of Wag and Taste of the Wild
Looking at how often a brand has had dog food recalls is a great way to tell if they take care in their manufacturing processes. Wag is up first, and in their four years of production, they haven't had a recall yet. That's a good sign, but it's also not too surprising—their food is still fairly new. Taste of the Wild has had one recall over the past fifteen years, in 2012. Several of their foods were recalled because of possible salmonella contamination. This was a big recall, with many other brands manufactured by Diamond foods recalled at the same time. Although recalls are a big deal, the size of the recall shows that Diamond took the problem seriously and no dogs are known to have been sickened by Taste of the Wild products during this recall.
Wag vs Taste of the Wild Comparison
Taste
Both brands have lots of delicious foods, but Taste of the Wild has an edge here. Their foods are known for their novel ingredients, including several unusual protein sources and lots of fruits and vegetables. These combine to make a rich, delicious food. Wag food has some good flavors but it can't compare.
Nutritional Value
These brands have similar weaknesses—in particular, a dislike of grains and a love of peas and lentils. But Wag has several markers that suggest they might have a lot of plant proteins inflating that protein percentage, whereas Taste of the Wild doesn't. Taste of the Wild's grain-inclusive foods are also much higher in protein than Wag's.
Price
Wag is the clear winner here, with a lower cost. Some of this might come from their more basic ingredient list, but a lot of this is also due to their ownership by Amazon. Since Amazon delivers their food right to you on their platform, this lets them pass a lot of savings on to you.
Selection
Taste of the Wild has a wider selection of foods in most cases, with more recipes available in their dry food lines and several limited ingredient diets and novel protein diets available. However, there is one place where Wag has them beat, and that's wet foods. Taste of the Wild has only a few wet food options, and they're all grain-free, while Wag has a greater variety and several grain-free and grain-inclusive options available.
Overall
With all that taken into consideration, we feel pretty confident recommending Taste of the Wild food as our top choice. They've got slightly higher prices, but they are still very reasonable for the high-quality product you're getting. Although Wag might be a better choice for some owners, most will be happier with Taste of the Wild.

Conclusion
We love Taste of the Wild, and we're happy to recommend it to most dog owners. It has superb flavor, great nutrition, and lots of delicious food options for all types of dogs. However, that doesn't make Wag a bad brand—it is an awesome value option if your budget is a little tight, and they also have a larger selection of wet foods. Depending on your dog's needs, either one might be right for you.