Wee-Chon (Westie & Bichon Mix): Pictures, Care Guide, Temperament & Traits
The Wee-Chon is an adorable hybrid dog breed that's a mix of a West Highland White Terrier and a Bichon Frise. Wee-Chons are bred as companion dogs, and they're known for their liveliness, loyalty, and loving temperaments. They usually make excellent pets for novice dog owners, but they do have some specific care needs that people must be mindful of before adopting one. Our guide will help you get to know more about Wee-Chons and if they're the right dog breed for you.
| | |
| --- | --- |
| Height: | 9–11 inches |
| Weight: | 10–20 pounds |
| Lifespan: | 12–15 years |
| Colors: | White |
| Suitable for: | Novice dog owners, those looking for a low-shedding dog, families with children |
| Temperament: | Affectionate, loyal, playful |
Wee-Chons are a relatively new hybrid dog breed that has only been around for just a couple of decades. Because they're so new, they don't have a standard size or appearance, and there's still much to discover about them. What we do know is that this hybrid breed tends to be friendly and lively, and Wee-Chon owners often have a delightful experience caring for these dogs.

Wee-Chon Breed Characteristics
Wee-Chon Puppies
Wee-Chon puppies often look like adorable fluffy snowballs, and they're usually active and playful. They tend to be people-oriented and friendly, and they'll love engaging in games like fetch and tug-of-war. Wee-Chon puppies are energetic and adventurous, and they're not often aware of their tiny size. So, it's important to keep an eye on them, especially when they play with young children, to prevent any injuries.
Wee-Chons aren't as common as other hybrid dog breeds, so it can be a little challenging finding one. However, you can still find some reputable breeders that consistently breed Wee-Chons. You may also find Wee-Chons at your local animal shelter or pet adoption center.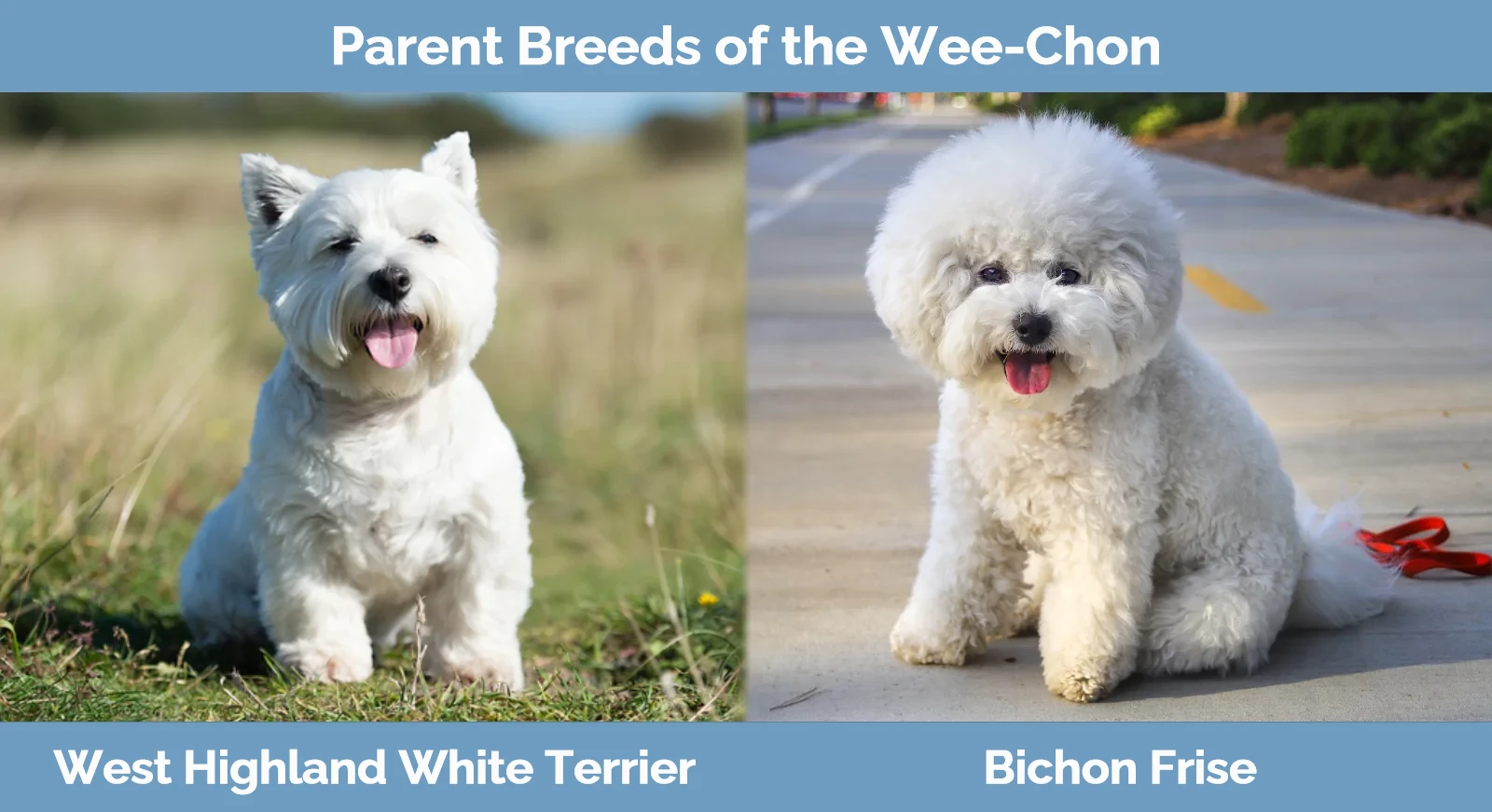 Temperament & Intelligence of the Wee-Chon 🧠
Are These Dogs Good for Families? 👪
Wee-Chons are excellent family dogs that often share strong bonds with their family members. They don't shy away from being the center of attention and usually want to participate and be a part of the action. Wee-Chons can be fairly patient with young children, but they must be handled with care and protected from roughhousing because of their small size. It's especially important for young children to learn how to interact with Wee-Chons safely and respectfully to protect Wee-Chons from physical injuries.
Does This Breed Get Along With Other Pets?
Wee-Chons aren't known to be aggressive and can be quite friendly with other dogs. However, they may feel uneasy around larger dogs. While Wee-Chons can get along with other dogs, they often prefer being the only dog in the home. So, it's important to start socializing a Wee-Chon right away to help build its confidence and get it used to other dogs and different environments and stimuli.
Wee-Chons can have a strong prey drive, so they may not be able to coexist with cats and smaller pets, particularly hamsters, gerbils, and pet rats. Wee-Chon owners must be able to accept that their Wee-Chons may never fully get to a place where they can be trusted to be unsupervised with small pets.

Things to Know When Owning a Wee-Chon:
Food & Diet Requirements 🦴
When it comes to food and diet, it's recommended to consult your veterinarian first to see what options are the best for your Wee-Chon. In general, Wee-Chons benefit from eating dog food formulated specifically for small dogs. This is because small dogs have different nutritional needs than large and giant dog breeds, and they usually have to consume more calories per pound every day. Dog food for small dogs also often contains smaller-sized kibble that'll prevent choking and make chewing easier for Wee-Chons.
It's also important to be mindful of changing a Wee-Chon's diet as it ages. Wee-Chons have lifespans that are longer than average, so they often require diets rich in antioxidants that prevent free radical damage.
Exercise 🐕
Wee-Chon puppies tend to be balls of energy and typically enjoy exercise through play. Their energy levels usually mellow out by the time they reach full adulthood. In general, Wee-Chons like going on leisurely 30-minute walks around the neighborhood. Because of their curiosity, they'll usually stop to sniff everything.
Just keep in mind that Wee-Chon energy levels can vary significantly. West Highland White Terriers are sturdy dogs with a good amount of stamina, so don't be surprised if your Wee-Chon is able to keep up on outdoor excursions. However, if your Wee-Chon more closely resembles a Bichon Frise, it may just prefer keeping exercise light and at the bare minimum.
Wee-Chons are pretty sensitive to the cold, so they may not feel as enthusiastic about going outside during cold and snowy winter months. Fortunately, most Wee-Chons will be okay with getting their exercise needs met indoors. They love chasing toys around the house and will also appreciate playing with treat-dispensing toys.
Training 🎾
Wee-Chons tend to be eager to please, so they're relatively easy to train. They'll enjoy short and frequent training sessions and are motivated by praise and rewards. Some Wee-Chons may have a bit of a stubborn streak, so it's important to keep training engaging and fun.
Wee-Chon owners may have particular challenges with leash training and potty training. Some Wee-Chons can have a strong prey drive since West Highland White Terriers were originally bred to hunt. They may have difficulty resisting the urge to chase birds, rabbits, and squirrels that come across their way while they're on walks.
Wee-Chons may also have difficulty with potty training because of their small size. Wee-Chon puppies will have to be let out much more frequently than large breed puppies because they have smaller bladders.
Grooming ✂️
Wee-Chons have pretty simple grooming needs. Their coats need to be brushed with a pin brush or slicker brush about every other day to prevent tangling and matting. They'll require a bath about every 6–8 weeks, depending on their lifestyle and activity levels. It's beneficial to take them to a professional groomer every 6–8 weeks to get their coats trimmed.
It's also important to stay on top of a Wee-Chon's dental hygiene. Wee-Chons don't tend to be active chewers, which can make them more susceptible to tartar and plaque buildup. Getting them used to toothbrushing will help keep their teeth clean and reduce the risk of dental and oral health issues.
Health and Conditions 🏥
Wee-Chons are relatively healthy and are known to live long and happy lives. However, they can be predisposed to some genetic health conditions.
Minor Conditions
Dental issues
Allergies
Ear infections
Serious Conditions
Cancer
Kidney stones
Legg-Calve-Perthes disease
Diabetes

Male vs Female
There are very few differences between male and female Wee-Chons. Male Wee-Chons may be slightly larger than females, but the size difference isn't very noticeable. You'll probably notice more differences in behaviors between intact Wee-Chons and Wee-Chons that have been spayed or neutered. Intact males may urine mark more frequently and be more likely to show aggression towards other male dogs. You may also see changes in mood and behaviors from females depending on their estrus cycles.
---
3 Little-Known Facts About the Wee-Chon
1.

Wee-Chons were first bred in the United States.
West Highland White Terriers and Bichon Frises are of European descent. The West Highland White Terrier originates from Scotland, and the Bichon Frise originates from France. We know much about West Highland White Terriers and Bichon Frises because they've been around for centuries. Unlike their parent breeds, Wee-Chons were first bred in the US, and they've only been around for just a couple of decades.
---
2.

Not all Wee-Chons have white coats.
Unlike many other dog breeds, white is the only standard coat color for West Highland White Terriers. Most Bichon Frises are pure white, but they can also have apricot, buff, or cream in their coats. So, the most common coat type you'll find in Wee-Chons is white, but every once in a while, you can find one with cream or tan markings. Any other colors, such as black or dark brown, usually indicate that another dog breed was involved.
---
3.

Wee-Chons are susceptible to weight gain.
While Wee-Chons can have bursts of energy, they're still susceptible to weight gain. West Highland White Terriers are at higher risk of obesity, and Bichon Frises can be a little more mellow and need a little more encouragement to exercise. So, it's important to stay on top of a Wee-Chon's diet and nutrition to ensure it is eating healthy and not consuming too much food.

Final Thoughts
Wee-Chons are a relatively new hybrid breed, but they're becoming more widely known. With how friendly and affectionate they are, it's no surprise that their popularity continues to grow. These dogs make loving and loyal companions, and it's truly a wonderful experience caring for them. Their cheerful and playful approach to life makes them such a delight to live with, and they often fill their homes with tons of joy and laughter.
---