121 Amazing Names for Weimaraners: Ideas for Striking Hunting Dogs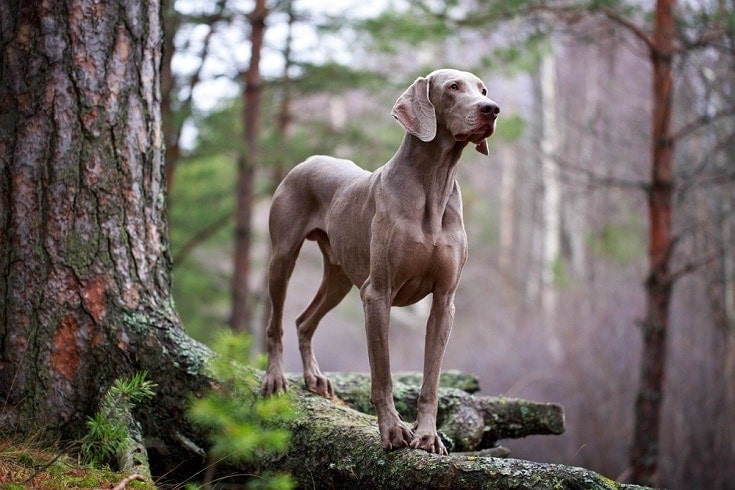 Weimaraners are a large dog breed with floppy ears and a solid or patterned coat which is usually silver-grey. The Weimaraner is a German dog breed that was bred to be hunting dogs and often owned by royalty.
Aside from their striking coats, the Weimaraners have a lovely temperament that makes them protective, loyal, and loving pets.
If you have recently gotten a Weimaraner yourself and you are struggling to find a name that fits this dog breed, we have compiled a list of the best names that suit the Weimaraner.

How To Name Your Weimaraner
Finding the right inspiration for a suitable name for your Weimaraner can be challenging. These dogs are known for their intelligence, size, and athletic bodies, and common dog names don't seem to fit well with this breed. You can get to know their personality a bit more before you settle on a name, especially if you want to choose an individual name that is unique to your Weimaraner dog.
Otherwise, appearance-based names are also a good choice for this dog breed if you want to keep it simple. Since the Weimaraner is a German dog breed, certain German words or names might be a good fit for this dog.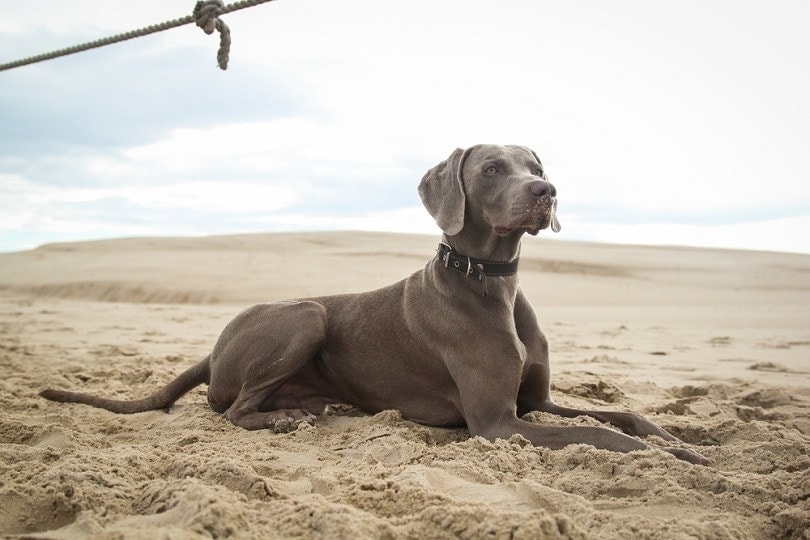 Names Based on Appearance
Weimaraners have several different coat colors, ranging from blue, silver, grey, and even mixed browns that can appear as a chocolate or amber color. Different shades of blue-greys and silvers are the most common coat color in this dog breed.
Their floppy ears, deep chest, and long legs give them their characteristically athletic appearance, and their coat can either be long or short. Some Weimaraners can have patterns such as spots or piebald markings, which is a genetic variation.
Silver
Blue
Grey/Gray
Brownie
Chocolate
Floppy
Lank
Mouse
Speckles
Spot
Patches
Taupe
Amber
Pie

Tough Weimaraner Dog Names
The Weimaraner is a tough and athletic dog breed, so a tough-sounding name might be a good fit. Names that accentuate their loyalty, protectiveness, and ability to hunt will be suitable for both male and female Weimaraner dogs.
Ares
Bane
Ajax
Bonnie
Brute
Acadia
Gunner
Sylvia
Silver bullet
Akeeva
Kojak
Blake
Rebel
Steel
Geneva
Dart
Alaska
Hunter
Bronson
Zeus
Balto
Jett
Bristol
Thatcher
Dakota
Harper
Phoebe
Talia
Rhiannon
Amari
Rieka
Timber
Trapper
Sprint
Diego
Ripley

Male Weimaraner Dog Names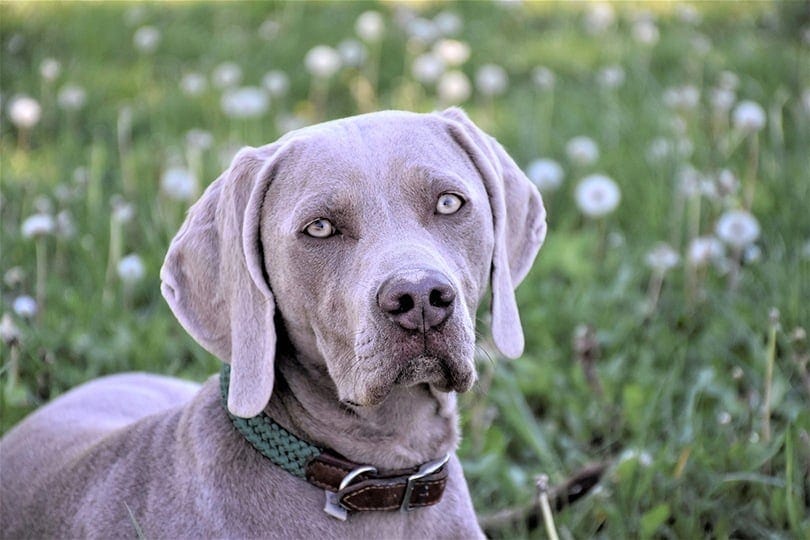 Male Weimaraners are strong and protective, so a powerful name that matches their temperament will be a good choice.
Tyson
Butch
Rocky
Dash
Bane
Apache
Speed
Bonzo
Bear
Stalin
Moose
Barrett
Amell
Isa
Bandit
Ivan
Scout
Nixon
Dagger
Ryder
Sailor
Duke
Oliver
Buck
Rambo
Buggsy
Dozer
Hyde
Vlad
Sherman
Cujo
Fin
Frisco
Cain
Archer
Maverick
Thorn
Chopper
Ranger
Ozzy
Rover
Jake
Benji

Female Weimaraner Dog Names
Female Weimaraners are built for speed, strength, and independence. So, why not choose a name that matches the fierce yet loving personality of a female Weimaraner?
Myrtle
Arya
Solstice
Pepper
Rain
Tivy
Asuna
Sage
Zina
Alchemy
Arrow
Whisky
Bourbon
Crimson
Shiloh
Grace
Raven
Aspen
True
Valor
Villa
Arwen
Opal
Skye
Nala
Joan
Xina
Winnie
Shenzi
Robin
Winter
Kora
Zahra
Yuki
Sierra
Duchess
Violet
Paisley
Roxy
Kona
Aurora
Jade
Luna

Historical Weimaraner Dog Names
Heidi – The name of President Dwight D. Eisenhower's Weimaraner dog.
Weimar – The name of the German city where this breed originated.

Final Thoughts
There are many different names to choose from that will suit Weimaraner. You can choose from simple names such as Roxy or Dash, or even a historical Weimaraner's name like Heidi.
Weimaraners make excellent family dogs and have the perfect combination of strength, bravery, and intelligence. It can be tricky to pick out the right name for your Weimaraner and can take some time to see which name fits properly or inspires you.
We hope that this article has helped you choose the right name for your new Weimaraner!
---