Wellness Puppy Food Review 2022: Recalls, Pros & Cons
Review Summary
Our Final Verdict
We give Wellness Puppy Food a rating of 4.4 out of 5 stars. 
Introduction
Wellness Puppy food products, produced by Wellness Pet Company, include grain-free and grain-inclusive varieties.  Wellness puppy diets are suitable for healthy puppies of any size and breed. The company focuses on using "natural" ingredients and is believed to be one of the first to offer grain-free recipes. Overall, we found that Wellness Puppy foods are a solid choice, although the company has issued some fairly recent recalls. The grain-free diets are subject to the same concerning potential links to non-hereditary heart disease as other brands.

At a Glance: The Best Wellness Puppy Food Recipes:
Rating
Image
Product
Details

Our Favorite

Wellness Complete Puppy Food

Grain-inclusive
Suitable for pups of all sizes
Non-GMO ingredients

Wellness CORE Wholesome Grains Puppy

Extra high in protein
No peas
Includes taurine, fatty acids, antioxidants, and probiotics

Wellness Complete Health Puppy

Contains organ meat
High in protein and fat
With antioxidants and fatty acids

Wellness CORE Grain-Free Puppy Food

Contains chicken, turkey, and salmon oil
Contains antioxidants and probiotics
Smaller sized kibble

Wellness CORE Digestive Health Puppy

Supports gut health
Contains probiotics
Contains digestive enzymes
Wellness Puppy Food Reviewed
Who makes Wellness Puppy Food and where is it produced?
Wellness Puppy Food is produced by Wellness Pet Company, headquartered in Massachusetts. Wellness Pet began as Old Mother Hubbard, a dog treat company founded in 1926. In 1961, it was purchased by Jim Scott. Jim Scott Jr developed the Wellness brand of dog food in the 1990s.
Wellness manufacturers the dry puppy food at a company-owned plant in Indiana. The company apparently outsources their wet food production, stating that they go through a "rigorous quality and safety program." The website doesn't display a specific production location for canned diets.
Which type of dog is Wellness Puppy Food best suited for?
Wellness puppy food is best suited for overall healthy puppies with no signs of early food sensitivities. Because they offer both grain-free and grain-inclusive diets, Wellness generally caters to most puppies.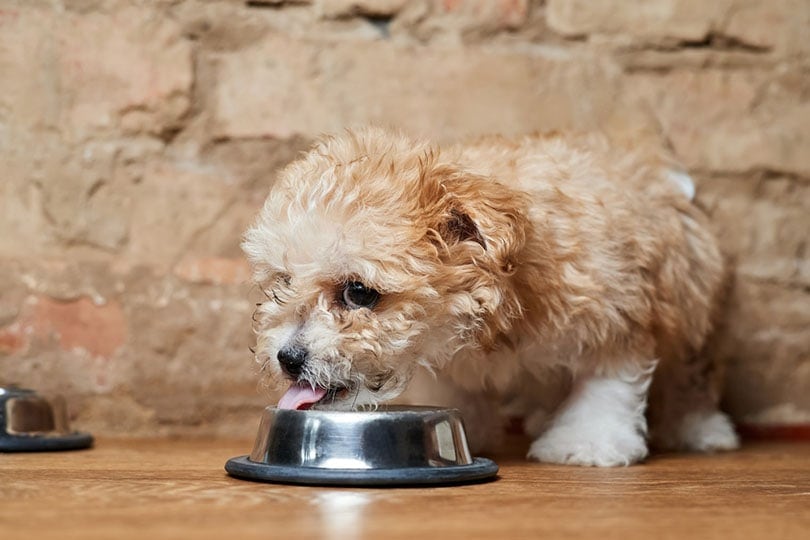 Which type of dog might do better with a different brand?
Unfortunately, not even dogs less than a year old are immune to food sensitivities. Wellness doesn't have a limited-ingredient puppy food and relies heavily on chicken ingredients. For puppies that need to avoid chicken, Canidae PURE Salmon and Oatmeal Puppy Food may be a better option.
Discussion of the Primary Ingredients (Good and Bad)
Deboned Chicken
Deboned chicken is generally the primary protein source in Wellness Puppy diets. It refers to the clean, whole muscle (not organ) meat of the bird. Because it is cheap and easily obtained, chicken is the most common protein source used in pet food. It is a healthy source of protein, fat, and other nutrients.
Chicken, Turkey, Salmon Meal
Meat, fish, and poultry meals are made by cooking down and drying whole meat, removing all the water to create a concentrated powder. This meal is digestible, inexpensive, and still contains quality protein. It is commonly used in dry dog food.
Chicken Liver
Organ meat, including chicken liver, is packed with protein and vitamins. It is generally considered more nutritious overall than muscle meat. Technically, chicken liver is a chicken by-product, meaning it is one of the parts of the bird left overs after processing for human consumption.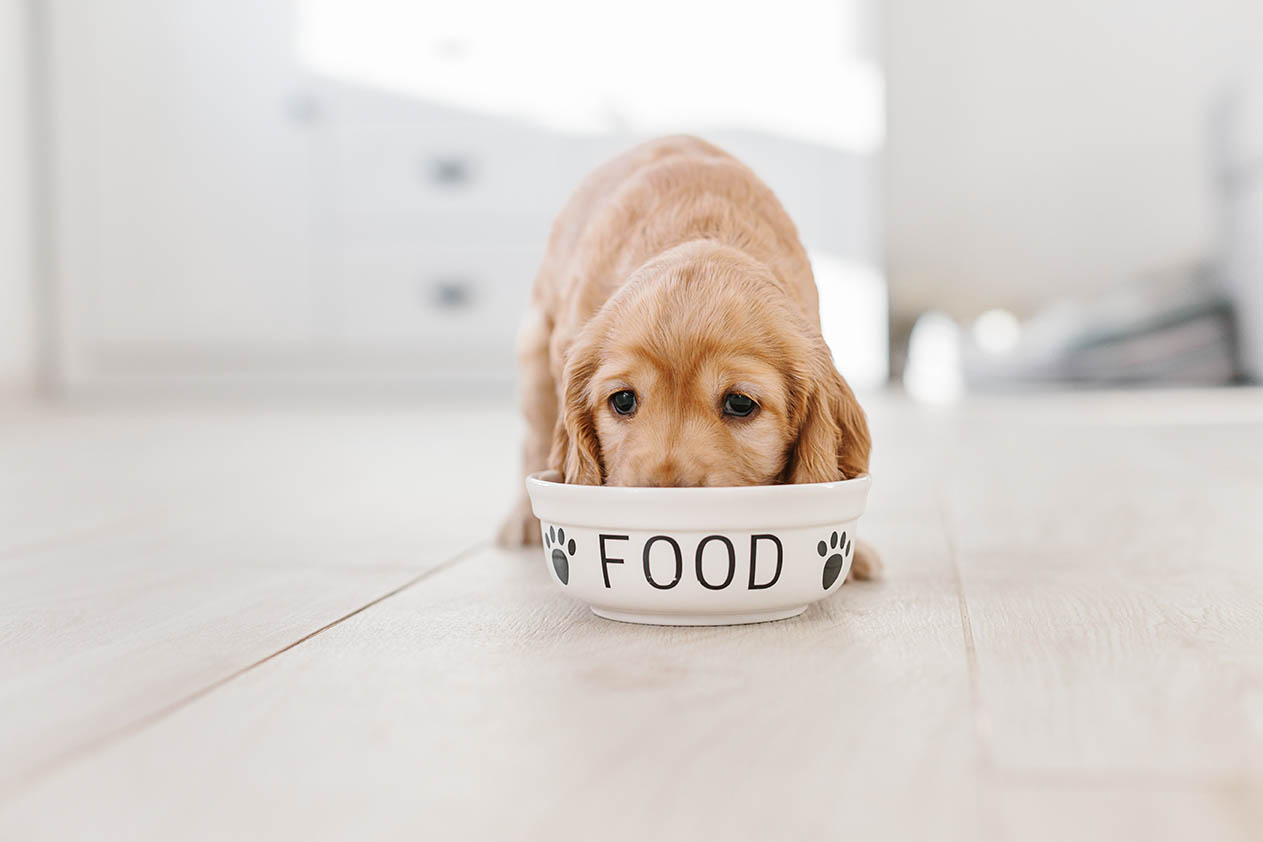 Giving your pet the highest quality nutrition is a top priority, so why not give them a food and water dish to match? The Hepper Nom Nom Bowl is our product, but it's too good not to share.
Made from food-safe stainless steel, you can ensure that your pet is consuming the best nutrition out of the finest bowls on the market. Click here to get yours.
Rice, Barley, Oatmeal, Quinoa
Whole grains serve as a source of energy, protein, fiber, and many vitamins and minerals. Domestic dogs are adapted to digest and absorb nutrition from plant sources, despite the widespread belief that dogs are pure carnivores.
Legumes, including peas and lentils
Peas and other legumes are among the ingredients that when feed in large amounts are suspected to contribute to developing heart issues in pets. The FDA continues to investigate the exact causes of these problems, but many owners choose to avoid feeding legumes. Grain-free diets are most likely to contain peas and lentils. To avoid issues, if dog food contains legumes, make sure they are not in the first five ingredients.

A Quick Look at Wellness Puppy Food
Offers canned, dry, grain-free, and grain-inclusive diets
Made in the USA
Large breed and small breed recipes are available
No preservatives, artificial colors, flavors, or ingredients
No limited ingredient options
Less transparency regarding wet food production
Does contain ingredients from China
Recall History
Since Wellness Pet Food first appeared on shelves in the late 1990s, the company has issued several recalls, but only one related to puppy food. In 2012, the company recalled a large breed puppy recipe over concerns about salmonella contamination.
Other recalls issued by the company include the following:
2011: canned cat food recalled for low thiamine (vitamin B1) levels
2012: small breed dry dog food recalled for possible mold
2017: canned cat food recalled for potential foreign material
2017: canned dog food topper recalled for elevated thyroid hormone

Reviews of the 3 Best Wellness Puppy Food Recipes
Here's a more in-depth look at three of the best Wellness Puppy Food recipes.
1.

Wellness Complete Health Deboned Chicken, Oatmeal, and Salmon Puppy Dry Food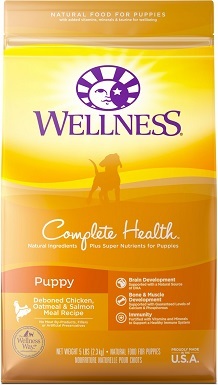 Wellness Complete Health is grain-inclusive and a complete choice for puppies of all sizes. Made with both chicken and salmon, this food contains 29% protein. It's produced without GMOs and packed with added nutrients to support a growing dog, including antioxidants, fatty acids, probiotics, and glucosamine.
It has peas fairly high up on the ingredient list and is not a good option for puppies with food sensitivities.
Grain-inclusive
Suitable for pups of all sizes
Non-GMO ingredients
Not good for pups with sensitivities
Contains peas
---
2.

Wellness CORE Wholesome Grains Puppy High Protein Dry Food
Designed for high-energy, hard-working pups, Wellness CORE Wholesome contains a generous 36% protein. Made with nutritious grains (including high protein quinoa), the recipe is also full of fiber and healthy fruits and veggies. It's grain-inclusive and pea-free and contains added fatty acids, taurine (for heart health), antioxidants, and probiotics.
Like other Wellness Puppy foods, this one contains ingredients from China.
Extra high in protein
No peas
Includes taurine, fatty acids, antioxidants, and probiotics
Contains ingredients from China
---
3.

Wellness Complete Health Just For Puppy Canned Food
Since it's jammed with protein including nutritious chicken liver, Wellness Complete Health Just For Puppy Canned Dog Food offers a tasty alternative to crunchy kibble. Small puppies may need a little added calorie boost or appreciate the soft texture of wet food. Whatever the reason, this puppy recipe brings plenty of nutrition along with it. It's made with antioxidants and fatty acids and supports the whole body needs of a growing dog.
Overall, canned food can be more expensive than dry. Just For Puppy also contains ingredients from China and Wellness is less transparent about its wet food manufacturing process.
Contains organ meat
High in protein and fat
With antioxidants and fatty acids
Contains ingredients from China
Less transparent production
What Other Users Are Saying
Chewy – "If you want healthy and quality dry food for a reasonable price, this is your brand"
"Not for my pup but a good food"
"Like the fact it is vet recommended and contains pre and probiotics"
Reddit "I think Wellness is a good quality brand"
"Puppy LOVES it"
"Good ingredients"
Amazon – Amazon reviews can be a valuable source of information from other buyers. You can read these by clicking here.

Conclusion
Although it lacks a limited ingredient option, Wellness Puppy Food utilizes quality, simple ingredients at a slightly lower price point than other similar brands. With both grain-free and grain-inclusive recipes, owners have plenty of choices when it comes to their puppy's nutrition. However, we don't like that Wellness still uses ingredients from China and is less transparent about its canned food production. Overall, Wellness is a popular and high-quality puppy food brand.
Read More: Hill's Science Diet Puppy Food Review