What Dogs Hold the Record for Oldest of All Time? Top 8 Oldest Dogs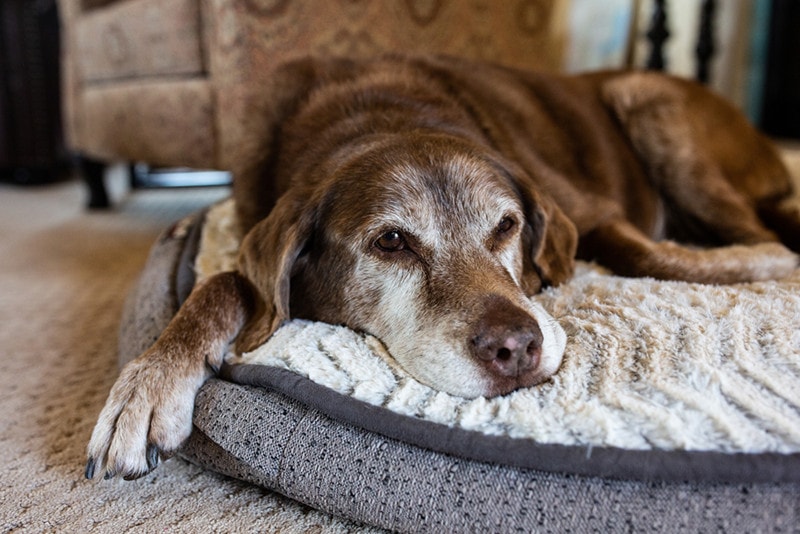 As dog lovers, we want our canine companions to be with us for a long time. While the average lifespan of a dog is around 10 years, certain dogs hold the record for surpassing their average lifespan by several years. Some dogs can even live for two decades, which is quite a long time for a dog.
It is typical for smaller dog breeds to live longer, but you might be surprised to find that some of the oldest dogs are medium-sized.
Whether it is due to the dogs' genetics, lifestyle, or pure luck, the following dogs hold the record for being the oldest in the world.


The Top 8 Oldest Dogs
1.

Bobi
| | |
| --- | --- |
| Breed: | Rafeiro do Alentejo |
| Age: | 30 years old |
| Location: | Portugal |
| Status: | Living |
According to the Guinness World Records, the current oldest recorded dog is Bobi, a purebred Rafeiro do Alentejo. Bobi was born in May 1992 and has an age of 30 years, soon to be 31 years in May. His owner is Leonel Costa, and aside from being the oldest recorded dog to live over the age of 30 years, Bobi is also the oldest living dog.
Bobi's age has been verified through a veterinary service in Leiria, Portugal which helped confirm Bobi's birth date for the records after having the dog registered in 1992. Bobi has outlived the previously known oldest dog in the world, Bluey.
---
2.

Bluey
| | |
| --- | --- |
| Breed: | Blue heeler |
| Age: | 29 years old |
| Location: | Australia |
| Status: | Deceased |
Bluey held the title of the oldest dog in the world for 83 years before being outlived by Bobi. Bluey is a type of Australian cattle dog, commonly known as a Blue heeler. She was owned by Les and Esme Hall and was born in June 1910.
In 1939, Bluey had to be euthanized at 29 years and 5 months of age. Les Hall from Victoria, Australia, inherited Bluey as a puppy from his father, and Bluey worked on a farm rounding cattle for 2 decades of her life.
---
3.

Butch
| | |
| --- | --- |
| Breed: | Beagle |
| Age: | 28 years old |
| Location: | United States |
| Status: | Deceased |
Butch was a male beagle born in 1975 and lived in Virginia. Butch passed away in 2003 after living to a whopping 28 years of age. There are some documented life experiences of Butch located in newspapers and stories from Butch's life still live on.
---
4.

Spike
| | |
| --- | --- |
| Breed: |  Chihuahua mix |
| Age: | 23 years |
| Location: | United States |
| Status: | Living |
A chihuahua mixed breed dog named Spike was considered the oldest living dog just before Bobi earned the title. Spike was born in November 1999 and was found by his current owner Rita Kimbell in an abandoned grocery store parking lot back in 2009.
Spike is currently 23 years old, and he is living out of his old age in his Ohio home with his family and the other farm animals. Despite his age, Spike still has some of his vision, although he is nearly deaf.
---
5.

Bramble
| | |
| --- | --- |
| Breed: | Border collie |
| Age: | 25 years old |
| Location: | United Kingdom |
| Status: | Deceased |
Bramble was a female border collie that reached the ripe age of 25 years old. She was known as "the vegan dog" because Bramble was fed a vegan diet throughout her life. Her owners claimed that Bramble was fed a diet of organic vegetables, lentils, rice, and other soy-based vegan foods. However, it is unlikely that a vegan diet was the sole reason for Bramble's longevity.
Born in September 1978 and passing in 2003, Bramble was featured in the Guinness World Records as one of the oldest dogs at one point in time. Bramble was vegan because her owner, Anne Heritage, was a vegan and believed it was unnecessary to contribute to the slaughtering of innocent animals.
There have also been vegan dog foods named after Bramble.
---
6.

Buksi
| | |
| --- | --- |
| Breed: | Mixed breed |
| Age: | 27 years old |
| Location: | Hungary |
| Status: | Deceased |
Buksi was a mixed-breed dog from Hungary, and she became quite famous and gathered a large social media following. She was born in 1990 and lived in a riding hall and a guesthouse yard, before passing due to heart complications in August 2017. Buksi's owner suspects that her passing is due to the extreme heat they were experiencing, which was too much for old Buksi.
Since it is so unusual for a dog to live as long as Buksi did, some of Bukis's blood has been sent to American laboratories by the Ethology faculty at Hungarian MTA-ELTE University for further research and examination.
---
7.

Pebbles
| | |
| --- | --- |
| Breed: | Toy Fox Terrier |
| Age: | 22 years old |
| Location: | United States |
| Status: | Deceased |
A Toy Fox Terrier named Pebbles from South Carolina was certified as the world's oldest living dog in 2022 at 22 years of age. Pebbles was born in March of 2000, and she lived with her owners Julie and Bobby Gregory. Her owners shared that their secret to Pebbles's longevity is to ensure that your dogs are kept in a happy environment and treat them like your family which they deserve.
Shortly after pebbles was recognized as the world's oldest living dog, she passed away due to old age just before her 23rd birthday.
---
8.

Pusuke
| | |
| --- | --- |
| Breed: | Shiba Inu Mix |
| Age: | 26 years |
| Location: | Japan |
| Status: | Deceased |
Pusuke, an adorable Shiba Inu mix breed dog from Tochigi in Japan was born in April 1985 and lived just shy of his 27th birthday at 26 years and 248 days of age. Pusuke almost didn't make the Guinness World records as the oldest living dog since he nearly lost his life after being hit by a car in 2008.
Pusuke underwent surgery and despite his already old age at the time, he managed to pull through and was titled the oldest living dog in 2010. Just a year later in 2011, Pusuke, unfortunately, passed suddenly after having difficulty breathing. His owner Ms. Yumiko Shinohara found it sudden, as Pusuke was otherwise perfectly healthy before his unexpected death.
Conclusion
The dogs we mentioned in this article all exceeded 20 years of age. For a dog, this is rare and a huge milestone for both the dog and their owners. Aside from most of the oldest dogs in the world names surprisingly starting with a "B", one thing these dogs all have in common is that they were all loved by their owners, and ensured that they were well-cared for with a healthy diet, good environment, and plenty of exercise.
---