What Is the Cost of Dog Boarding? (2023 Update)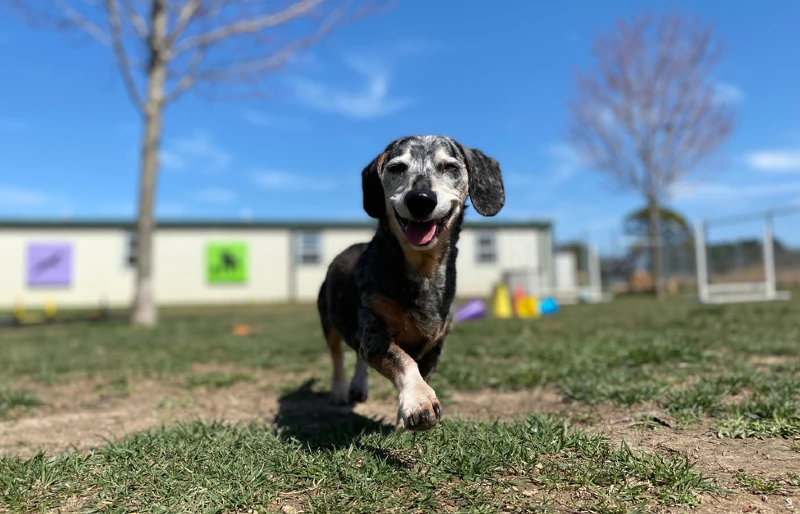 When you get a pet of any kind, you're committing to that animal. That means you may plan a trip, and your four-legged best friend can't come. That is why dog boarding facilities are ever-growing in popularity as times change.
You could be looking at anything between $30 and $75 per day, excluding possible additional costs. 
Several factors go into dog boarding, especially the area you live in, rates, and structural setup. Certain things are going to appeal to you for various reasons. Let's learn more about how much you can expect to pay for dog boarding.


The Importance of Dog Boarding
Dog boarding facilities are there for pet owners when they encounter issues with pet care. These facilities are set up to safely house your pet appropriately while providing them care and socialization.
Many of them elect certain parts of the day for the dogs being boarded to socialize with each other, and if your dog prefers to be alone, there are options. Certain boarding facilities have different features that make them more attractive to potential customers.
While nearly all dog boarding facilities have similar amenities, they differ quite a bit too. So, it's best to shop around before committing, ensuring your dog is in the best place possible if you have to go away.
Boarding facilities should have licensed, trained professionals to help your dog feel at home.

How Much Does Dog Boarding Cost?
The total cost of pet boarding depends on several factors. We want to explain that it is not a cheap endeavor, but it can be a lifesaver when you need it.
| | |
| --- | --- |
| | National Average |
| Boarding Facility | $30-$50/day |
| Kennel | $20-$50/day |
| Pet Sitting | $20-$75/day |
Each boarding facility should have weekly as well as monthly boarding rates available. Prices will fluctuate depending on the area you live and the individual facility. Also, rates may vary depending on the length of your dog's stay.
Since each facility operates a little differently, you will have to contact the individual company for specifics. Depending on breed, age, and special care, you might notice fluctuating rates.
Certain boarding facilities might also restrict certain breeds if they are deemed dangerous or if state laws are put in place against them. So, if you have any animal that could potentially be a bite risk, make sure to discuss these behaviors or specifics with intake.
Additional Costs to Anticipate
After checking out boarding facilities and kennels, you might decide that maybe the setup isn't for you. And in that case, you might look into private pet sitting. Private sitters either watch your dog in their own home or come to your house to give your dog some company.
Pet sitting definitely has its upsides, but there are also things to consider too. For example, you would have to trust a stranger to enter your home while you are away. Therefore, this person needs to have credentials to show that they are trustworthy and reliable. Also, many pet sitters set their own rates, and because they are often self-employed, costs may be a bit higher than they would be at a boarding facility.
Here are some other cases in which you might have to pay a little extra for dog boarding.
Special Needs
Depending on your dog's needs, certain boarding facilities might also charge different amounts. For example, if you have a dog with very particular needs that requires a good amount of attention, boarding this animal might be more costly.
If your dog requires physical or medicinal accommodations during their stay, it can cause rates to rise depending on the facility's policies.
Bite Risks/Dangerous Breeds
Breed restrictions are real and certain high-risk dogs might require significant fees or overall costs associated with staying. Depending on any dangers associated with your particular pet, they might not allow your dog to board at the facility.
Certain places don't have an adequate separation between canines and expect all attendees to get along accordingly. Since that's not realistic for some dogs who might be territorial or aggressive, these facilities would not be able to take them on.
So, it is best to be upfront with the facility to ensure that your dog can get the care that they require and that no others are at risk in the meantime.

How Often Should I Board My Dog?
You should only need to board your dog if you are going on lengthy adventures where they cannot come. How often you put them in a boarding facility depends on your lifestyle and how frequently you plan to be out of town.
On certain trips, your dog might be able to accompany you. But it is nice to have a boarding facility that you trust on hand when you can't be there. Also, it's nice to have a boarding facility picked out if you ever need help with care a day at a time.
Boarding facilities are excellent for socialization, which helps your dog make new friends and stay well-rounded.

Does Pet Insurance Cover Dog Boarding?
There are entire policies designed specifically for pet boarding services. Many businessmen and women that regularly travel for jobs and other affairs take advantage of it.
If you are one of these people, you definitely have many options available to take off some of the financial responsibility.
Also, certain up-and-coming dog insurance companies might cover boarding costs. You can visit each individual company to see if this particular service is covered under offered policies.
Insurance policies typically run between $25 to $80 for dogs.

How to Choose a Dog Boarding Facility
After researching exactly what dog boarding facilities are and how much they can cost, it's time to see your available options. Bigger city areas should have tons of options to choose from.
But if you live in a small town or suburban area, it may be more difficult for you to find something nearby. Even though you might have to take a trip to the nearest city or larger town, the likelihood of you finding the perfect place is high no matter where you live.
Always check out the facility and make a trip if you can. Knowing the layout and the individuals responsible for your dog's overall care might give you some peace of mind.


Conclusion
Dog boarding is definitely something you have to work into your budget. Regardless of whether you have insurance covering this service or paying out of pocket, it's best to have a good grasp on rates and fees.
If you have questions about services offered at certain dog boarding facilities, contact the individual business. A professional will certainly answer any questions or concerns you might have before making your final selection.
---