What Size Crate Does a Corgi Need? Breed Facts & FAQs
Bringing home a new dog can be extremely fun and exciting, but it also requires some planning ahead of time to make sure everything is ready for your pup once they get home.
One thing that many people struggle with is selecting the right crate for their new dog. It can be difficult to know how to select a crate, and it gets more complicated when you're talking about a dog like a Corgi.
These dogs are considered small dogs, but they seem to take up the space of a medium-sized dog. This can make choosing a crate for your Corgi confusing, and it's even more confusing if you're bringing home a puppy. What size crate does your Corgi really need?

What Size Crate Does Your Corgi Need?
It's difficult to say what size crate your Corgi needs because their age and size will impact this. A puppy clearly will have more growing to do, while an adult dog may not fit the breed standard, coming in smaller or larger than standard.
In general, Corgis need a crate that is 18–24 inches in length, with some doing best in a crate up to 30 inches. A 24-inch-long Corgi is on the large side for this breed, and your Corgi is unlikely to exceed this if they are a purebred Corgi.
Choosing a Crate for a Corgi Puppy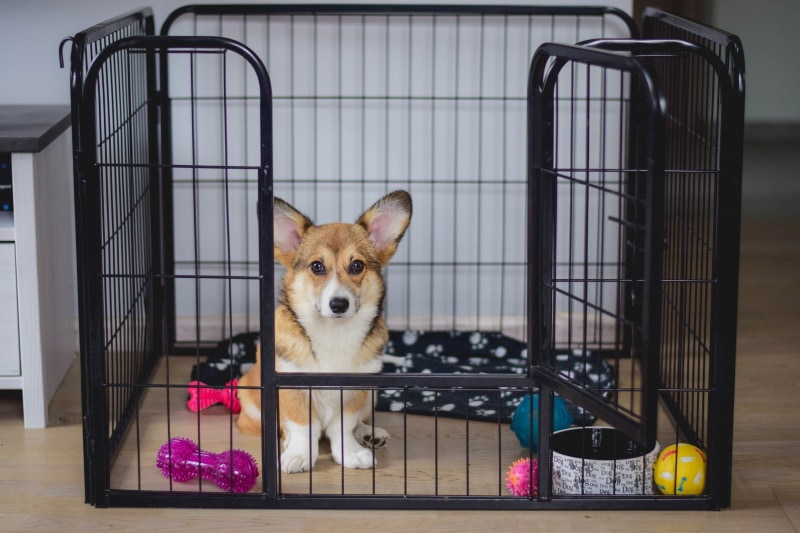 Choosing a crate for any puppy can be quite the task because it's hard to know just how much space your dog will need as an adult. You have two options when choosing a crate for a puppy, but just know that either way, you may end up purchasing more than one crate.
Purchase for the Future
The first option is to purchase a crate that is no longer than 24–30 inches in length, ensuring that you'll have a crate that is big enough for your puppy once they are grown. If you undershoot or overshoot your dog's estimated adult size, though, then you may end up purchasing another crate later.
The downside to choosing a crate that is too large at the time for your puppy is that puppies that are housetraining are more likely to potty in their crate if they have lots of excess space. Keeping your puppy in a crate that allows them space to turn around and stand all the way up, but no extra room will help reduce the risk of accidents in the crate.
Purchase While They Grow
The second option is to purchase a crate that is the right size for your puppy at their current size. If you do this, you should understand that you will almost certainly purchase another crate once they are grown. If you purchase a crate for an 8-pound puppy, then you'll have a crate that's far too small for an 18-pound adult Corgi.

Final Thoughts
Choosing a crate that is too big for a housetraining puppy can lead to accidents, so it's generally recommended that your dog have a crate that allows them to fully stand up and turn around.
This recommendation still applies once your dog is an adult, but a fully housetrained dog is far more likely to keep their crate clean than a puppy is.
Corgis usually don't require crates longer than 30 inches, and adult Corgis usually don't need crates less than 18 inches in length, so this range is a pretty safe option if you're purchasing for a puppy.
---