Where To Buy Bissell Pet Urine Eliminator in Stores and Online
There are several places where you can purchase this cleaner. For instance, you can find it on most of the usual online stores, such as Amazon and Walmart. It is also available at most places that sell cleaners, such as Walmart and even Lowe's.
Of course, if shopping in-store, you should call and ask if they currently have this cleaner in stock. While some stores may carry this cleaner, they may not always have it in stock. In some cases, you can also check online to see if the store near you carries this product.
You can also purchase this cleaner directly from the Bissell website. Usually, this place has it in stock most often, but it may be a bit more expensive than other options. You will have to pay for shipping, for instance, while places like Amazon often ship for free.
Do You Have to Use a Solution in a Bissell?
You don't absolutely have to use a Bissell solution in their carpet cleaners. However, it is designed specifically for their machine, so it is usually the best option. These cleaners do not streak or build up in the machine, so you don't have to worry about deep cleaning them nearly as often.
Therefore, if you're just looking for a solution to use in your Bissell, you may be able to completely skip it and just use it with water or a different sort of soap. However, it is often best to utilize a solution specifically designed for the machine.
For this reason, we highly recommend that you seek out one of these cleaning solutions when possible. Otherwise, it won't work quite as effectively.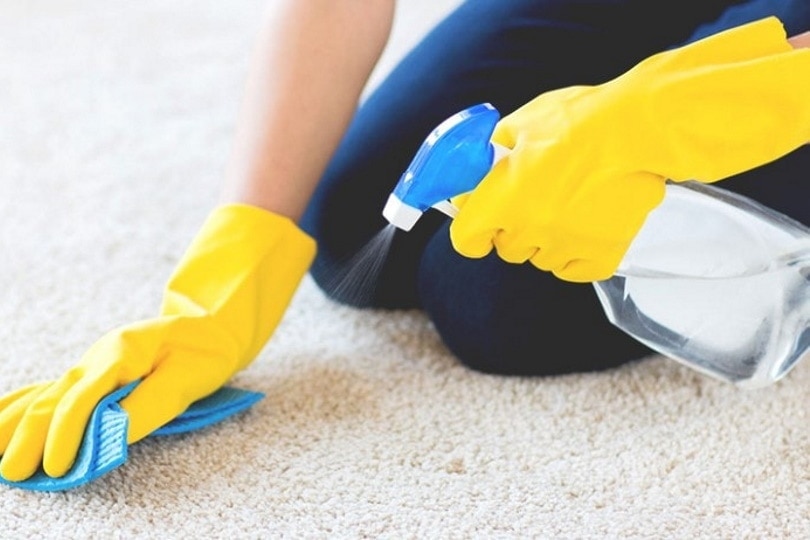 How Much Does the Bissell Pet Urine Eliminator Cost?
The price varies considerably. For one, different places sell it for different prices. In-store often costs more, but this isn't always the case. Sometimes, sales may affect the price. Usually, though, it is around $25 for a larger bottle. If you're spot-cleaning, this lasts quite a long time. However, if you're using it to clean your whole floor, this is a different story altogether.
How much you end up spending depends largely on how you're cleaning. Consider how much carpet you plan on cleaning when you pick up the cleaner. It is always better to purchase more than it is to purchase less.
Can You Use Vinegar Instead?
You can use vinegar instead of a cleaning solution in your Bissell carpet cleaner. White vinegar is a great option for many cleaning problems. It is particularly good for pet odors since vinegar is very good at neutralizing odors.
However, it may not be as effective as this Bissell cleaner. For this reason, you may want to run out and get this cleaner from a local store (or order it), even if you have white vinegar at home.
Of course, if you want to try vinegar first, you absolutely can.
Conclusion
You can find Bissell cleaner at most places that sell cleaners. It is available online at both Amazon and Walmart. Plus, you can purchase it from the Bissell website as well.
If you don't want to run out and find this solution, you can use vinegar or even nothing in your carpet cleaner instead. However, these may not be as effective—it all depends on the odor and how you're using the product.
So that you always have a solution on hand, we recommend that you purchase more than you think you might need. You'll probably use it eventually, so there is little reason to not purchase some extra.
---
Featured Image Credit: Amazon