How Much Does a Whippet Cost? (2022 Price Guide)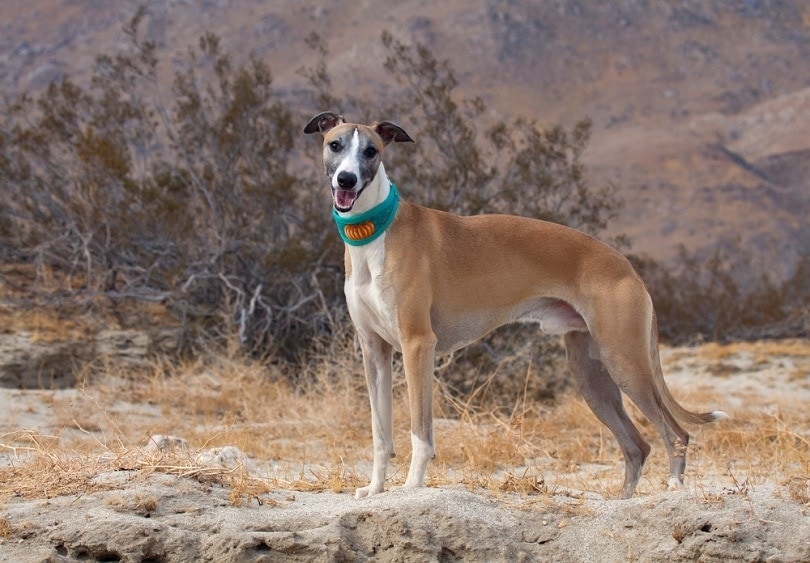 Cute, friendly, and as smart as a whip, the Whippet is a lovable and lively breed that hails from England. Best known for their long legs, sleek frame, and swift running speeds, the Whippet makes a wonderful canine companion for just about anyone. But how much does it cost to own a Whippet?
In this in-depth guide, we'll explore the initial and ongoing costs of Whippet ownership. Please keep in mind that these price ranges are only estimates. The costs of caring for your Whippet will depend upon her unique needs.

Whippet Price: One-Time Costs
Before you bring a new Whippet home, it's important to stock up on everything you need to properly care for her. This includes dog food, a crate, bedding, toys, and more. On top of puppy supplies, you'll also need to cover the costs of your Whippet's initial vet visits.
The first year of dog ownership is generally the most expensive. Plan on spending between $500 and $1,600 during your Whippet's first year. Remember, it's a huge investment to own any type of dog. During the course of your Whippet's lifespan, the average cost of ownership will be about $20,700.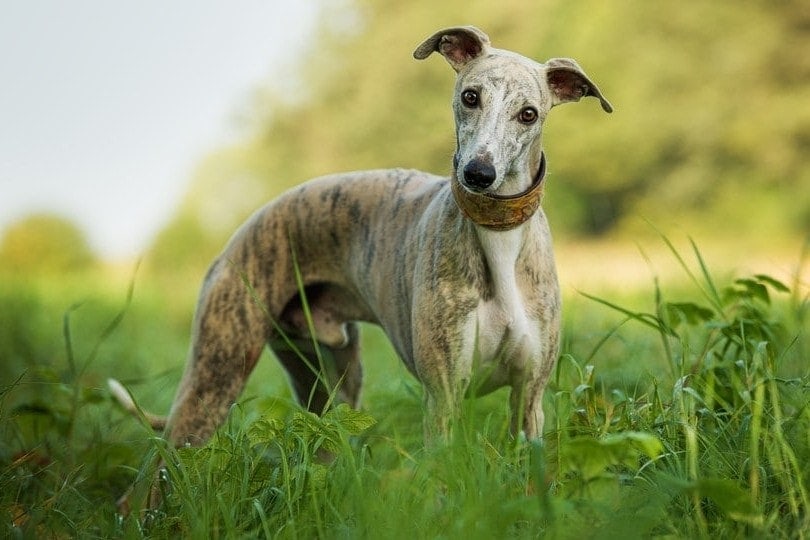 Free Whippets
While you're going to have to buy many of your Whippet's supplies, it is possible to get gently-used puppy supplies for free. Crates, carriers, and even used dog beds are often listed in the "free" section of internet classified pages. You can also ask your friends or family if they have any unused or unwanted dog supplies they're willing to part with. Moreover, animal shelters often offer free medical services, including spaying/neutering and micro-chipping.
Whippet Adoption
If you aren't too keen on the idea of buying a Whippet from a breeder, why not consider adopting one? Animal shelters are brimming with lovable, loyal dogs that deserve to find their forever home. Adoption fees for Whippets can fall between $100 and $400, depending on the dog's age and where you live.
Whippet Breeders
A Whippet puppy purchased from a reputable, high-quality breeder will cost between $800 and $1,500. Some Whippets can be priced as high as $2,000. Many factors will determine the price of a puppy, including her bloodline, pedigree, and coat color.
Whippet Price: Initial Setup and Supplies
Before you bring your Whippet home, you'll need to stock up on several puppy products. These first-time supplies will cost between $200 and $800, depending on the quality of the items and where you decide to purchase them. Things like food and water bowls, a crate, toys, and a leash and collar all will help your new Whippet feel right at home in your house.

List of Whippet Care Supplies and Costs
| | |
| --- | --- |
| ID Tag and Collar | $5 – $20 |
| Spay/Neuter | $50 – $200 |
| X-Ray Cost | $100 – $250 |
| Ultrasound Cost | $250 – $400 |
| Microchip | $45 – $55 |
| Teeth Cleaning | $150 – $300 |
| Bed/Tank/Cage | $30 – $50 |
| Nail Clipper (optional) | $8 |
| Brush (optional) | $10 |
| Litter Box | n/a |
| Litter Scoop | n/a |
| Toys | $20 – $50 |
| Carrier | $50 – $100 |
| Food and Water Bowls | $5 – $40 |
How Much Does a Whippet Cost Per Month?
Your Whippet will need ongoing care and supplies throughout her entire life. With an average lifespan of 12 to 14 years, a Whippet can be an expensive investment. Plan on spending between $50 and $150 every month on your Whippet's care needs.
Whippet Health Care Costs
After the initial health care costs, plan to spend $20 to $60 per month on your Whippet's medical expenses. These monthly expenses will cover heartworm tests, general exams, and blood work for older dogs to detect any potential health issues. First-year medical costs for your new dog will fall around $300 and $700 and includes initial vaccines, spaying/neutering, and micro-chipping.
Whippet Food Costs
Whippets are medium-sized dogs and typically weigh between 25 and 40 pounds. As such, your Whippet will need high-quality dog food that accommodates her size, age, and activity levels. A Whippet needs nearly 190 pounds of kibble every year. This will cost between $20 and $50 per month. If your Whippet requires a prescription diet, this will cost more than off-the-shelf dog food.
Whippet Grooming Costs
With short, coarse hair, Whippets have low grooming needs. You only need to take your Whippet to the groomer about four times per year. A professional grooming session for a Whippet will cost around $50 and includes bathing, teeth brushing, ear and eye cleaning, and nail trimming.
Whippet Medications and Vet Visits
It's recommended that all dogs receive preventative treatments for fleas and ticks every month. This can cost around $20 per month. If your Whippet needs emergency medical treatment, a single ER vet visit can cost $300+.
Whippet Pet Insurance Costs
In order to avoid costly vet visits, it's a wise idea to enroll in a pet insurance plan. Depending on the level of coverage you pick, pet insurance can cost $30 to $70 per month.
Whippet Environment Maintenance Costs
Owning a pet can take a toll on your home. From doggy odors to destructive behavior, you may have to shell out as much as $100 on environmental upkeep. These costs cover pet deodorizers and minor repairs.
Whippet Entertainment Costs
Super smart pups, Whippets need plenty of mental stimulation to prevent boredom and loneliness. Ensure your Whippet has plenty of interactive and engaging toys to keep her occupied. Entertainment costs for a Whippet can run between $5 and $50 each month.

Total Monthly Cost of Owning a Whippet
From food and toys to vet care and grooming, your Whippet's care costs will be between $50 and $150 every month.
Additional Costs to Factor In
In addition to the monthly expenses mentioned above, you need to consider other expenses that will pop up from time to time. If you're going on vacation, you'll need to spend money on a dog sitter or boarding facility. Training classes and dog walkers are other Whippet ownership costs to factor in.
Owning a Whippet On a Budget
If you have a limited budget, you can still provide your Whippet with fantastic care. Low-cost vet clinics provide top-notch medical care at affordable prices.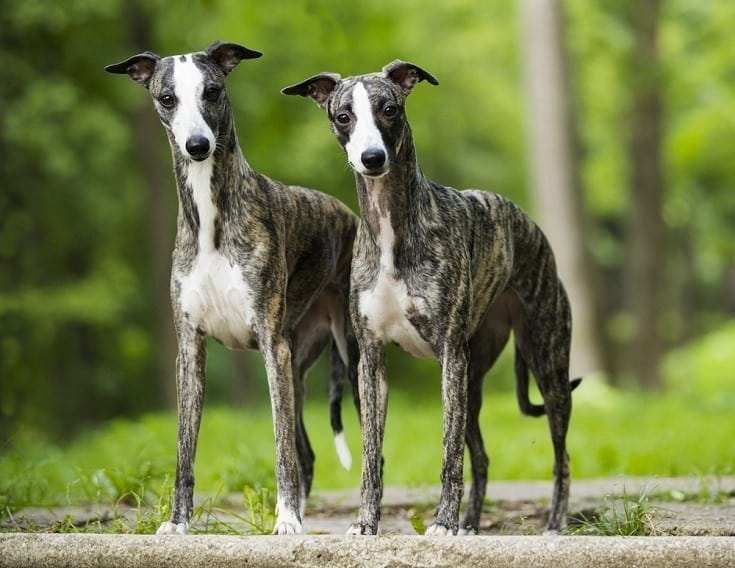 Saving Money on Whippet Care
There are several steps you can take to save money on Whippet care costs. Groom your dog at home instead of taking her to a professional groomer. Make DIY dog toys from old t-shirts or tennis balls. Ask a trusted friend or relative to babysit your dog instead of boarding her.

Conclusion: Whippet Price
It costs between $50 and $150 every month to own a Whippet. During your first year of ownership, you'll spend between $200 and $800 on supplies and between $300 to $700 for her initial medical care needs. Over the course of your Whippet's lifespan, you'll spend as much as $20,000.
Owning any type of animal is a huge responsibility. Without the proper care and supplies, your Whippet won't thrive. In order to give your canine companion the best life possible, you need to cover these care costs. In return, she'll provide you with unconditional love and loyalty for years to come.
See Also:
---
Featured Image Credit: Danita Delimont, Shutterstock