Whole Earth Farms Cat Food Review 2023: Top Picks, Pros & Cons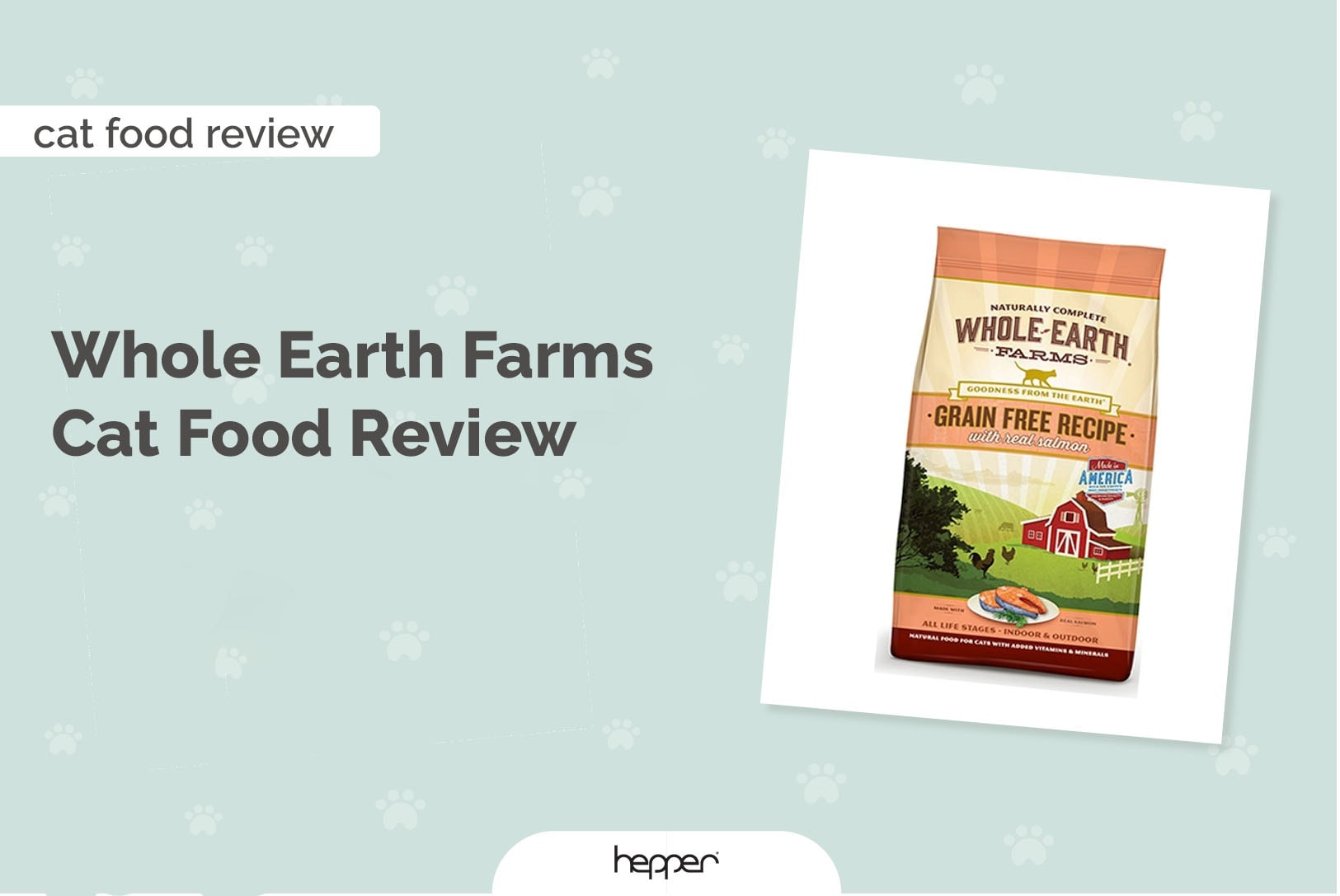 Review Summary
Our Final Verdict
We give Whole Earth Farms cat food a rating of 4.5 out of 5 stars.
If you haven't already heard of Whole Earth Farms, they are a pet food brand manufactured by Merrick Pet Care. Nestle Purina has had ownership since around 2015. Whole Earth Farms prides itself on being open about what they put into their food. They use natural ingredients that don't require you to splurge on. This pet food brand markets itself as "goodness from the earth at a great value." While that sounds nice, there isn't anything stated whether or not that statement has any sustenance to it. Read through our review on Whole Earth Farms cat food to get a better understanding of the company and how natural their food really is.
At a Glance: The Best Whole Earth Farms Cat Food Recipes:
Rating
Image
Product
Details

Our Favorite

Whole Earth Farms Grain-Free Real Salmon Dry Cat Food

Includes probiotics
Many protein sources
No low-value ingredients
Check Price

Whole Earth Farms Grain-Free Turkey & Ducks Dry Cat Food

High-quality proteins
Support easier digestibility
No artificial colors, flavors or preservatives
Check Price

Whole Earth Farms Grain-Free Chicken & Turkey Indoor Recipe

Protein-rich meal
Real wholesome ingredients
Support your cat's overall health
Check Price

Whole Earth Farms Grain-Free Duck Pate

Low carbs
Rich in healthy fats
Primarily animal-sources
Check Price

Whole Earth Farms Grain-Free Beef Pate

Grain-free recipe
Wholesome, savory recipe
Supports normal digestion
Check Price
Whole Earth Farms Cat Food Reviewed
Whole Earth Farms sounds great, but how do we know that they'll live up to the hype? We know that cat lovers want only the best for their furry felines. Let's take a deeper dive into this company and the cat food that they provide.
Where is Whole Earth Farms Sources and Manufactured?
Merrick Pet Care Manufactures this brand of pet food. They have promised to partner with growers from the United States. While they do this, they still source from some places around the world. All of the recipes they make, however, are created in their kitchen in Hereford, Texas. This is where they test for safe food quality that is certified by the USDA National Organic Program.
Which Types of Cats is Whole Earth Farms Best Suited For?
Whole Earth Farms doesn't cater to only healthy indoor cats, although there are certainly recipes for them. There are 5 dry recipes and 15 canned recipes available to consumers today. The only other age with specific recipes in mind is for kittens. Still, their grain-free recipes are safe for most cats without stomach sensitivity.
Our Favorite Cat Deal Right Now

40% OFF at Smalls Fresh Raw Cat Food
Use Code Hepper2023 at Checkout
Discussion of the Primary Ingredients (Good and bad)
While Whole Earth Farms claims that they only use all-natural ingredients, this statement is a bit of a slippery slope. They do have meat and veggies listed as their first ingredients, but there are others that you might not consider natural. When you take a closer look, they also have processed ingredients such as meat meal. Although they are common in kibble, some owners might not consider it all-natural because of the processing. Their products also contained preservatives called tocopherol. Even though that sounds scary, these preservatives are found naturally in egg yolks and leafy vegetables. The scariest ingredient found in their canned cat food recipes is xanthan gum. Although it is safe for dogs, it is only assumed to be safe for cats to eat. Too high of a dose could cause stomach issues or diarrhea. Aside from this, they use clean ingredients that are grain-free and safe for cats.
Are They Approved by the Association of American Feed Control Officials?
The Association of American Feed Control Officials (AAFCO) ensures that nutritional standards are met and displayed on the packaging before being sold. It is important to be approved by the AAFCO. Whole Earth Farms meets these criteria, so pet owners can take comfort in knowing that their foods are at least meeting the minimum standards that are established for pets.
A Quick Look at Whole Earth Farms Cat Food
Uses natural ingredients
AAFCO approved
Affordable
Available at all large pet stores
Made in Texas
Sources from other countries
Not all ingredients considered natural
Canned foods contain questionable ingredient
Recall History
One thing that stands out about this company is that they do not have any recalls to date. While they have stated that they do not source ingredients from China, they also don't provide any information on where exactly their ingredients do come from. Still, it's nice to know that they haven't been recalled a single time since they opened in 1988.
Reviews of the 3 Best Whole Earth Farms Cat Food Recipes
1.

Whole Earth Farms Grain-Free Real Salmon Dry Cat Food Recipe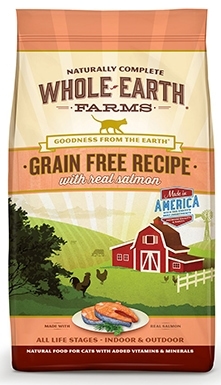 Salmon isn't just an added flavor in this recipe; it also seems to be the main protein source in it. This grain-free recipe also includes other meat sources, like turkey meal and pea protein. Meat may be the primary ingredient, which is important for their carnivorous lifestyle, but there are also veggies like dried potatoes and alfalfa meal for a well-rounded diet full of necessary nutrition. This food does contain several legumes, which could create high levels of lectins. However, salmon oil supports healthy skin and coats while fighting inflammation. This is a typical cat kibble without any bad ingredients that many cat owners seem to gravitate to.
No low-value ingredients
Many protein sources
No artificial colors, flavors, or preservatives
Includes probiotics
High carb content
Dry food isn't ideal for hydration
Contains several plant proteins
---
2.

Whole Earth Farms Grain-Free Healthy Kitten Canned Cat Food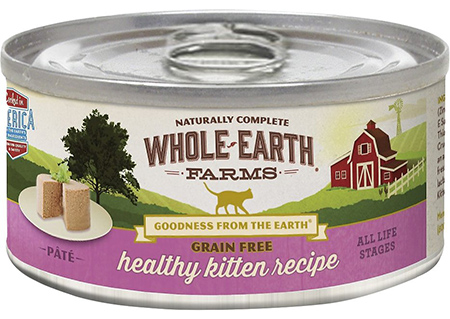 Wet cat food is great because it gives your pet some extra hydration that dry food doesn't offer. This product is marketed towards kittens but, according to the AAFCO, meets nutrient profiles for cats of all ages. The food is high in protein and uses chicken, broth, and liver as their main ingredients. It also has egg and salmon oil to help with their skin and coat. While most of it comes from animal products, there is a small number of plant products and thickening gums, some of which are proven to be safe for cats.
Rich in animal protein
Salmon oil for skin and coat
Formulated for kitten
Approved by AAFCO for all life stages
High carb content
Contains thickening gums
Plant proteins
---
3.

Whole Earth Farms Grain-Free Duck Pate Canned Food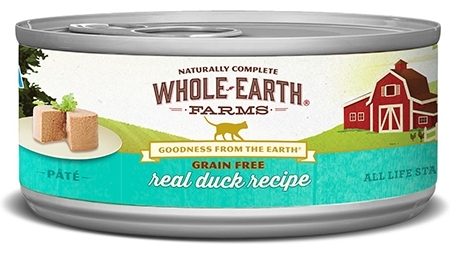 Duck is a rich source of protein full of essential fats to keep your cats healthy. Along with duck are chicken, liver, and egg products. It is very similar to the previously mentioned cat food recipe. However, this one contains more thickening gums and higher fiber content. While fiber is great for cats with digestion issues, it could be too much to feed to a healthy cat every day.
Primarily animal-sources
Low carbs
Rich in healthy fats
High fiber content
Thickening gums
What Other Users are Saying
Whenever you're comparing products, it's always a good idea to shop around, and reading reviews on Chewy and Amazon is a good place to start. Most of the reviews we've come across have been wholly positive.
Conclusion
It's hard to know why cat foods had dangerous ingredients put into them in the first place. We all love our cats, and they should get the luxury of eating clean, natural foods just like we do. Whole Earth Farms is a safe cat food company that uses clean ingredients compared to many other cat food brands. They aren't locally sourced, but the company does cook all of their food here in the United States. Aside from a few ingredients that you might not consider all-natural, this food is healthy and clean for our pets to consume.
---
Featured Image Credit: PxFuel