Why Are Ferrets Illegal in California? 3 Reasons & FAQ
If you're a California resident, you might be pretty bummed to find that you can't legally own a ferret there. After all, these flexible, curious little creatures are such a blast to have around! You have to understand that laws are put in place for a reason.
California has chosen to ban these animals for the benefit of the environment and for the sake of the pets themselves. In this article, we will explore the different reasons California has stated as to why ferrets are not in the pet trade.

California Laws on Owning Ferrets
California has banned ferrets for many years, with laws dating back to 1933. The decision has never been revised and continues to stand today. Many claim these laws are based on myths or misunderstandings about the breed, but nothing has changed just yet.

Top 3 Reasons Why Owning a Ferret In California Is Illegal
Here are some reasons California won't allow ferrets.
1.

Behavioral Problems
Ferrets are known to be a little challenging to care for. While they might bring you lots of joy and entertainment, they come with their fair share of complicated behaviors.
Some of these could include:
Biting
Soiling out of the litter box
Aggression
Destructiveness
These behaviors can be tough to correct or change. Often, it would be best if you neutered male ferrets to prevent agitation and aggression. If you don't, it can lead to a worse set of behaviors.
Of course, with proper handling and care, these problems can be corrected.
---
2.

High Maintenance Care Needs
Ferrets, contrary to popular belief, are not easy to care for. They require a very specific setup and have a bunch of unique behaviors and living requirements that every pet parent should know. Often, these ferrets go to homes with inexperienced owners, at no fault of their own.
Unfortunately, in the pet trade, there is not a lot of room for education about exotic pets. Ferrets are considered exotic because they are not your standard, stereotypical house pet. Many people need to become more familiar with the general care requirements necessary to give these little guys a top-notch life.
California likely made this decision because many of these animals are not properly cared for. This can lead to abuse, neglect, and rehoming unnecessarily.
---
3.

Prone to Escaping
Ferrets are slender, flexible, small creatures that can weasel their way into just about any small opening. Because of this, if you allow your ferret to free-range the home, they can easily find an escape route.
If your ferret gets out, you might find them. However, escapes can make them susceptible to predators or make other small pets or wild animals victims to their predatory instincts.
Also, ferrets can quickly reproduce, leading to unwanted wild ferret populations if the conditions are right. A ferret in California that is on the loose would quickly become an invasive species, impacting local ecosystems.
Many ferret lovers are outraged by the idea, claiming that ferrets pose no threat to the environment, and the idea is ludicrous.

You Can Keep a Ferret with a Proper Permit
So, are there any loopholes to keeping a ferret in California? To keep a ferret, you must have a proper permit and jump through all of the hoops necessary to make it legal. Oftentimes, only wildlife rehabilitators and other people in similar fields can keep a ferret in their possession.
What Is the Exotic Pet Trade Like?
The exotic pet trade can be brutal. It is a multi-billion dollar industry, and those who run the operation can get downright greedy. This potentially puts many of the animals, including ferrets, at risk.
Often, animals are at risk during transport and can contract and spread a variety of illnesses. Because of unregulated breeding, it can also cause temperament and health problems as the ferrets age.
Remember, the pet trade exists for profit, so a lot of malpractice exists. Buying from a reputable breeder with a long history of successful offspring is always more advisable than other options.
Should Ferrets Be Pets?
Ferrets as pets is a very debatable subject, and there's really no right answer. Realistically, education is a must, and many folks don't have the privilege of properly learning about a pet before they are allowed to purchase it.
If you have done your homework or have experience with ferrets, you might be an ideal caretaker. However, the same sentiment doesn't extend to all pet parents—which is what makes owning these animals so complicated.
Ferrets need the proper diet, cage space, living conditions, grooming, and vetting to stay in the best shape possible. Pet products designed for ferrets on the market, such as a single-tier wire cage, need to be increased.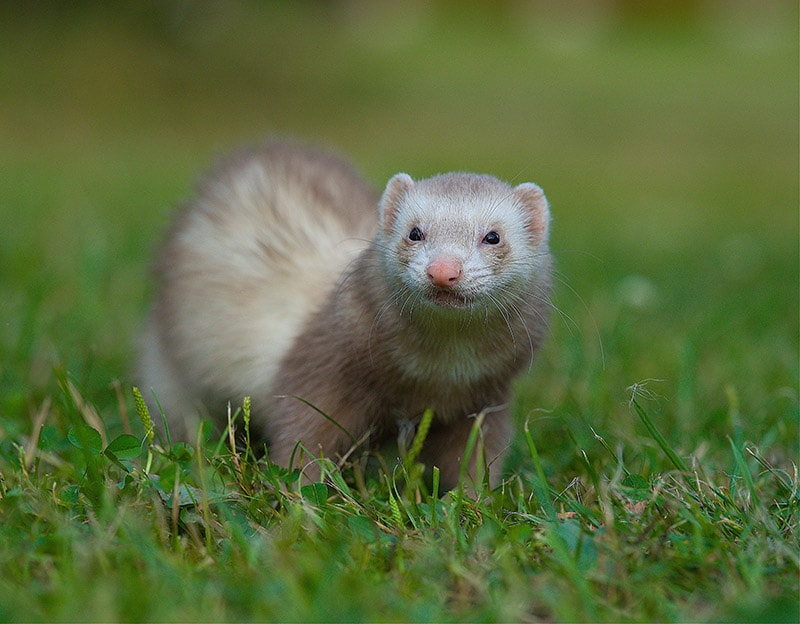 Conclusion
California does not allow ferrets at this time—and might never. Reasons may vary, but the result is the same. Unless you have a license or permit for these pets, they will not legally live in any home in the state.
The exotic pet trade can be a brutal place—and many ferrets fall ill, die, or wind up in unsavory living conditions consequently. If you live in California but love ferrets, look around for ways to advocate for them and all other animals that suffer at the hands of humans and the pet trade.
---