Why Does My Dog Pee So Much on Walks? What You Need to Know!
Dogs are adventurous animals. They love to go on walks and explore everything within their vicinity along the way. They also seem to enjoy peeing during their walks. So, why do dogs like to pee so much on walks? The short answer is two parts. First, dogs like to mark their territory. Second, sometimes dogs pee frequently on walks because they are dealing with a health issue. Here is more information about these two reasons, as well as insight into what you can do about all that peeing.

The 2 Main Reasons Your Dog Pees So Much On Walks
1.

Marking Territory
The most common reason a dog might pee frequently during their walks is that they are trying to mark territory and tell their story. When a dog pees on the corner or in a patch of grass under a tree, they are leaving behind scents that provide other dogs with information such as:
The health status of the dog
The sex of the dog
Whether the dog is ready to mate
Social status of the dog
When your dog sniffs an area where another dog has marked, they will "read the news" and learn what there is to know about the dog and then likely pee in the same area (over marking) to leave behind their own news for other dogs to sniff out.
Sometimes, dogs will mark territory when they smell that a new dog has visited the area, to make sure that the new dog knows that they were there first. Marking territory also helps dogs that are ready to mate find each other. When an intact male finds the scent of a female in heat, they will be able to follow the scent trail to hopefully find her.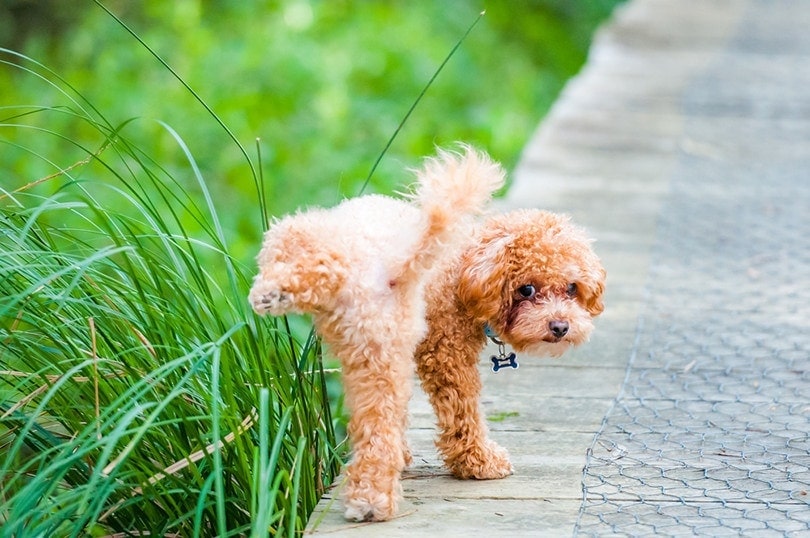 ---
2.

Health Problems
Another reason that dogs may pee frequently during walks is due to health problems. A urinary tract infection could result in the need for your pooch to pee more often than they normally would during their walks. The peeing could be accompanied by cloudy or bloody urine, straining, or whimpering. Kidney disease and diabetes amongst other illnesses can also create the need for dogs to excessively urinate. If your pooch starts peeing more often than they used to whenever you go on walks, it is a good idea to consult with your veterinarian and schedule a checkup appointment.

Can Anything Be Done About All the Peeing?
Mostly marking territory is harmless and there shouldn't be anything done about it. However, if your pooch tends to mark so much that they stop every few seconds, it may be time to call in a professional dog trainer to determine why the behavior is happening and to correct it for more enjoyable walks.
If your pooch tends to get hot on the trail of another dog ready to mate, it is a good idea to consider having them fixed. Dogs that have been neutered or spayed are less likely to mark for mating purposes. Keeping your pooch on a leash can also help reign them in when they want to venture off and mark territory. If your dog is peeing frequently during walks due to health problems, the only way to stop the behavior is to work with a qualified veterinarian to correct the health issues that are present.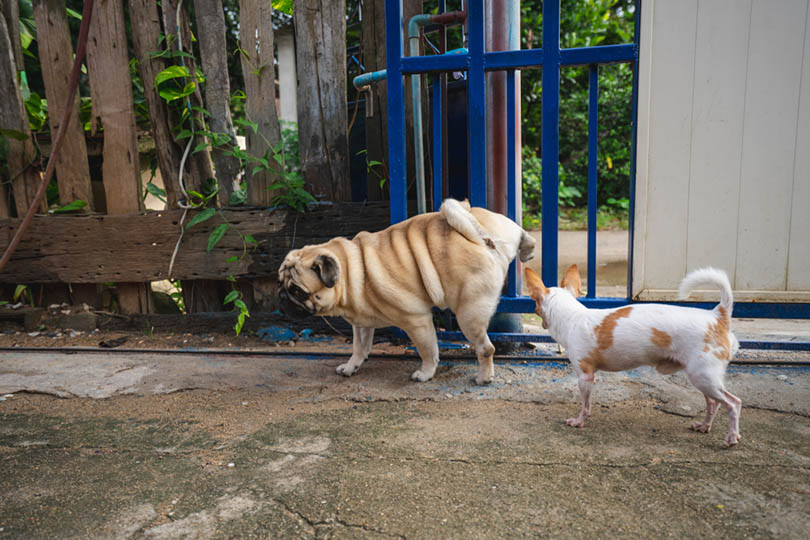 Related Read: 12 DIY Dog Leashes You Can Make Today!

Final Thoughts
Peeing during their walks is normal behavior for dogs. There is usually no need to worry if you find that your pooch is peeing a lot on a walk, especially if they have always done this. They are probably doing it to mark territory. Health problems will usually develop with time and present as a change in usual peeing habits. If you fear that there is a health issue don't delay, and contact your veterinarian as soon as possible.
You might also be interested in: 
---
Featured Image Credit: pcdazero, Pixabay