Why Does My Dog Leave One Piece of Food After Eating? 4 Likely Causes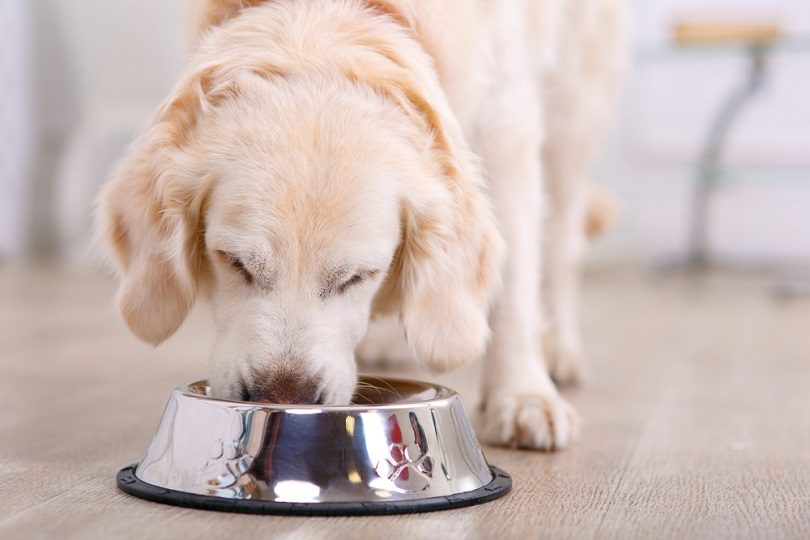 Some dogs gobble every bit of their food during every meal and leave nothing behind. Others have more peculiar eating habits that can make us wonder why they do certain things. One strange thing that you might notice your dog doing is leaving behind a single piece of kibble in their bowl. This might be overlooked if it happens once or twice, but doing it repeatedly can leave dog owners scratching their heads.
Since there's no way to tell for sure exactly what dogs are thinking, we have to use what we know about dogs to make guesses for the reasons behind their odd behaviors.
Here are four likely causes for your dog leaving one piece of food behind in their bowl after a meal.

Four Likely Causes for Dogs Leaving One Piece of Food After Eating
1.

Your Dog Doesn't Like an Empty Bowl
Dogs know that when their bowl is empty, the food is gone, and they won't get more until they feel hungry again. They see their empty bowl while they're hungry right before you fill it up. Therefore, it makes sense to assume that dogs associate an empty bowl with hunger.
While you should always make sure your dog is eating enough food for their weight, age, and activity level, some dogs still don't like to feel hungry. The sight of an empty food bowl means they'll be hungry again, so the leftover piece of food is a visual representation of a food bowl that isn't completely empty. Your dog still ate enough to feel content and felt this one piece could be spared to make them feel better.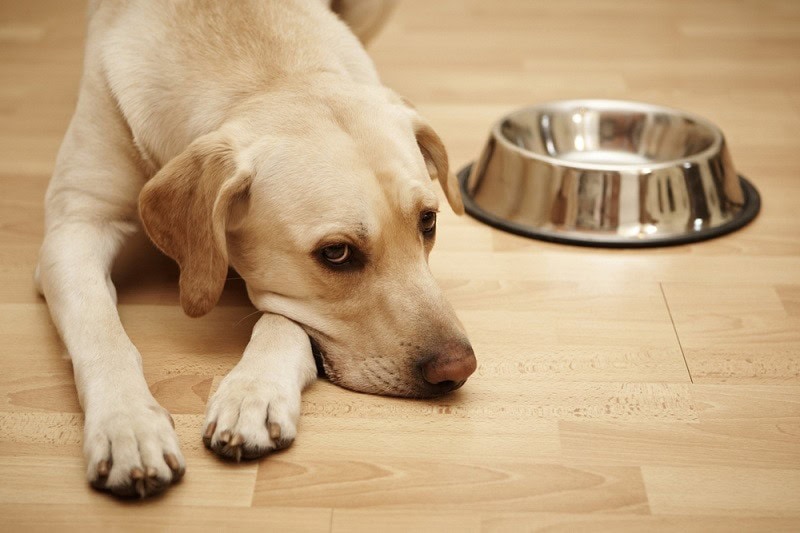 ---
2.

They Received Too Much Food
While this is a less common reason, some dogs get too much food during a meal and don't feel like finishing it. Usually, this means more than one piece is left behind. However, your dog may just have one bite left and not feel like taking it. Cut back on their portion, and see if they clean their bowl.
If you're unsure of how much to feed your dog, check with your vet. There are instructions on dog food labels, but each dog is different. Your vet knows your dog best and will be able to tell you how many calories your dog should be consuming each day. The proper portion size should make dogs stop leaving food in their bowl.
---
3.

Your Dog Is Conserving Food
Leaving one piece of food behind could be your dog's way of conserving food. Their instinct is to leave a little food behind in case they don't get food again for a while. Wild dogs don't always eat regularly. If they can't find food, they stay hungry until they do. They may conserve a bit of food that they can go back to whenever they feel hungry.
Leaving a piece of food behind may not seem logical because dogs are fed multiple times a day, but the instinct remains.
Sometimes, dogs will take pieces of food and hide them around the house instead of leaving one piece of kibble in the bowl. The same idea applies in this case.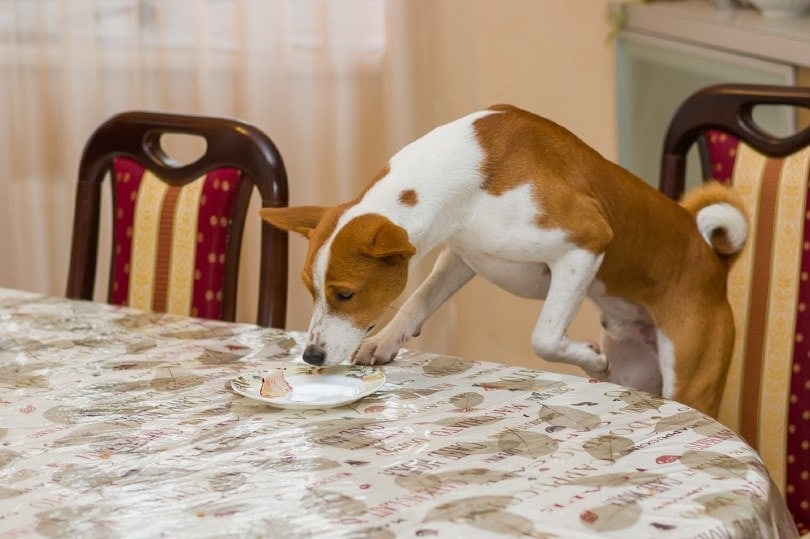 ---
4.

Your Dog Didn't Notice It
If you have a dog that is excited to eat, they may gulp down their food without paying too much attention to it. If they eat too quickly, they may think that they're done without noticing one last piece of kibble stuck to the side of the bowl. If the piece of food is in the dog's blind spot — down below their nose — they won't know it's there and will leave it behind. This can be a nice surprise for them when they come back later!

In Conclusion
Leaving a piece of food in the bowl is something that dogs do that we can only make guesses about. While leaving one piece of food behind is no big deal, your dog should not leave much more than that. If you notice that your dog isn't eating or that their eating habits have changed suddenly, talk to your vet. Dogs not eating can be a sign of illness¹,  so you'll want to rule out any health issues as soon as possible.
---