How Much Do Dog & Puppy Vaccinations Cost in Australia? (2023 Update)

Part of owning a dog is giving them all the necessary vaccines to stay healthy. But with so many different vaccines out there, it can be challenging trying to figure out just how much you're going to spend to get your dog everything they need. In short, the cost of vaccines will vary based on what you're getting and where in Australia you live.
We understand the struggle and importance of getting your puppy all the vaccines they need, which is why we came up with this guide to break down everything you need to know!


How Much Do Dog and Puppy Vaccinations in Australia Cost?
If you're trying to figure out how much you will spend the next time you take your dog or puppy to the vet for their shots, you're not alone. Below, we've highlighted the costs from three specific vets in various regions throughout Australia and how much they charge for various vaccines.
The C3 and C5 vaccines are part of what puppies need, while annual vaccines cover all the vaccines a dog should need each year to stay up to date with their shots. These quotes also include any necessary wellness checks the puppy or dog will need before getting their vaccinations.
| | | | |
| --- | --- | --- | --- |
| Procedure | Victoria | New South Wales | South Australia |
| C3 Vaccines | $96.60 | $130.00 | $133.90 |
| C5 Vaccines | $99.70 | $135.00 | $143.90 |
| Annual Vaccines | $110.00 | $90.00 | $143.90 |
Additional Costs to Anticipate
When you're taking your puppy or dog to the vet for their vaccines, there are a few other costs you might need to factor in. Many people choose to pair their dog's vaccines with an annual wellness check, and often, vets will charge an additional fee for this check.
Another additional cost would be anything else the vet finds and needs to treat during the visit. While these costs can be impossible to anticipate, it's best to let the vet treat the problem early on so your dog can start feeling better and you don't have to worry about it becoming a larger problem.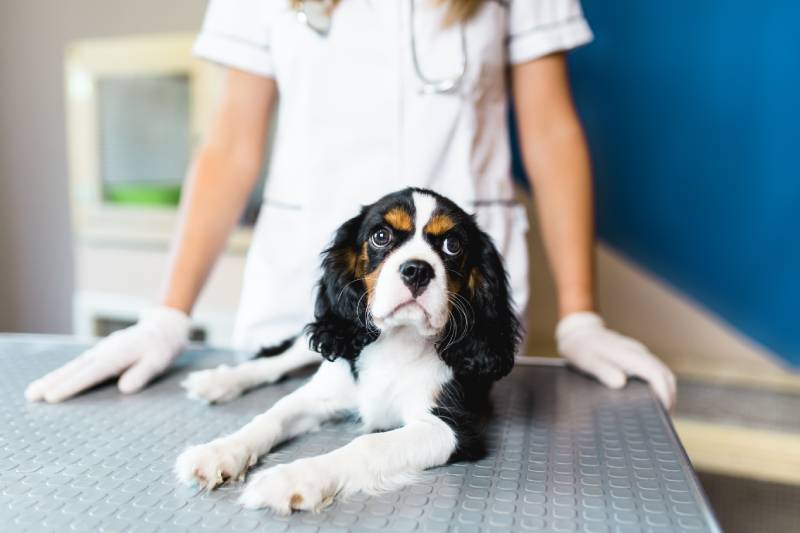 The Importance of Dog and Puppy Vaccinations
Few things are quite as crucial for your dog's health as vaccinations. Vaccinations help prevent some of the worst sicknesses and illnesses a dog can have. Common serious diseases that vaccines help prevent in dogs include bordetella, parainfluenza virus, distemper, parvovirus, and adenovirus.
All these diseases are extremely dangerous and can kill your dog, but they're all highly preventable with vaccines. Don't risk your dog's health, get them the necessary vaccines!
Keep in mind that while some vaccines provide lifetime protection, others require booster shots to give them the protection they need. This is why it's essential to take your dog back each year to get all the shots they need.
How Often Should I Vaccinate Dogs and Puppies?
Puppies get their first vaccines between 6 and 8 weeks of age. After their C3 vaccination, they get their C5 vaccination around 10 weeks of age. Next, they get their final C3 vaccination at 16 weeks old. The last "puppy" vaccine they get is when they are 1 year old.
After your puppy gets all their initial shots, they need to go back for vaccines at least once a year. Typically during their annual vaccination, they will receive their canine cough vaccine. From there, they need a full C3 booster vaccination every three years.
That's quite a few vaccines for your dog, but it will keep them happy and healthy year after year.
Does Pet Insurance Cover Vaccinations?
It depends on the pet insurance plan you go with. Most regular pet insurance plans will not cover vaccines. However, many pet insurance companies offer preventative care packages specially for vaccines and other routine services.
If you have one of these plans with your pet insurance policy, you shouldn't have to pay anything for vaccinations as long as the price stays under the approved amount with your plan.
However, if you put the money back each month, it's a more cost-effective solution than getting a preventative care package. Run the numbers for yourself and see if it makes sense for you to add a preventive care plan to your pet insurance policy.
What to Do for Your Dog Between Vaccinations
Getting your puppy all the vaccines is an essential part of keeping them happy and healthy. But while their vaccines are important, it's not the only thing you should do.
You should also invest in a high-quality diet for them, get them out to get the exercise they need, and brush their teeth at least once a day to help maintain good oral hygiene.
If you combine all these things with an annual wellness checkup where they get their vaccines, you're well on your way to giving your dog everything they need to stay happy and healthy all year long.

Conclusion
While getting your dog all the vaccinations they need might seem expensive, it's far less expensive than what it would cost to treat the diseases they prevent. Not only that, but you can't always treat some of the diseases they prevent, so vaccines can save your dog's life.
It's just a necessary part of owning a dog, and now that you know how much they cost, you can start budgeting for your next trip to the vet.
---
Featured Image Credit: Syda Productions, Shutterstock