384 Amazing Names for Samoyeds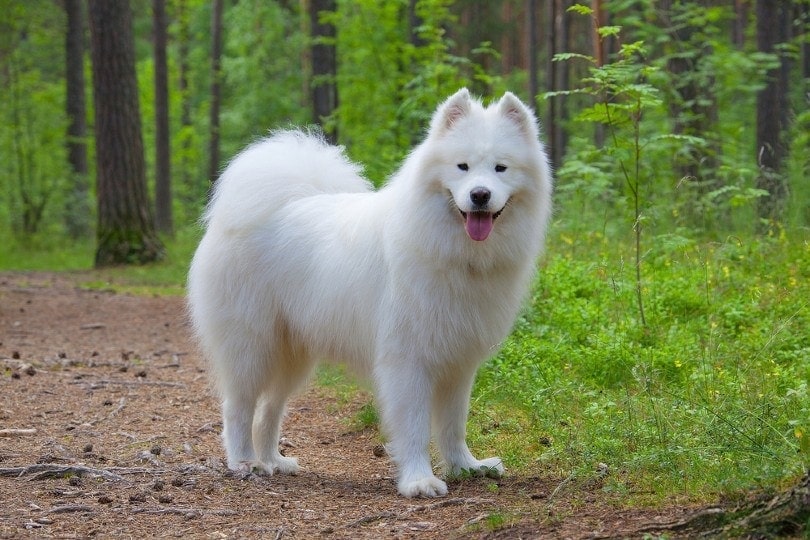 There's a reason the Samoyed is also known as The Smiling Sammy; the big dogs are chock full of happiness. Let's say you've adopted one of these adorable snow dogs; well, now that you have them, the next step is giving them the great name they deserve.
There are so many choices that it can become overwhelming to choose just the right one. You want one based on the size, personality, and temperament of your furry friend but aren't sure what to choose.
That's where we come in. We have 384 of our favorite names for the sweet Samoyed dog, and even a brief history below. If you can't think of a name or need a little inspiration, we've put together a list to help you out.

Physical Characteristics of Samoyeds
Weighing in at 50 to 60 pounds and with a height of about 18.1 to 22 inches, the Samoyed is a medium-sized dog. Beyond its boundless enthusiasm, Samoyeds are also known as Smiling Sammies because of the trademark grin they're always sporting.
Samoyeds have a ton of fur, and their thick white coats have two layers. The coats make them massive shedders; they shed so much fur that it is sometimes used as a substitute for sheep wool.
The History of Samoyeds
The Samoyed is an ancient breed; they are descendants of the Nenets Herding Laika breed. The Nenets Herding Laika still exists today and has existed since the paleolithic era. The earliest Samoyed fossil is from 2,000 years ago.
The Samoyed dogs are named after the Samoyedic people, a group that lives in Siberia and have for millennia. The Samoyed was used to herd reindeer and pull sleds by the Samoyedic people, most commonly the Nenets. Samoyeds weren't taken out of Siberia until the 19th century, and the first Samoyed wasn't brought to America until 1906.

Male Names
Your Samoyed is descended from tough sled dogs that pulled their companions across the barren, icy plains, and they deserve a name that reflects that, so consider these.
Laika
Sammy
Alaska
Bear
Koda
Wheels
Wells
Wheeler
Alpine
Everest
Matthias
Roo
Chip
Polar
Kodiak
Frost
Tundra
Owen
Harper
Basil
Flynn
Holland
Rio
Oslo
Niko
Nero
Fiji
Fuji
Philly
Phantom
Ghost
Blizzard
Yukon
Nanook
Jack
Jacco
Lion
Otto
Glacier
Titan
Nimbus
Ali
Charlie
Winston
Watson
Thunder
Jay
Loki
Zeus
Odin
Sparky
Chief
Ranger
Bowie
Igor
Lebron
Kobe
Ruth
Jagger
Elias
Samson
Dino
Pax
Pelican
Bandit
Iceberg
Oscar
Murphy
Felix
Lucky
Max
Duke
Hoss
Vulcan
Foster
Forest
Taiga
Bruno
Benji
Boomer
Benny
Nova
Teddy
Ragnar
Wolf
Pluto
Jupiter
Saturn
Milo
Mars
Casey
Sabre
Rouge
Boris
Haus
Grizzly
Joseph
Roman
Shaggy
Leo
Prince
King
Leonidas
Squirrel
Mustang
Beowulf
Finn
Berlin
Flint
Hokkaido

Female Names
Your Samoyed is a creature of unbelievable grace and beauty. She deserves a name worthy of her greatness. Is your pet a Star or perhaps a Nikita?
Princess
Snow
Snowberry
Bella
Sundae
Star
Nikita
Luna
Aroura
Borealis
Topaz
Diamond
Emerald
Crystal
Quartz
Misty
Stella
Milly
Jade
Sapphire
Kairi
Freya
Khione
Selena
Anna
Sasha
Alba
Alexi
Alexis
Anastasia
Bianca
Sugar
Strawberry
Cherry
Milkshake
Skye
Dolly
Snowball
Glass
Cloud
Coconut
Chardonnay
Rose
Rosay
Smoky
Lola
Lois
Dianna
Haven
Gwen
Lunar
Evie
Dakota
Juniper
Lisa
Candy
Persia
Judith
Fawn
Ellie
Lexi
River
Celeste
Darcy
Lily
Olive
Jewel
Penny
Piper
Cleo
Boudica
Bonnie
Siri
Willow
London
Bailey
Roxy
Liv
Sophie
Rosie
Millie
Chloe
Blue
Rebel
Maddie
Espresso
Penelope
Juliette
Poppy
Sage
Tulip
Paris
Apricot
Liza
Swiss
Toffee
Harley
Billie
Snowbell
Akira
Eileen
Anna
Nairobi
Ace
Gaia
Skadi
Amelia
Echo
Ash
Britt
Cairo
Rory
Maria

Movies, TV, and Literature Names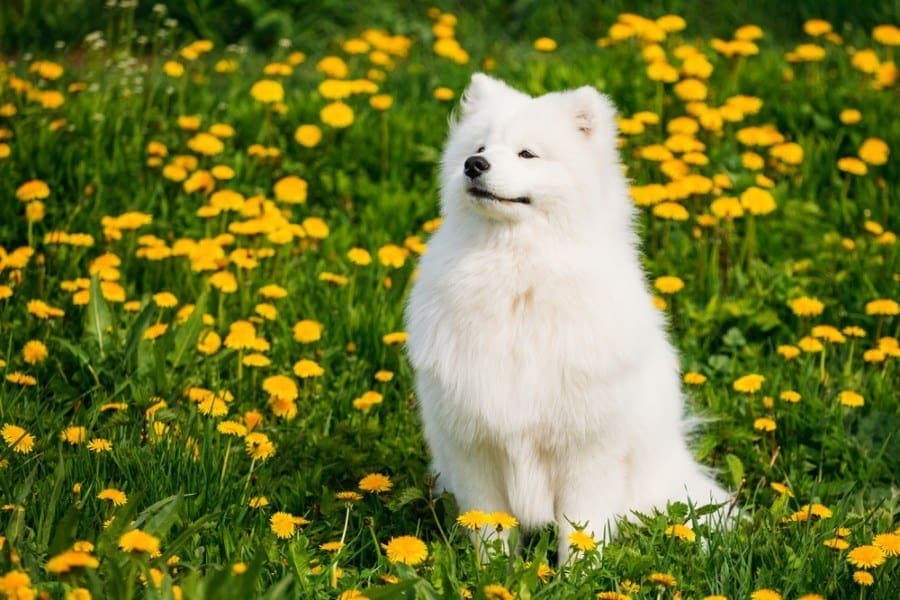 Names from television, literature, and movies are often a big hit with Samoyed owners. If you're a film fan, you can try names like Toto, Gizmo, or Lilo. For fans of literature, there are Sherlock, Wilde, and Gatsby. You can use Soprano, Lassie, or Odie if you prefer television programs.
Hermione
Gizmo
Lilo
Stitch
Toto
Poe
Cinderella
Agatha
Snoopy
Odie
Sherlock
Soprano
Lassie
Fable
Shakespeare
Wilde
Dante
Gatsby
Pippi
Argos
Homer
Romeo
Bram
Atticus
Merlin
Arthur
Moana
Django
Pumba
Sirius
Timon
Nala
Mufasa
Simba
Juno
Myers
Tin Tin
Vorhees
Cujo
Aladdin
Geralt
Ciri
Yennefer
Jaskier
Triss
Daenerys
Khaleesi

Musical Names
We have several names related to music, including genre names like Jazz and artist titles like Cobain. Is your Samoyed more of a Slash or an Elton?
Trebel
Reverb
Amp
Jazz
Blues
Snoop
Blink
Elvis
Nirvana
Elton
Cobain
Slash
Sinatra
Kanye
Beyonce
Bono
Linkin
Fret
Cash
Chili
Foo
Gibson
Ibanez
Leppard
Ringo
Ozzy
Hendrix
Melody
Malone
Reba
Ramone
Weezer
Sabbath
Vanhale
Oasia
Leppard
Bohemian
Acoustic
Clef
Kawai
Tempo
Yamaha
Octave
Drummer
Fender
Strait
Morrison
Beats
George
Rhapsody
Mercury
Les Paul

Geeky Names
For the serious gamers and comic book fans, we have geeky names that include game characters and company names. Some of our favorites are Samus, Atari, Yoshi, and Electro.
Peach
Daisy
Sora
Link
Zelda
Samus
Konami
Leida
Skywalker
Vader
Yoda
Jabba
Boba Fett
Tolkein
Bilbo
Stark
Jax
Gannon
Atari
Chewy
Pixel
Luigi
Mario
Yoshi
Lucario
Ewok
Spock
Xena
Bayonetta
Atom
Aang
Robo
Terra
Slade
Raven
Robin
Lupin
Widget
Krypto
Typo
Electro
Joker
Mysterio
Bane
Kal-el
Carnage
Venom
Fang
Galactus
Comet
Siri
Apple
Android
Pikachu
Cubone
Squirtle
Bulbasaur
Charmander

Closing Thoughts
Your Samoyed is a dog with rich history and a lineage tracing back 2,000 years; they are creatures of grace, beauty, and boundless enthusiasm. Your lovely new companion deserves an equally beautiful name. Now that you have 384 amazing names worth of inspiration, hopefully, the task seems less daunting.
Whether you're a fan of Pokemon and have named your new companion Lucario, or you like grunge, and you've named your new pal Nirvana, you should be able to find a name on our list. Now that you've completed the task of naming them, you can move on to the job of showering them with the love and affection they deserve.
---
Featured Image Credit: Nik Tsvetkov, Shutterstock