11 Best Cat Foods for Bengals – 2022 Reviews & Top Picks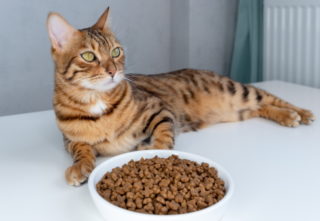 Having a Bengal cat means having an exotic-looking, super-smart ball of energy that loves to play and always demands your attention. Some of their demands are for their food, so we are happy to share these reviews for the best food for Bengals on the market today. With the choices of so many different cat foods, it can be hard to choose the right one for your cat. A Bengal's diet doesn't differ much from an average housecat's, but they require a healthy, well-balanced, protein-rich diet that would most closely resemble one of their wild ancestors. Your cat's preferences, age, weight, and overall health all play roles in choosing the best food for them. Not every brand is perfect for every cat. That said, here are our selections for the most appropriate Bengal cat foods.
A Quick Comparison of Our Favorites (2022)
Rating
Image
Product
Details

Best Overall

Smalls Fresh Cat Food

Multiple food types and proteins
High-quality cat food to support your Bengal's health
Supports environmental responsibility and their local community

Best Value

Purina Beyond Salmon & Rice Dry Cat Food

Salmon and chicken are the first ingredients
Nothing artificial included
Affordable

Hill's Science Diet Chicken Dry Cat Food

Nutritionally complete
Can help cats maintain a healthy weight

Best for Kittens

Wellness Complete Health Canned Kitten Food

Easy for kittens to digest
No artificial ingredients

Natural Balance LID Pea & Duck Dry Cat Food

High in protein
Simple ingredients
Suitable for cats with food sensitivities
The 11 Best Cat Foods for Bengals
1.

Smalls Fresh Cat Food — Best Overall
| | |
| --- | --- |
| Crude Protein | 15% |
| Crude Fat | 6% |
| Crude Fiber | 0.5% |
Smalls is a fresh cat food company that is the 1st best overall food for Bengal cats. It offers high-quality cat food and a variety of products for Bengal, like freeze-dried food, kibble, and fresh soft foods. The soft foods are available in pate, chopped, and shredded varieties, as well as beef, chicken, and turkey proteins. The freeze-dried and kibble foods are also available in multiple protein sources, allowing you to pick based on your cat's preference.
Smalls also offers extras, like chicken broth, freeze-dried treats, toys, and cat litter, making them a one-stop-shop for many of your cat's needs. They function via a subscription service, which can be canceled or changed at any time, but that automatically ships cat food to you at selected intervals. This ensures you'll never run out of cat food.
They are working to function in a way that makes the least negative environmental impact, which they do by shipping in recyclable and compostable packaging. Smalls is constantly investing in their local community as well, making them a fantastic company to support when you need high-quality cat food for your Bengal.
Multiple food types and proteins
High-quality cat food to support your Bengal's health
Extras can be added to routine shipments
Subscription service ensures you never run out of cat food
Supports environmental responsibility and their local community
---
Purina Beyond Simply Salmon & Whole Brown Rice Dry Cat Food takes our spot for the best value cat food for the money. Salmon and chicken are the first ingredients, so if your cat has allergies to poultry, this isn't the right food for them. It has a high protein content, so you know your Bengal is eating mainly meat. They also get vitamins and minerals from added peas, cranberries, and spinach, as part of a well-balanced diet. No artificial colors or flavors go into this food, making it easy to digest and full of nothing but nutrients. We like the price of this food and the nutritional content, making it one of the more affordable healthy options.
There are reports of some finicky cats not eating this food, but it is available in other flavors that your cat might find more palatable.
Salmon and chicken are the first ingredients
Nothing artificial included
Affordable
Giving your pet the highest quality nutrition is a top priority, so why not give them a food and water dish to match? The Hepper Nom Nom Bowl is our product, but it's too good not to share.
Made from food-safe stainless steel, you can ensure that your pet is consuming the best nutrition out of the finest bowls on the market. Click here to get yours.
---
This formula is made with indoor-only cats in mind. The Hill's Science Diet Chicken Recipe Dry Cat Food is balanced with fiber and other ingredients that Bengals need. The nutrition resembles what they'd get in the wild without them having to find their own food. This protein-rich formula and high fiber content will keep your Bengal healthy and could even help keep their weight under control. That's important when you have highly active cats! The formula also includes broccoli, carrots, apples, and cranberries for added vitamins and minerals. Fish oil is added for coat health and shine. We like that it contains antioxidants for a healthy immune system.
This food does contain whole grains, so this is not a suitable choice for cats with grain allergies. The biggest downside about this food is the kibble size, though. It's larger than average and seems to only be enjoyed by larger cats. Some cats with small mouths can't chew this food.
Nutritionally complete
Can help cats maintain a healthy weight
Large kibble size
Contains grains
---
Chicken and chicken liver are the first ingredients in Wellness Complete Health Kitten Formula Canned Cat Food. With each protein-packed can, your Bengal kitten will get the nutrition that they need for growing healthy muscles and fueling their energy. The vitamins and minerals in this food support growing bones and teeth, healthy digestion, and immune health. The gravy in this recipe comes from real broth and adds to your kitten's hydration. This is important because kittens rarely stop playing long enough to drink as much water as they should! Omega-3 and -6 fatty acids help your Bengal's kitten coat turn into the luxuriously silky adult coat for which they are known.
Easy for kittens to digest
No artificial ingredients
Higher price than other kitten foods
---
Our pick for the best overall cat food for Bengals is Natural Balance Limited Ingredient Diet Green Pea & Duck Dry Cat Food. Green peas and duck are the first ingredients in this limited-ingredient food, so your cat gets most of what they need and nothing that they don't. The high protein content will keep your Bengal's activity levels up, and the fiber will help their digestive tracts stay healthy. The flaxseed, salmon oil, and other healthy fats keep their skin moisturized and their coats shiny and velvety soft. Since the ingredients are limited in this food, it also reduces the risk of allergic reactions or gastric upset in cats with sensitivities.
The formula has recently changed and some cats don't like it anymore. There are also reports of this food having an unpleasant smell. However, many cats seem to enjoy and thrive on it, so it holds our number-one spot for best overall cat food. The Limited Ingredient Diet comes in other flavors if your cat doesn't like green pea and duck.
High in protein
Simple ingredients
Suitable for cats with food sensitivities
---
When you open a can of Weruva Paw Lickin' Chicken in Gravy Canned Cat Food, it can be surprising. This food does not look like regular canned cat food. It contains actual shreds of boneless, skinless chicken breast in a broth-like gravy. Carnivorous Bengal cats will enjoy eating pieces of real meat, and you'll enjoy the fact that it's packed with everything that a cat needs. Protein, vitamins, and minerals that are essential for a healthy cat are added to this formula, so it's much more than just chicken alone. It offers a nutritionally complete option in one can. No added hormones or antibiotics are in this recipe. This delicious food can also be mixed with kibble to entice finicky cats to eat. The heavy gravy is hard for most cats to resist.
Real shredded chicken
Heavy gravy
Nutrient-rich
---
This Rachael Ray Nutrish Natural Chicken & Brown Rice Dry Cat Food recipe contains real ingredients, with chicken being the first one. It's combined with brown rice and vegetables, which most Bengals can digest without an issue, but these should be avoided if your cat has grain sensitivities. Peas, carrots, and beet pulp offer vitamins and fiber to keep your Bengal on track with their digestion. No by-products, soy, or wheat are in this formula, making room for more healthy options. Omega-6 fatty acids keep your cat's coat healthy, and taurine is included for healthy eyes.
There are reports of gastrointestinal distress in cats that have eaten this food, so it's important to know if your cat can tolerate grains.
Inspired by Rachael Ray's recipes
Cats like the taste
Not suitable for cats with grain sensitivities
---
8.

Instinct Original Grain-Free Rabbit Canned Cat Food
To satisfy the Bengal's carnivorous cravings, the Instinct Original Grain-Free Real Rabbit Pate Canned Cat Food offers a high-protein formula, with rabbit and pork as the first ingredients. This food mimics the raw diet that your Bengal's ancestors thrived on, with added ingredients like omega fatty acids for coat health. The pâté texture is appealing to most cats, while still giving them the benefits of a real meat diet. You won't find any grain, by-products, or corn in this recipe. We love the natural probiotics and the real fruits and vegetables stuffed into this food. Cranberries, broccoli, tomato, pumpkin, kale, and parsley give your cat the antioxidants and natural nutrition that Bengals need for healthy bodies. Rabbit as the first protein source makes this food ideal for cats that suffer from poultry and fish allergies.
There are whole pieces of peas and carrots in this pâté that some cats love, while others eat around them.
Real rabbit is the first ingredient
No by-products or grain
More expensive than some other foods
Some cats don't like the peas and carrots
---
The Tiki Cat Born Carnivore Chicken & Herring Dry Cat Food is full of protein in baked, flavor-enhanced kibble that mimics Bengal cats' natural diets. The first ingredient is deboned chicken, followed by herring and salmon meal, for a nutrient-rich food without any fillers. Flaxseed, salmon oil, and vitamin E support healthy skin and coats. Pumpkin is added for healthy digestion, and there are no by-products or artificial ingredients. Your Bengal will be getting nutritious food that they were made to eat.
This food is on the pricier side, though. Thankfully, there is a smaller bag that is more reasonably priced if you want to try this food out before investing in a larger bag.
High in protein
Nutritionally complete
No fillers
---
Salmon, salmon meal, and peas are the first ingredients in Fussie Cat Salmon Recipe Grain-Free Dry Cat Food. Salmon adds to the protein content while also providing vitamin B12 and omega fatty acids, which are important for shiny coats. A real meat source is always the first ingredient in Fussie Cat recipes, to make sure your cat is getting their carnivorous needs met. This formula is grain-free, so cats with sensitive stomachs might find it easy to digest. Picky cats have been reported to enthusiastically eat this food. There are also reports of this food having a pleasant smell compared to some other dry cat foods.
Salmon is the first ingredient
Highly palatable
Easily digestible
Some picky cats refuse to eat it
---
Deboned chicken is the first ingredient in Merrick Purrfect Bistro Grain-Free Real Chicken & Sweet Potato Recipe Dry Cat Food. This, along with turkey, makes up the animal protein in the recipe, so your Bengal is getting what they need for healthy muscles and abundant energy. We like that it includes antioxidants and omega fatty acids. Ingredients for easy digestion are added, but if your cat has poultry sensitivities, this is not the food for them. There is no corn, wheat, or soy in this food, leading to fewer food allergy reactions. This food is ideal for all cat breeds but is packed with everything that a Bengal needs to be healthy and strong.
Deboned chicken is the first ingredient
Easy to digest
Some kibble pieces are smashed while in the bag
Buyer's Guide: How to Choose the Best Cat Food for Bengal Cats
Cats are obligate carnivores and Bengals are no exception. They need protein from animal sources in their diet, or else they can become quite ill, which can lead to death. Cats have metabolisms that are made to digest a strict meat diet, which is why high protein content in their food is so important. Finding food packed with fillers won't do much for your cat.
Bengals are naturally a high-energy breed, and what fuels that energy is protein. This, along with other essential ingredients, will give your Bengal a healthy and complete diet.
Protein
All cats need protein, but a Bengal needs a food that's high in protein due to their heritage. They are more active than an average housecat and are descendants of the wild Asian Leopard Cat. While they are domestic animal companions now, their best diets to keep them healthy and happy will be protein-rich and full of vitamins and minerals. You'll want to look for a protein that is a named meat, such as chicken, turkey, duck, rabbit, etc. This meat should be the first ingredient listed on the label.
Taurine
Taurine is a crucial part of your Bengal's diet and the reason that cats can't be vegetarians. They need taurine for healthy heart function, normal vision, and digestion. This is an amino acid found in animal protein. Plant proteins are not sufficient for them. Cats don't possess the ability to store an abundance of taurine in their bodies, so they have to consume it every day in their diet.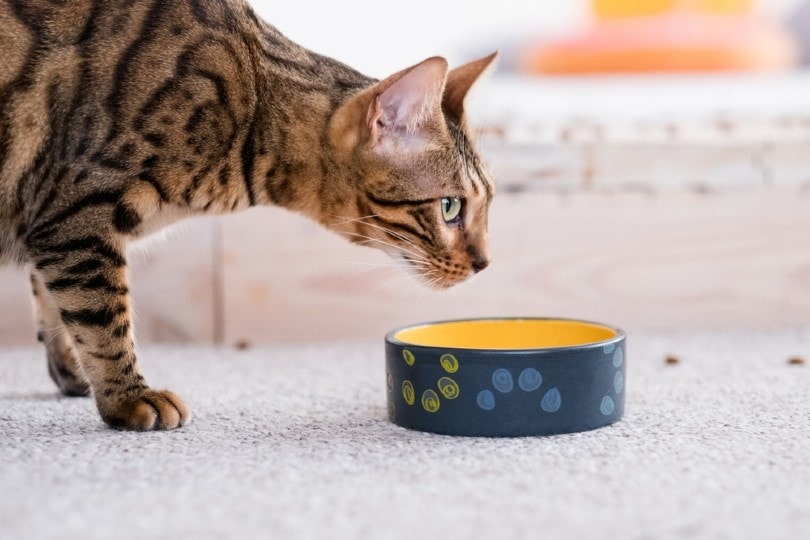 Fiber
Fiber is important for all cats, and Bengals enjoy the healthy digestion benefits from it too. It also helps control weight gain and reduce hairballs.
Omega Fatty Acids
These are healthy fats that are added to your cat's food or show up naturally in things like fish and fish oils. They are responsible for keeping your cat's skin moisturized and healthy. Healthy skin can grow a healthy coat, so omega fatty acids aid the coat by keeping it shiny, soft, and sleek.
Carbohydrates
Bengals, like all cats, don't require many carbohydrates in their diet. If you do purchase food with carbohydrates, they should be easy to digest.
Things to Avoid Giving Your Bengal
Your Bengal might be the type to eat anything that you place in front of them, but there are a few ingredients to be aware of that should be avoided if you can help it.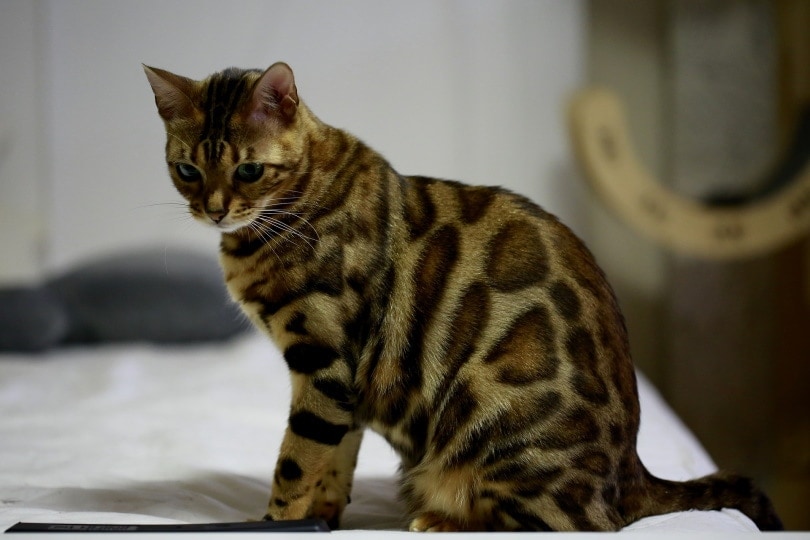 By-products: These ingredients offer little nutritional value and are highly processed. They are used to fill food with protein in a cheaper way.
Fillers: Filler examples are corn, soy, and wheat. These are all things that your cat can eat, but they may have a hard time digesting them. This can lead to food allergies and sensitivities. It's best to avoid them if you can. They don't offer much nutritional value either.
Artificial ingredients: Anything artificial, like flavors, preservatives, or colors, can be difficult for your cat to digest. They can lead to allergies or even bigger issues, like bladder stones.
Cooked bones: Raw, meaty bones are a treat for your cat, especially Bengals. Their wild heritage makes them enjoy bones even more. But these bones must always be given to your cat when they are raw. Cooked bones can crack and splinter. If your cat swallows bone shards, they can cause blockages, internal bleeding, or intestine ruptures.
Additionally, raw bones should only be fed in moderation as occasional treats. Too many raw bones can cause gastric distress and constipation. The bone should be large enough that the cat cannot swallow it whole. Never let your cat eat a bone unsupervised. Take it away and dispose of it when your cat is done enjoying it.
How Much Should You Feed Your Bengal?
How much your cat needs to eat depends on their age, weight, health quality, and lifestyle. Your vet is the best person to ask about your Bengal's dietary needs. Whether you're feeding dry kibble, canned food, or a mix of both will factor into how much your Bengal needs to eat each day to satisfy their caloric requirements. Cat food that is high in protein and fiber will be the healthiest, and it will keep your cat full for long periods, while enabling them to digest important nutrients. Adult Bengals eat between two to three meals per day. Kittens need three to four meals per day as they grow.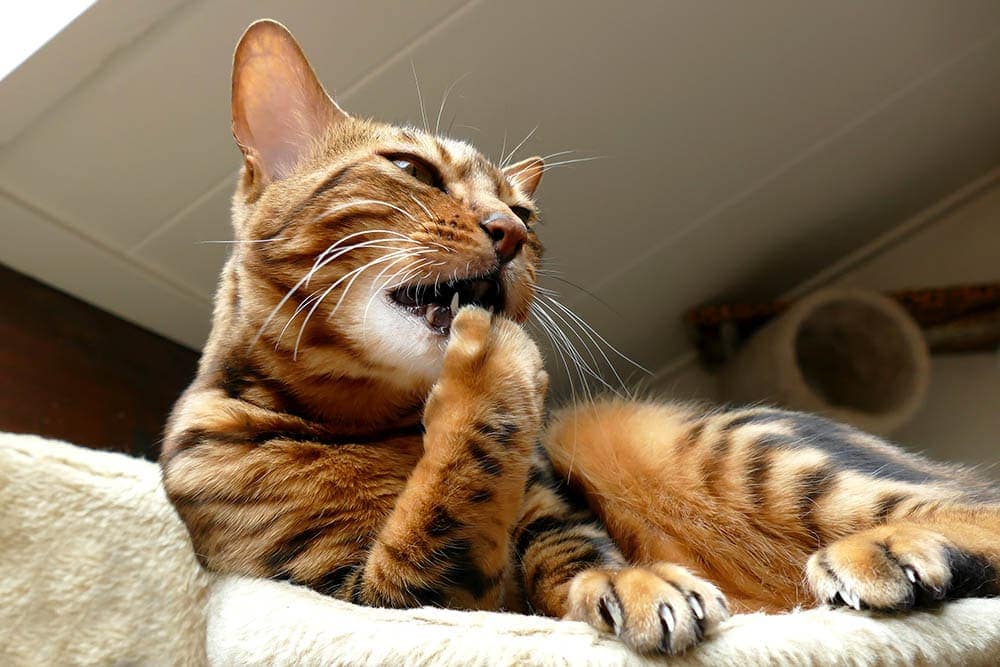 Identifying Food Allergies
Food allergies can present themselves in several ways, but a big sign that your Bengal is allergic to something in their diet is itchy skin. If your cat is suddenly scratching themselves raw, it's a sign that there is an allergen somewhere. This could be external, such as the use of a new laundry detergent for the cat's blanket. If there's no external cause, though, the problem could be in their diet.
A new protein source might also be the culprit. For example, if your cat is allergic to chicken, try a new protein that they've never had before, like rabbit. Introducing completely new food to the cat's system may be the answer to calming allergies.
What a Bengal Cat Should Never Eat
Just to be clear, no cat, including Bengals, should ever eat the things on this list. Some of them are toxic, and some of them just won't make your cat feel good. Either way, they should be avoided.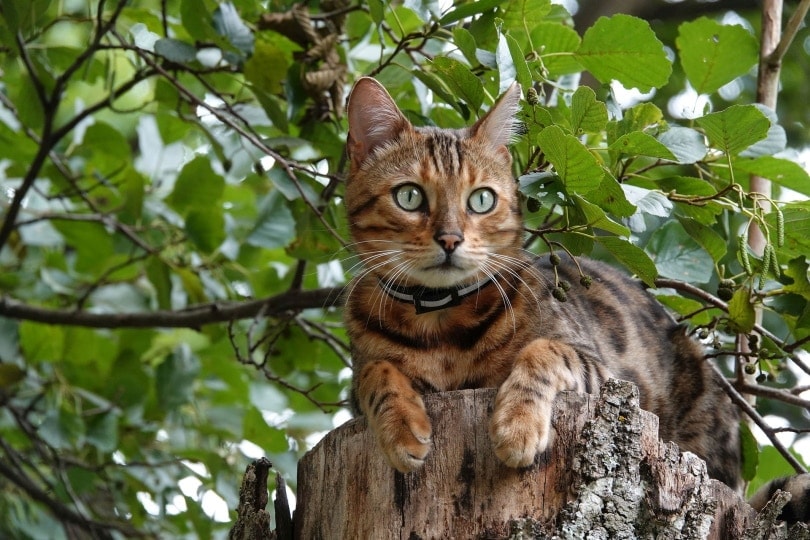 Caffeine: This is toxic to cats. Even a few licks could be enough to cause illness. If your cat has consumed caffeine, even in unused coffee grounds or tea bags, seek medical treatment. Signs to watch for are hyperactivity, vomiting, increased heart rate, seizures, high body temperature, and collapsing.
Alcohol: This can cause brain and liver damage in your cat, no matter what kind of alcohol they consume. Luckily, most animals don't enjoy the taste of it.
Chocolate: This contains caffeine, something that cats shouldn't have.
Raw eggs: Just like people, cats are also at risk for salmonella by consuming uncooked eggs. If you take a few minutes to cook them up, your cat can enjoy them in moderation. Feeding your cat only cooked egg whites is even better because it adds protein to their diet with no extra fat.
Xylitol: This artificial sweetener can be found in certain candy, gum, and snack foods. It's a sugar alcohol that is toxic and can be lethal to cats. Even a small ingested amount can cause a fast and dramatic drop in blood sugar, which then leads to liver failure.
Conclusion
Our overall best pick for cat food for Bengals is Natural Balance LID Green Pea & Duck Dry Cat Food. We like the protein content and the fact that duck is the protein source. This limited ingredient recipe is easy on your Bengal's digestive system. For the best value, we like Purina Beyond Simply Salmon & Whole Brown Rice Dry Cat Food. The price is affordable while not skimping on healthy ingredients for your cat.
We hope that our reviews have helped you choose a protein-rich, nutritionally complete food for your Bengal.
---
Featured Image Credit: Svetlana Rey, Shutterstock