11 Best Cat Foods For Healthy Coats & Skin in 2023 – Reviews & Top Picks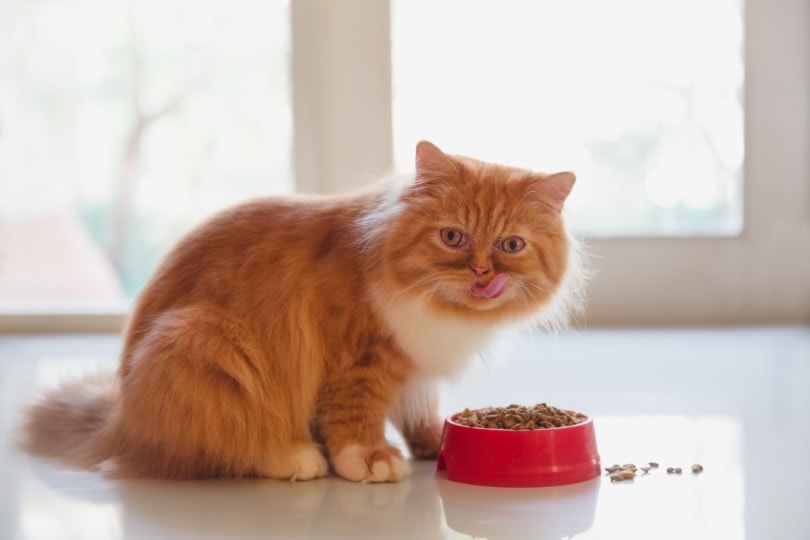 We all know that cats spend hours maintaining themselves to be at their most beautiful. However, skin and coat issues are widespread in cats, often caused by a sensitivity to something in their diet.
For you as a cat owner (or servant), this can be hard to pinpoint and may have your cat feeling less than their best selves. Fortunately, a vast range of foods are specially designed to support skin health and promote a sleek and gorgeous coat.
We've arranged the top ten cat food choices for healthy coats and skins that are well praised across reviews, so you can pander to your cat's charming vanity and keep them both happy and healthy.
A Quick Comparison of Our Winners (2023)
Rating
Image
Product
Details

Best Overall

Smalls Human-Grade Fresh Cat Food Subscription Service

Fresh, human-grade ingredients
Different recipe options
Easy to serve
Click to Save 33%

Use code: Hepper2022

Best Value

Iams Proactive Health Sensitive Digestion Dry Cat Food

Affordable
High protein from turkey
Beet pulp to assist digestion
Check Price

Premium Choice

Ziwi Peak Venison Canned Cat Food

Grain-free
Lean protein from venison
Mussels support joint health
Check Price

Kitten Chow Naturals Dry Cat Food

It contains all minerals needed for healthy growth
DHA supports skin and coat
No artificial additives
Check Price

Hill's Prescription Diet Skin/Food Sensitivities Dry Cat

Antioxidants to create a skin barrier
High protein
Added beta-carotene
Check Price
The 11 Best Cat Foods For Healthy Coats & Skin
1.

Smalls Human-Grade Fresh Cat Food Subscription Service – Best Overall
| | |
| --- | --- |
| Calories:  | 1220-4310 cal/kg |
| Crude Fat:  | 5-13.5% min |
| Crude Protein:  | 15-20% min |
| Main Ingredients:  | Beef, chicken, or turkey |
Whether your cat is a picky eater or gobbles up everything in his path, it's going to love Smalls Fresh Human-Grade cat food. They're a brand that puts cats first and everything else second.
They started with a clear mission: to offer a healthy, delicious alternative to the biggest names on the cat food market. They don't sacrifice nutritional value to save money or yield to marketing fads. They're focused on giving cats and their owners the absolute best quality of food no matter what.
We love Smalls because they use fresh, human-grade ingredients. They offer both wet food and freeze-dried kibble, and they've shown that their food can have positive effects on your cat's health. 
78% of cat owners who switch to Smalls report that their cat has shinier, softer fur. They claim that Smalls improved their pet's energy levels and helped reduce litter box odors.
Who wouldn't want that for their cat? Smalls is our pick for overall best cat food for healthy coats and skin. Plus, they have something for everyone, whether your cat prefers wet or dry food—without losing any of the nutritional value.
Health benefits include a softer coat and healthier skin
Fresh ingredients safe for even humans to eat
Offers both wet food and dry kibble—neither is processed
Different blends of proteins to choose from
Easy to serve, no prep required
Can be costly, starting at $1.93 a meal
---
2.

Iams Proactive Health Digestion Turkey Dry Cat Food – Best Value
| | |
| --- | --- |
| Calories:  | 352 kcal/cup |
| Fat:  | 14% |
| Protein:  | 33% |
| Main Ingredients:  | Turkey, chicken, grains |
Iams comes in as the best cat food for a healthy coat and skin regarding value for money. This food packs an excellent punch for how affordable it is. Ingrained with a range of fatty acids, it will assist in a vibrant coat.
It has a decent amount of protein, considering some of the lower quality grain fillers it contains. It also boasts a unique fiber blend that includes probiotics and beet pulp to maximize nutrient absorption indigestion.
The lower quality ingredients include chicken by-products and a range of grains that may not be suitable for the highly sensitive stomachs of some cats. Regardless, it still offers some excellent benefits for digestion, skin, and coats, especially for the price.
This product being light in calories means it may take more to satiate your cat's appetite.
Affordable
High protein from turkey
Beet pulp to assist digestion
Light in calories
Low-quality grains
---
3.

Ziwi Peak Venison Canned Cat Food – Premium Choice
| | |
| --- | --- |
| Calories:  | 102 kcal/3-oz can, |
| Fat:  | 4% |
| Protein:  | 10% |
| Main Ingredients:  | Venison, chickpeas, mussels, kelp |
This cat food is a premium choice for your cat that will provide natural support for flawless skin and coat health. Made in New Zealand from sustainable sources, Ziwi Peak Venison cat food contains many unique ingredients without common allergens!
Venison provides a lean source of protein without excess fat, making this a great choice to support a healthy weight. The addition of green-lipped mussels and kelp offers benefits from chondroitin and glucosamine to support joint health for cats of all ages.
These unusual ingredients certainly provide serious nutrient boosts, but they will either be adored or despised by your cat. Be sure only to order a small amount to test if your cat accepts this exotic meal as not to waste money having a case of rejected food.
Grain-free
Lean protein from venison
Mussels support joint health
More expensive
It may not suit picky eaters
---
4.

Kitten Chow Naturals Dry Cat Food – Best for Kittens
| | |
| --- | --- |
| Calories:  | 406 kcal/cup |
| Fat:  | 15% |
| Protein:  | 40% |
| Main Ingredients:  | Chicken, corn, soy |
Purina Kitten Chow is a perfectly balanced complete food that will provide all your wee kitten needs to grow and thrive. It's no question that the first year of life is vital for a kitten, so as a loving owner, you want to ensure you can provide everything they need to grow.
This cat food contains all the essential vitamins and minerals needed for healthy development, including the addition of DHA, a fatty acid, to support a healthy coat and skin. This cat food also advertises that it is natural, and its ingredient list supports this claim with no artificial colors, flavors, or preservatives added.
While this food will provide a balanced diet for your kitten, it also does contain a lot of grain fillers that may cause sensitivity in some cats. Despite these fillers, the high-quality chicken still provides a significant amount of protein. Unfortunately, chicken is also a common allergen.
It contains all minerals needed for healthy growth
DHA supports skin and coat
No artificial additives
Contains common allergens
Contains fillers
---
5.

Hill's Prescription Diet Skin/Food Sensitivities Dry Cat Food
| | |
| --- | --- |
| Calories:  | 408 kcal/cup |
| Fat:  | 5% |
| Protein:  | 29% |
| Main Ingredients:  | Chicken, rice |
Many veterinarians highly recommend this product, and they often prescribe it for cats suffering from poor skin and coat health due to food sensitivities. Designed to be extra digestible, it has a proven record to reduce the effects of food sensitivities in many cats, and it may work for your cat too!
The addition of coconut oil and beta-carotene is excellent for a shiny and vibrant coat, both proven to improve fur quality and color.
Although this is undoubtedly an excellent product for a cat's coat and skin, the downside is it is only available with a vet's prescription. If your cat is suffering from skin issues and ongoing sensitivities, you are likely in close contact with your vet anyway. Discuss with your vet if this product might be right for your cat.
Antioxidants to create a skin barrier
High protein
Added beta-carotene
Requires a vet prescription
Expensive
---
6.

Purina Pro Plan Skin & Stomach Lamb Dry Cat Food
| | |
| --- | --- |
| Calories:  | 539 kcal/cup |
| Fat:  | 18% |
| Protein:  | 40% |
| Main Ingredients:  | Lamb, rice, oatmeal, egg |
Purina Pro Plan Adult Sensitive Skin & Stomach has found its way on our list as the next best cat food for healthy coats and skin due to being a great all-around product. Its highlight is lamb as the main ingredient. Lamb is a protein that is rarely the cause of allergens, so it is an excellent choice for sensitive cats. It is also pea-free, which is a common allergen amongst cats.
However, this food does contain other common allergens such as chicken, rice, and oatmeal, so it is not suitable for cats with these allergies. Proven and highly reviewed to be a terrific choice to promote digestive harmony that will make your cat's coat shine from the inside out.
High protein and the added fatty acids will support healthy skin and coat for your cat and assist digestive functioning.
Omega-6 fortified
High protein
Additional probiotics
Pea-free
Contains common allergens
---
7.

Royal Canin Hair & Skin Care Dry Cat Food
| | |
| --- | --- |
| Calories:  | 430 kcal/cup |
| Fat:  | 20% |
| Protein:  | 31% |
| Main Ingredients:  | Chicken, corn, beet pulp |
Another vet prescribed cat food that is well-known to produce great results for cats' skin and coat. This Royal Cani product is specially designed to target skin and hair and to provide a well-balanced complete diet.
Extra additives include fish oil and biotin that will give coats that extra shine and encourage healthy skin and hair cells. Reviews from owners also often have the comment that their cats loved the taste.
This product comes with a price though, it is more expensive than many other options, and you will need a vet prescription to get your hands on it. If your cat suffers ongoing sensitivities, then you may be able to get some. Otherwise, for general coat health, you can find a suitable product alongside easily purchased pet foods.
Fish oil for coat sheen
Antioxidants to protect hair follicles
Added biotin
Expensive
A prescription from a vet required
---
8.

American Journey Salmon Grain-Free Dry Cat Food
| | |
| --- | --- |
| Calories:  | 410 kcal/cup |
| Fat:  | 15% |
| Protein:  | 40% |
| Main Ingredients:  | Salmon, fishmeal, egg, pea protein |
This salmon recipe cat food from American Journey is 100% grain-free, making it a stellar choice for cats with grain sensitivities. This grain-free recipe makes room for some high-quality ingredients, including seafood, fermented probiotics, and egg, which all provide proven benefits to healthy skin and perfect coats.
The salmon and fishmeal are the stars of the show, offering a range of Omegas and fatty acids that support general health and development and conditions skin and fur.
This recipe does include pea-proteins to help boost and acts as a filler. This may be a downside for some as pea protein can cause irritation and sensitivity. If you decide to use this product, introduce it in small amounts to ensure your cat doesn't react adversely to pea.
Main products include salmon and fishmeal
High protein
Grain-free
Contains pea protein
Moderate to high price
---
9.

Stella & Chewy's Rabbit Morsels Freeze-Dried Raw Cat Food
| | |
| --- | --- |
| Calories:  | >500 kcal/cup |
| Fat:  | 30% |
| Protein:  | 44% |
| Main Ingredients:  | Rabbit, olive oil, pumpkin seed |
The raw diet trend has been gaining traction lately, and many cat owners report great success for their cat's health, including a great coat and healthy skin. This product from Stella & Chewy's offers you and your cat the benefits of a raw diet without the extra work and risk.
This dehydrated raw food is free from 99% of the most common allergens: no grains, pea, and chicken. Additives are natural and designed to support sound general health. They include probiotics, dandelion, and kelp, to name a few.
Due to the lack of fillers, this product is dense in protein and fat, contributing to ongoing weight problems. This natural product is flavorsome, and the smell is potent, which may attract some cats, but for the pickier felines, they won't even touch it. If your cat does not like a significant change, then this product may not be for you.
Grain-free
Pea-free
Natural additives
High in fat & calories
Expensive
Not suitable for picky cats
---
10.

Blue Buffalo Natural Vet Diet Protein Alligator Dry Cat Food
| | |
| --- | --- |
| Calories:  | 414 kcal/cup |
| Fat:  | 15% |
| Protein:  | 30% |
| Main Ingredients:  | Alligator, pea |
This veterinary recommended diet stands out from the rest from its strange protein source. Some cats react negatively to common protein sources such as chicken and beef, so this product uses the novel protein of alligator, which provides a good level of protein without being a common allergen. This product also does not contain any grains to cause irritation, but it does contain pea protein.
Enriched with fish oil and flaxseed oil, this product supports healthy skin and a coat with a noticeable sheen. The downside is, once again; this product is expensive and only available with a vet prescription.
Flaxseed oil for omega-3
Novel protein
Grain-free
Vet prescription required
Expensive
---
11.

Purina Beyond Salmon & Sweet Potato Gravy Canned Cat Food
| | |
| --- | --- |
| Calories:  | 95 kcal/3-oz can |
| Fat:  | 3% |
| Protein:  | 9% |
| Main Ingredients:  | Salmon, chicken, sweet potato |
Wet foods such as this grain-free cat food from Purina is popular as it is palatable for many feline friends. It is also a grain-free recipe that supports the digestive health of cats with sensitivities and assists in a healthy coat and skin.
Salmon as the main ingredient, supports a sparkly coat with its wealth of fatty acids and probiotic fiber ensure it's easy to digest and absorb.
The downside to this product is that although it is not advertised, chicken is the second ingredient. Meaning this food is not a good choice for those looking for fish only protein due to other protein sensitivities.
While it does not have any grain fillers that are common allergens, it does contain sweet potato. Sweet potato should not provide adverse effects, but it also acts as a filler due to having little nutritional value to a carnivorous cat.
Prebiotic fiber
Salmon for vital fatty acids
Grain-free
Chicken as a second ingredient
Sweet potato offers little benefit
High moisture content

Buyer's Guide: Choosing the Best Food For a Cat's Skin & Coat
Understanding the Ingredient List
When you flip over a bag of kibble to read the ingredients, your eyes glaze over, and all the words turn fuzzy. Most of it doesn't make any sense to the usual cat owner! Let's break it down so we can all understand what we are reading.
Ingredients are listed in order of their composition. So, the first ingredient should make up most of the product, with amounts reducing as the list goes on. As a vicious wee carnivore, your beloved cat's diet should be primarily protein.
The first one or two ingredients should be meat-based. Some food will use multiple different protein sources, while others will use just one. When looking for a diet for a sensitive cat, the fewer protein sources, the better as common proteins are often the culprit of sensitivities and poor skin health.
Grains including rice, oatmeal, corn, and soy are also common allergens and foods without these ingredients will often have significant effects on the health of your cat's coat. This is not essential as some foods with grains in them can still offer great benefits if your cat does not have a sensitivity to any grains.
Nutritional Value
Next to the ingredients list, you should find the nutritional composition that breaks down the benefits of the food. As an obligate carnivore, your cat will need a high proportion of protein and fat. Hair is made up almost entirely of keratin, a specific hair protein. Lack of protein can cause hair to be dull and fragile. Skin cells are comprised of proteins and fat, and without these nutrients, skin can become dry, itchy, and irritated.
Look for a product that is 25-40% protein and over 10% fat.
Compare the protein to the ingredient list, as pea or potato protein can increase the overall protein. Since they are not meat-based proteins, they won't provide all the essential amino acids for a healthy carnivore.
Many cat foods will contain fillers of some kind. While it isn't necessarily a bad thing, be careful that the carbohydrates are not too high as they will fit up your cat with food that offers little nutritional benefit.
Giving your pet the highest quality nutrition is a top priority, so why not give them a food and water dish to match? The Hepper Nom Nom Bowl is our product, but it's too good not to share.
Made from food-safe stainless steel, you can ensure that your pet is consuming the best nutrition out of the finest bowls on the market. Click here to get yours.
Ingredients For Healthy Coats and Skin
The above nutritional makeups will provide a balanced diet that supports skin and hair. But, to take your cat's health to the next level, many diets will incorporate some superfoods specially designed to help optimize skin and coat health.
Essential fatty acids such as omega-3 and omega-6 will help bring shine and luster to your cat. Omega-3 can be found in fish, seafood, canola, and flax. Omega-6 is found most in chicken fat, corn oil and soy.
While these omega-6 fats are healthy, too many can increase skin inflammation. This can be avoided by balancing them out with omega-3, which will reduce inflammation.
Extra boosting vitamins and minerals may be found in supplements in the diet. Look for ingredients such as zinc, biotin, riboflavin, prebiotics, probiotics, and antioxidants.
These fantastic contributions will all assist in cell health, hydration, and resilience to create supple and balanced skin and a soft and smooth coat.
Final Verdict
There certainly is a lot to think about when picking the best food for your cat. We identified ten great choices in the reviewed foods that will ensure your cat has healthy skin and a beautiful coat. Our top choice, Smalls Fresh Human-Grade cat food, came into the top spot with its use of human-grade fresh ingredients, which provide a sleek shine to coats. Iams Proactive Health Sensitive Digestion found its spot as the best value. It's affordable while remaining superb for sensitive skin and its reviews speak highly of it.
---
Featured Image Credit: Patrick Foto, Shutterstock