10 Best Cat Shampoos for Shedding – Reviews & Buyer's Guide (Updated in 2022)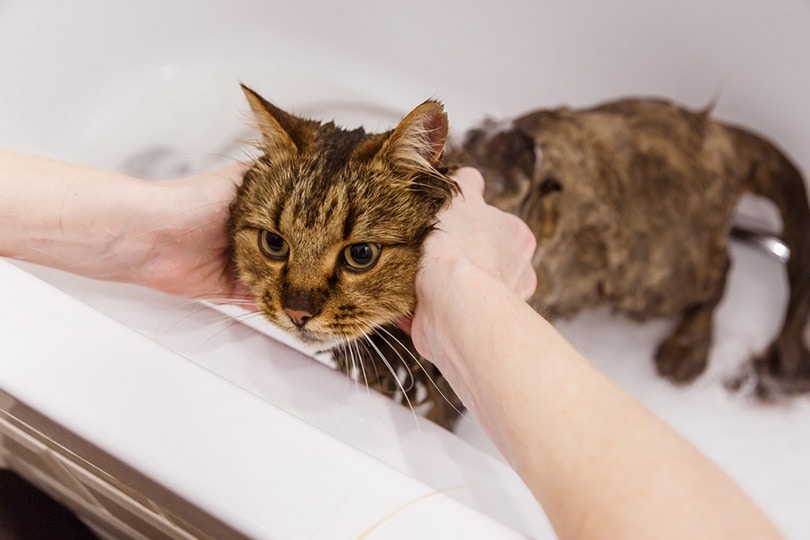 Our pet cats offer us endless benefits: early morning serenades, mice for breakfast, and a furniture redesign. Just kidding! We love our cats for their love, loyalty, and companionship. But having cats means we also have cat fur at home.
Most cat breeds will shed, especially as the seasons change and their undercoat adapt to changing temperatures. It can be tiresome vacuuming every day or sneezing when you get a face full of cat hair. Managing your cat's shed is key to reducing the mess in the home and promoting a healthy shed.
While bathing a cat is not always a pleasant experience, baths can help remove loose shed hair, and nourishing shampoos can help restore the skin and coat vitality.  To help you out, we've hand-picked our favorite shampoos for de-shedding, each backed with genuine reviews.
A Quick Comparison of Our Favorites in 2022
Rating
Image
Product
Details

Best Overall

Earthbath Shed Control Pet Shampoo

Paraben and phosphate-free
Eco-friendly
Removes shed, dander, and allergens

Best Value

EZ Groom Filthy Beast Pet Shampoo

Only requires a small amount for lather
Detangles and de-mats
Tearless (gentle on the eyes)

Premium Choice

TropiClean OxyMed Treatment Rinse

Medicated for skin irritations
Oatmeal, chamomile, and aloe for soothing
Fatty acids for skin and coat vitality

Envirogroom Natural De-shed

Safe for all ages
Limited and natural ingredient list
Soy protein restores damaged follicles

Best Shot Ultra "Dirty" Wash

Deodorizing
Effective on heavy soiling
Made in the U.S.A.
The 10 Best Cat Shampoos for Shedding
1.

Earthbath Shed Control Green Tea & Awapuhi – Best Overall
| | |
| --- | --- |
| Size: | 16 oz |
| Scent: | Naturally derived scents of green tea and awapuhi |
This shed control shampoo from Earthbath is this year's pick for best overall cat shampoo for shedding. It balances eco-friendly and naturally derived ingredients with effectiveness.
It targets not only the shedding issue but dander and allergens in your cat's fur, helping to keep their skin and coat healthy and your home free from fur and cat allergens. The shampoo is full of moisturizing ingredients but is also complemented with a separate conditioner. For best results, the use of both is recommended by the manufacturers.
Customers loved this shampoo, and it comes back with glowing reviews from cat owners who claim it made a real difference in the home, even reducing cat allergies in some visitors.
Paraben and phosphate-free
Eco-friendly
Removes shed, dander, and allergens
Recommended to buy the complimenting conditioner, adding to overall expense
---
2.

EZ Groom Filthy Beast Pet Lover's Edition – Best Value
| | |
| --- | --- |
| Size: | 16 oz |
| Scent: | Both natural and artificial fragrances (floral) |
Our pick for best value cat shampoo for shedding was "Filthy Beast" by EZ Groom. The 16-ounce bottle is already very affordable, but reviewers say the bottle also lasts a long time. Only a small amount of product is needed to create a cleansing lather.
The shampoo helps to lift and remove shed and detangle and de-mat areas of neglected fur. The formula is "tearless," so it is gentle on the eyes. This is especially important for those whose cats don't still nicely for a bath—99% of us!
The formula is paraben-free but still contains sulfates which may dry out extra sensitive skin. It's infused with botanicals for anti-inflammatory properties, which creates a pleasant scent, but it's also supplemented with artificial fragrance.
Only requires a small amount for lather
Detangles and de-mats
Tearless (gentle on the eyes)
Contains sulfates some cat-owners may want to avoid
---
3.

TropiClean OxyMed Medicated Oatmeal Treatment Rinse – Premium Choice
| | |
| --- | --- |
| Size: | 20 oz, 1 gal, 2.5 gal |
| Scent: | General artificial fragrance |
For a shedding cat experiencing a lot of irritation and itching, something more powerful may be required. This medicated shampoo rinse from TropiClean utilizes chemical and natural ingredients for fast-acting relief.
Alpha hydroxy acids (Ahas) penetrate the skin to target irritations at their root. Ahas remove the top layers of dead skin—taking dander and shed with it—and increase the thickness of deeper layers of skin.
After a deep skin clear out, natural ingredients such as tea tree oil, oatmeal, aloe, and vitamin E restore moisture and reduce inflammation. As a medicated product, it's most effective when it's left to sit on the skin, which can be a real challenge for impatient cats.
Medicated for skin irritations
Oatmeal, chamomile, and aloe for soothing
Fatty acids for skin and coat vitality
Needs to sit for 3+ minutes for effectiveness
---
4.

Envirogroom Natural De-shed
| | |
| --- | --- |
| Size: | 17-oz |
| Scent: | Naturally fragrance of jojoba |
There is not much negative to say about this natural deshedding shampoo from Envirogroom. The product seems to perfectly balance the line between a product that works and natural ingredients.
It only contains seven ingredients in total, and all are naturally derived. It manages to do an excellent job at de-shedding, cleaning, and nourishing the coat that even seasoned groomers are raving about—all without harsh soaps!
Due to the organic components, the shampoo is safe for pets of all ages, while many other shampoos aren't suited for kittens. However, the product is a concentrate and while they say it can be safely used as is, it's probably best to begin use as a dilution. This will ensure the shampoo agrees with your cat's skin.
Safe for all ages
Limited and natural ingredient list
Soy protein restores damaged follicles
---
5.

Best Shot Ultra "Dirty" Wash
| | |
| --- | --- |
| Size: | 16-oz |
| Scent: | Naturally "musk" scented |
For the most part, cats stay out of situations where they may get dirty, but some more adventurous cats may return home looking extra bedraggled. This "Dirty" shampoo from Best Shot deeply cleans the greasiest of messes while stripping the shed from the coat.
It's naturally scented with a "musk" fragrance packed full of citrusy and floral components. However, Best Shot recommended the use of two additional products—conditioner and mist spray—to get the best results.
Deodorizing
Effective on heavy soiling
Made in the U.S.A.
Recommended use of conditioner and mist spray for best results
Require dilution
---
6.

Shed Defender Shed Defense
| | |
| --- | --- |
| Size: | 16-oz |
| Scent: | Natural chamomile and lavender extracts |
Shed Defense from Shed Defender targets loose sheds specifically. Vitamin E and omega acids soften skin allowing shed to be stripped with ease. The formula also aims to improve the general health of the skin to reduce future excess shedding.
The shampoo is free from all the common irritants like sulfates, parabens, dyes, and fragrances so it has a high chance of working for most cats. However, Shed Defender has a range for sensitive skin also.
Tear-free
No sulfates, parabens, or artificial dyes and fragrances
Omegas restore skin moisture
Needs to sit for 2 minutes
---
7.

Best Shot UltraMax Conditioner
| | |
| --- | --- |
| Size: | 17 oz, 1.1 gal |
| Scent: | Natural sweet pea essence |
Amongst the reviews for this shampoo from UltraMax are multiple groomer recommendations. The product may be finicky to use on a squirming cat as it's designed for post-shampoo use (sometimes it can be hard enough to wash your cat just once!)
However, the formula is deeply conditioning and can help maintain skin and coat health, effortlessly pulling out old fur.
It's also reviewed well as a detangler, so it's an excellent choice for cats with long, unruly fur. Hydrolyzed silk protein treats hair follicles to strengthen fur with use, reducing further shedding issues gradually.
Deeply moisturizing
Silk protein for coat strength
Great detangler
---
8.

Frisco Shed Control Conditioner with Aloe
| | |
| --- | --- |
| Size: | 20 oz, 1 gal |
| Scent: | Artificial fragrance (sweet nectar) |
Frisco's shed control conditioner is designed to be used to return moisture to the coat after the use of the "sister product" shed control shampoo. This product can be used on its own if you aren't looking for a cleaning effect (your cat has already got that under control) but want assistance in shed control.
Natural oils and proteins nourish the skin, strengthen the coat, and manage loose, tangled fur. Reviewers that didn't like it say they saw no difference, while positive feedback says that the results take time, but this product helps with long-term healthy shedding.
Affordable
Plant-derived cleansers
Silk and oat protein
Artificially fragranced
Results take time
---
9.

Perfect Coat Shed Control Tropical Mist
| | |
| --- | --- |
| Size: | 16 oz |
| Scent: | Artificial fragrance (tropical) |
This shed control shampoo from Perfect Coat may just do the trick for you for something simpler and cheaper. It contains artificial additives like colors, preservatives, and fragrances, so it may not suit sensitive skin.
These artificial additives are the price you pay on affordability, though, and this shampoo comes in a decent-sized bottle for a low price. It contains some moisturizing agents to reduce shedding and sweep away loose sheds.
Some owners didn't like the amount of product they had to use to build a lather, but this shampoo is non-lathering. This makes the shampoo a lot easier to rinse out of the fur without leaving behind any residue and making the whole bath shorter.
Artificial colors, preservatives, and fragrances
Lots of product needed
---
10.

FURminator FUR deShedding Rinse-Free Foaming
| | |
| --- | --- |
| Size: | 5 oz |
| Scent: | Artificial fragrance (unstated) |
Not all cats are bath-able, or at least without some serious damage to their egos, your hands, or both! Instead of wrangling an angry cat into a bathtub of water, you may want to try some like this waterless deshedding shampoo from FURminator.
Your cat's fur does not need to be wet before application, and the shampoo itself does not need to be rinsed out. Simply massage the shampoo into their fur. Owners like this dry shampoo as it is a foam applicator, not a spray that freaks their cat out.
Some people didn't like it because the scent is overwhelming, and the texture can be pretty sticky.
Waterless application
Hydrolyzed proteins
Omega 3 & 6 fatty acids
Buyer's Guide: Finding the Best Cat Shampoo for Shedding
After browsing through our list today, you may realize that not all shedding shampoos are the same, and each has different ingredients and benefits. Picking out what shampoo will be best for you and your cat comes down to personal circumstances. Here are some things to consider.
What To Look for In Cat Shampoo
Ingredients
You know your cat better than anyone, and if they have overly sensitive skin, you should opt for gentler ingredients. Look for shampoos that are free from drying compounds such as parabens and sulfates and incorporate soothing additives like aloe or oatmeal.
If your cat has allergies, you should seek vet advice on shampoo recommendations as common allergens can be hiding in plain sight on pet product ingredient lists.
Grooming your pet is a process that they either love or hate.
If your cat tends to despise their grooming sessions, you can make it a bit more enjoyable with our Hepper Cat Brush. With soft pins and a one-click button for easy clean-up, this brush is something that both you and your cat will enjoy. This is our product, but we love it so much we just had to share! Click here to try it out!
The Reality of Bathing Your Cat
If you have a cat that sits nicely while you bathe them or even enjoys a bath, consider yourself very lucky! Generally, cats are reasonably intolerant to water, especially being man-handled in a bathtub.
The whole bathing experience can be stressful for both you and your moggy, so look for shampoos that will make the ordeal smoother. Consider products that are easy to rinse out, so you can half the time spent in the tub.
If the reality of getting your cat into a bathtub is laughable, look into purchasing a waterless shampoo that can offer similar benefits without a bath time battle.
Eco-friendly
The environmental impact of shampoo probably means very little to your cat, but for many humans, our product use is significant to us (and rightly so!) There are many natural and plant-derived shampoos options, some of which have graced our top ten list today.
Some of these may vary in efficiency when lacking commercial chemicals, so read the reviews closely to hear others' experiences. These products can often garner higher price tags due to ingredient quality.
Added Benefits
Of course, you are aiming for a shampoo that will help manage your cat's shed, but many offer even more benefits than just this. Many of these will help promote your cat's general skin and coat health, which can contribute to healthy sheds in the future.
Some benefits include:
Conditioning
Soothing
Medicated
Tear-free
Anti-itch
Tips For Reducing Shedding In Cats
Shedding is normal for most cats, and some shed all year round, and others have one or two heavy seasonal sheds. The amount of shedding generally relates to your cat's breed and coat type, two things you can do nothing to change!
However, you can utilize a few tricks to reduce the amount of shedding if you are experiencing excess shed.
Brush often: Shedding brushings can comb deeply through your cat's fur, picking up all that excess shed before it finds itself on your couch. Brush thoroughly and regularly to keep on top of it. We recommended introducing the brush to your cat from a young age with lots of positive reinforcement, so grooming is loved, not tolerated.
Professional grooming: Some cats have high-maintenance coats, and there's little you can do about it. Other cats may be struggling to upkeep their hygiene; they may be obese, elderly, or disabled, preventing them from cleaning themselves properly. A professional groomer can help keep things under wraps.
Supplements for a healthy coat: Omega 3 and 6 fatty acids and various other vitamins and minerals can boost your cat's nutrition to maintain healthy skin and fur from within. Speak to your vet about the best supplement for your cat.
Hydration: Lack of moisture in the body can lead to brittle fur. Keep your cat well hydrated to maintain moisture in the coat. Cats are often poor at drinking from stagnant bowls. Mix your cat biscuits with wet food to add water to the diet and consider a cat water fountain to attract your cat to drink on its own.
Causes of Excess Shedding in Cats
Your cat shedding more than usual can be frustrating. You may not have the cleaning equipment needed to keep on top of the fur, or the extra dander can cause mild allergies. If your cat's shedding has changed recently, it is likely a cause.
Seasonal
Allergies or skin irritation
Skin infection
Hormonal changes (pregnancy, sexual maturity)
Old age
Poor food quality
Stress
Conclusion
Our favorite deshedding shampoo for cats is Earthbath Shed Control. This naturally derived product does not sacrifice effectiveness for sustainability and hits both marks perfectly. Backed with great reviews, it's simply a great all-round product.
For best value, we picked EZ Groom Filthy Beast. This deeply cleansing shampoo is super affordable, and the product itself goes a long way. You can't go too wrong with a simple but effective deshedding shampoo.
---
Featured Image Credit: Vladeep, Shutterstock