9 Best Dog Foods for Westies in 2023 – Reviews & Top Picks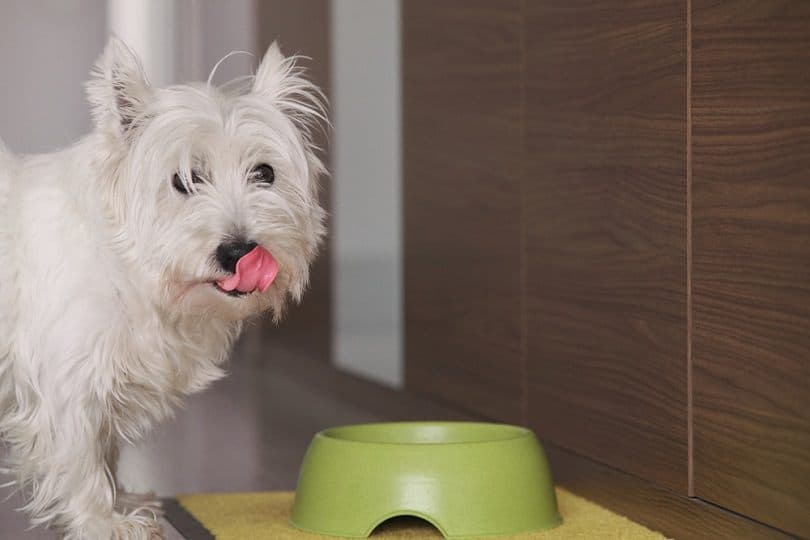 Like most breeds, West Highland Terriers have specific dietary requirements. They do best with a smaller kibble size and need food that gives them plenty of accessible energy.
If you struggle to find options for your Westie, read through our reviews of the top products this year and our buyer's guide below.


A Quick Comparison of Our Favorites in 2023
Rating
Image
Product
Details

Best Overall

Nom Nom Pork Recipe Fresh Dog Food

Pork is an allergy-friendly protein
Edible mushrooms are a good source of probiotics
Grain-free
Click here to save 50%

+ Get free shipping!

Budget Buy

American Journey Grain-Free Dry Dog Food

Includes chondroitin sulfate
Premium-quality ingredients
Includes glucosamine
Check Price

Blue Buffalo Wilderness Puppy Grain-Free Dog Food

Specific formula
Increased level of proteins and fats
Affordable
Check Price

Blue Buffalo Life Protection Formula Dry Dog Food

LifeSource bits
Grains only come from whole grain sources
Supports adult dogs
Check Price

Taste of the Wild High Prairies Grain-Free Dry Dog Food

High protein levels
Prebiotic ingredients
Avoids common allergens
Check Price
The 9 Best Dog Foods for Westies
1.

Nom Nom Pork Recipe Fresh Dog Food Subscription — Best Overall
We think that Pork Potluck Recipe by Nom Nom is the best dog food for Westies because they're prone to skin sensitivities and gluten allergies. This dog food is free from chicken, beef, and grains, and the fresh meals arrive at your doorstep already cooked, frozen, and packaged into individual dinners that are ready to thaw and serve.
Pork is the only meat ingredient (besides a fish oil supplement) and isn't as likely to cause an allergic reaction as chicken or beef. Fresh vegetables such as squash and kale provide a good source of natural nutrition. You might be surprised to find mushrooms in this recipe. While not a common ingredient in dog food, edible mushrooms like these boost your dog's immune system. However, you shouldn't go foraging with your dog because some mushrooms are quite toxic to them.
We like how the vitamin blend seems very balanced, including several variations of vitamin B and other important nutrients such as taurine and zinc.
Normally, we don't necessarily encourage grain-free meals, but we feel like grain-free food for Westies may have more merit because of their predisposition to gluten sensitivities. Talk to your vet to see if they think going grain-free is the right decision for your Westie. Like all fresh-frozen meals, Nom Nom isn't the cheapest fare, but it's one of the healthiest options to put on your Westie's plate and is our overall choice for the breed.
Pork is an allergy-friendly protein
Grain-free
Fresh, healthy vegetables
Edible mushrooms are a good source of probiotics
Contains essential vitamins
---
2.

American Journey Grain-Free Dry Dog Food — Budget Buy
One of the primary purposes of American Journey as a dog food company is to support your beloved pet during any adventure they have. This is why the formula is packed full of nutritious, easily digestible ingredients. These include deboned salmon, chicken meal, turkey meal, peas, and sweet potatoes. It is another grain-free diet because many Westies develop allergies as they age. A common one is gluten.
The food doesn't only use premium ingredients but also supplements the meals with things like glucosamine and chondroitin sulfate for healthier bones. The crude protein matches the Taste of the Wild option with a minimum of 32% and a crude fat level of 14%. What's more, it does all of this while still being the best dog food for Westies for the money.
Best value dog food for Westies
Premium-quality ingredients are at the top of the list
Includes glucosamine and chondroitin sulfate
Peas are another common allergen and are included in this recipe
---
3.

Blue Buffalo Wilderness Puppy Grain-Free Dog Food
As a dog ages, they need varying kinds of digestive support. A puppy is in one of the most vulnerable stages of life, a period that sets the stage for their health throughout their entire lifetime. This is why it is essential to feed high-quality puppy food.
To this end, Blue Buffalo Puppy dog food has become one of the best out there for owners looking to prime their dogs for a healthy life. They run at the middle end of the market price and are sold in various bag sizes. This recipe also contains chicken as its first ingredient.
Taurine, fatty acids, and other supplements are added to keep your pup in tip-top mental and visual development. Puppies need even more protein than adult dogs, and this food meets that standard with 36% crude protein and 15% crude fat. It isn't the best for dogs with allergies because it includes quite a bit of chicken and unspecified fish in the fish meal.
Specific formula for a puppy's prime development
Increased levels of proteins and fats
Middle-market price keeps high-quality food affordable
Not the best choice for dogs with allergies
---
4.

Blue Buffalo Life Protection Formula Dry Dog Food
Blue Buffalo not only wants to support the health of a growing puppy, but it also produces a Life Protection formula to support your dog as they reach their adult years. It is not grain-free, like the other choices, however.
The first ingredients include deboned chicken, chicken meal, brown rice, barley, and oatmeal. The grains only come from whole grains. LifeSource Bits supplement the entire recipe by adding a blend of nutrients enhanced with a "Super 7 package." This package includes helpful antioxidants for overall health and immunity.
The protein level does sink in this adult mix from the high levels for a puppy. The crude protein is at a 24% minimum and the crude fat is at a 14% minimum.
Features LifeSource bits to supplement overall health
Grains only come from whole-grain sources
Supports adult dogs
Less protein than in similar products
Includes grains in the ingredients
---
5.

Taste of the Wild High Prairies Grain-Free Dry Dog Food
Taste of the Wild has blended the flavors of the prairie to supply your dog with a blend of food the way that nature intended it. Most of the recipes, including this one, are inspired by wild wolves' diets.
The High Prairies formula is made with novel proteins. These include buffalo and bison in a grain-free mixture. Instead of using any wheat or corn, they mix it up with peas and sweet potatoes. These carbohydrate sources deliver a more digestible meal.
Beyond the basics, Taste of the Wild also supplements this recipe with dried chicory root for prebiotic support, encouraging healthy digestive systems. Your furry friend gets plenty of what they need because the formula has a crude protein level at a minimum of 32% and crude fat at 18%. Overall, this is the best dog food for Westies we have reviewed.
High protein levels support your dog in all activities
Prebiotic ingredients aid healthy digestion
Grain-free diet avoids many common allergens
High Plaines is their most expensive formula
---
6.

Diamond Naturals All Life Stages Dry Dog Food
Diamond Naturals crafts a recipe that can be effectively consumed by all life stages. It includes grains in the formula, which is sufficient for some Westies but challenging to digest. The first ingredients in this formula include chicken, chicken meal, whole-grain brown rice, and cracked pearled barley. Together, it comes out to 26% crude protein minimum and 16% crude fat minimum.
Diamond Naturals supplements this formula with probiotics and superfoods. Some of these are kale, coconut, and blueberries. The probiotics aid healthy digestive patterns for pups, and omega fatty acids promote a gleaming white coat for your Westie.
Generated for dogs in any life stage means it includes a wide range of vitamins and nutrients
Supplemented formula with probiotics
Nutrients often come from natural superfoods
Grains included in the formula
Lower protein level than similar products
---
7.

VICTOR Hi-Pro Plus Formula Dry Dog Food
VICTOR crafts an affordable choice of food for a Westie. It is a nutrient-dense formula made with a variety of protein sources to give it a unique flavor. It isn't only for adults either. This food can be given safely to puppies and lactating females as well.
It is easier for many sensitive Westies to digest recipes made with gluten-free grains. The top ingredients include beef meal, grain sorghum, chicken fat, pork meal, chicken meal, and fish meal, which provides the DHA that puppies need.
Overall, the protein level is more satisfying for active dogs at a 30% minimum. The crude fat level is a bit higher than is necessary at 20%, but it is also suitable for lactating females.
Variety of protein sources change up typical flavors
Gluten-free recipe makes it easier to digest
Higher percentage of protein compared to similar foods
Increased fat level if your dog struggles with weight
---
8.

Natural Balance L.I.D. Grain-Free Dry Dog Food
Sometimes the best thing that you can do for dogs that struggle with allergies is to give them food with as few ingredients as possible. Doing so reduces the likelihood that they eat something that upsets them.
Natural Balance formulates several different recipes with limited ingredients to feed dogs with food sensitivities. They do not include peas, pea protein, legumes, lentils, corn, soy, or wheat. It is all produced within the U.S.A. as well. What it does have is 24% minimum crude protein and 10% minimum crude fat levels.
The food from Natural Balance is produced by board-certified veterinarians, animal nutritionists, research scientists, and more, with a combined experience with dog food of 125 years.
A limited number of ingredients for pups with sensitivities
Produced without any peas, legumes, wheat, and more
Made in the U.S.A.
Relatively low levels of crude protein and fat
More expensive compared to similar items
---
9.

Royal Canin West Highland White Terrier Dry Dog Food
If you are looking for food made specifically to fit your West Highland White Terrier's needs, then look no further than Royal Canin. The West Highland White Terrier Dry Dog Food caters directly to the health and digestive needs of Westies.
The food is meant for this breed when they are over 10 months old. The formula is enriched with EPA and DHA for healthy skin and cognitive development. At times, this breed can struggle with picking up kibble bits, but these have a unique design that makes them easier to grab and chew.
Royal Canin isolated specific amino acids for Westies. These help promote healthy growth of skin and coat. Unfortunately, the first ingredient is often regarded as a filler; brewers rice. It also contains a chicken by-product meal, which is quite controversial. The protein is lower than most at 19%, but the fat is at 14%.
Enriched with specific amino acids
Unique kibble shape for a Westie's mouth
Much more expensive than other items
Includes chicken by-product meal
First ingredient is brewer's rice

Buyer's Guide – Finding the Best Dog Food for Westies
All dog breeds have varying tendencies and specific areas in which they need more focus on their diets. Some dog breeds that are active need consistently high levels of protein and fat with digestible carbohydrates.
Westies are no different. They have specific health concerns and tend to struggle with issues that are unique to the breed. Feeding them food that supports certain aspects of their system makes it easier for them to stay healthy.
Small Dogs, Big Impact
Westies only weigh between 15 and 22 pounds on average. This means that it does not take much to impact their systems heavily. Feeding them high-quality food reduces the risk that even small amounts of preservatives or harmful protein sources can have on them.
Common Breed-Specific Health Issues
One of the common issues that West Highland Terriers struggle with is a propensity to gluten sensitivity. They can also develop other food sensitivities, but gluten seems to be one of the primary concerns.
Westies have a higher likelihood of developing these conditions when they are older. As they age, they can begin to struggle with more. One remedy to this issue might be feeding them a diet with limited, all-natural ingredients.
Other health concerns that a Westie might have include:
Copper toxicosis
Keratoconjunctivitis sicca
Patella luxation
Craniomandibular osteopathy (CMO)
Legg-Perthes disease
Since several of these have to do with the degeneration of a dog's joints, feeding them food with additives to support joint health can help. CMO can be detected in dogs as early as their puppy months. For this genetic disposition, the kibble's specific size or shape might be easier for your dog to eat.
Ingredients to Watch For
Certain ingredients help build up a dog's interior systems over time, while others slowly chip away at it. Here's what to keep an eye out for.
The Good
Look at food labels for real fruits and vegetables. Their inclusion means that your Westie is typically receiving the right amount of vitamins and nutrients in digestible forms. Recipes with around 18% or more crude protein will satisfy the need for protein in Westies. If they are active, then kick their protein level up a notch.
Keep an eye out for food that has supplements of prebiotics and probiotics. Ingredients like dried chicory root provide prebiotics that help your dog digest and maintain a healthy gut environment.
Finally, when reading a food label on dog food, be aware that it works the same as with human foods. The first five ingredients are the most important because they are those present in the largest amounts. Not all ingredients are equal, and the first one will also be at the highest percentage compared to any other ingredient, then the second, and so on.
For any dog, including a Westie, at least the first two of these ingredients should be clear-cut protein sources.
Glucosamine and chondroitin sulfate both work to support joints throughout a dog's body. Although they can do it separately, they are much more effective when eaten together. Most dog foods that include one will have the other as well.
The Bad
We have become tolerant of somewhat dangerous chemicals and additives in our food. That doesn't mean that we should allow the same standard to be applied to our dogs. They have even less of an ability to digest these foods than we do, and it can wreak long-term havoc on their systems over time.
Avoid foods with artificial preservatives, flavors, or colors. They bring no nutritional value to the table. In reality, the ingredients in your dog's food should make it taste nice enough that they want to eat it without fake flavors.
If you suspect that your Westie could be suffering from some kind of allergy, the best thing that you can do is to immediately remove the offending ingredient from their diet. The more they eat it, the more destructive their sensitivity can become.
Watch out for symptoms like dry skin, itchiness, licking constant, increased thirst and urination, diarrhea, or vomiting to figure out if they have a food allergy.
Feeding Recommendations
An adult Westie typically eats between 4–6 ounces of dry dog food each day. Their size and activity level help determine how much they should be eating.
Smaller dogs like this should not be free-fed. Split their meals into two during the day. It helps them digest better and keeps them full for longer. It also helps spread out their energy.
Final Verdict
Giving your dog the best that you can is part of the agreement you make when you sign up to be a paw-rent. Westies return the favor with plenty of love and adoration. They will cuddle for hours or entertain with their antics.
Our top pick Nom Nom Pork Potluck is an excellent choice. It is made with whole ingredients and is conveniently delivered straight to your door. Brands like American Journey want to support all dogs during their adventures, so they strive to find premium ingredients and sell them at a middle-market price. The same goes for the American Journey Grain-Free formula, especially for this allergy-prone breed.
In the end, we are all working together to be the best companions for our dog friends.