20 Best Dog Movies on Amazon Prime in 2023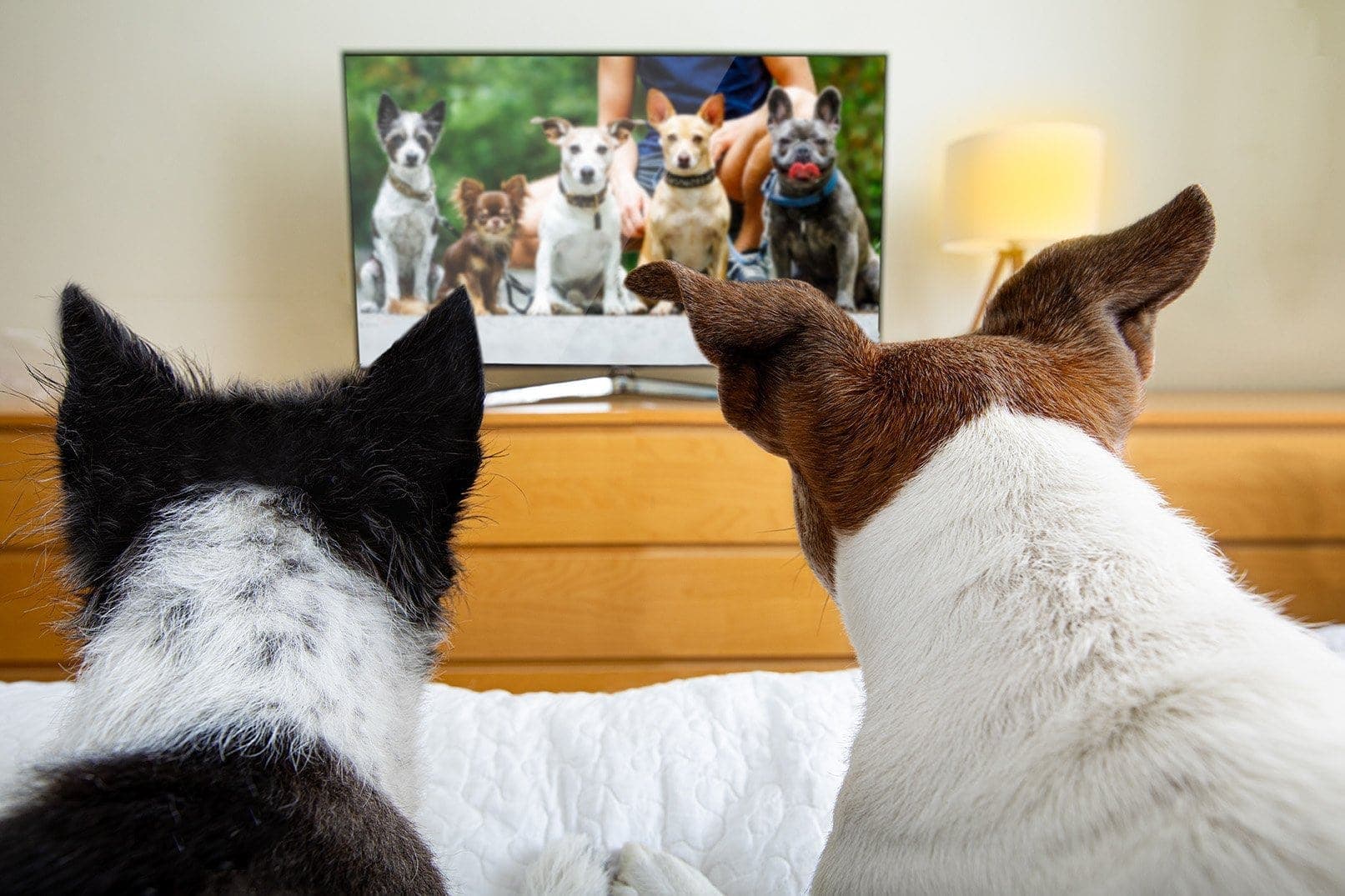 Can't decide what movie to watch? Don't worry we've got you covered. We dug through all of Amazon Prime to find and bring you the 20 Best dog-themed movies available!
Some of these movies will make you laugh, and some will make you cry. But they all have one thing in common — dogs!
In each of these movies, the plot revolves around dogs that touch and change the lives of those around them.

20. Bolt
The movie Bolt offers a super unique take on what it means to be a hero. In this animated film, Bolt is an action star in his very own hit TV series. However, he doesn't realize this. Bolt truly believes that he is a true superhero. Well, that is until he wakes up one day on the other side of the country, and life dishes him a hard dose of reality. Now, he'll stop at nothing to get back to his owner Penny and prove that you don't need superpowers to be a true hero.
---
19. Scooby-Doo
With a story and screenplay from James Gunn of Marvel Cinematic Universe fame, this movie is severely underrated. It's chock-full of witty puns and quips which are sure to entertain the entire family. In this film, the gang is reunited for one last case to tackle the ghosts and voodoo that consume the Spooky Island Amusement Park and Resort.
---
18. Eight Below
We've seen the lengths that our dogs will go for us, but how far will you go for them? In Eight Below, Jerry Shepherd travels through ice and snow of the freezing Antarctic to rescue his team of stranded sled dogs.
---
17. Top Dog
This action-comedy didn't sell gangbusters at the box office, and it isn't a truly heart-wrenching piece of cinematic genius. However, it's entertaining. If you're looking for a great buddy cop movie, find out how Chuck Norris and his canine companion are going to save the day from Neo-Nazis.
---
16. Life With Dog
Joe's had it rough lately. His life has begun to spiral out of control following the death of his wife Alice in a freak bike accident. However, Joe finds comfort when a dog wanders into his garden and refuses to leave.
---
15. Air Bud
Air Bud is one of those goofy, lovable family movies that tells the story of a Golden Retriever who has a natural affinity for basketball! Old Blue, once a homeless pup that belonged to an alcoholic party clown, is found by young Josh Framm and is renamed Buddy. And it doesn't take long for Josh to discover Buddy's hidden talent…basketball!
---
14. Because of Winn Dixie
Based on Kate DiCamillo's 2000 novel Because of Winn Dixie, this is a heartwarming tale about the love that dogs can show. The story revolves around a young girl named Opal who befriends a Berger Picard dog wreaking havoc inside of the local grocery. She aptly names him Winn Dixie after the store and takes him home. And while Winn Dixie makes friends with everyone he meets, it's his relationship with Opal that's accentuated. Opal's mother had abandoned her and her father 7 years prior, and Winn Dixie helps Opal to fill that void.
---
13. Homeward Bound: The Incredible Journey
How far would you go if separated from your pup? For dogs Shadow and Chance — along with their kitten sidekick Sassy, they'd travel across the country braving the elements, wilderness, and even mountain lions!
---
12. The Adventures of Tintin
Peter Jackson and Steven Spielberg team up for this film adaptation of the French comic series, The Adventures of TinTin. Tintin is a feisty young Belgian reporter and adventurer who often finds himself in the throes of evil while chasing a story. Fortunately, he has his trusty Wire Fox Terrier, Snowy, along with an amazing supporting cast of characters to help him along the way. And in this adventure, he's going to need their assistance as he chases down the treasure of famed pirate Red Rackham.
---
11. Where the Red Fern Grows
This 1974 classic film is all about a boy trying to achieve his dream of becoming the proud owner of two Redbone Hounds. Unfortunately for little Billy, his parents cannot afford the responsibility of these pups during the dark times of the Great Depression. However, that doesn't stop Billy. And it's through hardship, adventure, and even tragedy that only Billy overcomes his hurdles and realizes his dream.
---
10. Balto
Based loosely on a true story, this animated movie tells the story of Balto. In the movie, Balto was a street dog in Alaska who dreamed of becoming one of the esteemed sled dogs for hauling goods, medicines, and supplies. But due to his half-wolf nature, he is disqualified from every contest. But when one of his favorite human children falls victim to diphtheria, there's nothing that can stop him from making his way across Alaska and fetching the vaccine.
---
9. All Dogs Go to Heaven
This is the first place animated selection on our list, and it sure is a great one. The story follows a wheelin' and dealin' mutt named Charlie who runs a riverboat casino. But after a brief stint in the dog pound with his best friend Itchy, Charlie returns to find that his business partner Carface has completely taken over. Not wanting to share his newfound success, Carface has Charlie murdered and sent to Heaven. However, since you can't keep a good dog down, Charlie escapes Heaven and returns to earth only to find himself falling head-over-heels in love with a child named Anne-Marie while living on borrowed time.
---
8. Dog Years (Short Film)
Dog Years is a short film that's only about 5 minutes long — but that doesn't mean it's not worth the watch. Featured at the Female Filmmakers Festival in Berlin, the film tells of how dogs can help us even through the toughest situations. In the movie, an old dog is all one neglected girl has to take her through some of the darkest times of her life.
---
7. Beethoven
This 1992 classic follows the story of Beethoven, a lovable albeit mischievous St. Bernard puppy, as he escapes dog-nappers and finds his forever family. This comedic gem is full of wonderful slapstick and is great for the whole family.
---
6. A Dog's Life
A Dog's Life is a documentary that tastefully explores how our doggy friends perceive our world and their role in it. The movie accompanies a Jack Russell Terrier named Daisy through her day to day life, and we can see exactly how adjusted she is to living with humans.
---
5. A Dog's Journey
In this sequel to A Dog's Purpose, Ethan's dog now has a new destiny: to protect Ethan's granddaughter at any cost. Like the previous film, the dog's soul transfers from one lifetime to the next as he ultimately makes his way back to his original intent.
---
4. The Call of the Wild
In this film adaptation of Jack London's novel, Buck the St. Bernard/Scotch Collie mix is kidnapped from his cushy Santa Ana home and forced into a life of servitude in the Yukon. Throughout Buck's struggles, he has to become part of a pack and fight for his very survival.
---
3. Hachi: A Dog's Tale
If there ever was a movie that truly embraces a dog's loyalty, it's this one. Hachi is a Japanese Akita that quickly teaches his adopted master and family that his loyalty cannot be bought but only earned. This heartwarming tale follows Hachi's growth from a puppy to his elder years and how he adapts to an ever-changing family environment.
---
2. A Dog's Purpose
We're not crying — you're crying. This is one of the most wonderful tear-jerkers we've seen in a long time. It follows the soul of a dog as it travels from one lifetime to the next seeking out a dog's true purpose in life.
---
1. Marley and Me
Life gets turned upside down for John and Jenny Grogan when they adopt Marley. Marley's a Labrador Retriever puppy who's an official flunk-out of obedience school and brings with him a whirlwind of mischief wherever he goes. But the Grogans love him anyway! And over the years, they find out just how special "the world's worst dog" really is.

Conclusion
Hopefully, we've been able to help you narrow down your movie selections. There's something on this list for everyone. Whether you need an absolute tearjerker like A Dog's Purpose or some quality B-movie action in Top Dog, these dog movies are sure to make your evening an entertaining one.
Related Read:
---