8 DIY Dog Agility Course Equipment Plans (With Pictures)

Whether just for fun or to train your dog to be part of shows, having a dog agility course in your backyard can be a great way to offer your dog exercise, training, and quality bonding time.
As you go about setting up your agility course, you may notice that the price of equipment can start to really add up. However, with creativity, craft skills, and a bit of effort, you can make your own dog agility equipment for much less.
With our comprehensive list of free and easy to DIY dog agility course equipment plans, you won't have to jump through hoops to set up a fun layout of challenges and obstacles for your dog. We've included a variety of ideas for all skill levels and using a plethora of materials, from PVC pipes and wood to items from around the house.

The 8 DIY Dog Agility Course Equipment Plans
1.

DIY Dog Agility Course, From This Old House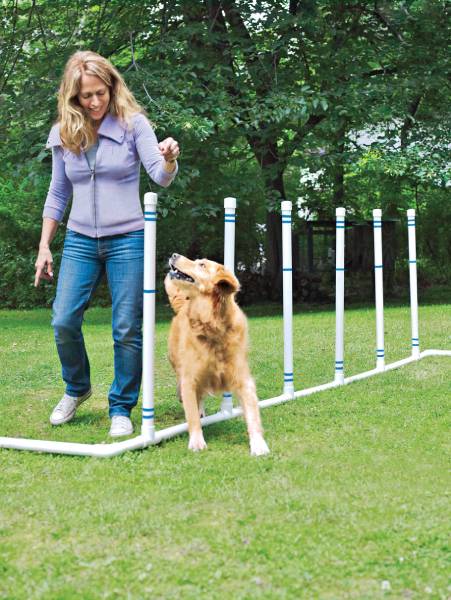 Using PVC pipes, This Old House provides detailed DIY dog agility course plans with helpful pictures to make three key obstacles for your backyard dog agility course. You'll be able to make an agility jump, weave poles, and a teeter totter. These plans result in sturdy, durable builds.
Skill Level: Moderate
Tools
Pull saw
Drill
Drill bits
Combination square
Hammer
Wood block
Supplies
PVC pipe and connectors
PVC cement
Wood plank
Paint
Colored tape
---
2.

Dog Agility Course at Home, by Natural Dog Owner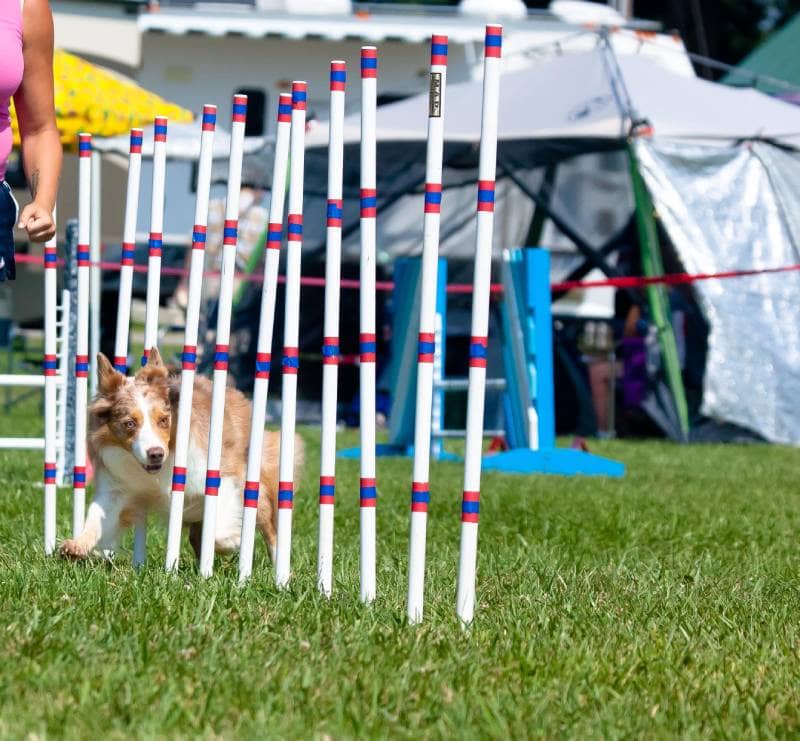 You'll be able to set up your DIY dog agility course using the suggestions and plans supplied by Natural Dog Owner. Every obstacle you'll need for a complete course is covered in this article. Learn how to set up weave poles out of PVC pipes, a standard jump using cinder blocks, and a tire jump made out of a tire or a hula hoop, along with tunnels, a teeterboard, a pause table, and a dog walk.
Skill Level: Easy to Moderate
Materials
PVC cutter or saw
Rubber mallet
Tools
Cinder blocks
Wood
Plywood
Broomstick
Tire
Hula hoop
Flexible sewer piping
Rope
PVC pipes
Connectors and caps
PVC cement
Paint
Anti-skid additive
Asmall coffee table
Picnic bench
---
3.

Clean and Dirty Jumps, by Helix Fairweather
Learn how to build dog agility equipment with hurdles with a few simple materials. Helix Fairweather has straightforward plans, including a clever way to use office supply clips as a crossbar hold. You can jump for joy too, because it's easy on your budget and won't take you long to construct.
Skill Level: Easy to Moderate
Supplies
Fence posts
PVC pipe and caps
2" binder clips
Electrical tape
---
4.

Tire Jump, by Camp Bandy Pet Resort
If you want to challenge your dog with a brightly colored and exciting tire jump obstacle, these plans by Camp Bandy Pet Resort offer all the measurements and detailed instructions you'll need. Also, you won't need an old tire because a drainage pipe is used to make the ring.
Skill Level: Moderate to Expert
Tools
Saw or PVC pipe cutter
Drill
Drill bits
Screwdriver
Tape measure/yard stick
Marker
White-Out
Supplies
PVC pipe
Connectors and end caps
Eye bolts
Wing toggles
Washers
Drainage pipe
Bungees
Landscaping chain
Carabiner
Cable ties
PVC cement
Colorful duct tape
---
5.

DIY Dog Agility A-Frame, by Instructables
An A-Frame is a must-have for any dog agility course worth its weight in dog treats. With a certain amount of woodworking knowledge, you can save money by making your own contact obstacle. Instructibles provides step-by-step instructions, along with plenty of useful pictures.
Skill Level: Expert
Tools
Miter saw
Drill
Drill bit
Sand paper
Paint supplies
Screwdriver
Measuring tape
Supplies
Wood
Plywood
Molding
Hinges
Hook bolts
Chain
Wood glue
Screws
Nails
Exterior paint
Dry sand
Pool noodle
---
6.

DIY Agility Dog Walk, From The Dog Blog
If you prefer DIY plans in video form, The Dog Blog offers an excellent "how to build dog agility equpiment" video for making a cute yet sturdy dog walk. The video is easy to follow and full of helpful tips.
Skill Level: Moderate
Tools
PVC cutter or saw
Rubber mallet
Screwdriver
Paint supplies
Supplies
PVC pipes
Elbow joints and T-pieces
Three wood planks
Door hinges
Paint
---
7.

DIY Cavaletti by Kelly's Dog Blog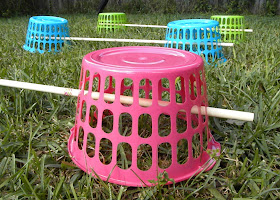 A cavaletti is basically a succession of low-to-the-ground hurdles that improve your dog's foot fall and timing. To make these quick and fun hurdles for your dog's agility course, Kelly's Dog Blog repurposes plastic baskets. While the hurdles in this article are made from PVC pipe, you could use broomsticks or even yardsticks.
Skill Level: Easy
Supplies
Plastic baskets
PVC pipe
Colorful electrical tape or duct tape
---
8.

A Garden Dog Walk from Agility Bits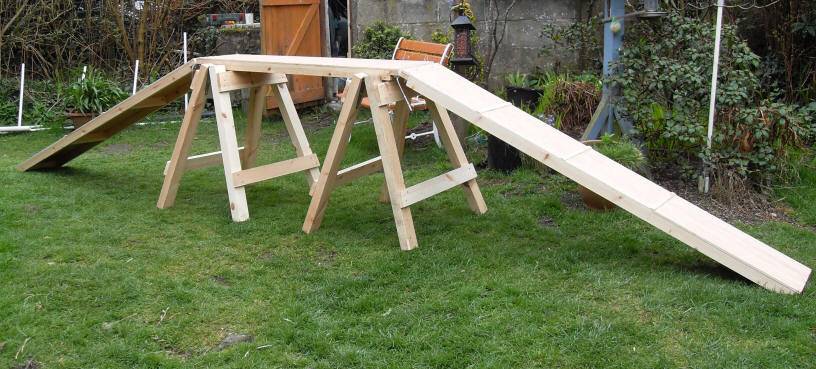 If you have medium to large dogs, this sturdy dog walk design from Agility Bits is built to last and will hold up in windy weather. You'll need to be handy with working with wood to follow these plans, though Agility Bits does offer an easy shortcut if you're willing to buy builders trestles or a pair of sawhorses. Yoga mats provide the traction on the ramps.
Skill Level: Expert
Tools
Miter saw
Screwdriver
Drill
Drill bits
Sandpaper
Paint supplies
Supplies
Wood boards
Plywood
Molding
Door hinges or right-angle brackets
Paint
Yoga mats
---
Featured Image: Image by Anja Szych from Pixabay