9 DIY Slanted-Roof Dog House Plans You Can Build Today (With Pictures)

If you have a dog or dogs who spend a considerable amount of time outside, a doghouse can provide much-needed shelter to keep your pup safe and dry from harsh weather conditions.
As you decide on a style of doghouse to build, you'll need to consider different roof designs, including flat, pitched, and slanted. Unlike a pitched roof that has two roof sections, a slanted-roof doghouse has one long roof piece that's set at an angle to the ground. The slanted shape works well in places that tend to be rainy and/or snowy by allowing moisture to slide off the lower side.
To help you learn how to build a slanted-roof doghouse, we've collected 10 free and easy-to-DIY plans in a variety of design styles, from basic to decorative. We've listed the tools and the supplies you'll need to better help you prepare. With woodworking knowledge, you'll be able to construct an awesome slanted-roof doghouse for your beloved pooch.

9 DIY Slanted-Roof Dog Houses
1.

Dog House With Deck by Jen Woodhouse and Woodshop Diaries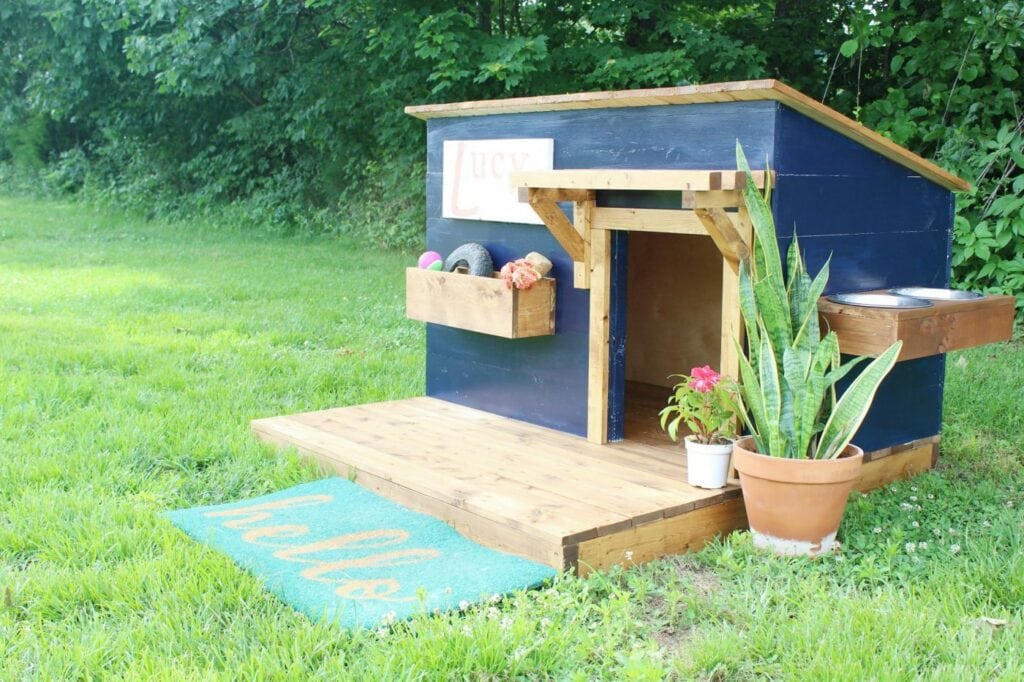 Materials
Miter saw
Jigsaw
Table saw
Drill
Kreg pocket hole jig
Nail gun
Paint supplies
Tools
Wood planks
Screws
Nails
Primer
Paint
Insulation (optional)
Plywood
This adorable slanted-roof doghouse comes with a sun deck for your dog to lounge on pleasant days and a slanted roof angled to the back for inclement weather. Jenn Woodhouse teamed up with Woodshop Diaries to share this cute and durable design. To gain access to the free plans, you'll need to enter your email address at Jenn Woodhouse's site, which registers you to receive the free House of Wood newsletter.
---
2.

Modern Insulated Dog House by DIYTyler
Tools
Circular saw
Miter saw
Jigsaw
Table saw
Band saw
Drill
Utility knife
Nail gun
Paint supplies
Measuring tape
Supplies
Wood planks
Wood glue
Screws
Nails
Primer
Paint
Insulation (optional)
Plywood
For a warm, sturdy doghouse with a removable slanted roof for your small dog, DIYTyler offers free plans. You can either watch the included instructional video on how to build a slanted roof dog house or enter your email address to receive the full set of free plans.
---
3.

Large Dog House Plans by Construct 101
Tools
Circular saw
Miter saw
Table saw
Band saw
Drill
Measuring tape
Nail gun
Paintbrush
Supplies
Wood boards
Plywood
Nails
Finishing nails
Shingles
Roofing felt
Roof tacks
Roof staples
Drip edge
Paint
If you own a large dog, you're obviously going to need a large doghouse built from large doghouse plans. Construct 101 offers plans for a sturdy, slanted-roof doghouse that's the perfect size for, well, a large dog.
---
4.

Large Dog House Plans by My Outdoor Plans
Tools
Handsaw
Circular saw
Miter saw
Table saw
Band saw
Drill
Measuring tape
Nail gun
Paintbrush
Supplies
Lumber
Screws
Plywood
Asphalt shingles
Trim
Brad nails
Wood glue
Wood filler
Stain/paint
For an oversized slanted-roof doghouse, My Outdoor Plans provides detailed building plans. From a thorough list of cuts and supplies to step-by-step instructions with precise measurements, these plans will help you create a functional yet stylish large doghouse.
---
5.

DIY Dog House Plans by Ancient Pathways, LLC
Tools
Skill saw
Jigsaw
Tape measure
Cordless drill
Paint brushes
Supplies
Wood
Plywood
Deck screws
Liquid Nails glue
Silicone caulking
Insulation
Paint
This simple slanted-roof doghouse by Ancient Pathways provides an insulated shelter for dogs who spend most of their time outdoors. Based on a design intended for sled dogs, the main housing is raised off the ground and has a small, offset door opening that allows for better protection during unpleasant weather conditions.
---
6.

Mini Ranch House for Your Pooch From Sunset
Tools
Tape measure
Pencil
Square
Protractor
Circular saw
Paintbrush
Electric drill
Tin snips
Hammer
Supplies
Plywood
Deck screws
Redwood
Paint or stain
Redwood lattice
All-purpose panel adhesive
Wire brads
Metal drip edging
Galvanized roofing nails
Asphalt shingles
This ranch-style doghouse from Sunset has an eye-appealing design. The plans come with a complete list of tools and supplies, detailed illustrations, and thorough building instructions.
---
7.

Mobile Dog House From Instructables Living
Tools
Grinder
Circular saw
Table saw
Silicone gun
Nail gun
Painting gear
Clamps, drill
Impact driver
Hammer
Handsaw
Supplies
Two lawn mower wheels
Galvanized hinges
Liquid nails
Gap filler
Cement sheeting
Plywood
Earth wool insulating material
Paint
Decking oil
External corner pine molding
Screws, nails, and bolts
With a slanted roof and a boxed-shaped design, this doghouse from Instructables Living has a classic look. Although the plans are not especially detailed, it does offer a smart idea on how to add wheels to your doghouse for mobility. Instructables Living provides tips for customizing the dimension of your doghouse to your dog's size requirements.
---
8.

How to Build a Custom-Insulated Dog House From Ron Hazelton
Tools
Measuring tape
Circular saw
Clamps
Power drill
Staple tackers
Supplies
Plywood
Screws
Wood boards
Rigid foam insulation
Roofing felt/tar paper
Drip cap
Asphalt shingles
Hinge
With video clips to explain each step, this slanted-roof doghouse design from Ron Hazelton can be built to fit any size dog. It includes insulation to better protect your pooch against the elements. The two-room design allows for one space exposed to the open door and the other area designated to be warm and cozy.
---
9.

Double Dog House by My Outdoor Plans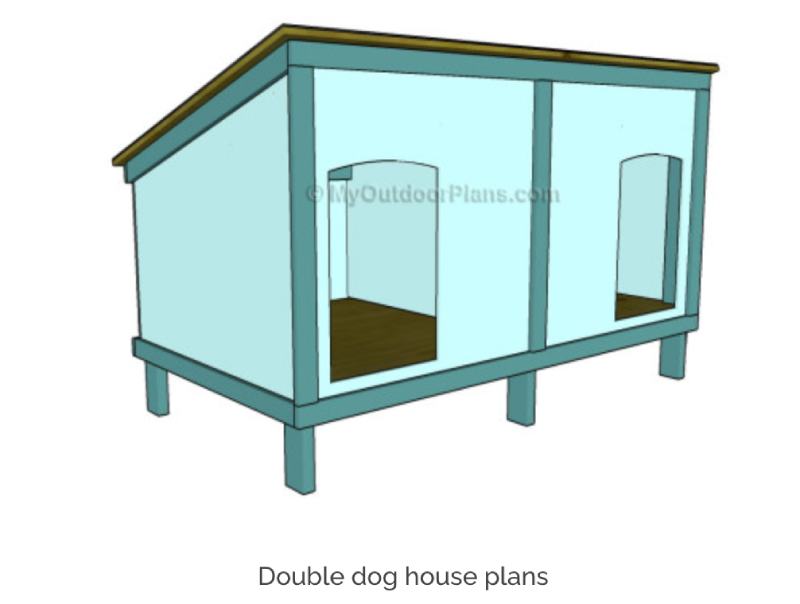 Tools
Hammer
Tape measure
Framing square
Level
Miter saw
Drill machinery
Screwdriver
Sander
Supplies
Lumber
Plywood
Screws
Wood stain
Wood filler
Wood glue
If you own two dogs, why not build a double doghouse? My Outdoor Plans offers a simple design with a slanted roof that comfortably accommodates both of your dogs. The floor of this doghouse is lifted off the ground.
---
Featured Image Credit: KellyNelson, Shutterstock