Does Pet Insurance Cover Cancer? Does It Cost More?
With rising veterinary costs1, pet insurance can end up saving many pet owners a lot of money, especially when it comes to treating chronic illnesses. Cancer diagnoses for pets are difficult to face, but pet insurance can help by covering veterinary bills related to cancer so that you can focus more of your attention on caring for your pet.
Not all pet insurance plans are alike, and your pet may not always be eligible for coverage for cancer treatments. So, it's important to do thorough research before purchasing an insurance plan for your pet.
How Pet Insurance Works
Pet insurance works through a reimbursement system. After you pay your veterinary bill, you'll send a claim to your pet insurance provider. Once the insurance provider processes and approves your claim, you'll receive a reimbursement.
When shopping for pet insurance plans, you'll most likely come across the following types of plans:
Wellness care plans
Accident-only plans
Accident and illness plans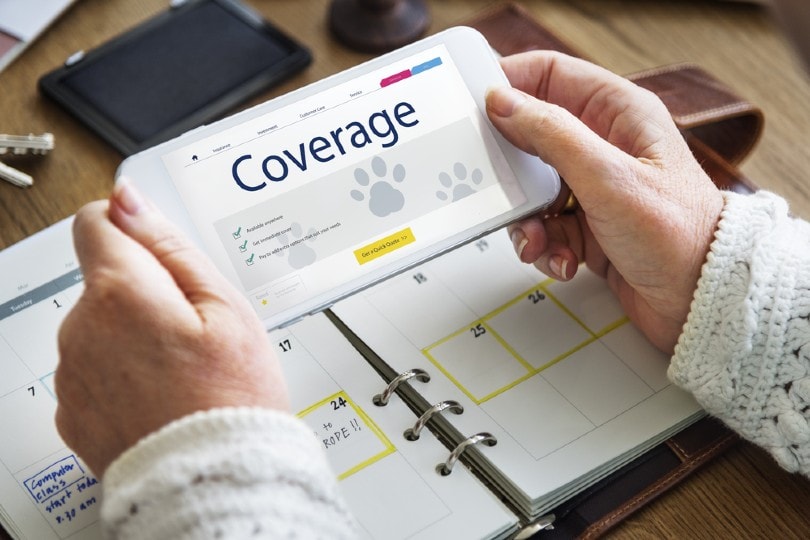 Wellness care plans cover costs related to routine and preventative care, such as annual exams and vaccinations. Accident-only plans provide coverage for unexpected and unpreventable accidents and injuries.
Both wellness care plans and accident-only plans won't cover cancer. So, if you're looking for a plan to help pay for cancer care, you'll have to opt for an accident and illness plan. These plans can help cover the following services:
CT scans and MRIs
Diagnostic testing
Genetic conditions
Hospitalizations
Medication
Surgeries
Treatments
Some pet insurance companies allow you to make customizations with their policies. Many companies will allow you to determine your plan deductible amount, reimbursement rates, and annual limit.
More robust comprehensive accident and illness plans can offer 100% reimbursement rates and remove annual limits. However, these plans tend to be more expensive, and you can end up spending more money than saving it.
To be sure that you have the best possible insurance plan, we recommend checking and compare more of them, so you would have a better idea of what is offered. You can start with these top-rated pet insurance companies:
Top Rated Pet Insurance Companies
How To Get Coverage for Cancer
It's important to be preemptive and get pet insurance before your dog receives a cancer diagnosis. This is because pet insurance companies won't provide coverage for any pre-existing conditions.
When you apply for pet insurance, you'll often have to submit your dog's medical records and health history. Underwriters will review your pet's health to determine if it has any pre-existing conditions and diagnoses for any chronic conditions.
It's also important to keep your pet's age in mind. Some pet insurance companies have age restrictions, and pets above a certain age are ineligible for insurance. Some companies will also change your plan coverage once your pet reaches a certain age. For example, they can automatically switch your pet's plan from an accident and illness plan to an accident-only plan.
To avoid any unexpected changes to your pet's coverage, ask pet insurance providers about their age policies and if their coverage changes as your pet gets older.
Most accident and illness plans will cover cancer care after your pet receives a diagnosis. When looking for pet insurance plans, ask customer service representatives about the specific types of services the plans will cover and if your pet's coverage will change when you renew your policy.
Conclusion
Cancer care is covered by most pet insurance plans. You just have to enroll your pet in a plan before it receives a cancer diagnosis. So, if you have a pet breed that's predisposed to getting cancer, pet insurance can be a good option that can potentially help you make significant savings. Just make sure to ask pet insurance providers what their cancer care coverage looks like before making the decision to purchase a pet insurance plan.
---
Featured Image Credit: Rawpixel.com, Shutterstock