How Much Do US Pet Passports Cost In 2023? (Facts & FAQs)
As we come out of the pandemic, more and more people are looking to travel abroad. For many pet parents, this means researching how to take their furry friends with them. In many cases, international travel requires a pet passport, allowing the pet to leave the US and return. It also ensures that your pet is accepted into the country you're traveling to.
Obtaining a pet passport often requires much paperwork for those living in the US. It also costs money, largely to pay for all that paperwork. The documents required depend on the country you're traveling to, as each country has its own requirements.
The exact cost of a pet passport varies widely depending on where you're going. Usually, you can expect the cost to range from $50 to $500. However, some may cost over $1,000 if you go to a strict country.
The Importance of a Pet Passport
"Pet passport" refers to any document your pet needs to travel. These aren't always officially called "pet passports." However, they serve the same function as human passports.
Often, this passport includes a record of a pet's health status. Proof of vaccination is often required, though the exact vaccinations vary from place to place. You'll usually need to make an appointment with a vet to get this information, which adds to the passport cost.
Here's a list of documents often required:
Vaccines and treatments
CITES permit for endangered species
Health certificate
Import permits/licenses
Pet microchipping
Rabies titer test
Rabies vaccination
Screwworm treatment
Tapeworm treatment
USDA endorsement
The pet passport also expedites the process of traveling with a pet. Getting through customs is far faster if you have all the necessary documents signed and ready to go.
Without a pet passport, some countries may subject the pet to a lengthy quarantine period or deny the pet entry altogether. This may cause more delays and expenses. Some countries are much stricter about what pets come into their country than others.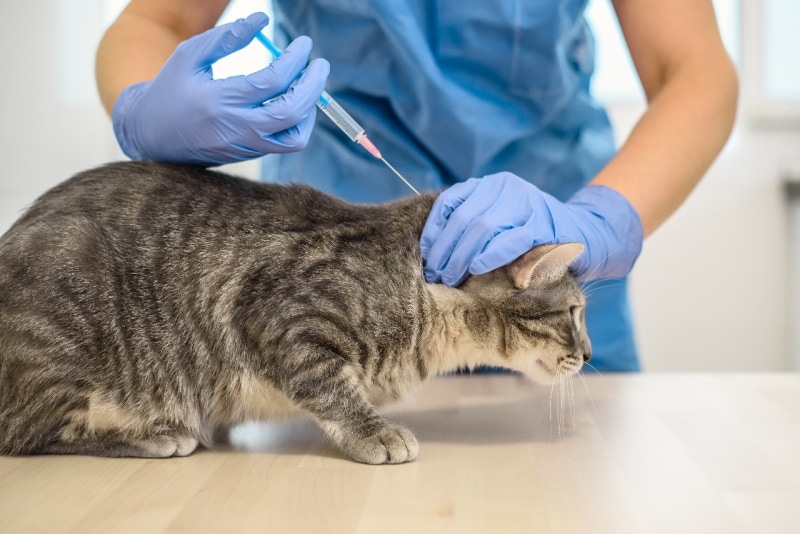 How Much Does a US Pet Passport Cost?
The exact cost of a pet passport varies widely depending on where you're going. Usually, you can expect the cost to range from $50 to $500. However, some may cost over $1,000 if you go to a strict country.
Your pet will often meet some of the requirements, and you may already have the documents lying around your house. For instance, most pets are already vaccinated and you'll just need to collect proof of vaccination from your vet. However, if your pet isn't vaccinated, you must pay for the required vaccinations before leaving the country.
You'll usually need to visit your vet, and the cost of this visit can vary. Your vet may need to sign off that the dog is in good health and provide previous vaccination records. Other times, your vet may have to provide boosters or other treatments, which can increase the cost.
There may be extra expenses for getting travel documentation or certificates necessary by the destination country in addition to the original cost of obtaining the pet passport. These fees might vary greatly depending on the nation and the regulations.
Below, you'll find a list of potential fees you'll have to pay:
Rabies Vaccination
Dogs, cats, and ferrets must be vaccinated against rabies. If you're already in the US, your pet probably has this vaccination. However, if they don't, you'll need to get it.
In the US, the typical cost for a one-year rabies vaccination at a veterinary clinic is approximately $15 to $20. If you opt for a 3-year vaccination, you can expect to pay around $35 to $50. It is worth noting that the US allows entry for pets with a valid 3-year vaccination. However, the pet's passport must show the date of their last rabies vaccination, which must be within 12 months of entry into the US.
Health Certificate
You'll need to receive a health certificate from a vet to travel in most cases. A veterinary consultation typically ranges between $25 and $150 on average. However, it is important to ensure that the veterinarian is USDA-accredited before booking an appointment to obtain a health certificate for your pet. The health certificate must be in English or translated into English, and both the original and translated documents should be provided if a translation is necessary.
To be eligible for a health certificate, your pet must have received all necessary vaccinations and treatments for the destination country. Furthermore, the veterinarian must confirm that your pet is healthy and fit to travel.
USDA Endorsement
Pets leaving the US must have their health certificates endorsed by the USDA, which costs extra.
The fee for USDA endorsement varies from $38 to $173 or more, depending on the required tests for the destination country. The cost starts with endorsing a health certificate that only requires vaccinations and increases with the number of additional tests required.
These additional tests include things like rabies titer tests and other disease testing.

Additional Costs to Consider
Some countries include other requirements for allowing pets to enter, too. For instance, many countries in Europe require all pets to be microchipped. If your pet isn't microchipped, you must get this done. Usually, microchipping costs between $25 to $65. However, there are budget microchipping clinics in many areas where you can get it done for as little as $5.
Sometimes, countries require some pets to be dewormed before being brought into the country, including Finland and the UK. You may have to get your pet dewormed against specific parasites. The cost for this depends on the dog and veterinarian. Sometimes, it may cost as little as $3 per dewormer. Other times, it may cost around $20.
Your pet must also have all their "normal" vaccinations. These are recommended anyway, so many pets won't need re-vaccinated for travel. However, some countries require vaccinations that aren't common in the US.
Some countries require licensing or an import permit. Sometimes, these are extremely inexpensive and more of a way for the country to know your dog is there. Other times, they may cost hundreds of dollars.
Some exotic pets require special permits. These can cost anywhere from $50 to $150. Usually, they just state that the pet is not an illegally caught animal.
Does Pet Insurance Cover Pet Passports?
Usually, pet insurance won't cover the required vaccinations and testing for pet passports as vaccinations are rarely covered by pet insurance. However, some pet insurance companies do offer optional coverage that includes vaccines.
Sometimes, pet insurance companies will cover deworming. However, most require tests and treatments because the pet is sick—not for documentation purposes. You'll have to call the insurance company and ask for specifics, though, as it does vary.
Conclusion
A pet passport allows your pet to be transported from the US to another country or vice versa. There isn't a true "pet passport" like a human passport. Instead, this term refers to the collection of documents your pet must have to travel between countries. The exact documents required depend on the country you're going to.
Some are much stricter than others.
At a basic level, these passports include required vaccinations and a USDA-certified health certificate. Pets that are current on their required vaccinations may not need any more, but you will still have to pay for a health certificate stating that they're prepared to travel.
See Also:
---