How to Clean Dried Rabbit Urine: Expert Tips & Tricks

Rabbit urine is notoriously difficult to clean and, if left untreated, can create a lingering odor that is hard to remove. Not only that, but rabbit urine can also pose a health risk to both your pets and your home furnishings. So here are our top tips and techniques for cleaning dried rabbit urine off different surfaces.
Click below to jump ahead:

Cleaning Agents That Are Safe for Rabbits and Surfaces
In the case of dried rabbit urine, enzymatic cleaners are going to be the most effective at removing the urine completely. However, you can also use white vinegar if you don't have any enzymatic cleaner on hand.
Pet-Safe Enzymatic Cleaners: these work to break down the urine and remove its odor without harming your rabbit or your furniture. They contain bacteria that eat away the urine, leaving a clean and fresh-smelling area.
White Vinegar: the acidic nature of Vinegar is great for removing urine from carpets and fabrics. Dilute it with equal water and then blot the area with the solution.
How to Remove Rabbit Urine From Different Surfaces
1.

Cleaning Rabbit Urine from Carpets
First, use paper towels to absorb as much rabbit urine as possible. But if the urine is dried, you'll want to apply a pet-safe enzymatic cleaner or white vinegar to the soiled area and allow it to sit for the recommended time. Use a brush or sponge to work the cleaner into the fibers. Rinse the area with clean water, then blot dry with a towel. Use a fan or vacuum cleaner to speed up the drying process and prevent any odors from developing.
---
2.

Cleaning Rabbit Urine from Fabrics
Dilute the rabbit urine by spraying the area with water and then blotting it again. Apply a pet-safe enzymatic cleaner and let it sit for the recommended time or apply vinegar instead. If the fabric can be washed, wash it in the washing machine. Otherwise, rinse the area thoroughly with water and blot dry. Allow it to dry away from direct sunlight.
---
3.

 Cleaning Rabbit Urine from Hardwood Floors
Wipe the area with a clean cloth. Apply a pet-safe enzymatic cleaner and let it sit for the recommended time. Wipe the area dry with a clean towel. Wait for it to dry completely, and then apply a hardwood floor finish to protect the surface.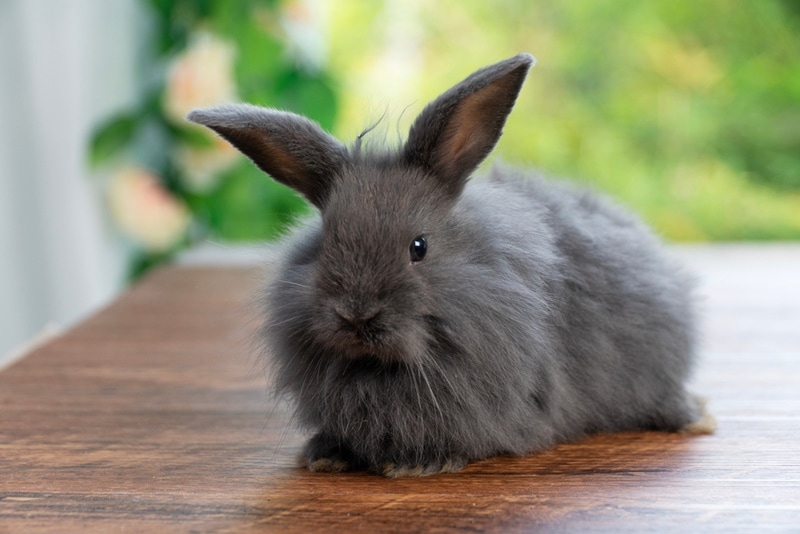 Health Risks Associated with Rabbit Urine
Rabbit urine contains high levels of ammonia that can cause respiratory irritation and health issues in rabbits and humans. In addition, prolonged exposure to rabbit urine can lead to health problems in your rabbit, such as asthma, allergies, and lung infections. Hence, it is essential to clean rabbit urine immediately and thoroughly, especially on surfaces used by humans.
Preventing Future Accidents and Odors
Keep a litter box in the rabbit's living space and regularly clean it.
Monitor your rabbit's litter box habits and ensure that it is always clean and accessible.
Train your rabbit to use the litter box.
Use appropriate cleaning agents to eliminate odors and discourage urinating outside designated areas.
How to Train Your Rabbit to Use the Litter Box
Training a rabbit to use the litter box can be difficult, but with patience and consistency, it is possible. Here are some tips for successful litter box training:
Step One: Establish a routine for your rabbit.
Step Two: Place the litter boxes in an area that your rabbit frequents.
Step Three: Encourage your rabbit to explore the litter box by placing treats or toys inside.
Step Four: Be consistent with litter changes – rabbits like clean.
Step Five: Encourage your rabbits to use the litter box by placing pieces of fruit or vegetables inside.
Step Six: If your rabbit has an accident, clean up the area immediately and then move it to its litter box.
Step Seven: Provide plenty of positive reinforcement when your rabbit uses the litter box.
Step Eight: Make sure your rabbit can easily access its litter box.
Step Nine: Reward your rabbit for using the litter box with treats or affection.
Tips for Reducing Urine Smell in Rabbit Enclosures
Enclosure: Clean the enclosure regularly, remove droppings and replace soiled bedding.
Pet-Safe Cleaners: Use a pet-safe enzymatic cleaner to remove urine odors on the enclosure surfaces.
Litter Box: Keep up with litter box changes and reinforce good habits.
Air Flow: Maintain proper ventilation in the enclosure by opening doors or windows when possible.
Combat Odor: Add baking soda to the bottom of your rabbit's enclosure – this will help absorb odors.
Vet Visits: Finally, take your rabbit for regular checkups at the vet. Illnesses can cause increased urination, leading to unpleasant odors. In addition, early detection of health problems can help prevent future issues.
Our favorite enzyme cleaner is the Hepper Advanced Bio-Enzyme Pet Stain & Odor Eliminator Spray. It's our product, and we love it so much, we just have to share. It permanently removes the very worst smells and stains (yes, everything you can imagine!), and we offer a 100% satisfaction guarantee! 

FAQ About Cleaning Rabbit Urine
How often should I clean rabbit urine?
Rabbit urine should be cleaned immediately to prevent health risks and bad odors. If the area is on a surface used by humans, it should be thoroughly cleaned and dried before being used again.
---
Can kids clean rabbit urine?
Kids should always be supervised when cleaning up rabbit urine. Be sure to use an enzymatic cleaner or diluted white vinegar and wear protective gloves to avoid skin irritations. Finally, make sure the area is thoroughly dried before being used again.
---
Can rabbits get sick from their urine?
Rabbits can and do get sick if their urine isn't cleaned properly. Urine can contain dangerous bacteria that can cause infections and other respiratory problems. Therefore, cleaning up any accidents as soon as possible is important to prevent health risks and bad odors.
---
What should I do if I can't remove the odor?
If you've tried all the above tips and still can't get rid of the urine smell, it may be time to replace the bedding and litter box. This will give you a fresh start and hopefully eliminate any lingering odors. If the smell persists, take your rabbit for a checkup at the vet, as there may be an underlying issue causing the odor. Early detection can help prevent future issues.

Conclusion
Cleaning dried rabbit urine from carpets, fabrics, and hardwood floors requires immediate action and appropriate cleaning products that are safe for your rabbits and home furnishings. In addition, it is important to avoid harsh cleaning products that may harm your rabbits or contribute to health problems. Following these tips can prevent future accidents and maintain a fresh-smelling home for you and your rabbit.
---