Wag Dog Food Review 2023: Recalls, Pros & Cons
Review Summary
Our Final Verdict
We give Wag Dog Food a rating of 4 out of 5 stars.
It was only a matter of time before Amazon released their own pet food, and now they've done it. Wag dog food is one of Amazon's newest private products, and it's available for all shoppers. This food is your average dog food that's better than many affordable grocery store brands. However, we feel you can find better quality dog food for a lower price.
That said, this isn't a bad brand of dog food. It has all the essential ingredients in dog food, plus real meat fermentation products for gut health.
You used to have to be a Prime member to order this food, but they recently changed it because we had no issues ordering from a regular Amazon account. Let's take a deeper look at this food and a few of our favorite recipes.
Click to skip ahead:

At a Glance: The Best Wag Dog Food Recipes
Rating
Image
Product
Details

Our Favorite

Wag Chicken and Brown Rice Recipe

Grain-inclusive
Contains salmon oil
Contains glucosamine
Check Price

Wag Salmon and Sweet Potato Recipe

Salmon is the first ingredient
Contains salmon oil
Check Price

Wag Beef and Sweet Potato Recipe

Lower protein content
Contains salmon oil
Allergy-friendly
Check Price

Wag Chicken and Sweet Potato Recipe

Cage-free American Chicken is the #1 ingredient
No added grain
No added artificial colors
Check Price

Wag Turkey and Lentil Recipe

Omega-3 fatty acids
Contains no added grain
No chemical preservatives
Check Price
Wag Dog Food Reviewed
Who Makes Wag and Where Is It Produced?
Wag is Amazon's official dog food brand. It's produced in California.
Which Type of Dog Is Wag Best Suited For?
Wag dog food is best suited for the average dog with no medical ailments. It's a nice stepping stone away from poor dog food brands, but there are other dog foods with better quality ingredients than Wag. So, this food is a good middle-ground food to get away from low-quality brands.
Which Type of Dog Might Do Better With a Different Brand?
If you're looking for average dog food with good ingredients, we feel that Pure Balance is just as good—and maybe even better—than Wag. Pure Balance is cheaper than Wag and available in all Walmart locations. You can order it from Amazon, but you'll have to pay for shipping.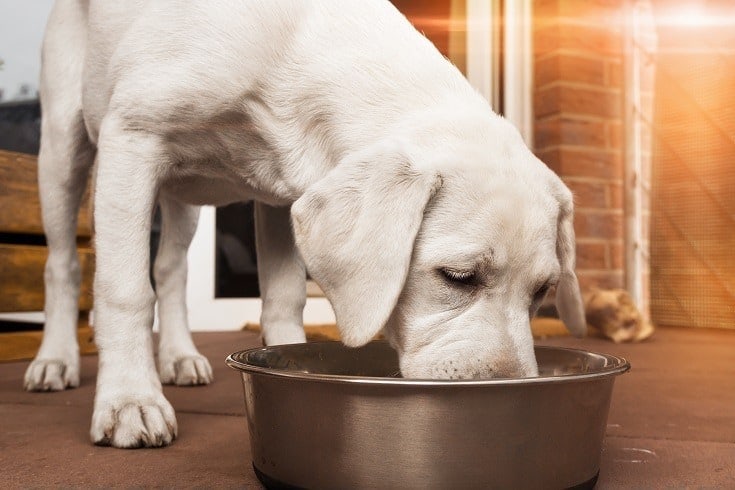 Discussion of the Primary Ingredients (Good & Bad)
Wag dog food has some pros and cons. There are ingredients we like in this dog food and ingredients that are controversial1. Let's take a look at what those are.
With and Without Grains
We feel that grain-inclusive dog food is best because there is a correlation between grain-free dog food diets and Canine Dilated Cardiomyopathy. Thankfully, Wag offers recipes with and without grain, which is important for pet parents who are divided on this subject.
High Protein, Moderate Calorie Content
Wag's recipes are high in protein (around 32% or more) with a calorie content of 346 kcal/cup. That's a higher protein content than many pet food brands, including Pure Balance. We like that the calorie count isn't too high for a high-protein diet since many high-protein diets result in weight gain.
Protein Variety
You don't have to stick with chicken and beef as your dog's go-to protein source. There are many options, such as salmon, turkey, and lamb. We love this because some grocery store brands only stick to chicken and beef as their main flavorings. So, the variety is nice for picky eaters and protein diversity.
Not Many Fresh Fruits and Vegetables
We don't like Wag's recipes' lack of fresh fruits and vegetables. A few recipes of some, but many of their recipes lack in this area. We feel like this is important since the food is high in protein. Dogs are omnivores2 and should have a balanced diet of some fruits and vegetables, carbs, and fat in their diet to balance their high-protein intake.

A Quick Look at Wag Dog Food
Affordable
Available for all Amazon shoppers
Subscribe and save option
High protein
No artificial colors, preservatives, or flavors
High in lentils and legumes
Not many fruits and vegetables
Expensive for what you get
Recall History
Amazon released the first line of Wag dog food in 2018. Since then (and since the release of this post), Wag hasn't had any recalls. We'll keep our readers posted if anything changes!

Reviews of the 3 Best Wag Dog Food Recipes
1.

Wag Chicken and Brown Rice Recipe
Wag Chicken and Brown Rice recipe is our favorite recipe. This recipe is a grain-inclusive recipe with real chicken as the first ingredient. The grains vary from oatmeal, brown rice, sorghum, and bran.
As mentioned earlier, we love seeing fresh fruits and vegetables in dog food. This chicken recipe contains less protein than the other recipes we're mentioning, only 22%, and fat content of 14%. But it's balanced with blueberry, raspberry, and tomato.
Grain-inclusive
Contains salmon oil
Contains glucosamine
Contains fresh fruits and vegetables
Fewer lentils
Higher calorie count
Low protein
---
2.

Wag Salmon and Sweet Potato Recipe
Wag Salmon and Sweet Potato Recipe with 32% protein and 15% fat. The first ingredient is real salmon, and it contains salmon oil for heart and coat health. The protein content also comes from chicken, pea, lentils, and fish meal.
Dogs with chicken allergies may be unable to eat this food, and small breeds might have difficulty with the large kibble size. But if you're looking for a high protein high-fat food, this could be the recipe to try.
Salmon is the first ingredient
Contains salmon oil
Contains chicken
Some dogs don't like salmon
Large kibble sizes
No grain
---
3.

Wag Beef and Sweet Potato Recipe
Wag's Beef and Sweet Potato recipe contains a lower protein content of 26% and fat content of 14%. However, it doesn't have chicken, so it's allergy-friendly for dogs that steer clear of chicken. It also contains salmon oil for a healthy heart and a shiny coat! This is another grain-free diet with a larger kibble size.
The calorie content is 377 kcal/cup, which is slightly higher than their other recipes. Still, the protein and fat content are lower, so you don't have to worry about overfeeding much.
Lower protein content
Contains salmon oil
Allergy-friendly
Large kibble sizes
No grain
---
What Other Users Are Saying
Since this is an Amazon brand, we have to see what Amazon buyers are saying.
Ultimately, dogs love this food, including picky eaters. A few dogs had gas and diarrhea, but these were few and far between.
What dog owners don't like is the recent price increase. Buyers noticed the price doubling in just a couple of months, making many dog owners switch back to their previous food choice.
Truthfully, with this price increase, we get it. You can find dog food of the same quality at a better price.
But as far as flavor goes, dog owners say their dogs love the taste. If the price dropped, we'd see better reviews!

Conclusion
So, is Wag dog food a good brand? We think so. It's not the best dog food out there, but it's a good option for owners wanting decent dog food for a reasonable price. We still feel Pure Balance is better, mostly because of the price. But if your dog doesn't like Pure Balance, Wag dog food is worth the try!
---