5 Best Acrylic Fish Tanks – 2022 Reviews & Buyer's Guide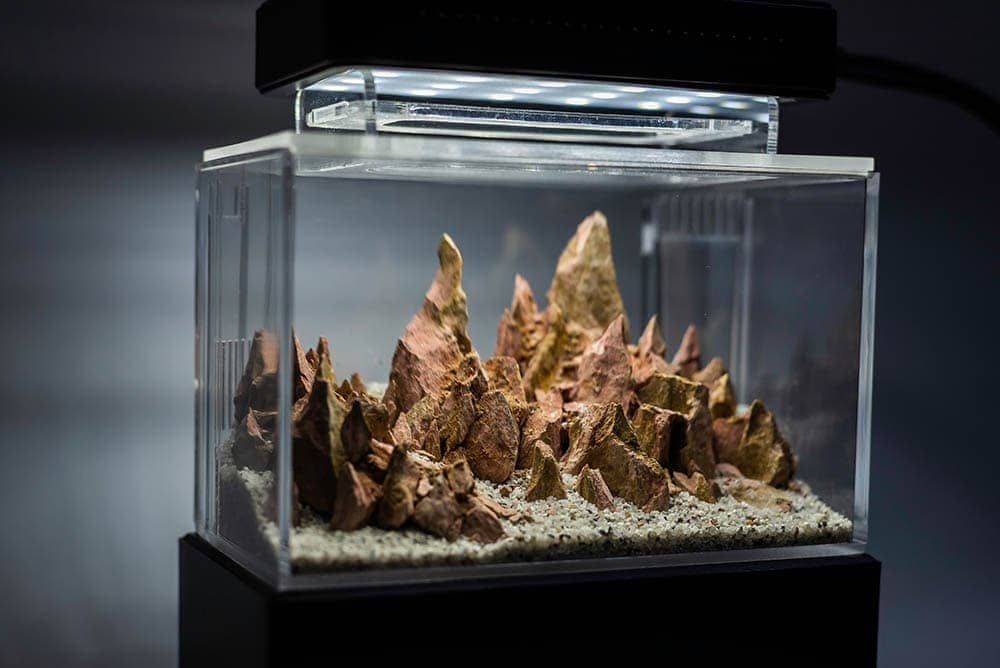 The world of acrylic aquariums is a rapidly expanding market, and for good reason. Acrylic is stronger than glass, shatterproof, lighter than glass, clearer than glass, and produces almost none of the visual distortion produced by glass. Acrylic also allows for more unique shapes and sizes.
Acrylic does have issues and limitations, though, including being extremely easy to scratch, too lightweight for some environments, and limited in the amount of water weight it can hold. These reviews only cover acrylic aquariums that hold up to 50 gallons of water. Most acrylic aquariums do not get larger than this, but some acrylic aquariums exceed 200 gallons.
Acrylic aquariums are a great addition to the world of aquatics, regardless of any cons associated with them! They are allowing people to have more creative, unique shapes and sizes for their aquariums, without the price tag of a custom piece. These reviews are the top 5 best acrylic aquariums to help you pick the best acrylic aquarium for your space.

A Quick Glance at the Winners of 2022
Rating
Image
Product
Details

Best Overall

SeaClear Acrylic Aquarium Combo Set

3 reflector and backing color options
Built-in canopy
Includes light fixture

Best Value

Tetra Crescent Acrylic Aquarium Kit

5-gallon curved-front design
Made with invisible seams
Easy-access feeding window

Premium Choice

biOrb Cube 30 Aquarium

Has three accent color options
Feeding window in built-in canopy
Includes 5-stage filtration with filter media

GloFish Aquarium Kit Fish Tank

Seamless design
Feeding window
Small enough for small spaces

Imagitarium Hexagonal Aquarium

Seamless design
Removable hood with feeding window is included
Light has multiple time settings
The 5 Best Acrylic Fish Tanks Are:
1.

SeaClear Acrylic Aquarium Combo Set – Best Overall
The best overall option for an acrylic aquarium is the SeaClear Acrylic Aquarium Combo Set because of its sturdy design and dozens size, shape, and color options. These tanks are available in 9 sizes, 3 shapes, and 3 reflector and backing options of cobalt, black, and clear. They are made with invisible seams, providing clean lines and a modern look.
This kit includes a built-in canopy, reflector, and a fluorescent light fixture. One option, the 10-gallon Flat Back Hexagon Minikit, also includes a filter, fish net, stick-on thermometer, faux plants, fish food and water conditioner samples, and a bulb for the light fixture. The other sizes do not include a light bulb with the fixture. These tanks are freshwater and saltwater safe, and the range of sizes and shapes mean that this acrylic aquarium line has something for anyone interested in tanks up to 50 gallons.
It is possible for the acrylic canopy to warp over time in this tank and the canopy cannot be removed for tank maintenance, so you will have to fit your arms into the built-in opening.
Available in 9 sizes and 3 shapes
3 reflector and backing color options
Made with invisible seams
Built-in canopy
Includes light fixture
One option includes most things needed to start up the tank
Freshwater and saltwater safe
Sizes from 10-50 gallons
Canopy may warp
Canopy cannot be removed
Light fixture does not include bulb
---
2.

Tetra Crescent Acrylic Aquarium Kit – Best Value
The best acrylic aquarium for the money is the Tetra Crescent Acrylic Aquarium Kit because it's both cost effective and a high-quality product from a trusted brand. This tank holds 5 gallons of water and has an attractive curved-front appearance. It is made to be seamless.
This kit includes a hinged hood, LED light with a bright white bulb, an internal filter with your first cartridge, and an aquarium setup guide. The light is built into the back, low-profile tank hood. The small size and unique shape of this tank make it a good option for small spaces, like apartments and dorms, and also as a desktop interest piece. The hood has a feeding window for easy access. Even though this tank has a curved front, since it is made from acrylic it does not have the visual distortion often seen in bowfront and curved front glass aquariums.
The light in this kit is not replaceable at this time, but the LED bulbs are meant to last multiple years.
Best value
5-gallon curved-front design
Made with invisible seams
Hinged hood, internal filter, and filter cartridge are included
LED light fixture with bulbs built into the hood
Easy-access feeding window
Good fit for small spaces
Too small for many types of fish
Light cannot be replaced at this time
---
3.

biOrb Cube 30 Aquarium – Premium Choice
The biOrb Cube 30 Aquarium is available with white, black, or clear accents and two light fixture options. It is also available in 8 or 16 gallons but carries the high price tag that many biOrb products do, making it the premium pick. It sits on a raised base and has a built-in canopy with feeding window. The base and canopy are available in the color of your choice.
These tanks include a 5-stage filtration system with filter media and LED lighting. You can choose between a bright white LED with an on/off switch or a multicolor LED light with remote controlled brightness and colors. BiOrb claims that the included filter media has surface area equivalent to that of a soccer field. This aquarium does include clean seams, but it is not seamless.
BiOrb products are made to take accessories and replacement parts from all parts of the biOrb line, so finding replacements for everything is easy through biOrb. This does mean, though, that it is difficult to customize filtration or other products for this tank.
Available in 8 or 16 gallons
Has three accent color options
Choose between two LED lighting options
Multicolor light is remote controlled
Feeding window in built-in canopy
Includes 5-stage filtration with filter media that has high surface area
Can take replacement parts from all biOrb product lines
Premium price
Difficult to customize
Not seamless
Canopy cannot be removed
---
4.

GloFish Aquarium Kit Fish Tank
The GloFish Aquarium Kit Fish Tank is a cost-effective tank kit that is available in 3 and 5-gallon sizes. The 3-gallon tank is available in a half moon shape and the 5-gallon tank is available in curved front and portrait shape options. It includes a removable low-profile hood and is seamless.
This kit comes with a blue LED strip light built into the hood and a filter with filter cartridge. The blue light in the LED is made specifically to enhance the colors of GloFish brand fish, but it will also enhance the colors of many types of fish of various colors. The hood includes a feeding window for easy access. This tank is sleek and small enough for small spaces like apartments and countertops.
The lights may be able to be replaced if needed, but replacement lights can cost almost as much as the entire tank kit. To replace the entire hood would require a custom piece. The 3-gallon tank comes with a puck light that sits in the bottom of the tank instead of a hood light.
Available in two sizes and two shapes
Seamless design
Includes removable low-profile hood with built-in blue LED light
Light will enhance the color of brightly colored fish
Feeding window
Small enough for small spaces
Includes filter and filter cartridge
Too small for many types of fish
Replacement light is almost as much as the entire kit
Replacement hood would require custom order
Low-flow filter is too weak for adequate filtration for most fish
3-gallon tank light is a puck light for lighting from below
If you're new to the world of goldfish or are an experienced goldfish keeper that loves to learn more, we recommend you check out our best-selling book, The Truth About Goldfish, on Amazon.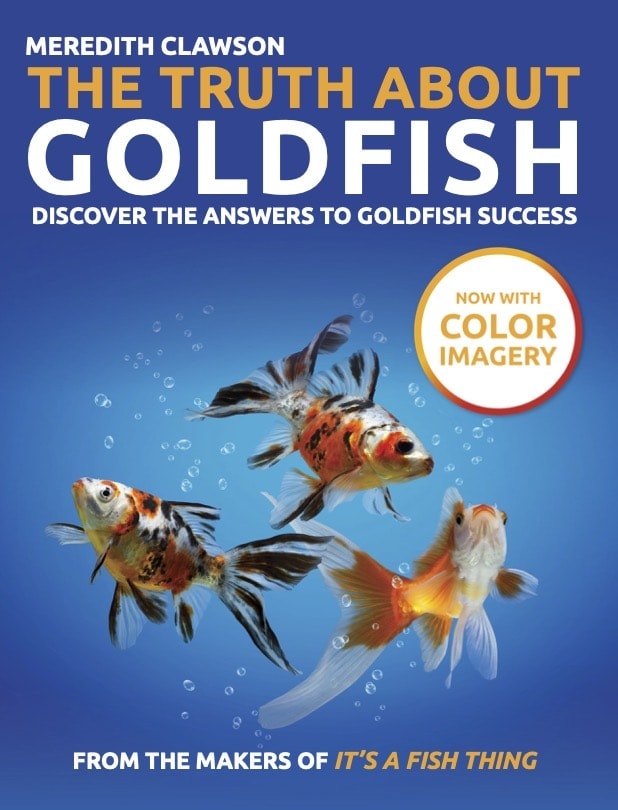 From diagnosing illnesses and providing correct treatments to ensuring your goldies are happy with their setup and your maintenance, this book brings our blog to life in color and will help you to be the best goldfishkeeper you can be. 
---
5.

Imagitarium Hexagonal Aquarium
The Imagitarium Hexagonal Aquarium is available in a 1.7-gallon hexagonal shape, so it is far too small for most fish. This tank is tall and narrow and is seamless.
This aquarium kit includes a removable hood with a feeding window and built-in LED light, and also includes a filter and filter cartridge. The LED light is remote controlled and features multiple different light colors. It can be set to run for 2 hours, 4 hours, or continuously.
The small size of this tank means that the filter cartridge will require frequent replacement and the tank will require water changes every few days depending on the type and number of fish in the tank. The included filter can be noisy, and the flow is not adjustable, so this filter may not be appropriate for low-flow fish like bettas or invertebrates like cherry shrimp.
Unique shape
7 gallons is good size for plants, small single fish, and small invertebrates
Seamless design
Removable hood with feeding window is included
Built-in LED light is remote controlled and has multiple colors
Light has multiple time settings
Only available in one size
Tall, narrow shape may be too tall for some countertop spaces
Too small for most fish
Tank will require very routine filter cartridge and water changes
Filter can be noisy
Filter flow may be too strong for some fish and invertebrates

Buyer's Guide: Selecting The Best Acrylic Fish Tank
How to Pick the Right Acrylic Aquarium for Your Needs:
Purpose: What are you wanting to use your acrylic aquarium for? Your intended purpose for the aquarium will determine everything about the aquarium you need. An aquarium that you're planning to use for dwarf shrimp can be quite different from a small reef tank, which can be quite different from a tank for growing out plants before putting them into your main show tank.
Size: The size of the tank you get is determined by the type and number of fish or invertebrates you intend to put into the tank. A 10-gallon tank will be able to hold over a hundred dwarf shrimp but will not be able to safely hold 10 goldfish. The size of the tank will also be determined by the space you have available and the strength of the surface you intend to put it on. A benefit of acrylic aquariums is how much less they weigh than glass aquariums, but water weighs about 8.3 pounds per gallon, so you'll need to consider that weight as well as substrate and décor when you choose an aquarium size.
Shape: The shape of the aquarium you pick is almost as important as the size. Fish like goldfish appreciate long tanks with uninterrupted swim space, so a tall, narrow tank isn't a good fit for a goldfish. Invertebrates like snails and shrimp often don't care about the shape of a tank if there's food and hiding places. Make sure to research the tank shape preference of whatever fish you are thinking of putting into your tank before you decide on an aquarium.
Equipment: Are you interested in a kit that includes everything you need to get started? For beginners, this is often a great option to make sure you end up with equipment that will fit your specific tank, like filters and lights. It will also help ensure you get everything you absolutely need to get your tank going and it will usually save you money. However, some people prefer specific products and brands or just like the option of fully customizing their tank. More established aquarists tend to be more comfortable acquiring independent pieces to create a tank than newer aquarists are as well.
What to Look for in High-Quality Acrylic Aquariums:
Seams: Acrylic is a type of plastic, so acrylic aquariums can be created like a traditional aquarium with multiple pieces that are sealed together, or they can be made in a mold. Some seamless aquariums may be seamless around the edges, but the top and bottom pieces may have seams where they connect to the walls of the tank. Seamed or seamless aquariums are neither one inherently good nor bad. What is important is that if a tank has seams, they should be clean, lined up appropriately, and sealed well. Poorly sealed seams are weak to the pressure of water in the tank and are more likely to leak.
Rims: Having a rim on an aquarium isn't a completely necessary feature if the aquarium is strong enough to withstand the weight of the water in it. However, rims provide bracing to aquariums, keeping them strength under the pressure of water. If you purchase a rimless aquarium, it should be made with this purpose in mind. Removing a rim from an aquarium to make a rimless aquarium is likely to be disastrous. Purchasing an aquarium with a rim will allow you to have extra peace of mind as well as being able to put on a hood and other types of equipment that require a rim to hang on.
Customization: Purchasing an aquarium that allows you some flexibility to purchase products of different brands and sizes other than the brand of the aquarium will not only be easiest for you, but also gives you leeway when equipment needs to be replaced. The exception to picking an aquarium with some level of customization is with a product that uses the exact same pieces of equipment as all other products in a brand's product line, like the biOrb acrylic aquariums.
Reviews: Reading reviews is always a great place to start when it comes to purchasing an aquarium, and reading reviews from multiple sources will give you the best picture of the item. If you consistently read via multiple sources that an aquarium explodes when you fill it with water, then that's a risk most people aren't willing to take unless you're ok with cleaning up a flooded living room and trying to save your fish at 2am.
Warranties: A solid warranty is the backbone of a good product! You want to feel comfortable with a purchase and you want the reassurance that a manufacturer will have your back if their product fails.

Conclusion
Acrylic is becoming more and more popular, and choosing an acrylic aquarium is a smart choice! They are sturdy, lightweight, and can replace glass aquariums for a number of applications.
For the best overall acrylic aquarium, the SeaClear Acrylic Aquarium Combo Set takes the cake. For the best value, the Tetra Crescent Acrylic Aquarium Kit is the top choice and for a premium product, the biOrb Cube 30 Aquarium is the best.
Picking an acrylic aquarium can be nerve-wracking because you want to make sure you get the right aquarium the first time around, so these reviews should help you narrow down your search to the top options. These tanks range from 1.7-50 gallons, so there are options available for a vast array of fish types and aquarium setups.
---
Featured Image Credit: BLUR LIFE 1975, Shutterstock