210+ Amazing Names for Alaskan Malamutes: Ideas for Powerful & Cuddly Dogs
Click to Skip Ahead the Name Category Your Like the Most
The Alaskan Malamute is shaggy, powerful, and surprisingly cuddly; it is also one of the oldest sled dog breeds known to humans. These enormous, independent dogs aren't for everyone but make lovely pets with the proper training and socialization. If you're preparing to welcome a new Alaskan Malamute into your house, one of the first decisions you'll need to make is what to name your new pup. Check out this list of 210+ amazing names for Alaskan Malamutes.
How to Name Your Alaskan Malamute
A breed as unique as the Alaskan Malamute needs a name that's more interesting than the usual "Spot" or "Lady." The Alaskan Malamute breed is named after the Inuit group who were among their founding breeders, the Mahlemiut. One way to name your own Alaskan Malamute is to consider their breed history and the culture and climate they hail from.
Another option is to draw inspiration from your pup's physical appearance and personality. You could also name your dog based on your hobbies, interests, or favorite celebrities. If that all seems overwhelming, don't worry. We have plenty of name options for you to choose from on our list.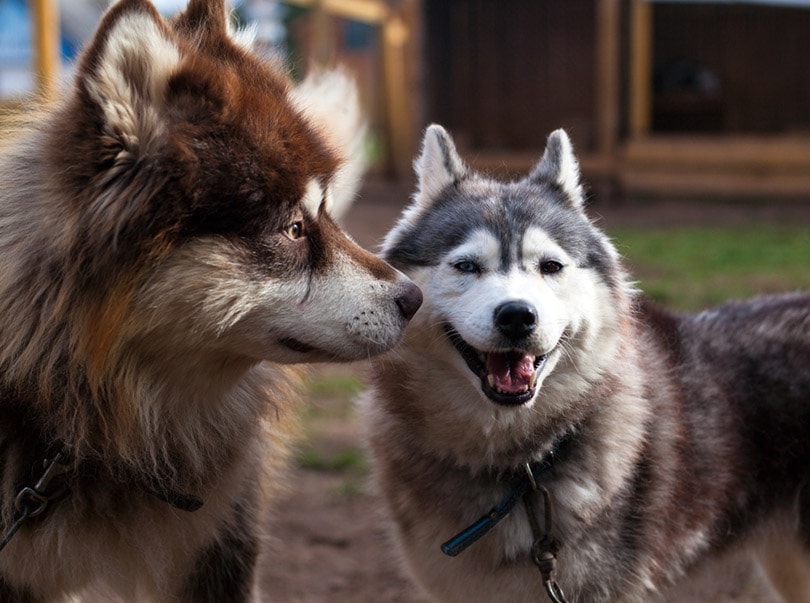 Amazing Names for Alaskan Malamutes Inspired by Alaska
Some of the simplest and most beautiful names for an Alaskan Malamute are inspired by the state the breed first called home (even if it wasn't yet a state at the time). Alaska is a land of ice, beauty, and several languages spoken by Native Alaskans that offer a range of name choices for your dog.
Denali
Yukon
Nome
Sitka
Kotzebue
Kenai
Kodiak
Juneau
Nanook (polar bear)
Tikaani (wolf)
Kima (candy)
Kalluk (coal)
Siku (ice)
Suka (fast)
Arctic
Brooks
Tundra
Chinook
Balto
Alaska
Laska
Amazing Names Inspired by Nature
Since they were bred to work in the harshest climates, Alaskan Malamutes make excellent adventure companions for those who love outdoor adventures. These names are all inspired by the natural world, from weather to wild animals.
Snow
Ice
Blizzard
Storm
Stormy
Rain
Shadow
Thunder
Aurora
Rocky
Willow
Aspen
Moose
Lily
River
Sky
Oso
Winter
Luna
Star
Bear
Alpine
Everest
Forest
Glacier
Polar
Sierra
Teton
Summit
Taiga
Timber
Buck
Grizzly
Lobo (wolf in Spanish)
Kuma (wolf in Japanese)
Bolt
Avalanche
Zion
Yeti
Granite
Orca
Raven
Star
Wolf
Wolfie
Echo
Fang
Nova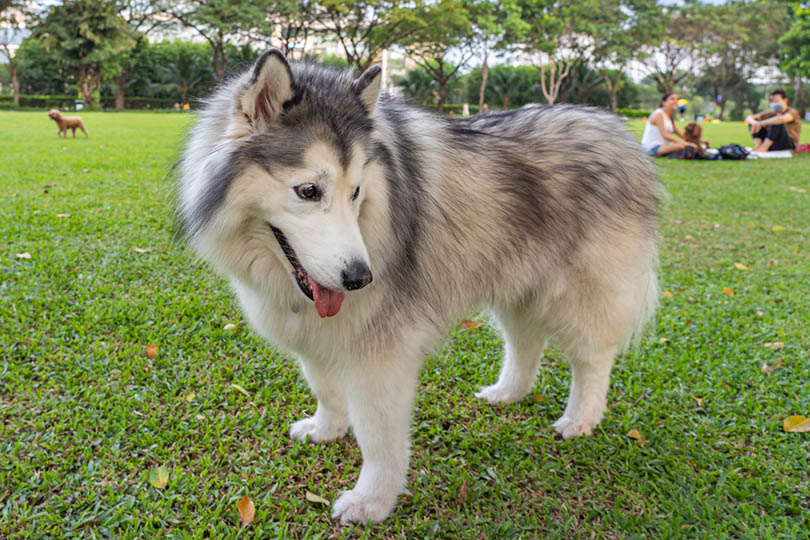 Amazing Names Inspired by Physical Traits and Personality
There's no denying it, Alaskan Malamutes are big, strong dogs. Their extra shaggy coats and pointed ears make them seem even bigger. As massive as they are, these dogs have even more enormous personalities. They'll easily run the whole household if given a chance, which can cause problems in some cases. These names are all inspired by the size, strength, and independent nature of the Alaskan Malamute.
Scout
Ranger
Maximus
Zeus
Apollo
Athena
Diesel
Striker
Atlas
Hunter
Samson
Titan
Brutus
Indy
Trapper
Hercules
Raider
Surge
Alpha
Hera
Rebel
Attila
Tank
Goliath
Captain
Sarge
Nomad
Trek
Boomer
Whopper
Brawny
Swift
Burly
Amazing Names Inspired by Fictional Characters
You can have a little fun naming your Alaskan Malamute with the choices in this category. Many of them still stick to a general theme of strength and power, so you'll find a lot of superheroes represented! But there are other options, too, and it's easy to get creative here. Take some time to get to know your dog and see if they remind you of anyone on this list.
Hulk
Thor
She-Hulk
Rogue
Mystique
Marvel
Loki
Gambit
Bane
Batman
Zorro
Arya
Khaleesi
Ghost
Nymeria
Colossus
Avenger
Gandalf
Yelena
Hawkeye
Magneto
Beast
Groot
Bucky
Daredevil
Shuri
Valkyrie
Falcon
Nala
Simba
Scar
Fenrir
Xena
Cyclops
Odin
Shrek
Fiona
Joker
Lex Luthor
Wolverine
Mowgli
Kong
Marmaduke
Clifford
Maugrim
Aslan
Beorn
Smaug
Beethoven (the movie dog, not the composer)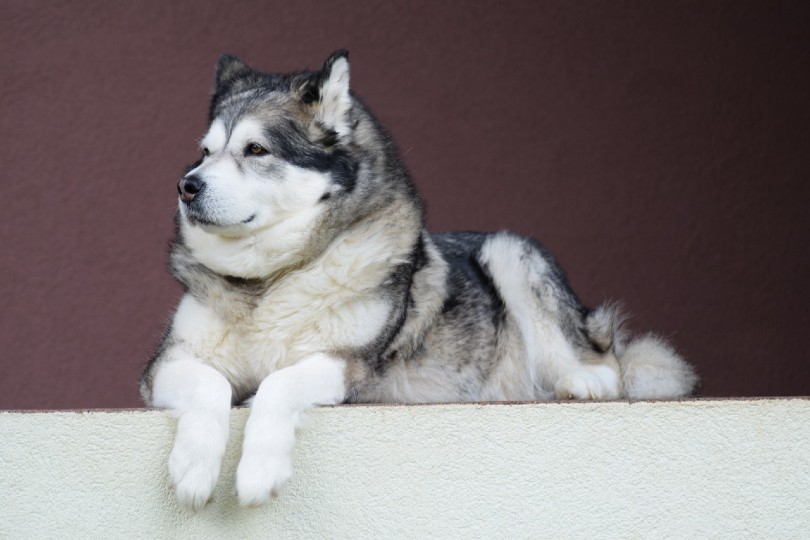 Amazing Cute and Cuddly Names for Alaskan Malamutes
What if your Alaskan Malamute falls squarely into the "gentle giant" category? Well-socialized Malamutes can be gentle, snuggly, and excellent with children. If that sounds like your dog, check out these cute and cuddly names.
Flower
Pansy
Rosie
Bluebell
Pip
Bella
Blue
Sasha
Kona
Waffles
Teddy
Theo
Pepper
Pancake
Mal
Paisley
Hazel
Mia
Maya
Squeak
Ollie
Oreo
Chewy
Howler
Singer
Angel
Amazing Human Names for Alaskan Malamutes
Some people prefer to use a straightforward human name for their dogs. Perhaps, the name of a beloved (or disliked?) relative is fitting. Since so many millennials are choosing to delay having kids in favor of pets, they may decide to use their favorite baby name for a dog instead. Whatever your reason, here are some human names to consider for your Alaskan Malamute.
Charlie
Kiera
Bailey
Harley
Haley
Lucy
Kai
Zoey
Stella
Gracie
Brody
Cooper
Liam
Cleo
Emma
Lola
Jasper
Marley
Titus
Freya
Leo
Roscoe
Dexter
Cody
Otis
Archie
Lucas
Delilah
Holly
Ivy
Phoebe
Dolly
Penelope
Calliope
Pearl
Final Thoughts
Before you get to the point of deciding on a name for an Alaskan Malamute, research the breed thoroughly to ensure they are a good fit for you and your family. Because of their size and strong-willed personality, Alaskan Malamutes aren't the best choice for a first-time dog owner. While there is a lot to love about this breed, they require a firm hand and plenty of exercise.
They're also not the biggest fans of hot weather, as you could probably guess! If you feel this dog is a good fit for your family, hopefully, one of the names on our list will also be an ideal match for your new Alaskan Malamute.
---